Check out the various types of lessons and content you can create and host in your Thinkific course.
So you have your site all ready to go, and you're eager to get out there and start sharing your expertise. The next question is, how? What can I use to deliver all that information?
The good news here is that Thinkific is able to support a wide variety of content types, so you can choose the medium that best suits the learning needs of your students. With that in mind, here are the different types of lessons you can host on Thinkific.
Lesson Types:
ADOBE Captivate, Articulate Storyline & HTML5
Videos
From basic 'talking head' explanation videos to animations, combining compelling audio and visual teaching is a great way to leave a lasting impression on students. Even if you aren't demonstrating something in a video lesson, students are far more engaged with a lesson when it is being presented by a real live human being.
Every Thinkific site has access to a video library where you can upload and manage your videos. We host the files for you through Wistia so you can upload as many as you like (as long as each video is under 2GB). For files larger than the max upload size, Handbrake is a great tool for compressing video file size without affecting the final output quality.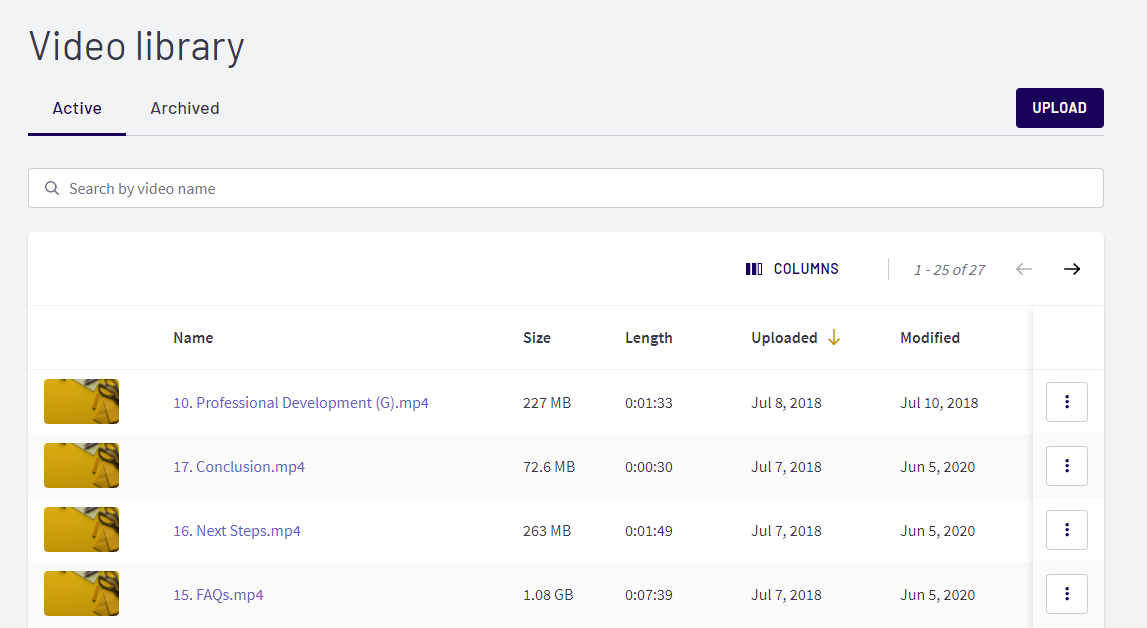 What about if you already have your videos hosted on somewhere like Youtube or Vimeo? No problem! Our text lesson is perfect for embedding video hosted outside of Thinkific. You can also use a multimedia lesson type!
Learn more about creating video lessons HERE
Quizzes
You can add engaging quizzes to your courses to help students make sure they understand course content before proceeding. Thinkific's own quiz builder allows you to create multiple choice questions with one or multiple correct answers. These 'formative assessments' helps reinforce what you're teaching. Quizzes are also used to determine if your course is teaching its content effectively.
Already have a huge bank of questions ready to go? Use our quiz import feature to build your quiz in record time. Then, enable Thinkific to randomize question sets from your quiz bank.
Learn more about creating quizzes HERE
Multimedia
If you want to include a great resource into your course that is hosted outside of Thinkific, but want to make sure students stay within the Course Player, you can likely add it to as a multimedia lesson in Thinkific.
Popular use cases are:
A general rule of thumb is that as long as the content is "iframeable", it should work great in Thinkific's multimedia lesson form. As always, we recommend testing your content by trying it directly within Thinkific or reach out to our support team and we'll be happy to help!
Learn more about multimedia lessons HERE
Text
If you're teaching something where reading comprehension is key to learning or your course topic is traditionally text based like coding or math, then text lessons should be your go-to lesson type.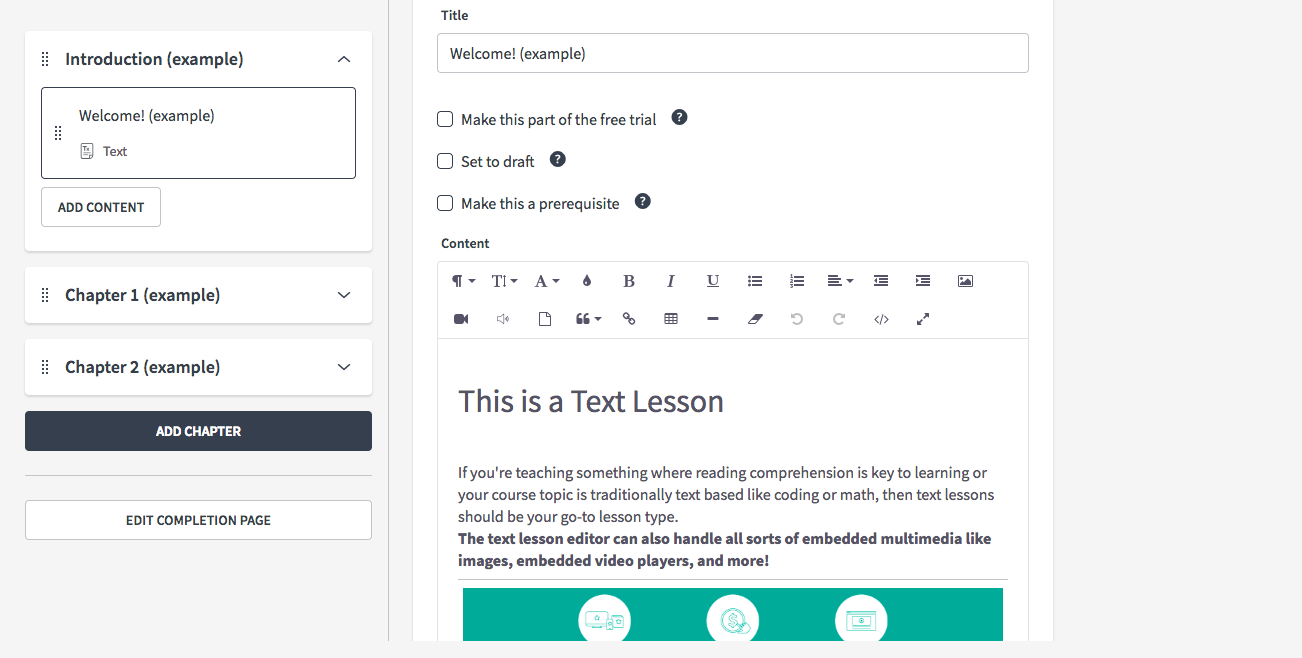 With our WYSIWYG (what-you-see-is-what-you-get) editor as well, the text editor is equipped with handling all sorts of embeddable content, including images, audio, and even videos.
Learn more about text lessons HERE
Surveys
If you want to incorporate some avenues for feedback between you and your students, surveys are a great way to do this. Including a survey at the beginning is a great way to gather information about a student's initial goals for taking the course. Including an additional survey at the end of your course asking how you did is also a great way to collect feedback so you can improve your course over time.
Survey options available include single answer, multiple choice, rating, scale, or free text questions.
PDF
If you have existing content from a training manual or even content that you think is suited to a course already made in PDF form, you can easily upload it to Thinkific. This is useful for not breaking the online student experience, or if you're worried that your students cannot open PDF files on their local device.
Learn how to upload PDFs to your courses HERE
Audio
Perfect for learning on the go, audio content is great if you know your students are mobile or great multi-taskers. Audio courses are extremely versatile when it comes to where your students want to learn. Whether you are teaching a language course with pronunciation lessons or you have a full-length podcast, Thinkific is here to help.
Downloadable Files
When you need to distribute something to your students, the Downloads lesson type is ideal. You can have students download worksheets, guides, a course syllabus, videos, optional course material and more! Remember to try and keep anything that can be read or watched online in the course player to keep your students engaged with your course.
Learn how to create a downloadable lesson HERE
Narrated Presentations
Take a presentation you've already made or prepare a few engaging slides in Powerpoint or Keynote and upload them to your course site. If you regularly teach by presenting, you might have a whole online course ready to go! Just use Thinkific's voice over recorder to add your lecture or explanation over each slide.
Learn more about Presentations HERE
Brillium Exams
Looking for more robust testing options like timed exams, retake limitations and varied question types? You can integrate with a professional exam tool called Brillium to deliver tests with these requirements.
Learn more about our Brillium integration HERE
Discussion Lessons
You can increase course engagement by including Discussions in select lessons within your courses! With a collective comment thread, students (and you, the instructor) can see each other's responses, fostering greater engagement with each other and the course material overall.
Learn more about on-lesson discussions HERE
If you are looking to engage with your students outside of the course itself, also check out our Communities feature!
Assignments
Assignment lessons are great for any type of homework that you would like a student to submit for approval. Assignments must be approved by the Site Owner, Site Admin or Course Admin in order for students to complete the lesson. This works well with certificate courses!
Learn more about assignments HERE
Alternative Quiz Types
What if you need more quiz options though? Try looking at Typeform, Quizlet, H5P or any other web-based quiz application, then embedding these quizzes in a Multimedia lesson. Not sure how? Reach out to our amazing support team and we'll be happy to help.
Webinars and Live Streams
Live Webinars are a great way to interact with students, run coaching sessions, and overall adds great value and trust between a course instructor and their students.
The simplest way to get started is our Zoom integration, which you can check out here: Live Lessons with Zoom
If you are using another platform to host your own live session, simply share the link to your live session in a multimedia lesson and communicate to your students when they should be online to join you!
While Thinkific works great with many different platforms, if you find that the link from your platform is not embeddable in a multimedia lesson, posting your link directly in a text lesson is also an option!
ADOBE Captivate, Articulate Storyline and HTML5
If you've created some interactive content on another platform that you'd like to use within your course then, provided that it can be exported in HTML5 format, it should work great on Thinkific using the multimedia lesson type.
Examples of the kinds of HTML5 content that we have instructors using include Articulate Storyline, Adobe Captivate, iSpring, and more.
Learn more about including this content in your course HERE
More Options?
These are just some of the types of contents you can host on Thinkific. This is definitely not meant to be exhaustive, so if there is something you are looking to add to a course, definitely give it a try.
If you need a hand with anything, reach out to our customer support team at support@thinkific.com and we'll be happy to assist!