If you're a new creator looking to set up your very first course, this article will give you a full overview of using the Thinkific Course Builder - including how to add your course and lessons, your lesson template options, what each of the settings within the Course Builder means, and how to publish your course.
If you'd like a quick overview on getting started with the platform, check out Getting Started with Thinkific. If you are new to online courses, our webinar is also great place to start!
In this article:
Create or Add a New Course
If you're new to Thinkific, check out the following video for a quick overview on how course creation works. Once you've watched the video, the steps below will help guide you through the process.
If you're new to online course creation, we also recommend checking out 10 Steps to Creating a Wildly Successful Online Course and Create a Course Outline. These articles will give you a detailed outline of what you'll want to consider when creating your course.
Now that you've watched the video, it's time to dive right into course creation! 
To create or add a new course:
Go to Manage Learning Products
Select Courses
Select +New Course on the top right
Select the Course Template you'd like to use to create your course. More information on Course Templates is available in the next section.
Course Templates
We have various course templates to choose from to help you get started, including:
Each of the course templates (aside from the Blank Course) contains a set of lessons assembled with learning best practices in mind, however, these are just a guideline - everything can be completely customized once you start working on the course. There is an instructional lesson at the very beginning of each template to help you make the best use of your selected template.
Not sure which template to choose? Check out our article on Course Templates, or simply start with a blank course to begin adding your own content!
To choose a template:
Select Choose on your desired template
Name your course (This can always be changed later)

Need help coming up with the perfect course name? Check out our free AI Creator tools! Simply enter your product description and get a list of viable options for you to consider.

Select Create Course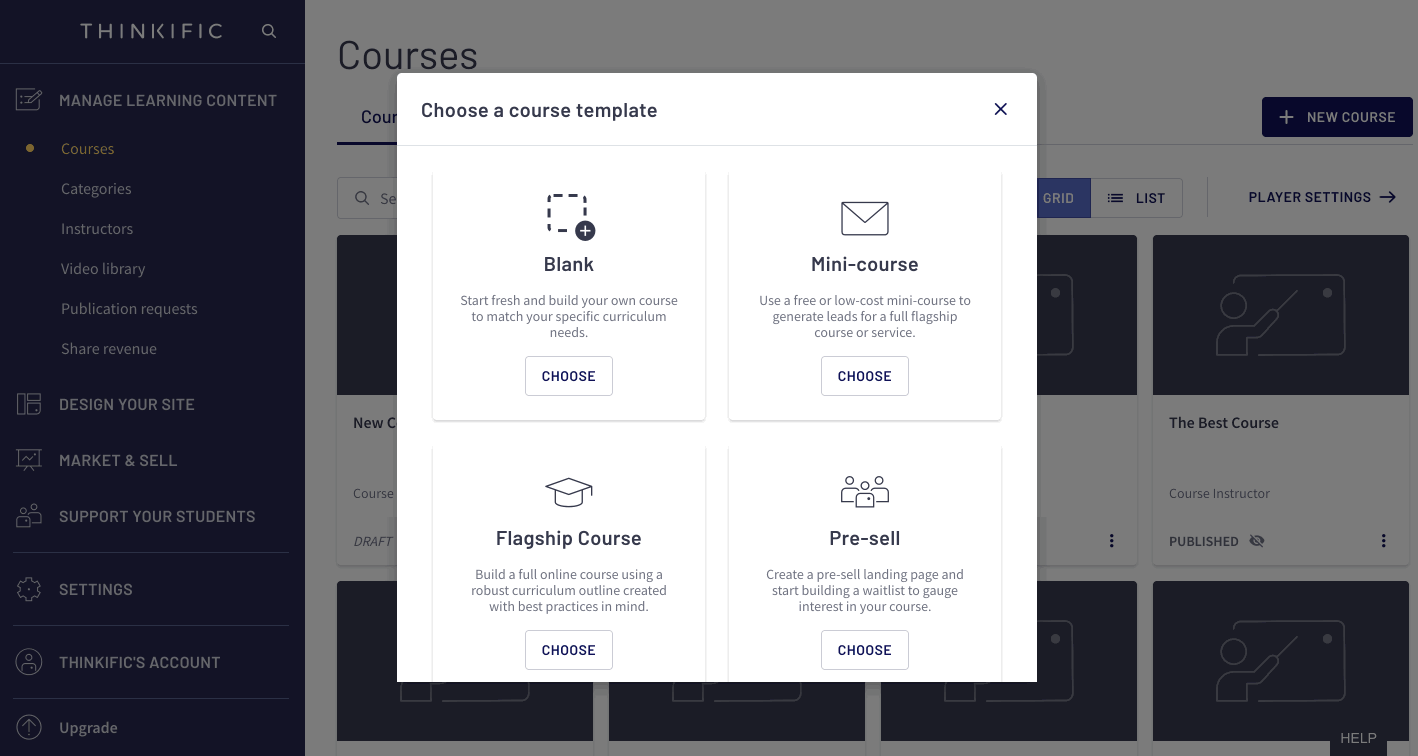 Adding Chapters and Lessons
Content can be added to your course lesson in 2 ways:
Adding individual lessons, or;
In bulk, by using our Bulk Importer
Adding Individual Lessons
To start adding lessons to your course, you'll need to first create a new chapter. You can think of chapters as containers that hold one or more lessons.
How to Add a New Chapter
Make sure you are in the Curriculum tab
On the left-hand side, click Add Chapter
Name the Chapter title field as desired
Click Save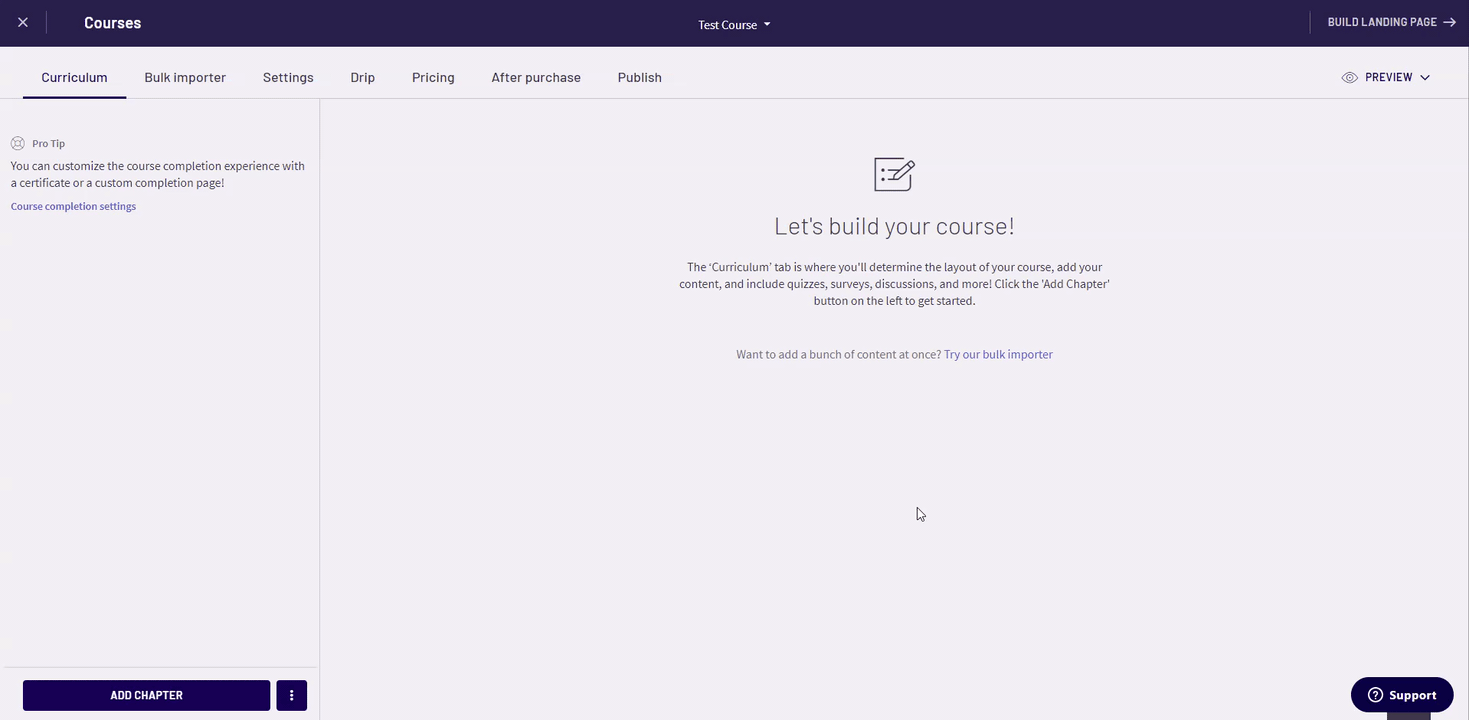 A note on chapters and lessons: If you have chosen a Course Template (other than the blank template), your course will come pre-loaded with empty chapters and lessons as placeholders for your material. Use the instructions in this section to add additional chapters and lessons to your course.
Bulk Importer
Use this option if you already have video, audio and/or PDF content created that you would like to upload to Thinkific. To bulk import your existing course material, head to the Bulk Importer tab of the Course Builder, and upload all of your content at once.
Note: You will not need to set up chapters or lessons ahead of time before using the bulk importer, as you will be able to do this step from the bulk importer tab. Check out this article to learn how to use the Bulk Importer.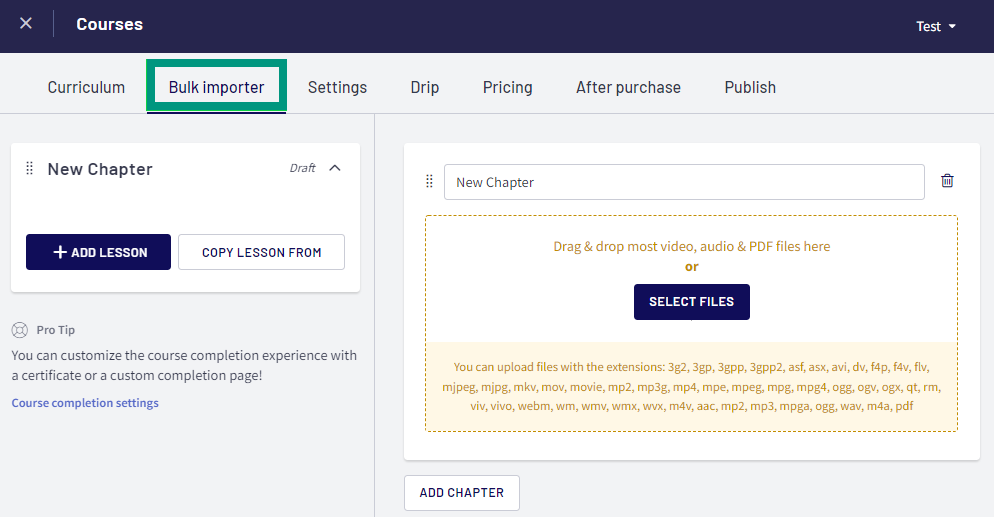 Lesson Types
Once you have created a chapter, you can start adding lessons to your course! Before walking through these steps, you will want to decide which lesson types to include in your course. You can check out our various lesson type here: Thinkific Lesson Types
How to Add a New Lesson
Make sure you are in the Curriculum tab
On the left-hand side, locate the Chapter you would like to add your lesson to
Click Add Lesson
Select your Lesson Type
Type the lesson name under Lesson Title
Add your content 
Click Save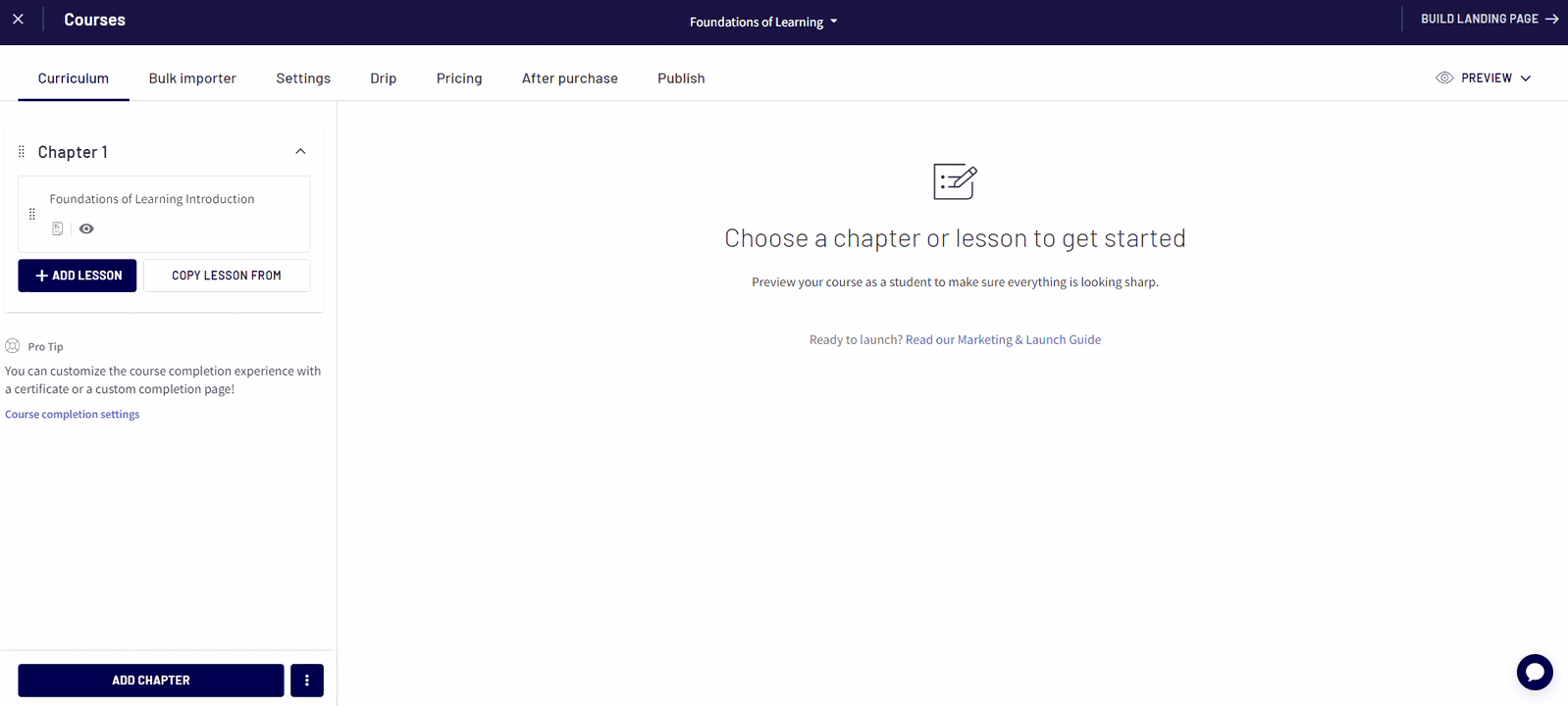 Adding Lessons from Another Course (Optional)
If you have already been testing things out, and you have created an existing course that contains content you would like to add to your new course, you have the option to copy content to your course.
Course Settings
The Settings tab of the Course Builder contains adjustable settings for your course, including:
Basic settings
This is where you can update settings like the course name and URL which will show on your course card (your course card is like a short advertisement for your course - it contains the name of the course, an image you select for that course, a short description, as well as the price and number of lessons contained within the course. Your course card appears in various places like your All Courses Page, and Checkout).
Need help coming up with the perfect course name? Check out our free AI Creator tools! Simply enter your product description and get a list of viable options for you to consider.
In this tab, you can also update your instructor, set your security and access preferences, and if you ever need to - delete your course.
Course image & description
Your Course image will appear on your course cards; Course description will appear on your checkout pages and in different areas depending on your theme.
Learn how to customize your course image & description.
Course Player appearance
The Course Player is the learning environment where students will be viewing and interacting with your content - customize the look of the Course Player to match your branding, upload your logo, and select the default theme of the player. Available options within this section will be dependent on your current Thinkific plan, and can include:
Course Player theme and style - Theme
Style - Primary color, and Font
Lesson type icon and label
Course Player Logo
Check out our Thinkific Course Player and Individual Course Player Appearance Customizations articles for an in-depth look at how you can customize each of these areas.
Course progress & completion
This section includes settings related to how your students progress through and complete your course. Available options will be dependent on your current Thinkific plan, and can include:
Video Lesson Progress
Chapter Completion
Course Completion
Social Sharing
Page code
You can include custom code on your course landing page here (like, for example, if you wanted to use an external sales page to promote your course). 
Admins, Revenue Partners, & Affiliates
Manage Course Admin, Revenue Partner, and Affiliate settings for your course here.
SEO
Use SEO to define what your landing pages will look like to search engines and social media.
Course Welcome Email
Access your Course Welcome Email within your course settings to enable or disable the feature and personalize emails sent to your students.
Drip Schedule
The Drip tab is where you can create a drip schedule that allows you to control when students will have access to your course content, whether you have a specific launch date or want to limit the amount of lessons that can be viewed in a certain time period. Learn more about Drip Scheduling here.
Pricing
From the Pricing tab, you can set your pricing options for your course from a selection (free, one-time payment, subscription, or monthly payment plan) as well as set additional pricing options. Learn how to Set Your Course Pricing. 
After Purchase
The After Purchase tab is where you can customize the page where your students land after purchasing your course. Use this tab to add custom messaging, URL links, or product upsells. Learn more about After Purchase Flow here.
Publishing Your Course
Need a little extra help creating or setting up your course? We have a wonderful team of experienced freelancers available to give you a hand! Check out our Experts Marketplace.