Lessons are the structure in which you divide and present your learning material to your audience - in this article you'll learn more about the variety of content and lesson types you can use within your Thinkific course.
---
If you're a new creator, check out the video below for a quick overview of how to add lessons to your course. Once you've watched the video, this article will walk you through the various lesson types and what they each have to offer.
If you haven't already, be sure to check out our comprehensive article on how to Create a Course for an outline of each of the tabs within the Course Builder, and how to get everything else in the Course Builder set up.
It's important to note that depending on which Course Template you've selected, you may already see some blank lessons pre-loaded in your course. For example, in the screenshot below, the "Pre-Sell Course" template has been added, so all of the lessons you see have been automatically applied by that template choice.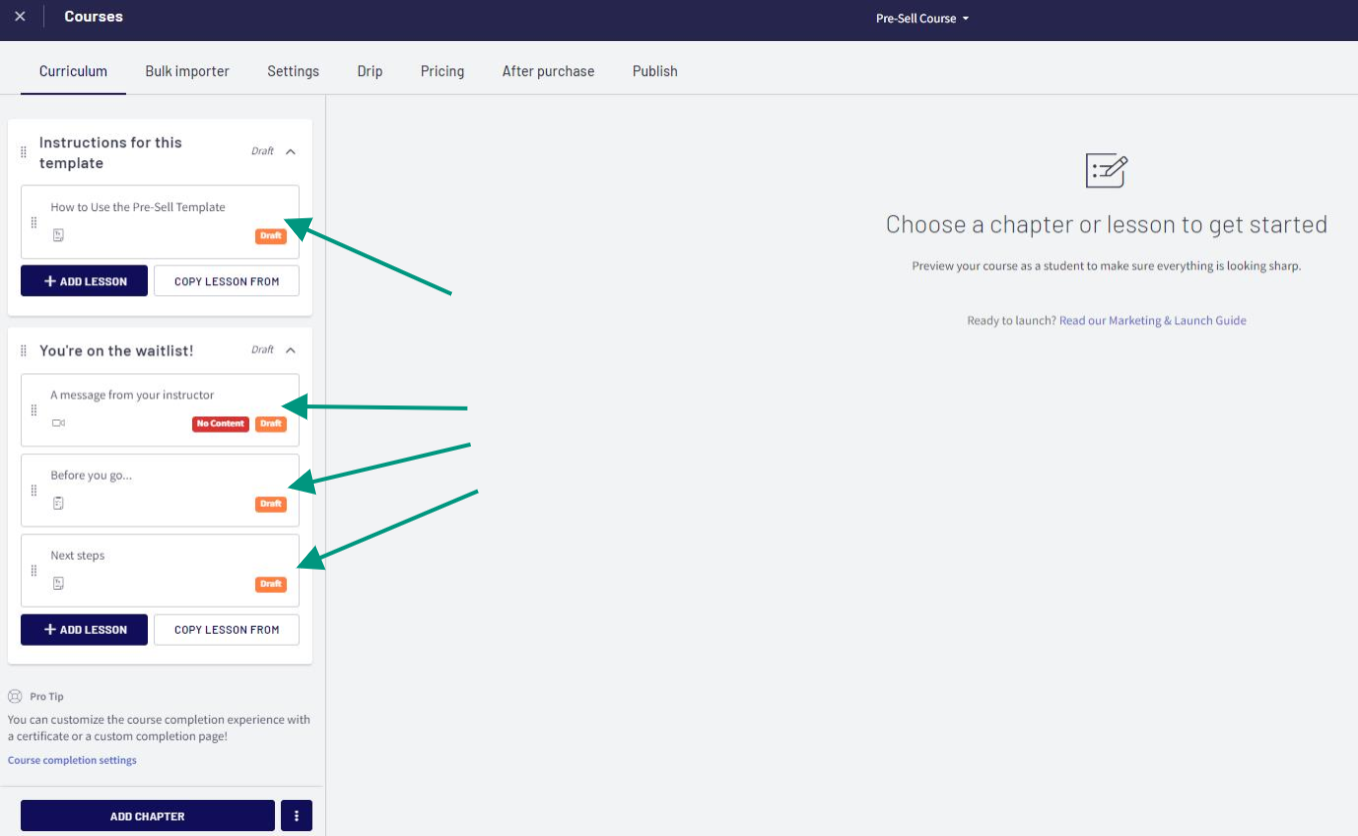 You don't have to use these specific lesson types - they are only suggestions for that Course Template. You can remove or add lessons to any pre-set template.
With that in mind, here are the different types of lessons you can host on Thinkific - we've divided the lesson types into three distinct categories: Presentation (lesson types designed to help you present your material), Practice (lesson types that will help you create interactive lessons for your students), and Assessment (lesson types that will help you gather feedback on your lessons).


Presentation
Practice
Assessment
Other
Presentation
Video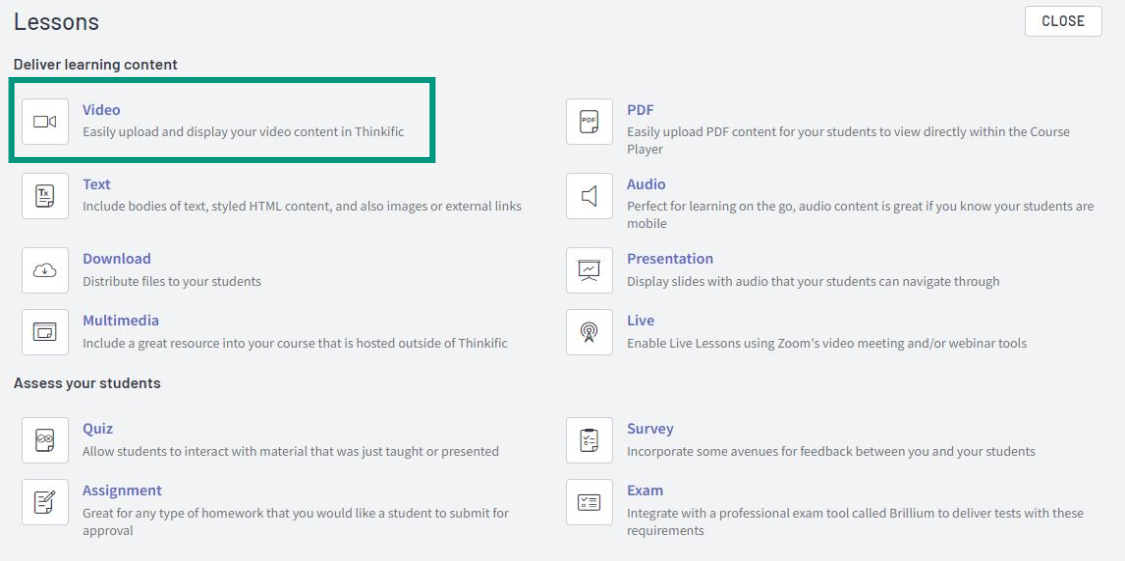 From the basic 'talking head' explanation videos, to tutorials, to animations - combining compelling audio and visual teaching is a great way to leave a lasting impression on students. Presenting students with video material allows them to pause, rewind, and review the material - providing them the flexibility to learn at their own pace.
Video lessons are great for:
Providing real life examples of your subject matter
Demonstrating specific techniques
Supplementing written instructions
Featuring outside experts on your subject matter
Every Thinkific site has access to a video library where you can upload and manage your videos.
We host the files for you through Wistia - so you can upload as many videos as you like (as long as each video is under 2GB).
For files larger than the maximum upload size, Handbrake is a great tool that allows you to compress video file size, without affecting the final output quality.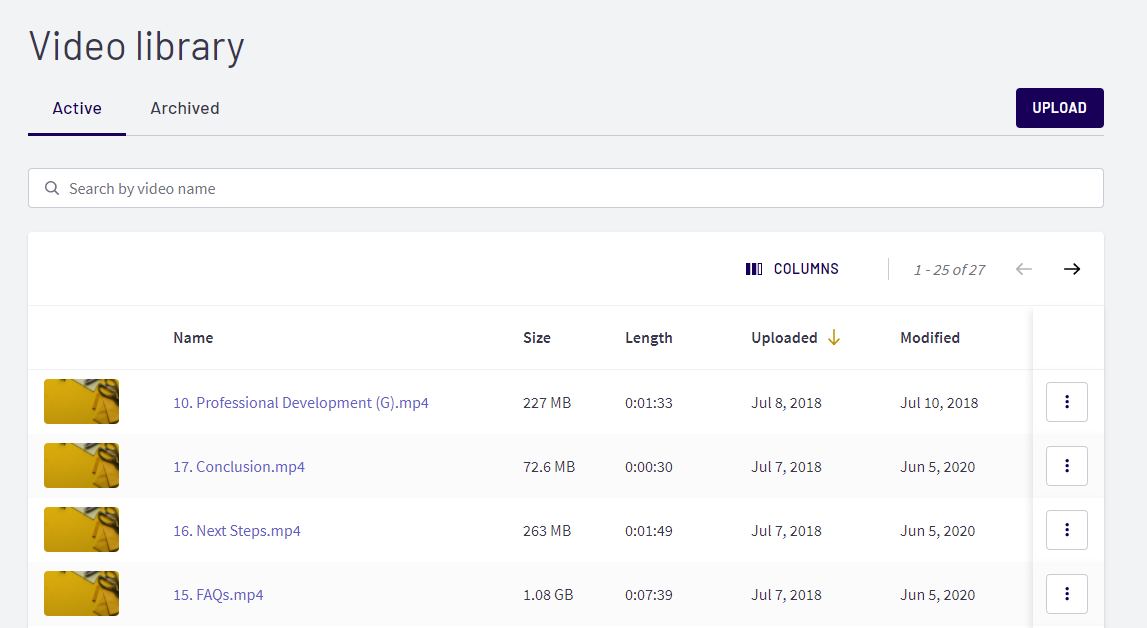 If you already have your videos hosted on a platform like Youtube or Vimeo, our text lesson option is perfect for embedding videos hosted outside of Thinkific. You can also use a multimedia lesson type.
Check out our full article on Creating a Video Lesson.
Multimedia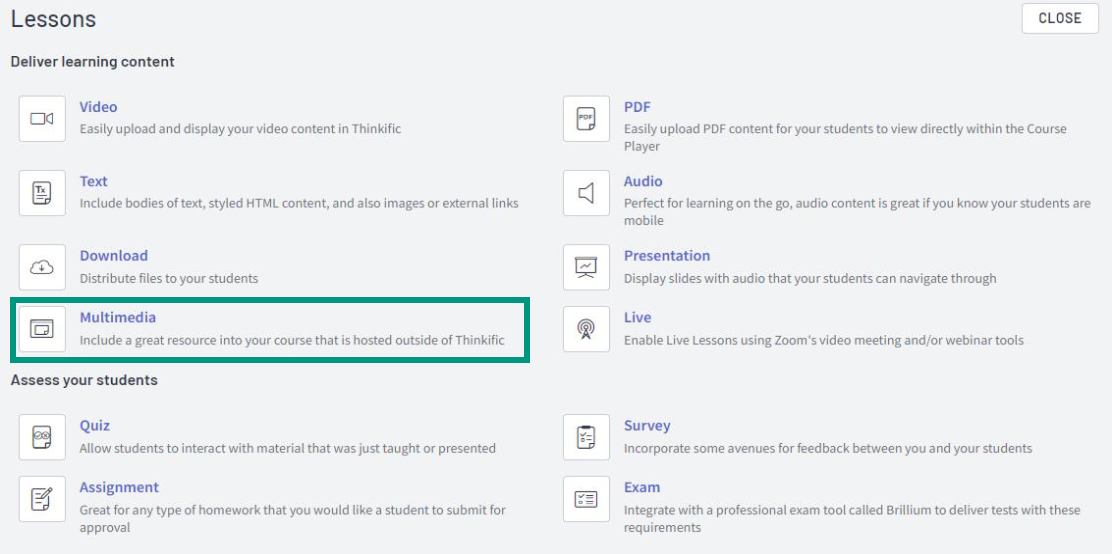 If you want to make sure your students stay within the Course Player while viewing material in your course that is hosted outside of Thinkific, add it as a multimedia lesson. Multimedia lessons are useful for combining a variety of learning resources, including:
Multimedia lessons are great for:
Providing students with a variety of materials to suit various learning types
Supplementing chapters with less written information
Breaking up long text lessons into more digestible segments
Generally, as long as the content is "iframeable", it should work in Thinkific's multimedia lesson form. We always recommend testing your content by trying it directly within Thinkific.
If you need a hand adding content to your multimedia lesson, reach out to our support team and we'll be happy to help!
To learn more, visit our 'Create a Multimedia Lesson' article
Text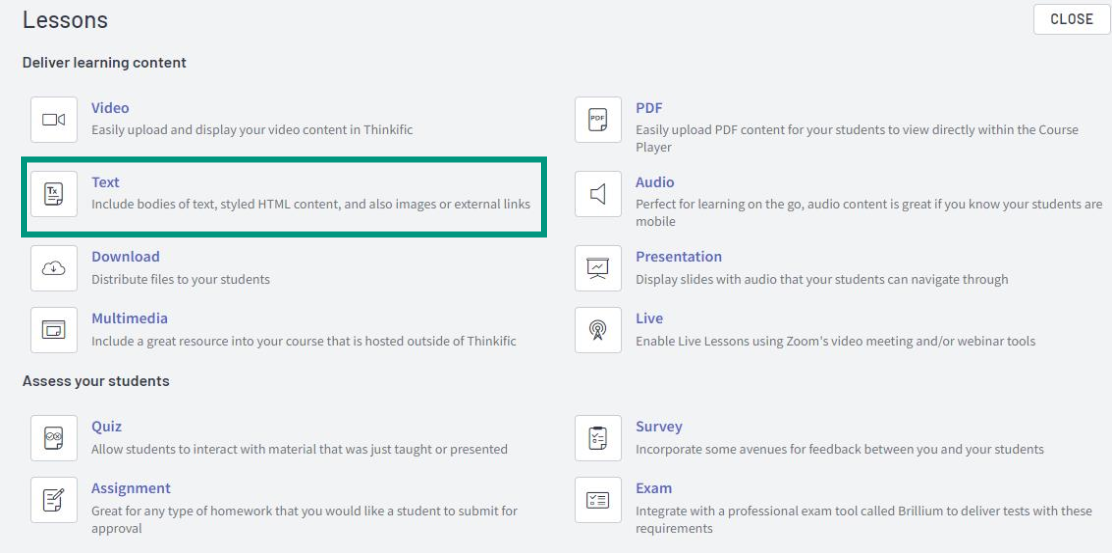 If the subject matter you're teaching requires a high level of reading comprehension; or, your course material is traditionally text-based (like coding or math), then text lessons are a great option to start with.
Text lessons are great for:
Presenting technical or straightforward material
Material that will be reviewed and revisited often during the course
Scientific papers
Instructions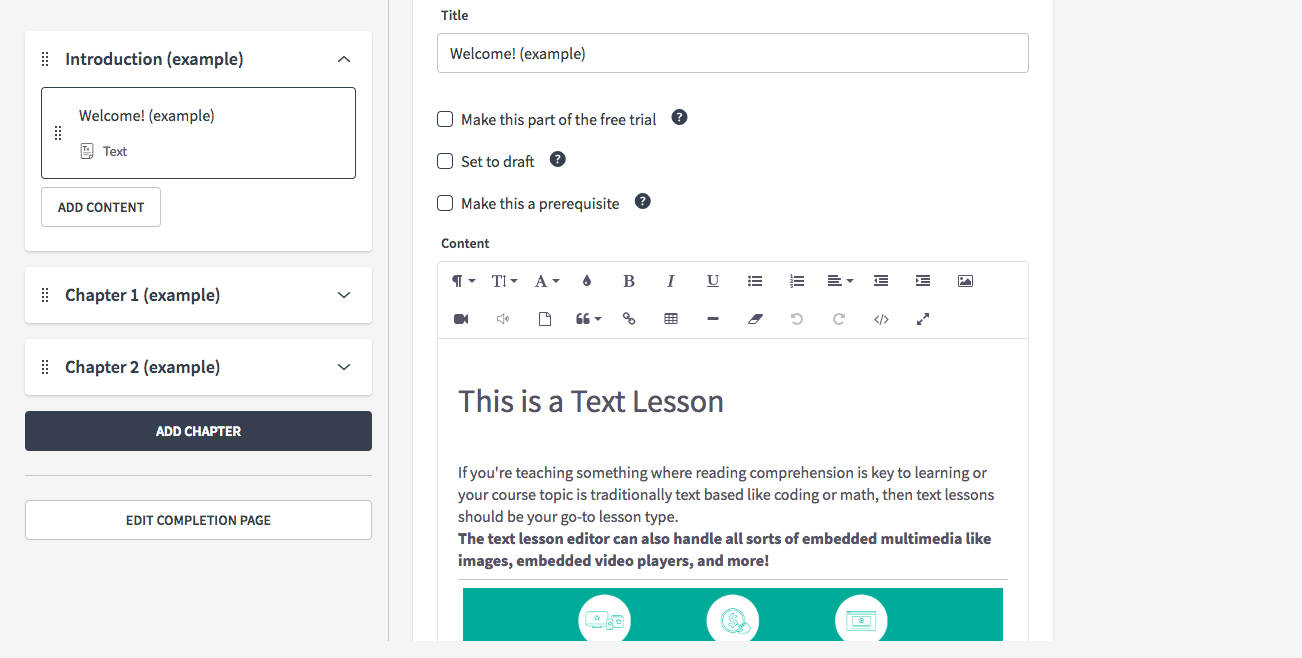 Our WYSIWYG (what-you-see-is-what-you-get) text editor is equipped to handle a range of embeddable content - including images, audio, and even videos.
Check out our Text Lessons article
PDF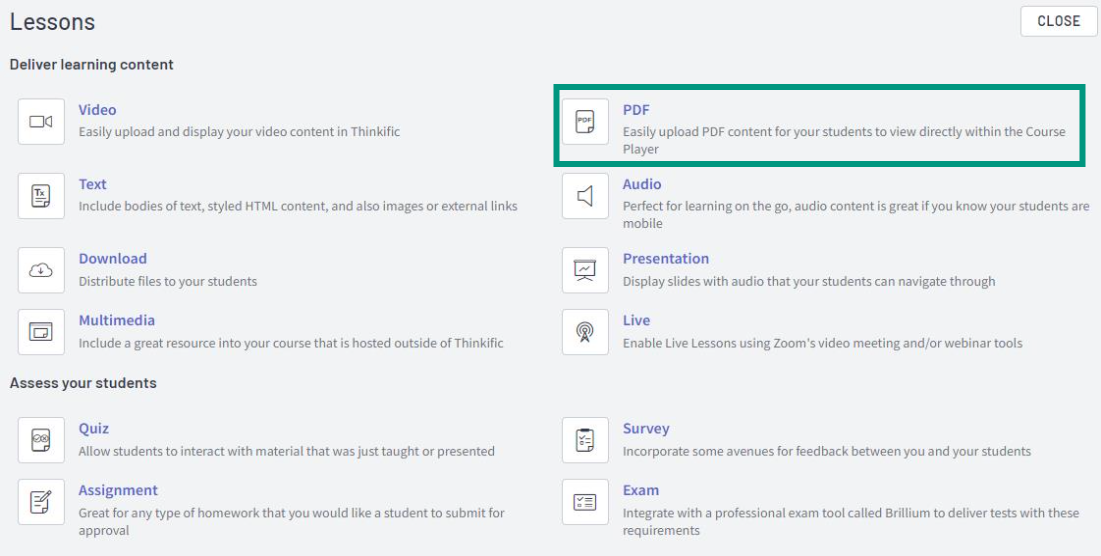 If you have existing PDF content, you can easily upload it to Thinkific. Students will be able to access the PDF file from the Course Player - even if their local device can't open PDFs otherwise!
PDF lessons are great for:
Material that will be reviewed and revisited often during the course
Documents that have graphics and/or other design elements
Learn how to upload PDFs to your courses
Audio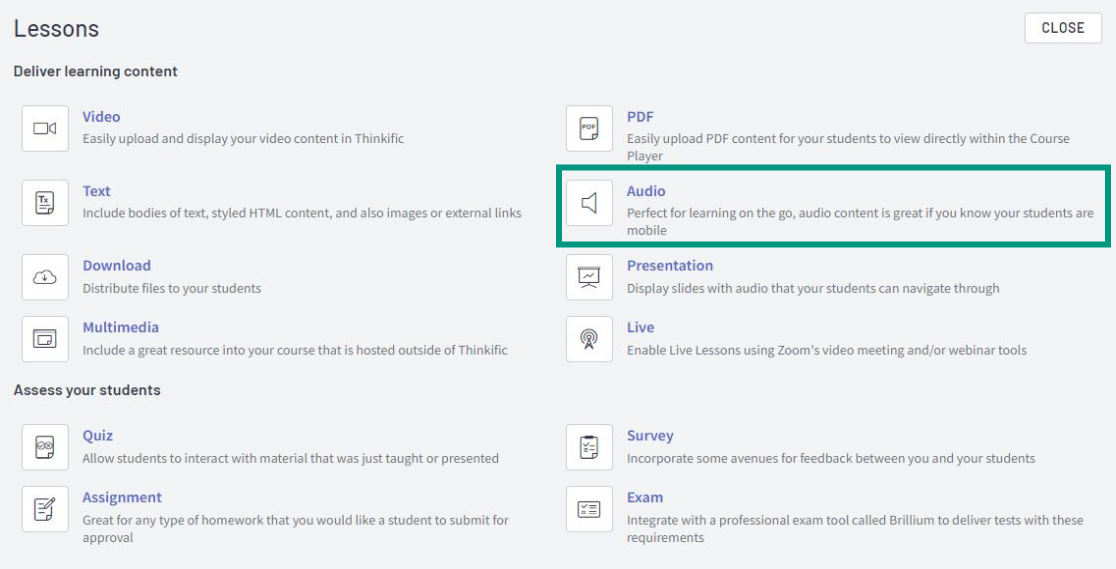 Audio courses are extremely versatile and provide your students the option to learn on the go - great for students who are mobile and/or multi-taskers.
Audio lessons are great for:
Language courses with pronunciation lessons
Podcasts
Allowing students to pause, rewind, and replay audio files
Presentation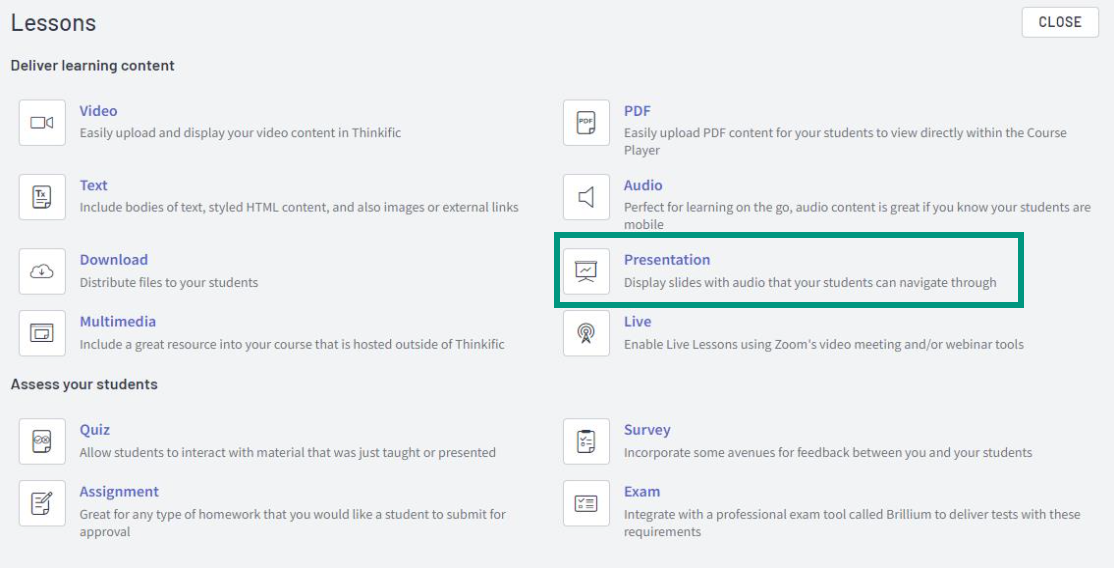 Presentation lessons allow you to upload a whole presentation you've already made, or, add your own material slide by slide. Once your material is added, you will have the ability to either record audio to go with your presentation or upload pre-recorded audio. If you regularly teach by presenting, this lesson type will allow you to add a whole online course! Just use Thinkific's voice-over recorder to add your lecture or explanation to each slide.
Learn how to upload a Presentation
Webinars and Live Streams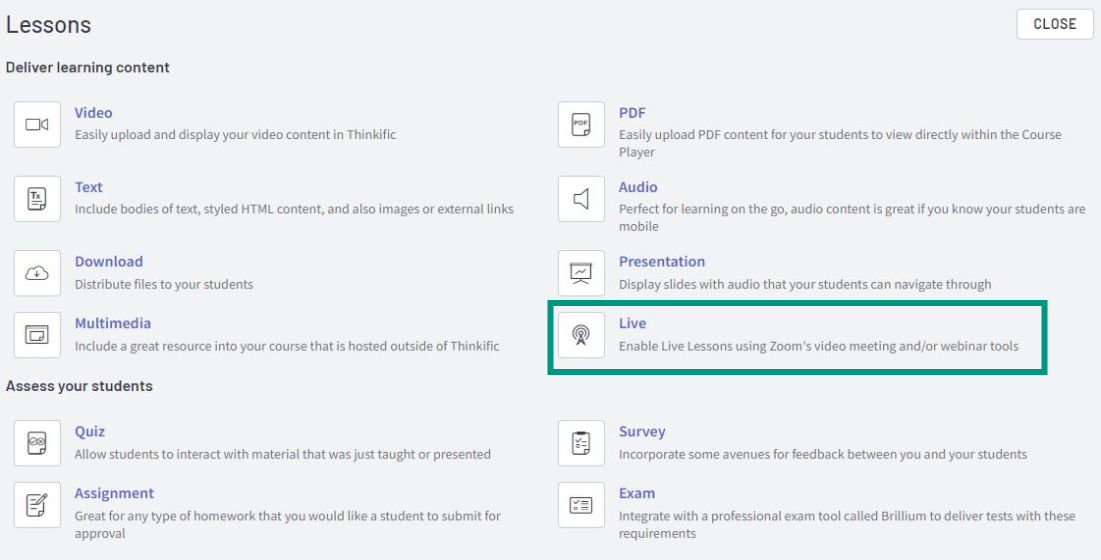 Live Webinars are a great way to interact with students, run coaching sessions, and increase trust and visibility between you and your students.
The simplest way to get started is by using our Zoom integration, which you can check out in the Live Lessons with Zoom article.
If you are using another platform to host your own live session, simply share the link to your live session in a multimedia lesson and communicate to your students when they should be online to join you!
While Thinkific works with many different platforms, if you find that the link from your platform is not able to be embedded in a multimedia lesson, posting your link directly in a text lesson is an alternative.
ADOBE Captivate, Articulate Storyline, and HTML5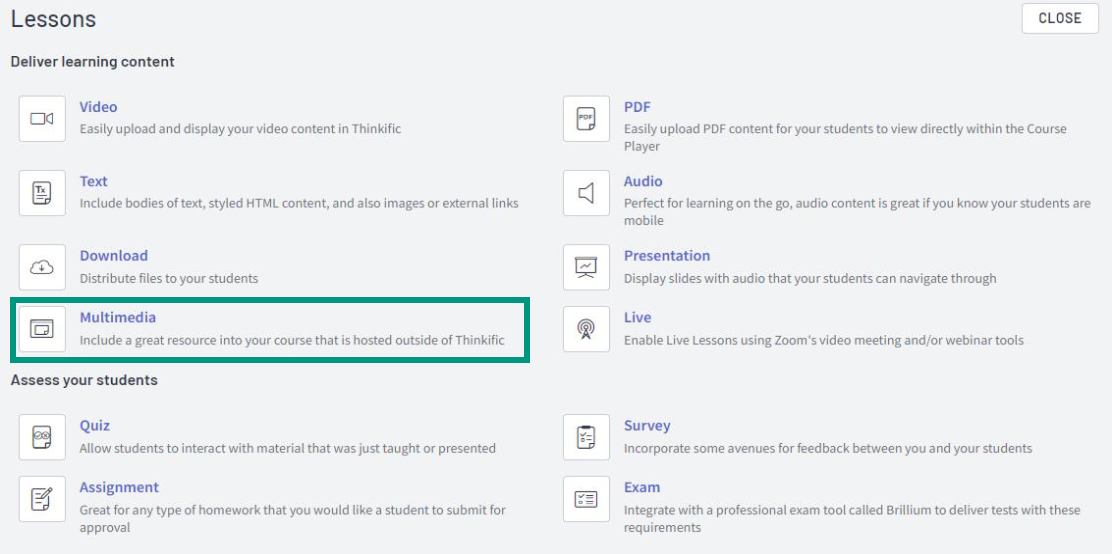 If you've already created interactive content that can be exported in HTML5 format on another platform, and you'd like to use it within your Thinkific course, use the multimedia lesson type.
The kind of HTML5 content that our instructors use include: Articulate Storyline, Adobe Captivate, iSpring, and more.
Learn how to include this kind of content in your course
Practice
Downloadable Files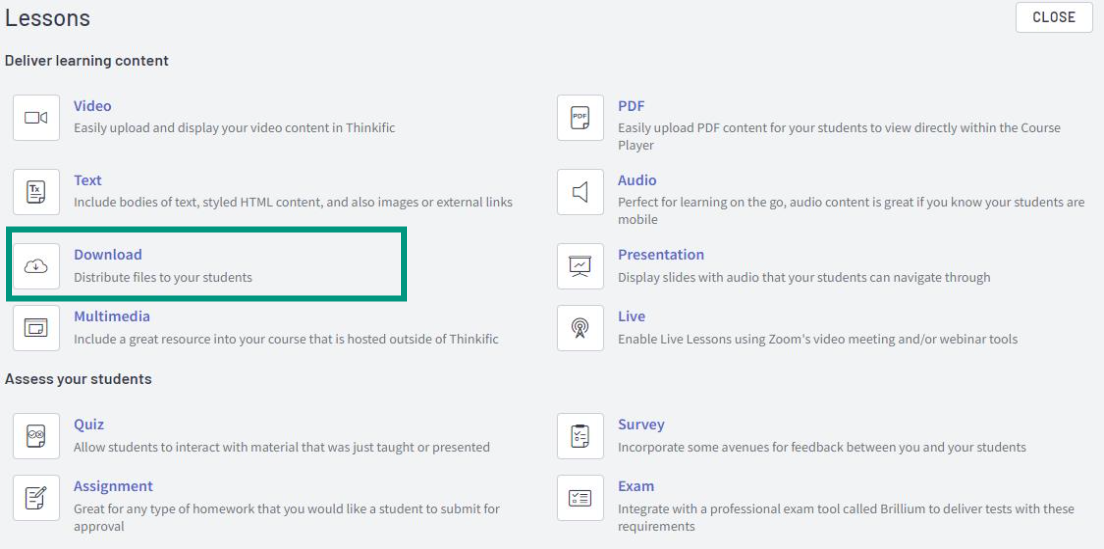 When you want to distribute something to your students, use the Downloads lesson type. This lesson type will allow students to download worksheets, guides, course syllabus, videos, optional course material and more!
Remember to try and keep anything that can be read or watched online within the course player - to keep your students engaged with your course.
Learn how to create a downloadable lesson
Discussion Lessons
Increase course engagement by including Discussions in select lessons within your courses! With a collective comment thread, students (and you, the instructor) can see each other's responses, fostering greater engagement with each other and the course material overall.
Learn more about on-lesson discussions
If you are looking to engage with your students outside of the course, check out our Communities feature!
Assignments
Assignments are lessons that must be approved by the Site Owner, Site Admin or Course Admin in order for students to complete the lesson. If you plan on providing homework for your students, use this lesson type. This lesson type also works well with certificate courses.
Learn more about assignments HERE
Assessment
Quizzes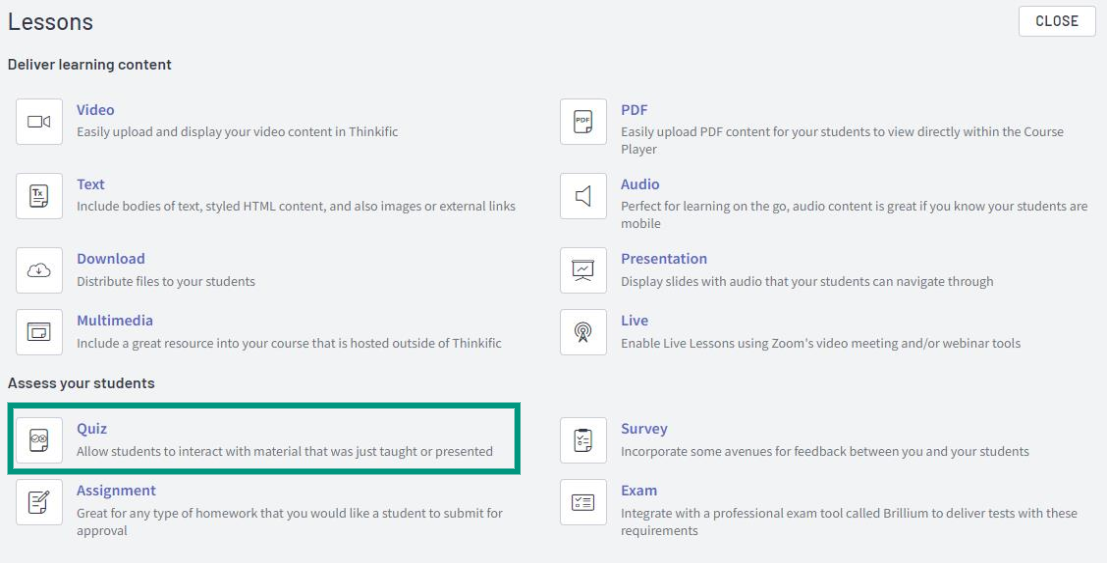 Add engaging quizzes to your courses to help your students verify their knowledge and show that they understand the content!
Thinkific's quiz builder allows you to create multiple choice questions with one or multiple correct answers. These formative assessments provide valuable feedback and help reinforce what you're teaching.
Already have a bank of questions ready to go? Use our quiz import feature to build your quiz in record time. Then, enable Thinkific to randomize question sets from your quiz bank.
Check out our article on Creating quizzes
Surveys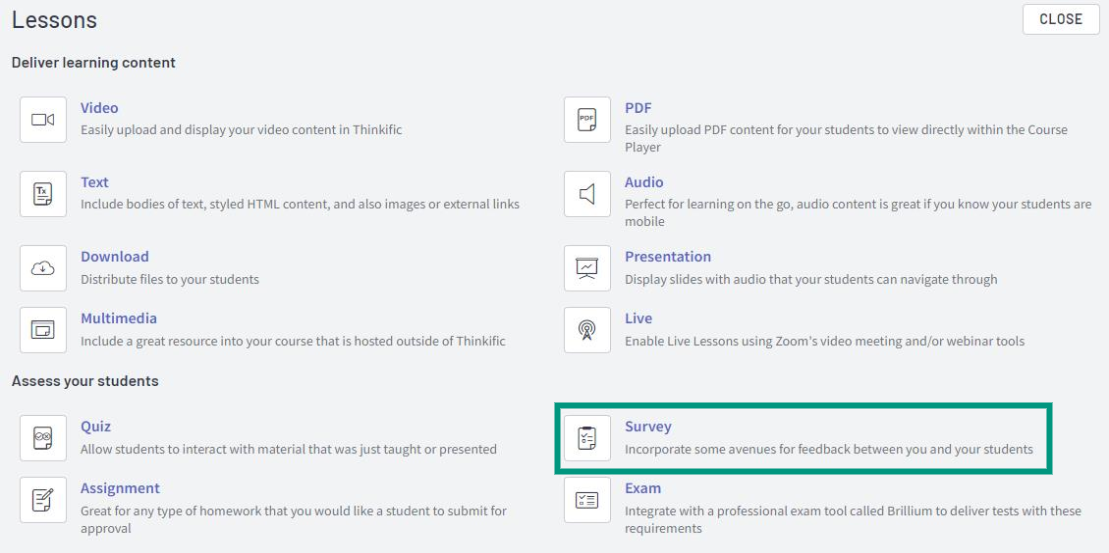 A great way to incorporate feedback about your course, or gather information about your students' goals, adding a survey lesson can be beneficial for many reasons. Including a survey at the end of your course to gather comments and observations about your course will help you improve your course over time.
Survey options include: single answer, multiple choice, rating, scale, or free text questions.
Brillium Exams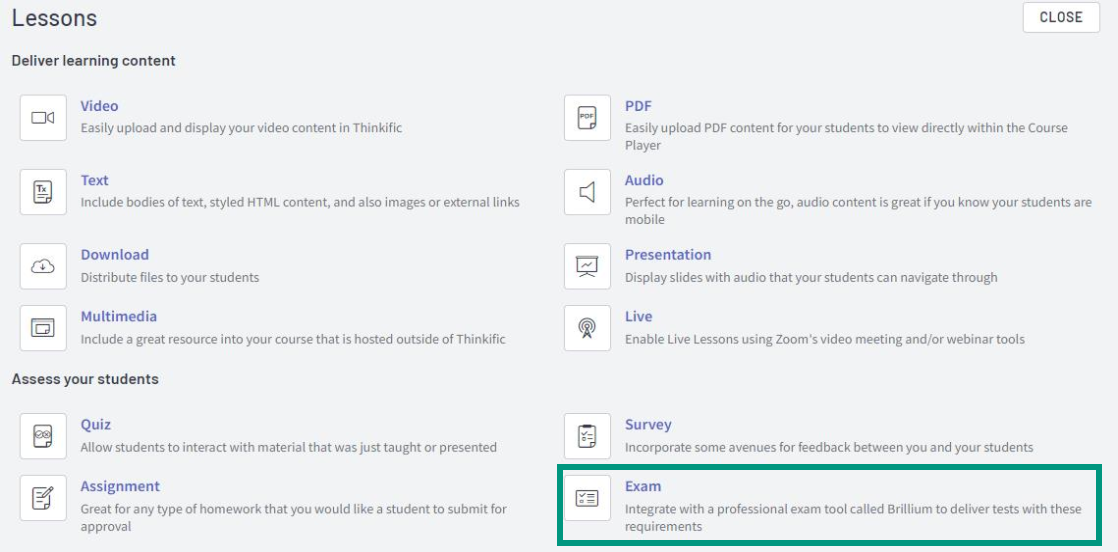 If you're looking for more robust testing options like: timed exams, retake limitations, and varied question types, you can integrate with the professional exam tool Brillium, to deliver tests with all of these requirements and more.
Learn more about our Brillium integration
Alternative Quiz Types
If you're looking for more quiz options, check out Quizlet, H5P or any other web-based quiz application. Once you've created a quiz using one of these online tools, embed the quiz in a Multimedia lesson. Not sure how? Reach out to our amazing support team and we'll be happy to help.
Other
More Options
The lesson types listed above are just an example of the type of content you can host on Thinkific. If there is something you are looking to add to a course, but don't see above, check out our new app suggestions - conveniently located just below the lesson options: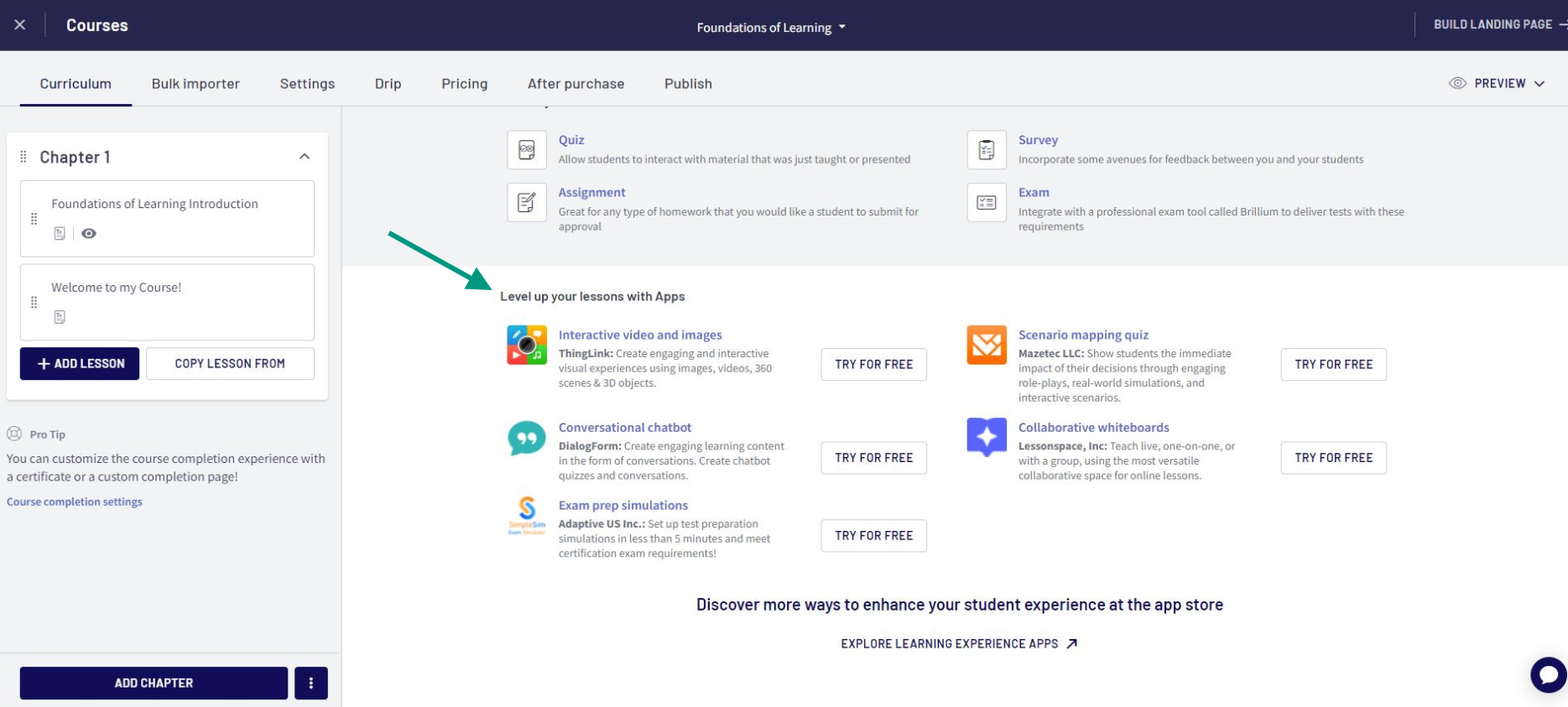 These app suggestions have been carefully curated by our team to help you make the most of your lessons, and to provide your students with an interactive and multi-faceted experience.
Finally, if you need additional help with lessons, reach out to our customer support team and we'll be happy to assist!