Similar to a PowerPoint presentation, Presentation lessons in Thinkific display slides that your students can navigate through and you have the option to record or upload audio for each slide!
---
In this article:
How to Create a Presentation Lesson
Replace a Presentation or Slide
About This Feature
If you have created a presentation in an external platform like Keynote, PowerPoint, or Google Slides, you can use a Presentation lesson to display it within your Thinkific course!
With Presentation lessons, you also have the option of recording or uploading audio for each slide directly within Thinkific. This is a great way and simple way to create a customized experience for your students right within Thinkific.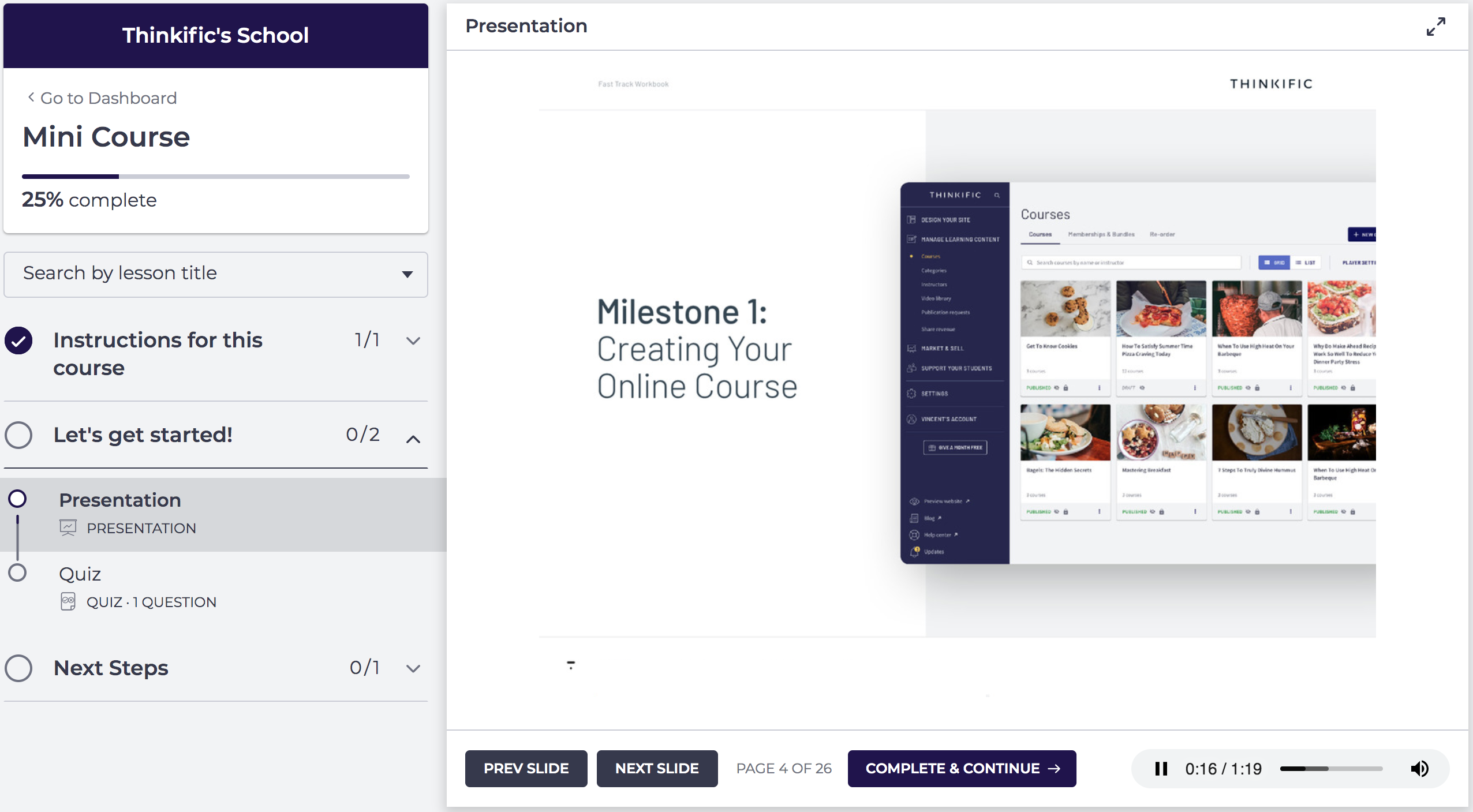 How It Works
To create a Presentation lesson, you will need to upload a PDF file. Each page in your PDF will be converted to images that will be displayed as slides within your Presentation lesson for students to navigate through.
If you have created a presentation in an external platform like PowerPoint you can simply export it from that platform as a PDF to later upload to Thinkific!
How to Create a Presentation Lesson
Go to

Manage Learning Content
Select Courses
Click on a

specific course

in the

Course Overview
You will now be in the

Course Curriculum

area of the

Course Builder
On the left-hand side, click

Add Lesson
Select Presentation
Name the

Lesson Title as desired
Under Presentation pages, Drag & drop your PDF file or click Select PDF file
Please be aware that there is a PDF file size limit of 200MB
Wait for the PDF file to process
Click

Save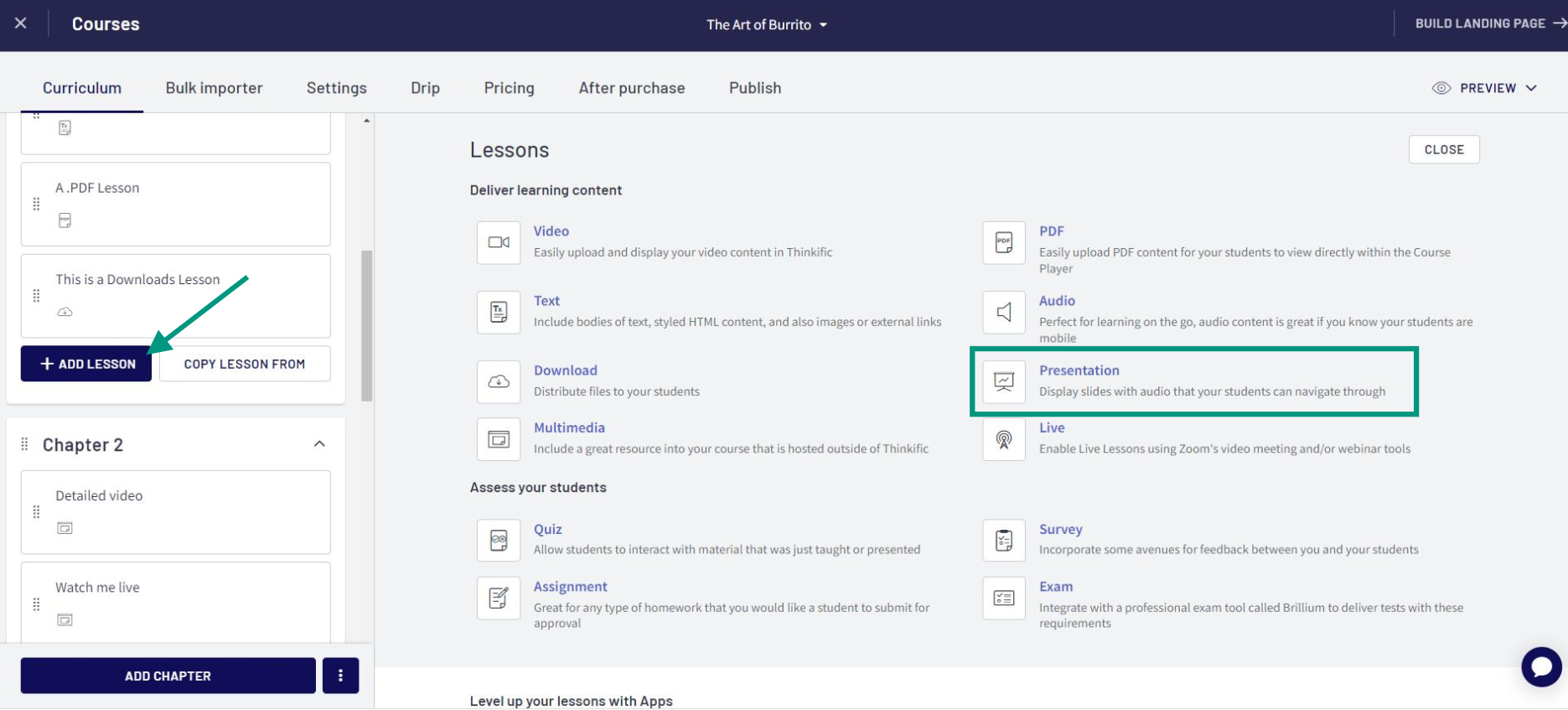 It will typically take the Presentation uploader no more than three minutes to process however, this time may vary depending on the size of your file. After it has been uploaded, you will have the option to record audio on each slide.
Managing Audio
To provide your students with additional context for your slides, you have the option to record audio directly in Thinkific or upload pre-recorded audio to each slide!
Learn how to set that up here: Managing Audio in Your Presentation Lesson
Replace a Presentation or Slide
If you have updated slides in your original presentation document and need to replace them, you have 2 options:
Delete Existing Presentation
We recommend deleting the existing Presentation if you have several slides that need to be updated or pages that need to be added or reordered.
Deleting a Presentation will permanently delete all slides and audio within the Presentation lesson. If you do not have a copy of your audio, make sure to download it from each slide before deleting your presentation. Learn how to back up your audio here.
How to Delete a Presentation
Navigate to your Presentation lesson in Course Builder
Scroll down to the Presentation pages area
Click the ellipses (3 dot icon) menu to the right of the Presentation pages heading
Select Delete Presentation
Check off all confirmation boxes
Click Delete PDF & Audio
Replace a Presentation Slide
If you only need to replace the image on one or two of your slides, you have the option to replace an individual slide within your Presentation.
Since the pages of your original PDF file were converted to images when uploaded to your Presentation lesson, you will need to use an image file type (we recommend .png or .jpg) to replace your slide. Any audio for that particular slide will remain when replacing the slide image.
Learn how to replace slides here: How to Replace a Presentation Slide
Completion Required Setting
If you want to make sure that students view all of your slides before they can complete the lesson, this is possible with our Presentation Completion Required feature. This will disable the Complete & continue button in the lesson until they have navigated through all slides.
Learn more about this feature here: Presentation Completion Required
If you don't have this setting enabled, students will be able to select Complete & continue to skip all slides, but will also see the following prompt warning them that they are skipping slides: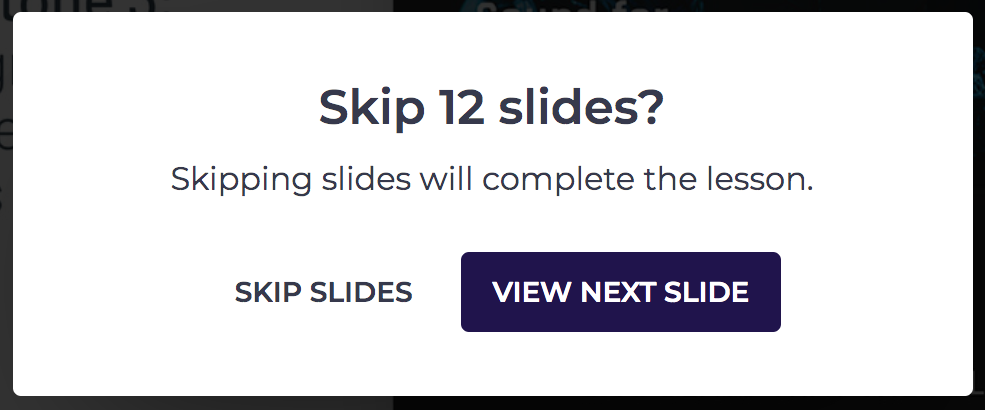 Important Considerations
For optimal student experience, we recommend keeping presentation sizes to approximately 20 PDF pages. It is possible to upload larger sizes however this will also increase the time to process the file.
For the best display in our Course Player, we also recommend your PDF pages have 16:9 dimensions.

Here is how to change the aspect ratio in

MS Powerpoint

and in

Google Slides.
The Presentation builder is only supported in Firefox and Chrome. Presentations can still be viewed on all Thinkific-supported browsers - this limitation applies to lesson creation only!
Frequently Asked Questions
There is no page limit however, for optimal student experience, it is recommended to keep presentation sizes to approximately 20 PDF pages. Uploading larger sizes will increase the time to process the file. If you have a longer file, consider splitting it into multiple PDFs and creating each section as its own lesson.
Are presentation slides responsive?
Your slides will always fill the lesson content height. This means your student will see the largest visual possible based on the size of their browser window.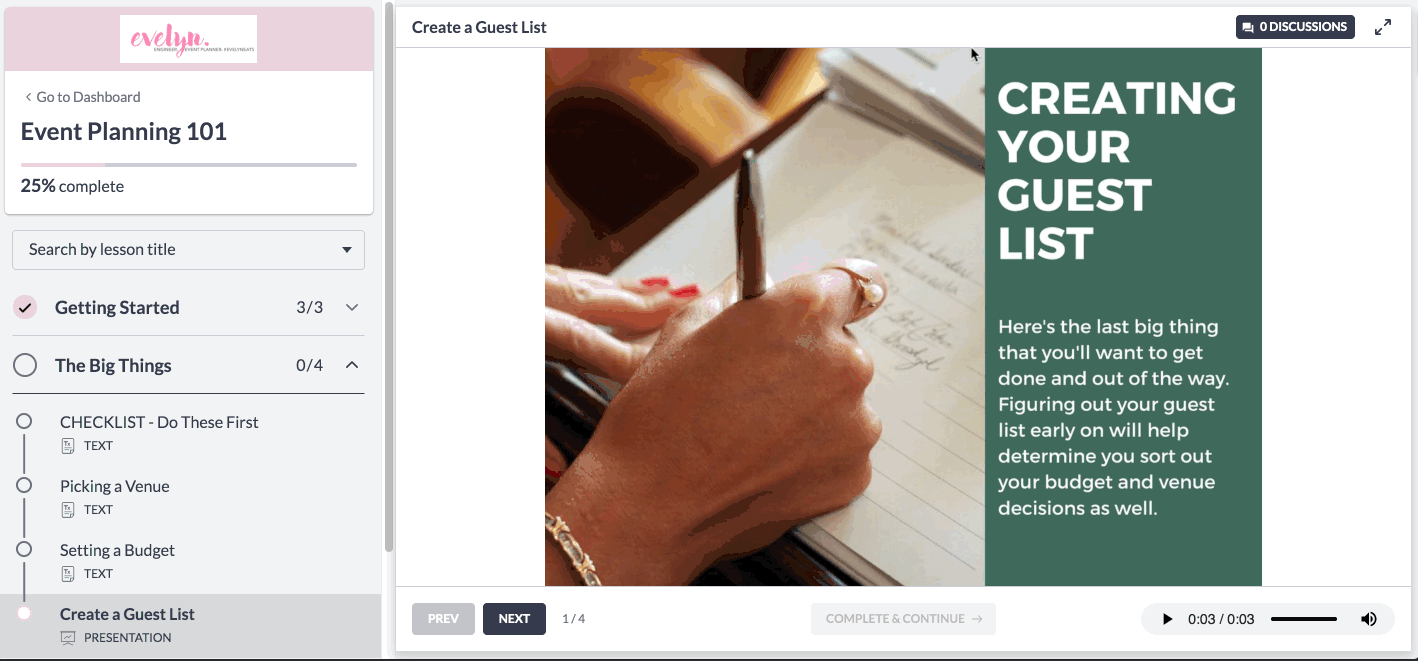 ---
More About Presentations
Managing Audio in Your Presentation
How to Replace a Presentation Slide
Presentation Completion Required