Create a learning community, where your audience can come together to build meaningful relationships, shared interests and common goals—while you build your business. 
In this article:
About Communities
What is a Thinkific Community?
A Thinkific Community is an online learning environment, created and owned by you, where students can participate in an interactive, communal learning experience, driving student engagement and connection that your students will pay for and stay for.
Thinkific Communities shift learning from a 'one-sided' experience into a collaborative, 'two-way' exchange. Learning communities create a dedicated and supportive space for students to share knowledge, and enable you to own your community and foster relationships while keeping the focus on your brand.
Each community is a dedicated page (on your Thinkific site) where students and instructors can interact through written posts and comments. You decide how you want communities to work for you; sell, bundle, and bump communities - with or without a course!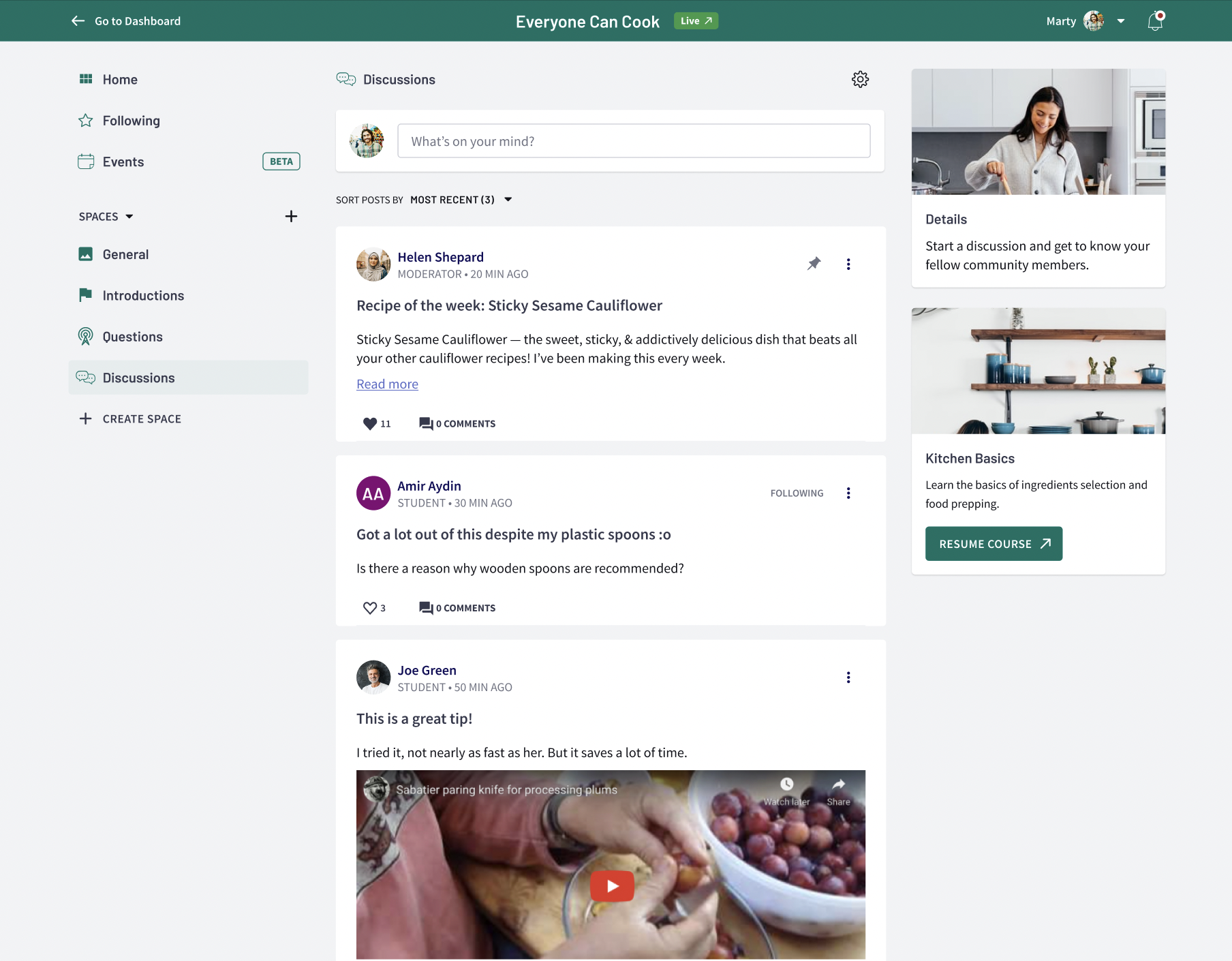 Why create a Community?
Thinkific Communities allow you and your audience to connect globally, build trust and loyalty, and collaborate socially. You can build a community around your existing content to add even more value to your online courses, or create a community as a stand alone, sellable product!
Here are just a few features available with Thinkific Communities:
What are the benefits of a Thinkific Community?
Create your own branded community
Just like everything you build with Thinkific, your brand is the star, with no outside distractions. Choose colors and key imagery, plus host your communities on your own custom domain, without the noise and distractions of social platforms.

You can own a branded, ad-free space for your customers to engage and connect—with your business and with each other.




Choose how to make communities work for you
In the past, communities were a place where you could offer your students a designated space to connect, discuss course material, and interact with both you and your other learners regarding your course material - but they didn't offer any avenues for scalable and sustainable income. With our latest offering, you have all the benefits of the previous version of communities

—

plus, you can now create communities as standalone, sellable products

—

just like courses! 


Assign community memberships
Assign community access by a specific course, bundle, or group, or create a site-wide community to allow any of your students access!


Freedom and flexibility to choose how to earn income 
You can drive engagement and generate sustainable income with diverse selling strategies including paid community memberships, bundles with courses, upsells to exclusive, relevant content, and more!


Built on a platform you can trust
Thinkific is trusted by over 40,000 course creators, and unlike social media platforms, you control all the content that appears in your community. No ads, no tracking, no spam.
How It Works
Each community is a dedicated page where your students can create new posts as well as view and comment on existing posts. Communities are individually named and branded with your desired community image, as well as color and font. Posts can include an image, video, or file link if desired!
To learn more about the features available within your community, check out our article Manage Your Community.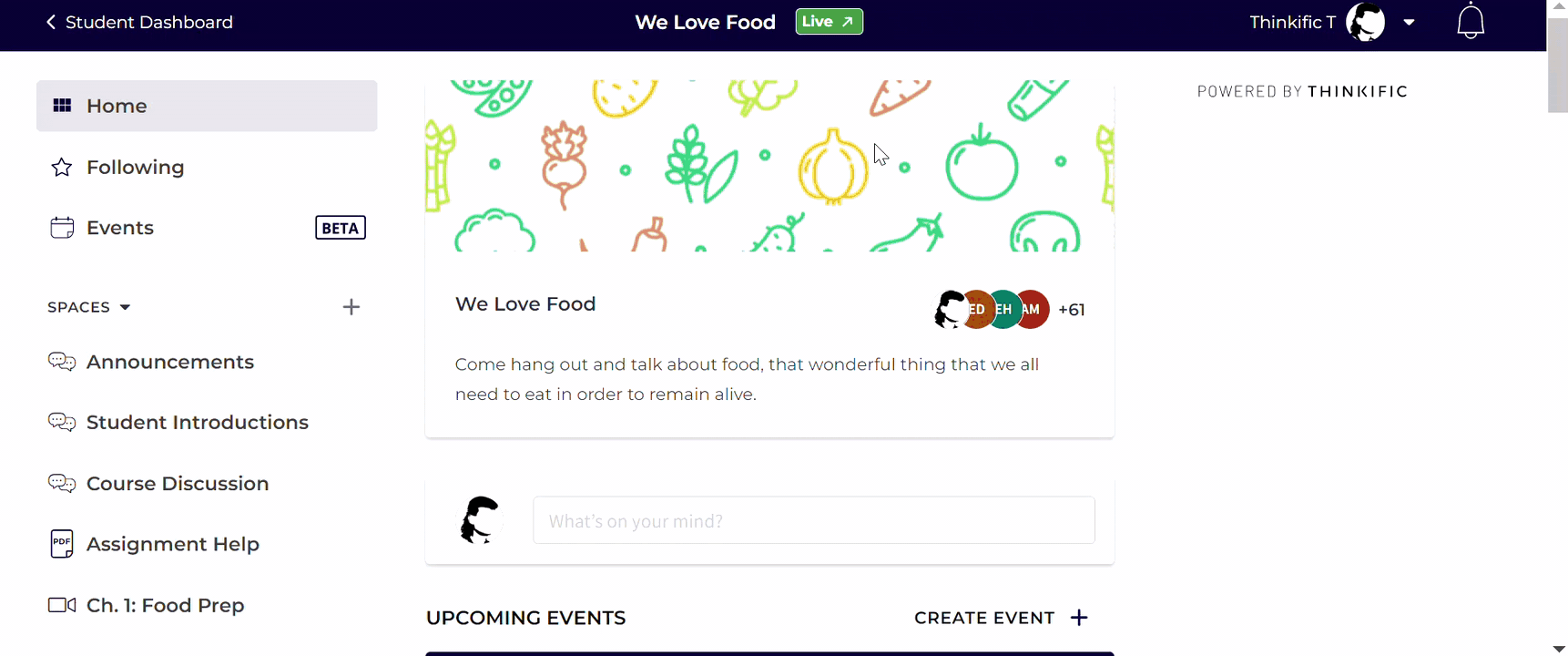 Important Considerations
Communities can work either with your courses as an add-on, or as a standalone product. If you currently have free communities offered to your students and don't want to convert them to paid products, there is no need to!
Communities that are available to students will be automatically displayed in their Student Dashboard
A community can also be accessed through a direct link to the community page
Currently, a maximum of 21 Communities can be displayed in the Student Dashboard.
Although Communities cannot currently be deleted or archived, if you are no longer using a Community, you can set it to private (only accessible to you as the Site Owner).
How to Create a New Community
Do you already have an existing community that you're looking to update to a sellable product? If so, check out our article Converting and Selling Your Existing Thinkific Communities.
Go to Manage Learning Products
Select Communities
Click + New Community


Select a name for your Community (don't worry, this can be changed later)
Once you have named your Community, you will be redirected to your Community homepage
[back to top]
Community Settings
Once you've created your new learning community, you will be able to update the following settings and customization options from within the Community Builder.
Go to Manage Learning Products
Select Communities
Select the ellipses (three dots) on your community card, and hit Edit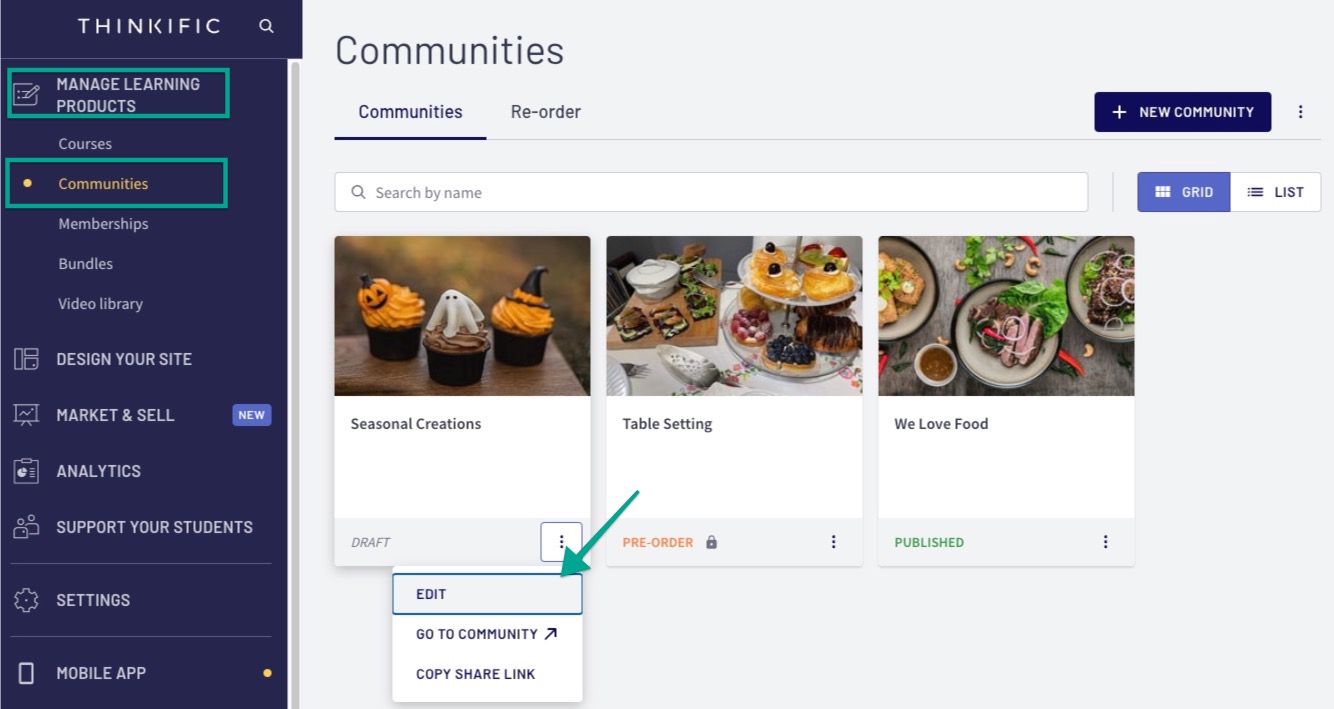 Settings Tab
Name, image, and description
In this space, you will be able to update the name of your community, the main community image (this will show on your community card on your community landing page), and the description of your community.
Access
The access setting will allow you to select what groups are able to access your community, and how. From this section, you can choose from the following access levels:
Students that purchase this community
All students that are logged into your site
Students in selected courses or bundles
Students in selected groups
Learn more about community access options here.
Visibility
Visibility allows you to decide who can view your community. If you have chosen any of the last three options (mentioned above) as the access level for your community, the default visibility option will be set to Private. Learn more about Private and Hidden settings here.
Appearance
Set the primary color and font for your community to match your branding! The color will be applied to the header and buttons of your community, and the font will be used as the main font throughout.
Image
Upload an image to appear as your community's homepage banner. This will appear in the top right side of your community above your description.
Sharing Link
This is where you can find the sharing link for your community. Use this to send links to your community to your students.
SEO settings
Add search engine optimization (SEO) settings to help improve your community's visibility in searches.
Pricing Tab

Primary pricing
From this section, you will be able to set the initial pricing option that will be displayed on the community landing page. Choose from:


| | |
| --- | --- |
| Pricing Option: | How it Works: |
| Free | Offer free content to your subscribers. Optionally, you can set an enrollment duration that will limit the time students have access to your content. |
| One-time payment | Charge students a one-time fee to access the content. Optionally, you can set an enrollment duration that will limit the time students have access to your content. |
| Subscription / Membership | Charge students recurring monthly fees for access to community content. |
| Monthly Payment Plan | Split the full community price over several monthly payments. |
Set additional pricing
From this section, you will be able to offer your customers additional pricing options to purchase your community. You can add as many prices as you like!
Learn more about how to Set Additional Pricing for Your Products.
Publish Tab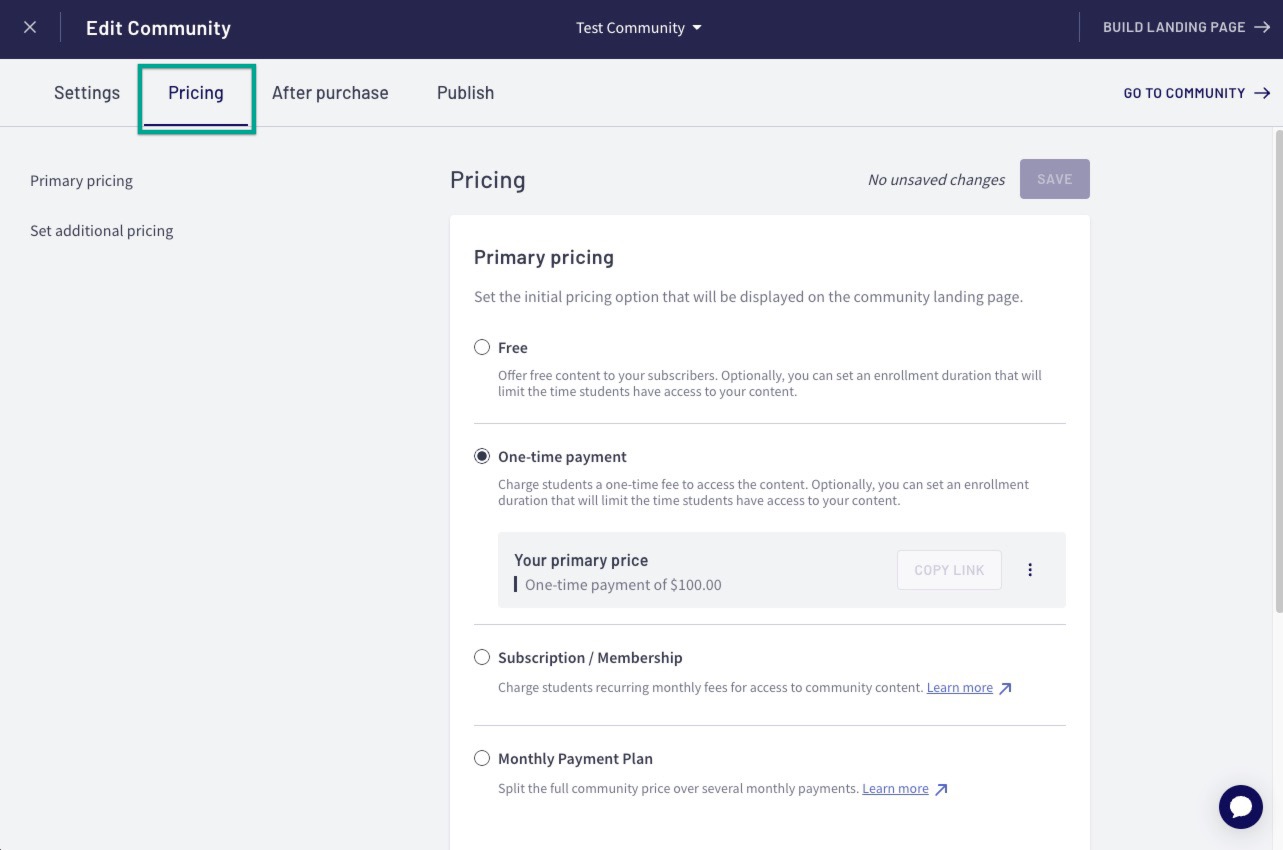 From this section, you will be able to publish your community using one of the three available options:
Draft
With this option, students will not be able to access or purchase this community. For students that previously had access, this community will disappear from their Student Dashboard.
Note: This status replaces the previous 'Only Me' status in the access settings.
Pre-order
Students can pre-order this community, but cannot access it. For students with access to this community, a community card will appear in their Student Dashboard with a 'Coming soon' label.
Published
Students will be able to access the community based on the access options selected in the 'Settings' tab. For students that have access, this community will appear on their Student Dashboard.
Your Community Landing Page
Every product with Thinkific has a landing page created by default. You can add a variety of content to your product landing page, such as: a description of your product, a curriculum outline for your courses and bundles, an introductory message for your community, but most importantly—a call to action button to allow students to purchase your product!
To access your community landing page:
From your Admin Dashboard, go to Manage Learning Products
Select Communities
Select the ellipses (three dots) on your community card, and hit Edit

Select Build Landing Page on the top right
Now you are in Site Builder, where you can build out your community landing page!

For full instructions on how to edit your landing page sections within Site Builder, check out our article: Build Your Community Landing Page.
View Your Community
Once you Save your community settings, you can view your community in a few different ways:
View a Community From Your Communities Page in the Admin Dashboard
Go to Manage Products
Select Communities
Click the ellipses (three dots) on the Community card
Select Go to Community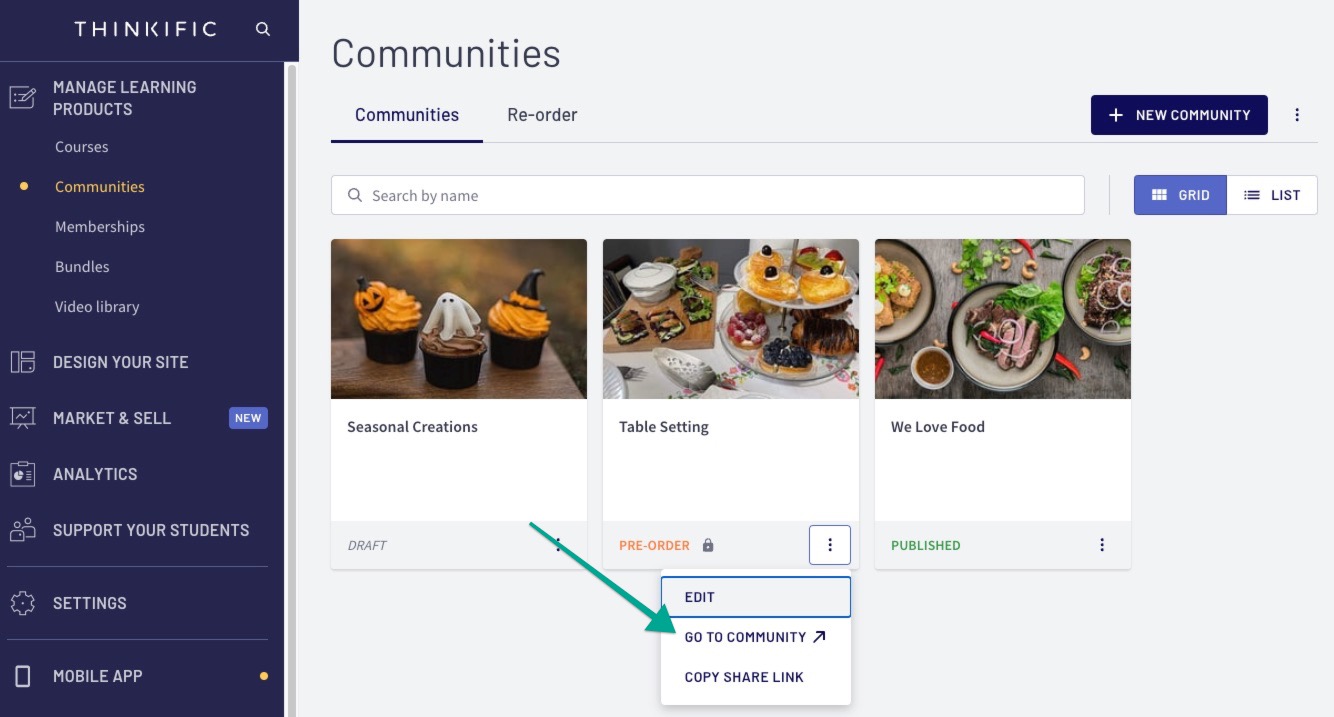 View a Community From the Community Builder
Select Go to Community on the top right of Community Builder.
View a Community Using a Share Link
You can also select Copy Share Link and paste the link that is generated into your browser to access your Community.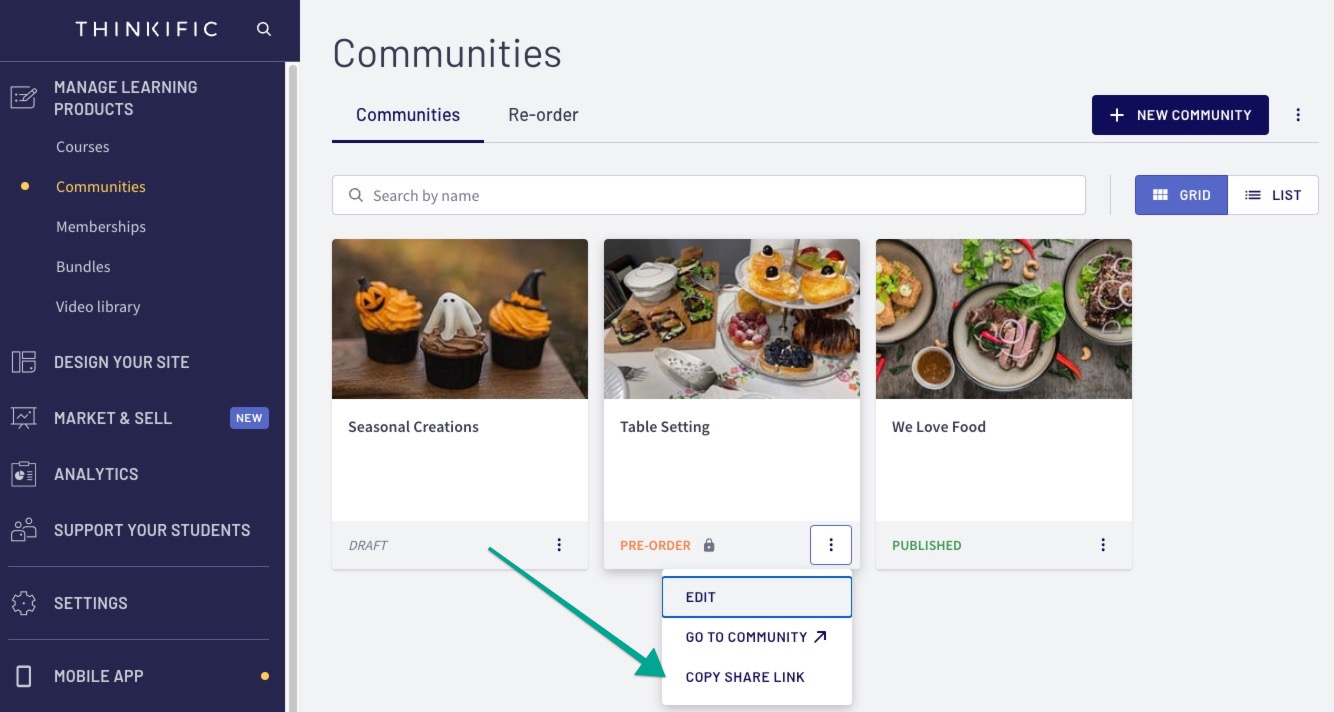 [back to top] 
Looking for alternatives to our built in communities feature? Check out Are there any App solutions for communities?
---
More About Learning Communities
Drive Revenue with New Thinkific Communities
The Thinkific Community Builder