Bring your audience together and create a dynamic learning community where they can forge valuable connections, share common goals, and pursue their passions. Foster meaningful relationships and grow your business simultaneously!
---
In this article:
What are the benefits of a Community?
About Thinkific Communities
As a Creator, you have the opportunity to create and own a powerful online learning environment that fosters engagement and community among your members. Creating a community provides a collaborative and interactive experience that goes beyond traditional one-way teaching methods. By building a solid Community, you can increase member engagement and participation, as well as foster lasting connections. With Thinkific Communities, you can take ownership of your brand and create a dedicated space for your members to share knowledge and support each other's growth.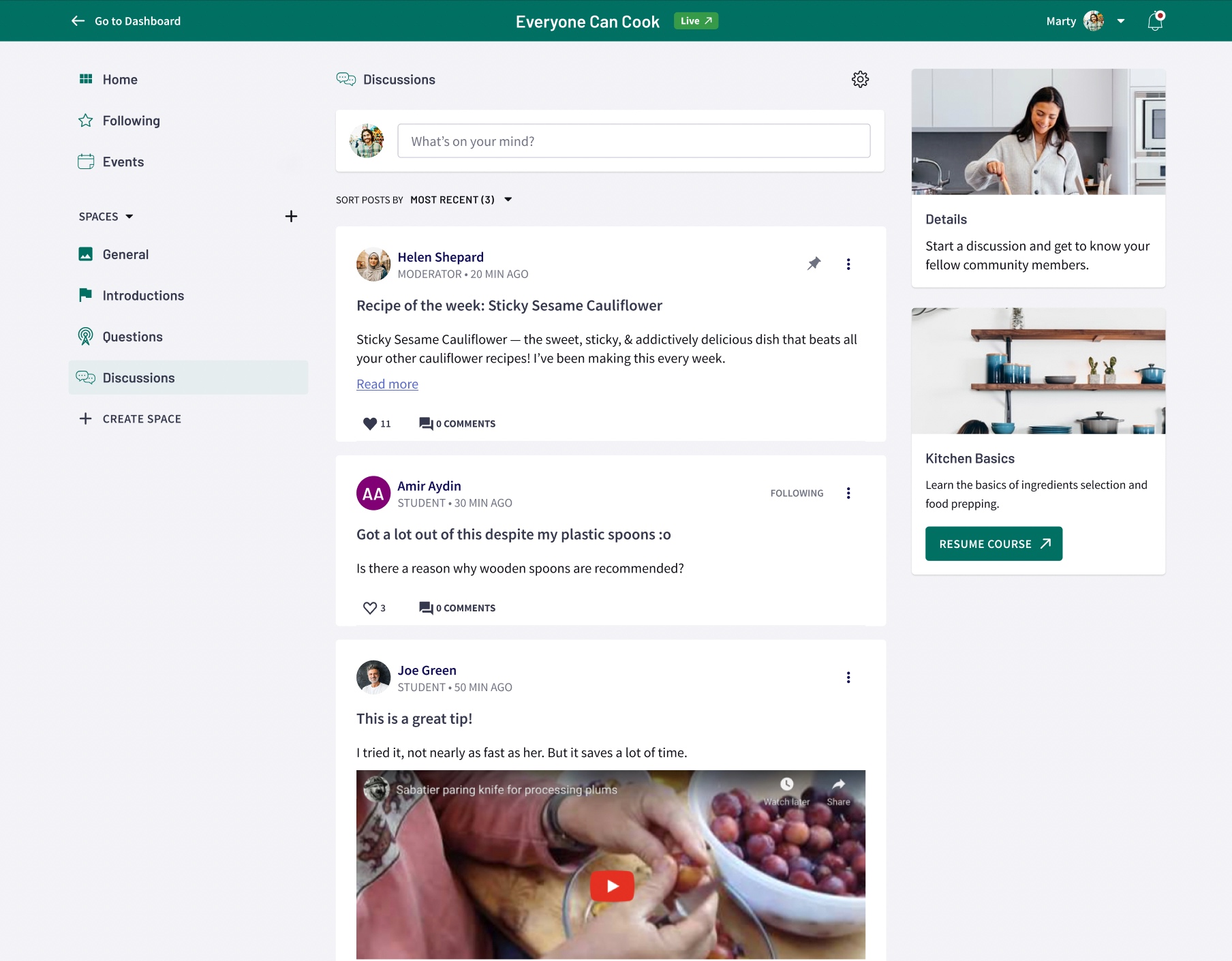 When paired with the Thinkific Mobile app, Communities can become an even more powerful learning tool, allowing your learners to connect, learn, and share knowledge on the go while allowing you to keep your content top of mind with features like push notifications. Learn more here: Increase Engagement With the New Thinkific Mobile App.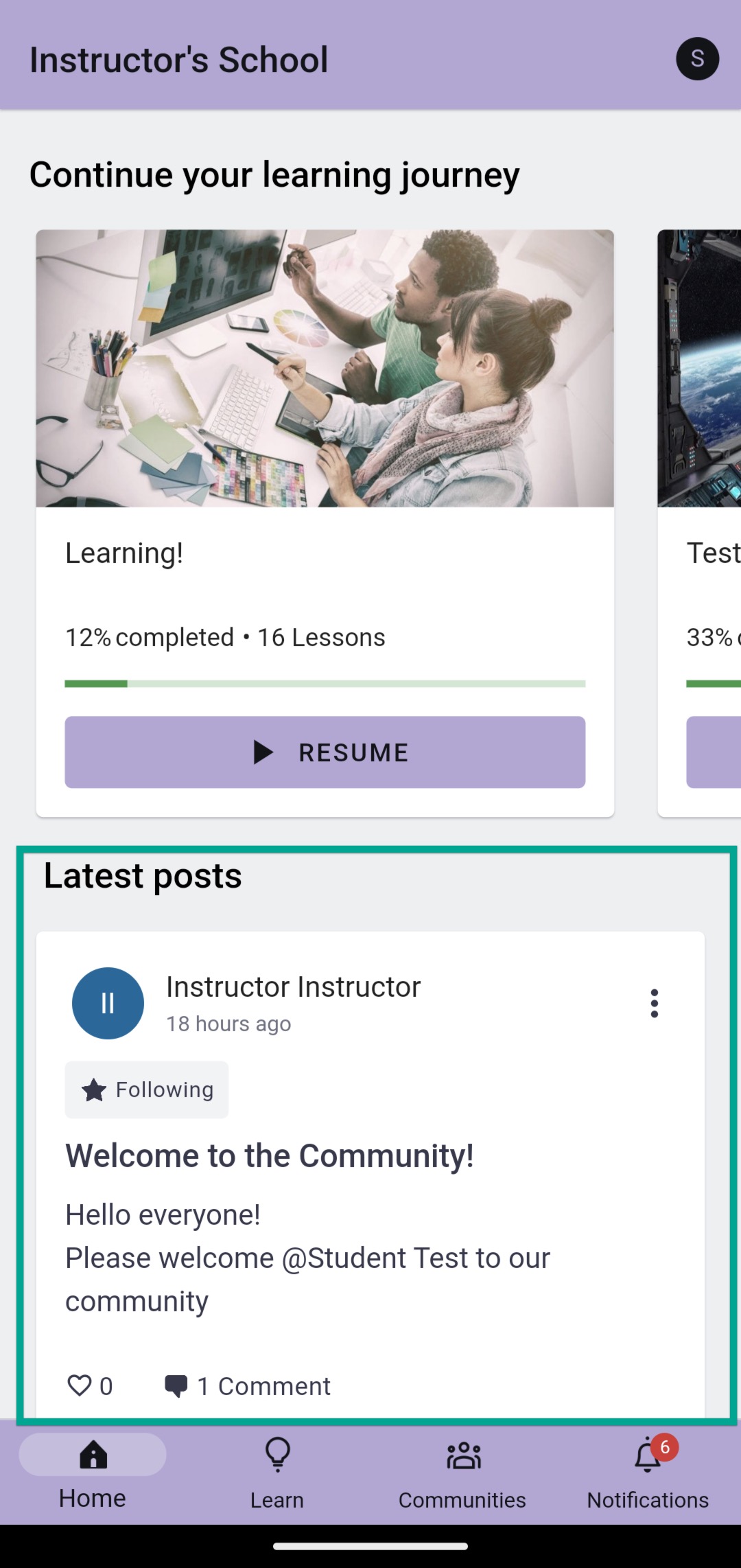 Why create a Community?
Thinkific Communities allow you and your audience to connect globally, build trust and loyalty, and collaborate socially. You can build a community around your existing content to add even more value to your online courses, or create a community as a stand-alone, sellable product!
Here are a few ways you can incorporate Thinkific Communities into your business:
What are the benefits of a Community?
Create your own branded community
Just like everything you build with Thinkific, your brand is the star, with no outside distractions. Choose colors and key imagery, plus host your communities on your own custom domain, without the noise and distractions of social platforms.

You can own a branded, ad-free space for your customers to engage and connect—with your business and with each other.




Choose how to make communities work for you
In the past, communities were a place where you could offer your students a designated space to connect, discuss course material, and interact with both you and your other learners regarding your course material - but they didn't offer any avenues for scalable and sustainable income. With our latest offering, you have all the benefits of the previous version of communities

—

plus, you can now create communities as standalone, sellable products

—

just like courses! 


Assign community memberships
Assign community access by a specific course, bundle, or group, or create a site-wide community to allow any of your students access!


Freedom and flexibility to choose how to earn income 
You can drive engagement and generate sustainable income with diverse selling strategies including paid community memberships, bundles with courses, upsells to exclusive, relevant content, and more!


Allow your students to connect when, where, and how they want
Paired with the Thinkific Mobile app, Communities become an even more powerful tool that allows you and your students to connect with each other on the go, using a native mobile app. With features like push notifications and activity feeds you can drive higher engagement and keep your content top of mind.


Built on a platform you can trust
Thinkific is trusted by over 40,000 course creators, and unlike social media platforms, you control all the content that appears in your community. No ads, no tracking, no spam.
How It Works
You decide how you want communities to work for you; sell, bundle, and bump communities - with or without a course. Each community is a dedicated page where your students can create new posts as well as view and comment on existing posts. Communities are individually named and branded with your desired community image, as well as color and font. Posts can include an image, video link from Youtube, Vimeo, or Loom, or file link if desired!
To learn more about Learning Communities, check out our articles below:
Thinkific Community Features
As a Creator, you understand the importance of building a supportive and engaging community of learners. However, managing a community can be overwhelming, especially as it grows. This is where moderators come in — they are members of your community who you trust to help you manage and maintain a positive and productive learning environment. They can monitor discussions, handle any issues that arise, and keep the community organized. By assigning moderator roles, you can delegate some of the responsibilities of managing the community, freeing up your time to focus on creating and sharing valuable content.
Learn more about Moderator Roles.
Community Profiles allow members to share information about themselves, such as their name, picture, company, professional title, and timezone. This feature enables students to find others who share common interests, learn more about their peers, and establish professional connections. With this feature, you can gain insight into your members' backgrounds and interests to inform you about future course content and marketing.
Learn more about Profiles & Mentions.
Stay informed and engaged with push, mobile, web app, and activity email notifications. Notifications allow you and your community members to build stronger connections and foster a more vibrant learning environment. Push notifications keep your learning content top of mind while reminding your learners to engage with you and their peers. With mobile and web app notifications, you can stay up to date with your community's activity in real-time, so you and your members never miss an opportunity to connect with each other and build a thriving community. Activity email notifications deliver updates straight to member inboxes, ensuring that everyone always stays informed, no matter where they are. These features help you and your members stay engaged, connected, and informed, leading to a more supportive and productive learning community.
Learn more about Community Notifications and Activity Email Notifications.
Community Spaces allow you to create separate areas within your community where members can gather to discuss specific topics or engage in activities. Organize your community content and create a more personalized experience for your members. With Community Spaces, you can cater to the unique interests and needs of your community members and build a more engaged and active community. Whether you're looking to host discussions, run challenges or events, or simply create a space for members to connect and collaborate, Community Spaces provide you with the flexibility to meet your community's diverse needs.
Learn more about Community Spaces.
With Live Events in your Thinkific Community, you can connect with your audience in real-time and foster engagement through live video or audio broadcasts, webinars, Q&A sessions, and more. This feature allows you to bring your community together for interactive and immersive experiences, creating opportunities for collaboration, feedback, and relationship-building. Whether you're a course creator, coach, or consultant, Live Events can help you increase student engagement and retention, establish thought leadership, and ultimately grow your business.
Learn more about Live Events.
Trending Posts highlight the most popular and engaging posts in your community. As a Creator or Community Moderator, you can use this feature to track which topics are resonating with your members and adjust your content strategy accordingly. Trending Posts makes it easy for community members to discover new and interesting content, and provides a quick and convenient way to join in on conversations that are already happening. With Trending Posts, you can keep your community engaged and informed while maximizing the potential of your content.
Learn more about Trending Posts.
Communities Search lets you search within your Thinkific Community for posts, replies, and comments. This feature allows you to easily find specific content that you're interested in, without having to manually scroll through your entire Community, making your learning and community experience more efficient and effective.
The Thinkific Mobile App allows your students to access their learning content on the go, including their communities, all on their devices using a native app. With access to courses and communities, and features like push notifications, activity feeds, and more directly in your students' pocket - it's easy to drive engagement while keeping your content and learning products top of mind. 
Looking for a mobile app that spotlights your brand with your logo and own App Store listings? Check out our Branded Mobile App solution: Maximize Your Brand Potential With the Branded Mobile App.
Learn more about features supported on mobile here: Supported Community Features.
---
More About Learning Communities
Drive Revenue with New Thinkific Communities
The Thinkific Community Builder