Surveys are a fantastic way to gain additional information from your students that you can then use to improve your course content and student engagement.
---
In this article:
Why Add a Survey to Your Course?
How to Add a Survey to Your Course
Why Add a Survey to Your Course?
Surveys within your course provide an opportunity to find out more about why a student is enrolled and what they are looking to get from your course.
We recommend having a survey at the beginning of your course which includes some basic questions about what your student is expecting to learn, their current level of expertise, and some of their current roadblocks. At the end of the course, you can also include a survey to see if their learning objectives were achieved, how confident they feel about the material and general feedback. We have some great sample questions in our course templates! To check out our sample surveys, create a new course and select our Mini-course or Flagship course template.
Important Considerations
Surveys can only be completed by a student once
Once a student submits an answer, they cannot review or change previous responses
Students are also not able to review the entire survey after completing it
Site Admins and Course Admins can review survey responses using a Quiz & Survey Export
Surveys are designed to help you as the course creator collect feedback regarding your course or subject matter. If our survey lesson isn't quite what you are looking for, check out Additional Survey Options!
How to Add a Survey to Your Course
Go to Manage Learning Content
Select Courses
Click on a specific course in the Course Overview to open the Course Builder
Navigate to your desired chapter and click Add Lesson
Select Survey


Add Your Survey Details
Add a Survey title for your lesson
Optionally enable/disable free preview, draft setting, prerequisite or discussions


Question Types
There are 5 different question types available in surveys:
One answer - Allows the student to select only one option. This is a typical multiple-choice question format.
One or more answers - Allows the student to select several options. Unlike 'One answer', this can be used when you want the student to be able to select more than one of the available options.
Rating - Provides the student with a selection of values in a line. See example below.
Scale - Provides the student with a range of values to choose from and includes left/right labels.
Free Text - Gives the student a textbox to write their answer in.
How to Add Questions
Click Add Question
Select a Question Type from the drop-down menu

Optionally enable This question is optional
In the Question field, input your question



Select

Add Choice to add an answer choice to the question


Repeat step 5 until you have added all desired choices
If Scale question type was selected, input a Left, Middle and Right Label (Middle label will only appear if you have 3 or more questions added)

Click Save
What is the Difference Between Rating and Scale Question Type?
Visually, the main difference between Rating and Scale question types is that a Scale question type will include a left and right label to help clarify what the range of the Scale covers. For example: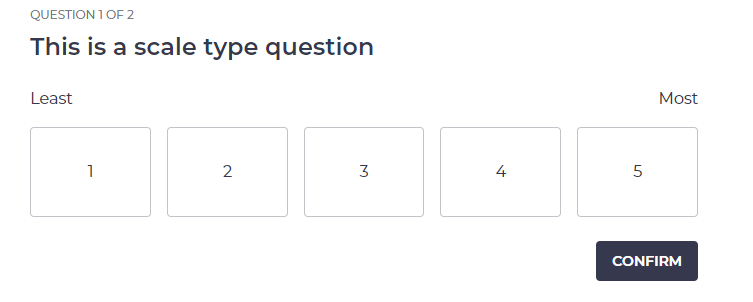 A Rating question type is comparable to a 5-star rating system and will auto-fill all values to the left of the selection made by your student. For example:

For both Scale and Rating question types, the values displayed are defined by you as the course creator. The values are added by using the 'Add Choice' option when building the question.
Survey Reporting
You can generate reports on all of your Survey data. For details, see Quiz & Survey Export.
Additional Survey Options
While our built-in survey tool works for most people, some prefer to use a more robust survey tool like Google Forms or Survey Monkey embedded into a Multimedia lesson type. These tools generally have more robust reporting, more question types, and access to survey results via their API. You can also often set up these forms to email your students their results after completion if you would like them to have access to their responses.
If you are looking for multiple choice and more than one answer question type, also check out our Quiz lesson!