Instructor profiles can be included on your course landing pages as a way to introduce your course's author, facilitator, or sponsor.
---
How It Works
Instructor profiles are stand-alone profiles that allow you to include information about the people responsible for your courses on your website. An instructor could be the course designer, the person facilitating the course, or anyone involved in building out your content that it would be useful to promote on one of your pages.
Since instructor profiles are not linked to actual user accounts, you can have as many as you want — including building multiple profiles for the same person, if you want to focus on different elements of their biography or skillset in different places.
This article will focus on creating and managing instructor profiles through your Thinkific admin dashboard; to learn more about deploying these profiles in Site Builder, we recommend reading the article on the Instructor(s) Section.
Instructor profiles are not users themselves. If you want to set up a user to manage your courses for you, you need to create a course admin. If you want to share the revenue from a course with someone, you need to create a product payee.
Managing Instructor Profiles
The Instructors list is located in your Admin Dashboard sidebar menu, under Manage Learning Products, Courses. Once there, you can create new instructor profiles, edit existing profiles, or delete extra profiles — though you always need at least one.

Creating a New Instructor Profile
Open Manage Learning Products, and click Courses
Select the Instructors tab
Click on the New Instructor button on the top right of the page
Enter your Instructor information
Optional: Click Upload to upload an Instructor image
Click Save to finish creating the profile
Click to learn more about how to assign an instructor profile to a course.
Editing an Existing Instructor Profile
Open Manage Learning Products, and click Courses
Select the Instructors tab
Find the instructor you want to edit in the list, then click the Edit button to the right of their information
Edit your Instructor information as needed
Click Save to save your changes
To delete an instructor profile, you must un-assign the profile from any courses it is set as the instructor for. Then, ppen Manage Learning Products, and click Courses. Select the Instructors tab, and delete the desired instructor profile: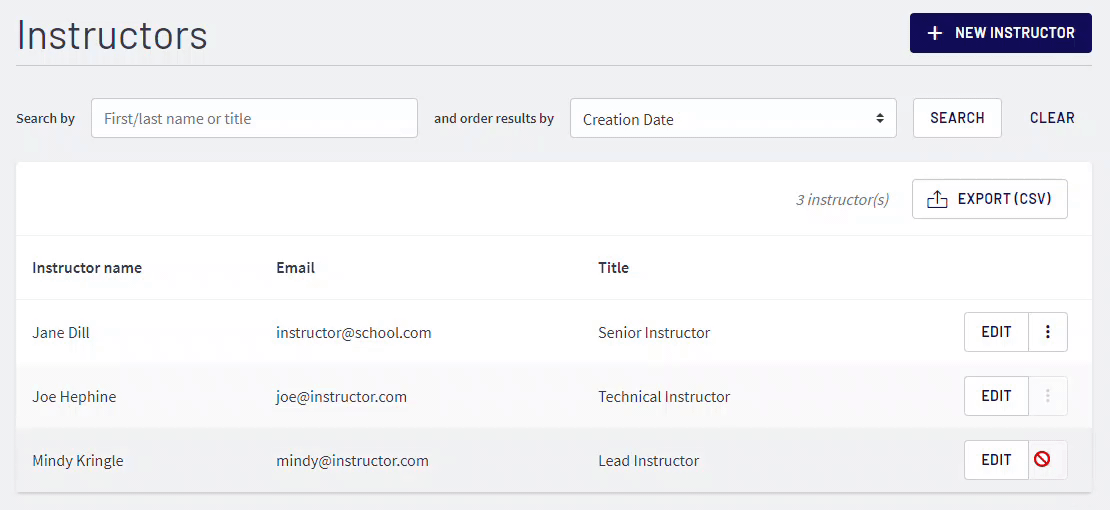 Please note that there is no way to delete all the instructor profiles, as there must be at least one default instructor who is assigned to all courses.
Instructor Profile Fields
Whether you are creating a new Instructor or editing an existing one, the same set of fields are available. These fields will be used when you add the Instructor to your web pages.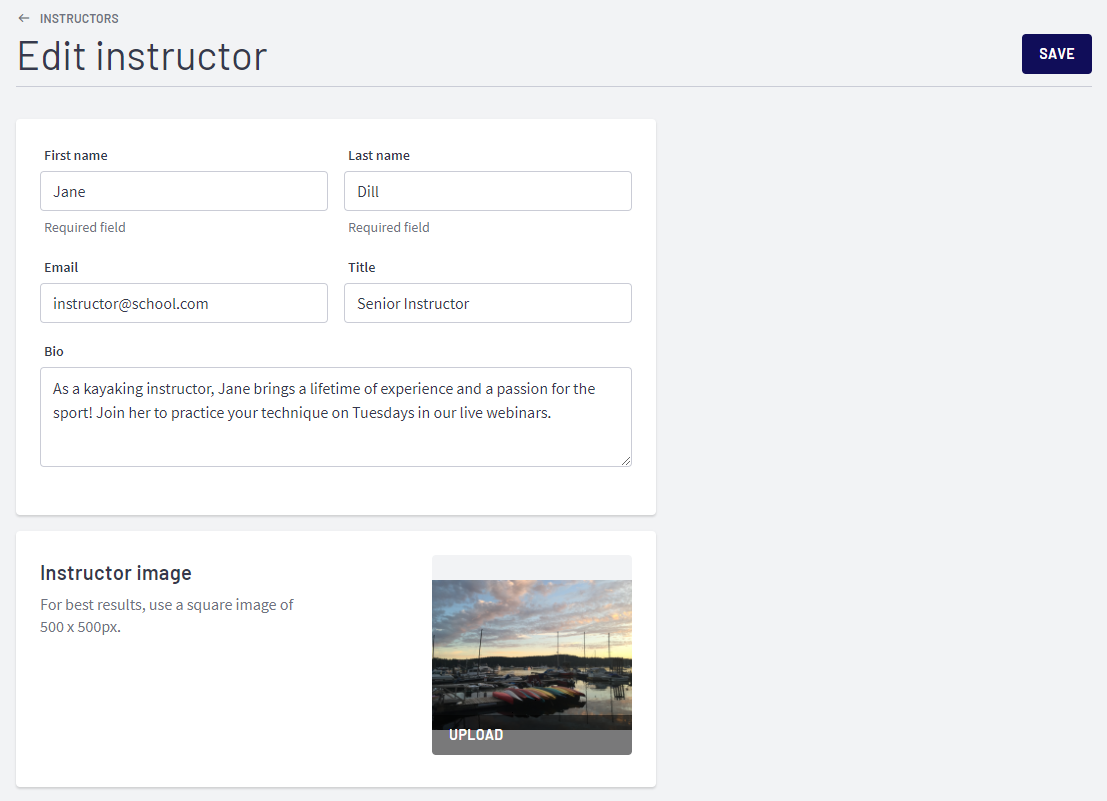 The First and Last name fields are the only two required fields and should be filled out for all instructors. The Email and Title fields are optional to complete, depending on what information you want to be able to present on your website.
While the Bio field is technically optional, we highly recommend filling out a bio for any instructors you plan on featuring on your site; this is where you get to talk up their expertise and make it clear how much value they are bringing to your courses.
If your instructor bios are longer than a paragraph, you might want to include some formatting to help make them easier to read. To do this, you'll need to use a bit of html mark-up to make sure the formatting makes it to the webpage: read this article for more details.
Adding an Instructor Profile to a Landing Page
Once you've created their profiles, Instructor bios can be added to your sales pages to add a personal touch and introduce the expert teaching the course.
Click here to learn more about adding an Instructor section in Site Builder.