The Student Dashboard is the page on your Thinkific site where your students access their courses and communities.
---
In this article:
Customize Your Student Dashboard Page
How to Link to the Student Dashboard
About This Feature
The Student Dashboard is the page students land on when they sign in to their account on your Thinkific site. On the Student Dashboard, student users see the course cards for the courses in which they currently have an active enrollment. Students will also see community cards for any Communities to which they have access.
From this page, students can click to resume or start courses in the Thinkific Course Player, and click into a community. They can also click on Site Header links to navigate to other pages on your Thinkific site.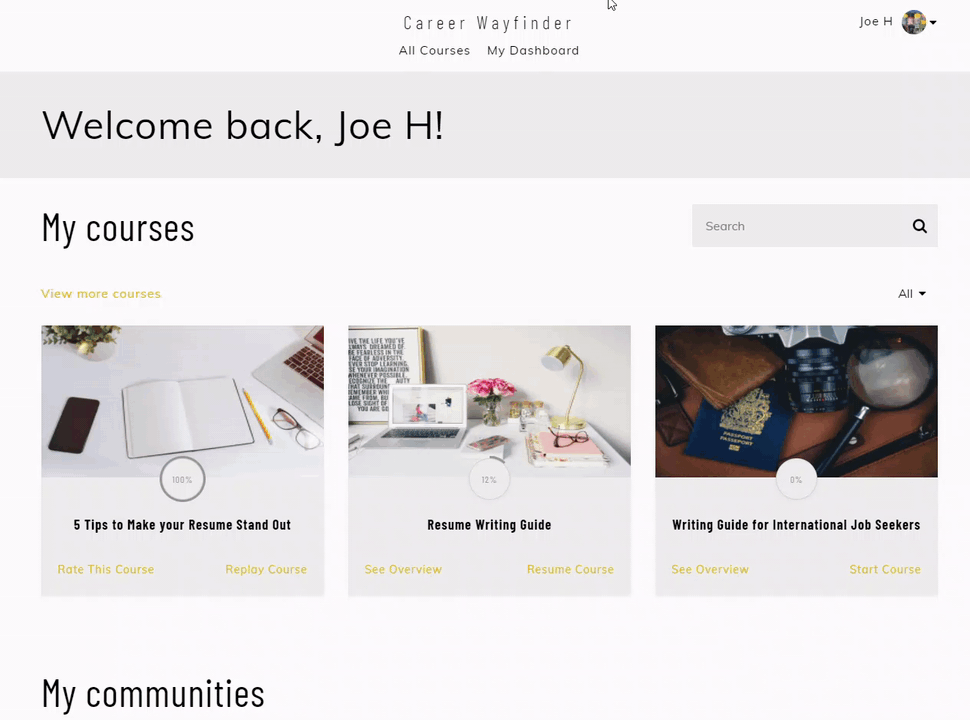 How It Works
When a student signs into their account on your Thinkific site they will be taken to their Student Dashboard. The dashboard is personalized for each student, depending on which courses and communities they are in. If a student is enrolled in a Course Bundle, courses included within the bundle will be displayed as individual course cards on the dashboard, not as a bundle card. 
By default, the course cards on the Student Dashboard are arranged in order (from left to right) by last accessed. That means if a student's course cards start out arranged 1, 2, 3, 4 and the student clicks into course 4, that course card will move to the front. The course cards will be arranged 4, 1, 2, 3 the next time the student goes back to their dashboard.
How Course Cards Work
Students can use the course cards on their dashboard to access their courses directly. The link on the right (which shows as Start, Resume, or Replay Course depending on the student's progress) will open the Thinkific Course Player, as will clicking on the name of the course or the course card image.
Students can access a course's landing page by clicking See Overview on a course card.
Additional Considerations
If a student's enrollment in a course expires, the course card will disappear from that student's dashboard. If they re-enroll in the course from the same student account, their progress in the course will be saved and the course card will reappear on their dashboard.
Clicking on the All dropdown menu, below the Search bar, will allow students to filter their enrollments by course progress. Selecting Expired from this dropdown menu will allow students to view course cards for courses that they don't currently have an active enrollment in, even though these course cards will no longer automatically appear on their dashboards.
Clicking on the View more courses link, below My courses, will take students to your All Courses page.
The Search bar on the Student Dashboard searches a student's enrollments by Course Name, Instructor Name, Course Keywords, and Chapter and Lesson names.
Customize Your Student Dashboard Page
The Student Dashboard is a Default Page, which means the sections described above will appear automatically. You also have the option to add additional sections under these default sections. Here's how to customize the base layout all your students see:
From your Admin Dashboard, select Design Your Site
Select Site Pages

Select

Filter

 and click the 

Default pages

 checkbox

Select the Student dashboard page to open in Site builder by clicking the pencil icon
Optional: Click on any tabs to edit existing sections
Optional: Click Add section to add a Site Builder Section
Click to Save any changes
Several sections of the Student Dashboard can be customized, including:
How to Link to the Student Dashboard
The format of the URL to your Thinkific site's Student Dashboard is yoursite.thinkific.com/enrollments. Simply replace yoursite.thinkific.com with your site's URL to create a link to your students' dashboards.
By default, the Student Dashboard is linked in your Site Header. The Student Dashboard can also be linked in your Site Footer and from Site Builder Buttons. Check out: How to Link to the Student Dashboard in Your Site Footer and How to Link a Button to the Student Dashboard. 
Frequently Asked Questions
 Can I have students land on a page other than the Student Dashboard when they sign in?
Yes. Please reach out to our Support Team with the URL for the site page you'd like your students to land on after they sign in. 
More About the Student Experience
The Thinkific Student Experience
Student Profile and Account Settings