Getting the same questions from students over and over? Create a Frequently Asked Questions section, and answer them once and for all!
---
In this article:
Adding a Frequently Asked Questions Section
About This Section
The Frequently Asked Questions (FAQ) section lets you list up to nine questions and answers, providing an easy way to highlight the answers to any commonly-asked questions you receive: about your products, your pricing structure, or anything else.
If you've been asked a question by one or two students, it's usually a safe bet that others — including brand new visitors to your site — are curious about the answer as well. A carefully-curated FAQ can convert that curiosity into sales, and help pre-empt costly confusion and frustration on the part of your students.
Where to Use This Section
A FAQ section is best deployed on the page most closely related to the topic of the questions. If you've noticed a lot of confusion about a particular product, add a FAQ to that product's landing page! If there are general questions about your school's instructors, or your personal teaching philosophy, better to answer those on your home page, or a custom page devoted to the topic.
Sometimes it might make sense to repeat questions between FAQs located on different pages, or even reuse a generic FAQ on each of your product's landing page; if that makes sense for your site, check out our article on how to Copy Theme Sections in Site Builder.
Adding a Frequently Asked Questions Section
From your Admin Dashboard, select Design Your Site
In Site Pages, select the page where you want to add the section
Click the pencil icon to edit this page in Site Builder:

Click Add section and select Frequently asked questions from the list
Optional: Rearrange the position of the new section, if necessary

Click on Frequently asked questions to open the section settings
Click on Frequently asked question to edit the individual questions and answers
Optional: Click Add FAQ if you want to include more than the default three questions; you can also delete unwanted questions by clicking on Delete block
Optional: Customize the section as required (see below for options)
Click Save to apply your changes
Section Customization
Headings: The heading is the title for the entire section, and the subheading appears directly above or below the heading (depending on your Theme). The Alignment controls the alignment of the entire section, including heading, subheading and individual FAQs.
Layout: You can remove top or bottom section padding if there appears to be too much space between this and adjacent sections. The Collapsed by default checkbox controls whether the section will display both questions and answers by default, or if only the questions will display at first.
Frequently asked question: This is where you put the Question and Answer for each FAQ item.
If you want to customize the text and layout of your answers to include multiple paragraphs, bold text, or even links, you can use standard HTML mark-up to do so. If you are not confident in your ability to do this, you may want to consult one our Thinkific experts.
Section Examples
Empire (Spark)

Vision (Focus)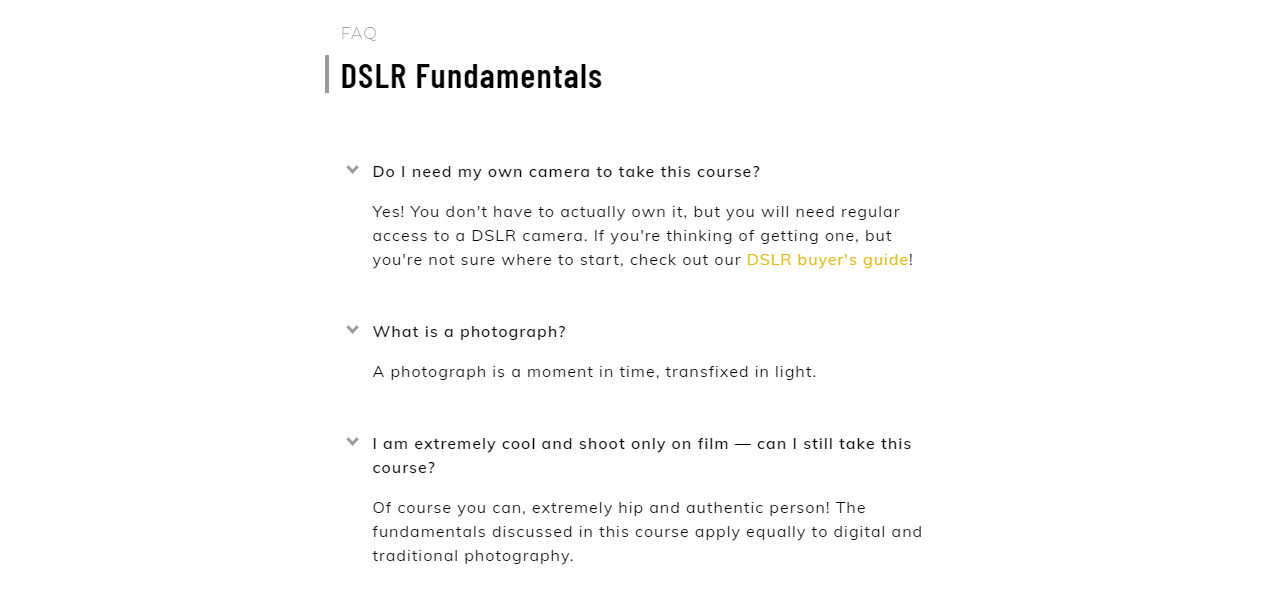 Vogue (Classic)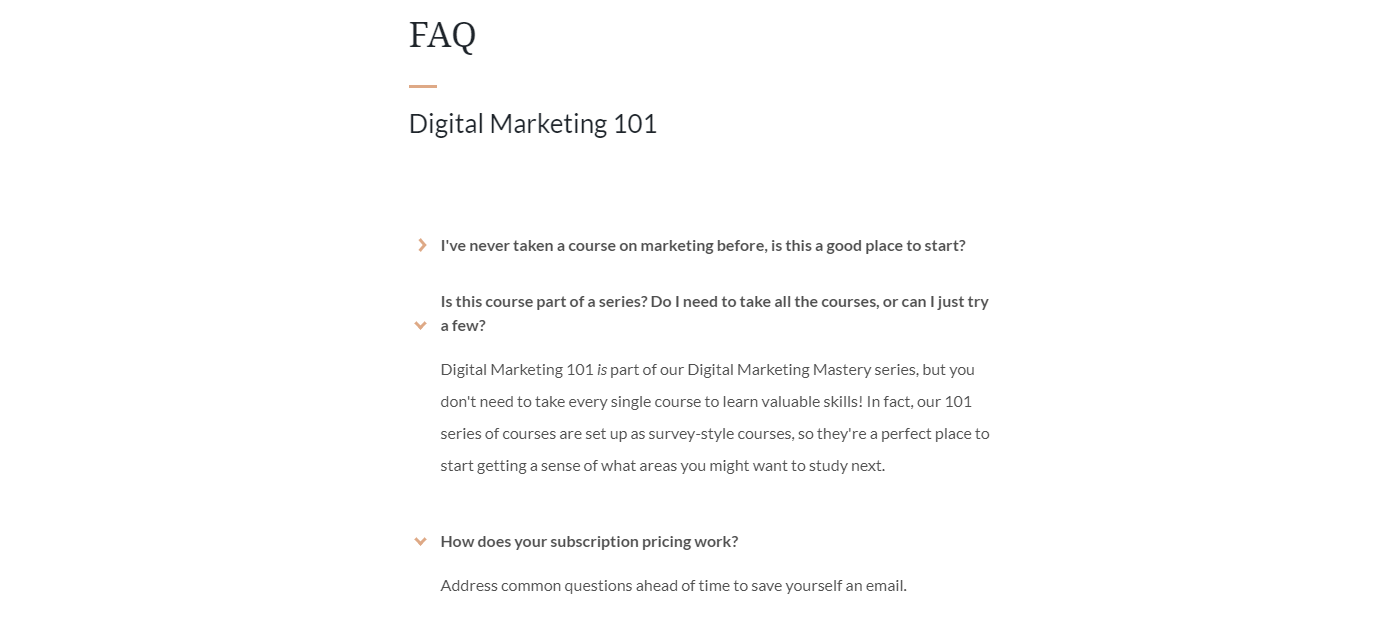 For in-depth examples of our different Themes and Styles in action, check out our Theme Demo Site. Use the buttons along the bottom of the page to browse all the different possibilities!
Frequently Asked Questions
Can I have more than nine questions in a FAQ section?
The nine question limit on the FAQ section is not set in stone, but it is coded into your site theme. If you are comfortable Customizing Your Theme Code, you can increase the Frequently Asked Questions section limit yourself by editing the theme directly.
If that sounds intimidating (or expensive), there is another option:
You can place a second FAQ section below the first, remove the Heading for that section, and Remove top section padding so that the questions in the new section continue immediately after the first. While this can be a little clunky to set up, it should appear as one continuous section to your site visitors.
---
More About Site Builder Sections
List of All Available Site Builder Sections
Move/Rearrange a Site Builder Section