This is a build guide for creating Thinkific landing/sales pages. If you're looking for sales page advice, see our guide here: How to Create a Compelling Sales Page for Your Online Course.
---
This article is for anyone using a Site Builder compatible theme.
Every product (i.e. course or bundle) that you sell through Thinkific will have its own sales page. This is your opportunity to showcase your course and prompt your leads to hit that sign up button!
You'll often hear many different names for these pages when you are looking into marketing resources. In many platforms, they are often called sales pages or lead pages. In Thinkific, we call them your course landing pages and bundle landing pages.
You can use the Thinkific Site Builder to create your landing pages; customizing colours, adding sections, and crafting copy that will convert!
Create a Course or Bundle Landing Page
To get started, go to Design Your Site and select Site Builder.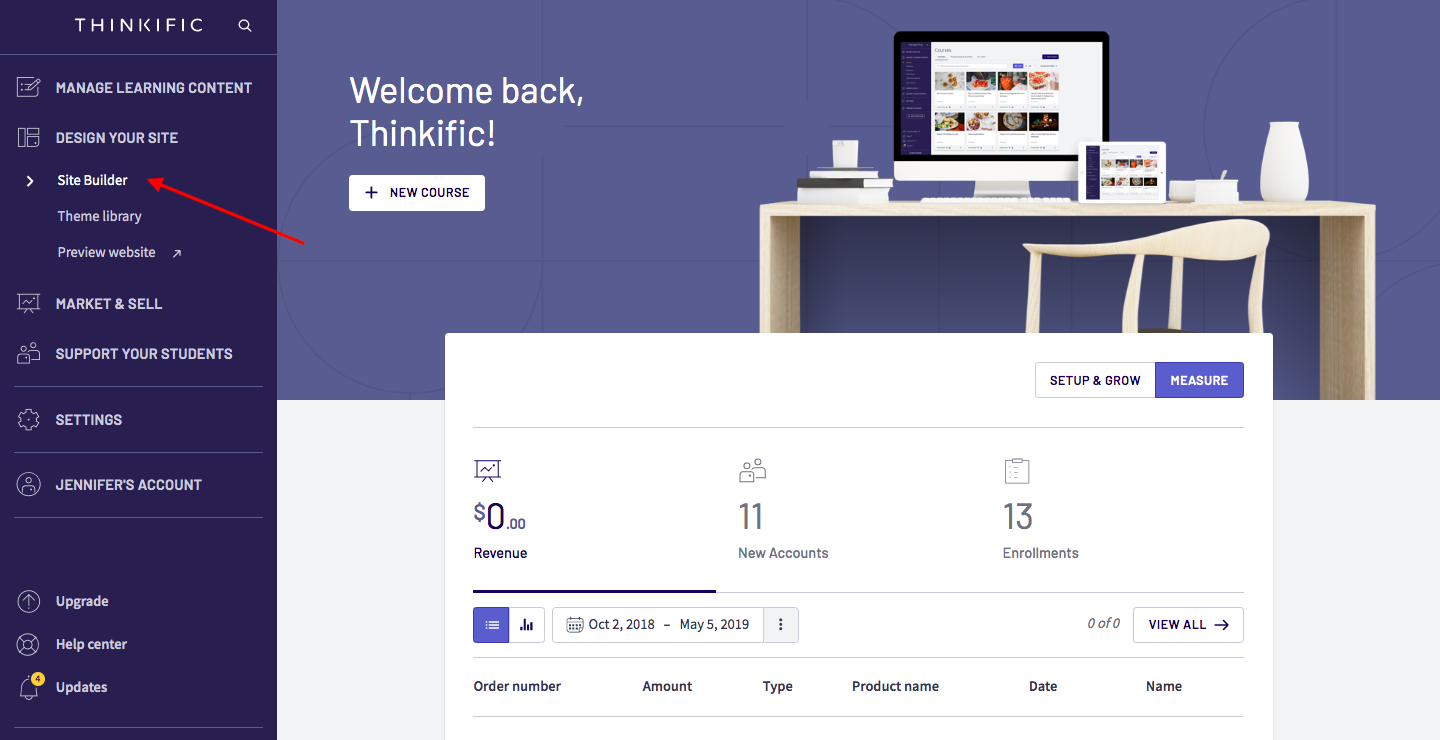 Under Pages select either Courses or Bundles. Then choose the product for which you'd like to edit the landing page.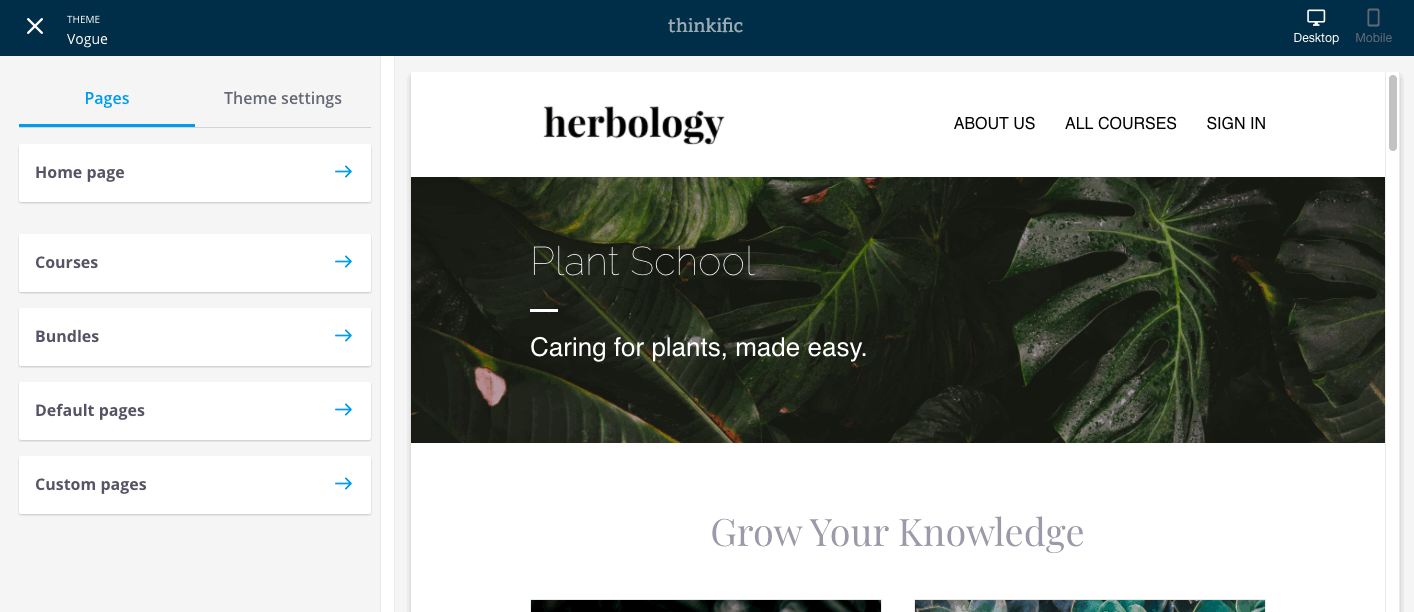 Or, from within the course/bundle builder, you can select Build Course/ Bundle landing Page.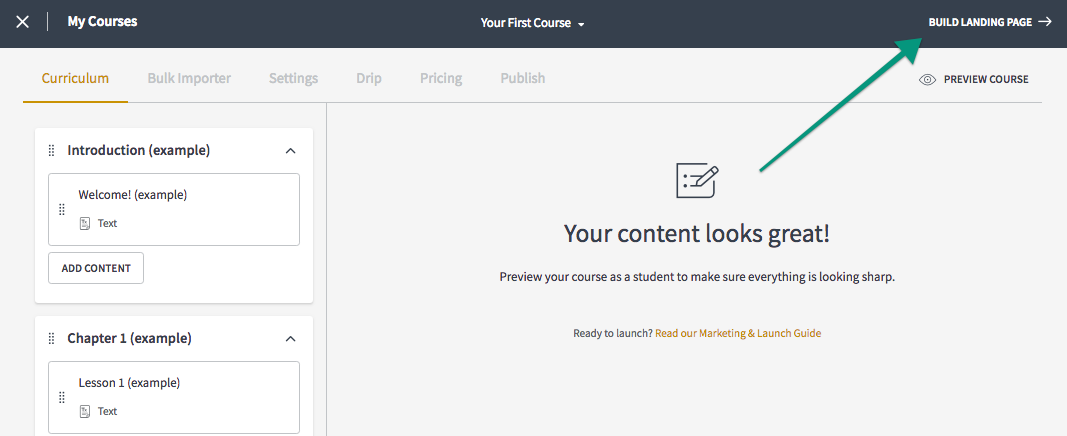 From the course/bundle page, you can add sections to your landing page, move them around, or click on the arrow next to their name to edit or delete them. The Header and Footer options will change settings for your whole site, so you can leave these alone for now or go here to find out how they work.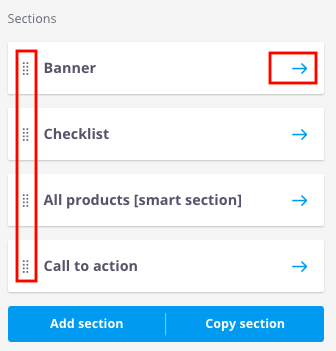 The basic recommended sections for a landing page are already there by default. For a course landing page, these are:
A banner - The large image that usually appears at the top of a landing page, including the course title, subtitle, and a call to action (CTA). Use this section to capture the potential student's attention right away.
Text (with CTA) - A section for a paragraph of text with a CTA button. Use this to sum up the value of your course and then encourage the reader to take some action, such as signing up.
Pricing options (smart section) - This section will automatically list all of the pricing options that you have set for the course. It's a great idea to give your customers a choice of pricing options so they can pick the one that's right for them. More on pricing here
Instructor(s) - Use this section to list the instructors for the course. You'll be able to include a name, photograph, and a quick bio, allowing potential students to get to know who they'll be learning from.
The default sections for a bundle landing page are the same except, instead of an instructors section, there's a section that will automatically list which courses are included in the bundle. You can still add an instructors section here if you'd like, though! Why not also add some student testimonials? Or a video introducing your content? You can find an overview of the available section types here.
Note that your landing page won't be public until you've published the course or bundle that it's associated with.
For tips on what kind of content to include on your landing pages, take a look at this handy guide.
Need a little extra help customizing or designing your site? We have a wonderful team of experienced freelancers available to give you a hand! Check out our Experts Marketplace.