If you're editing a course that's already been published, you can set individual lessons to draft status to prevent students from seeing them until you are ready!
---
Setting a piece of content as draft means that site/course admins will be able to edit it (and even preview the content as a student), but your real-life, existing students won't have access to it until it's published and ready-to-go! Draft content does not count toward course completion until you've published it for your students.
Use Cases for Draft Content
Updating existing courses - Draft content allows you to edit your course without existing students being able to see the work-in-progress, meaning you are able to update/create content at any point to give extra value to your students.
Pre-selling your course

- You can also use draft content to manage prelaunch sales for your course; selling the course at a special early-bird price whilst you're still working on the finishing touches to your content.
When you add draft content to a course, it won't appear in the course's Curriculum Site Pages Section, on the course landing page, until you publish it.
How to Set Your Lesson to Draft
Go to Manage Learning Content
Select Courses
Click on the image of the course

you want to edit
Click on the Lesson that you want to edit
Check off Draft on the top right
Click Save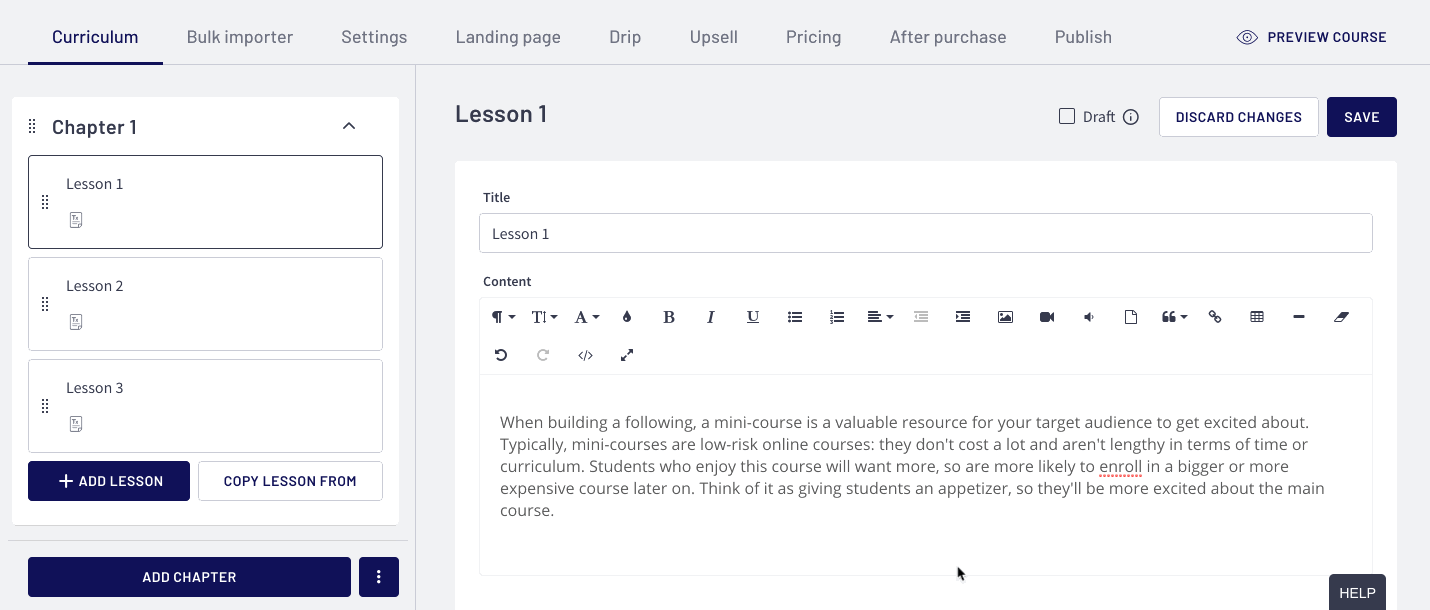 Any lessons set as draft will say Draft next to their name in the Course Builder:
How to Set New Lessons to Draft by Default
You also have the option to automatically set new lessons added to your chapter to Draft!
Go to Manage Learning Content
Select Courses
Click on the image of the course

you want to edit
Click on the Chapter title that you want to edit
Check off Set new lessons to draft by default (New lessons added to the Chapter will automatically be set to draft)
Click Save