Are you currently working on your site and looking to capture leads while you prepare for launch? This is simple with a Coming Soon page!
This is available on Site Builder themes version 1.10.2 or higher. To update your theme version, see HERE.
There is a Default page in Site Builder called Coming soon which has a Leads capture section that can be used to collect email addresses from prospective students!
In this article:
How to Access Your Coming Soon Page
How to Edit the Leads Capture Section
How to Redirect Your Home Page to Coming Soon Page
How to Access Your Coming Soon Page
Go to Design your Site
Select Site Builder
Select Default Pages
Select Coming soon page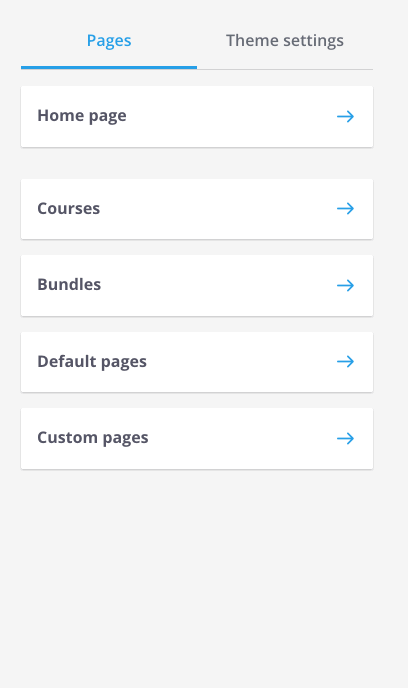 How to Edit the Banner
This page will include a Banner by default, which can include an image and text as desired. For details on how to customize your Banner see Banner Settings.
How to Edit the Leads Capture Section
This page will also include a Leads Capture Section that has an email input field the and the following settings can be customized: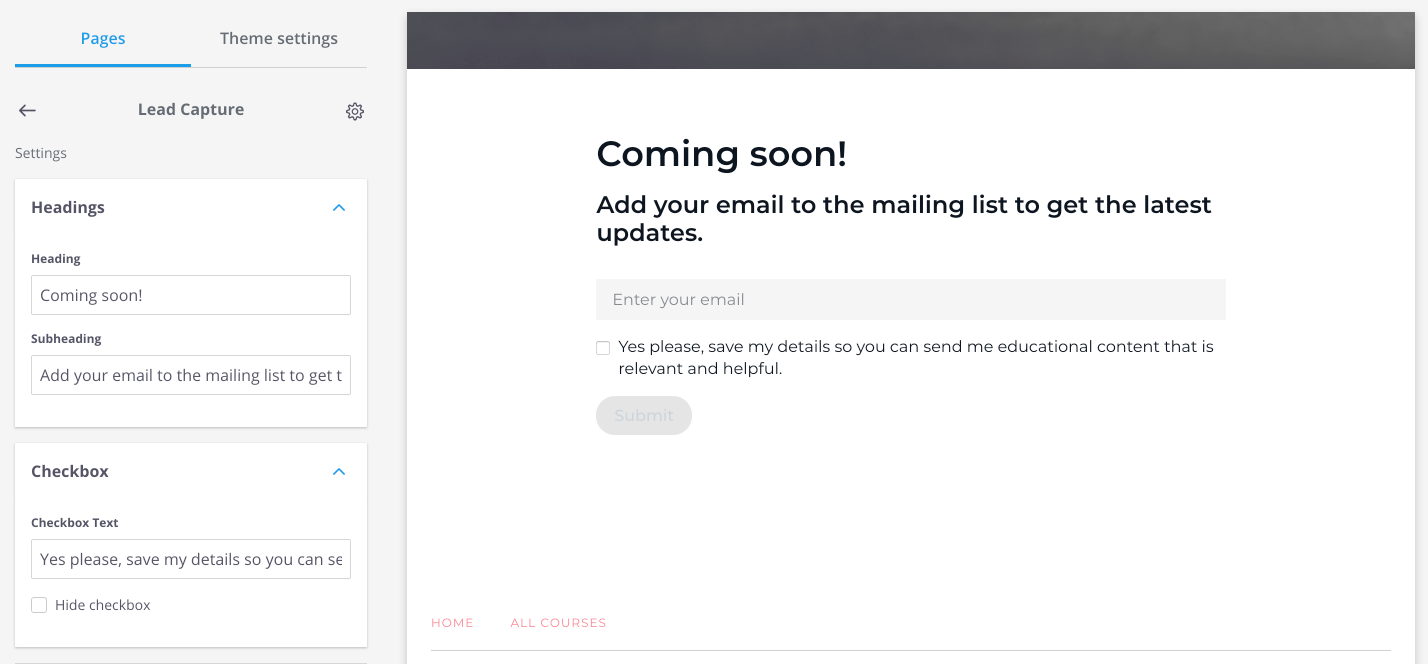 Headings
Heading and Subheading
This is the main text that will display above the email field and it can be customized as desired. These fields are optional, so if you prefer to only include a Heading for example, you can simply delete the text in the Subheading field.
Checkbox
Checkbox text
You can include a confirmation checkbox with customized text for your visitors to agree to before submitting their details.
Hide checkbox
You can optionally hide the checkbox is desired by checking off this option.
How to Redirect Your Home Page to Coming Soon Page
If you are just getting your site set up and prefer that the Coming soon page is the first page visitors see when visiting your site, you can redirect your Home page to your Coming soon page. If you would like a general overview of what redirects are used for, see HERE.
If you customized a Coming soon page when first creating your Thinkific account, this redirect is set up by default. It can always be removed if desired.
To Redirect Your Home Page:
Go to Design Your Site
Select Site Builder
In the left menu, select Home page
Select Redirect under the Home page heading
Scroll to Coming soon page in the dropdown menu
Click on page to select it
Click Save to apply changes

Now you are ready to start sharing your site! If you would like to make adjustments to your what your current site URL is, see HERE.
How to Manage Leads
Once you start sharing your site and visitors submit their email address, you will be able to access this data to use for any marketing campaigns you have planned! See details on Managing Leads HERE.