Your header appears on all pages of your site and can be customized with your company logo and desired links.
Does your Site Builder look different? Thinkific is currently trying out some improvements to our Site Builder, as part of our ongoing effort to improve our product. As a result, some of our customers may be seeing a different version of the Site Builder landing page, called Site Pages. If that's you, please take a look at this article, which explains some of the key differences.
In this article:
Optional Button (Empire & Vogue themes)
Default Header
By default, your header will include a few different elements:

School name
Your school name will appear in your header by default unless it is replaced by a logo. If you would like to update the name that appears, you can change this in your Site Settings.
All Courses link
There will be an All Courses link that appears in your header that is linked to a default page that lists all the published and non-hidden courses available on your site. If you would like to check out this default page, the URL will be formatted as https://yoursite.thinkific.com/collections . To access this page on your personal site, you can replace yoursite in the previous link with your Thinkific subdomain.
The All Courses link can always be removed or you can customize the default text if desired.
Sign in link
Your Sign in link is where your students will need to go to login to your site to access their courses! It is also where you as the Site Owner or any other users you have assigned will login to access your dashboard.
Logo
You can upload your company logo to your Header, adjust the size, and choose where the logo links to! When adding a logo to your header, it will override the default school name.
To upload a logo:
Go to Design Your Site
Select Site Builder
Click any page
Click Header
Click Logo
Click Upload Image
Drag or select an image
Adjust the image size slider to your preferred size
In the Link field, select a page you would like the logo to be directed to if clicked on. If you don't designate a specific page to link to, the logo will by default link to your Thinkific home page.
Click Save


Links
The Header is also a great place for you to share links to outside of your Thinkific site! You could include links to external pages like a personal website or a blog, or even link to custom pages you've created within Thinkific. Please note that you can have a maximum of six links in your header.
To add a link to your header:
Go to Design Your Site
Select Site Builder
Click any page
Click Header
Click Add link
Click on the Link heading to expand the option menu
In the Text field, input the text you would like displayed in your header
In the Link field, select desired page or a custom URL
A second dropdown will appear to refine your choice or add your URL in the case of a custom URL
Under Open link in, select Same window or New window. This defines how the link will open in a browser.
Click Save

To delete a link from your header:
You can delete an existing link from your header if needed. Sometimes you only have one course for example and prefer not to have the default All Courses link or maybe you simply changed your mind!
Go to Design Your Site
Select Site Builder
Click any page
Click Header
Click on the desired Link header to expand the option menu
Click Delete block
Click Save


To edit the text on an existing link in your header:
You can also edit the text for links already included in your header. For example, you can edit the default All Courses link if you'd prefer to name it differently! Or if you ever change your mind about a custom link, it's very easy to edit.
Note that the Sign in link cannot be edited as this is a permanent default link that appears on all pages of your site.
Go to Design Your Site
Select Site Builder
Click any page
Click Header
Click on the desired Link header to expand the option menu
Under Text, input your custom text
Click Save


Style & Alignment
There are a few different setting options for style and alignment of your header:
Background
The background can be solid or transparent. Solid will be one color and Transparent will reveal any images that appear behind the header.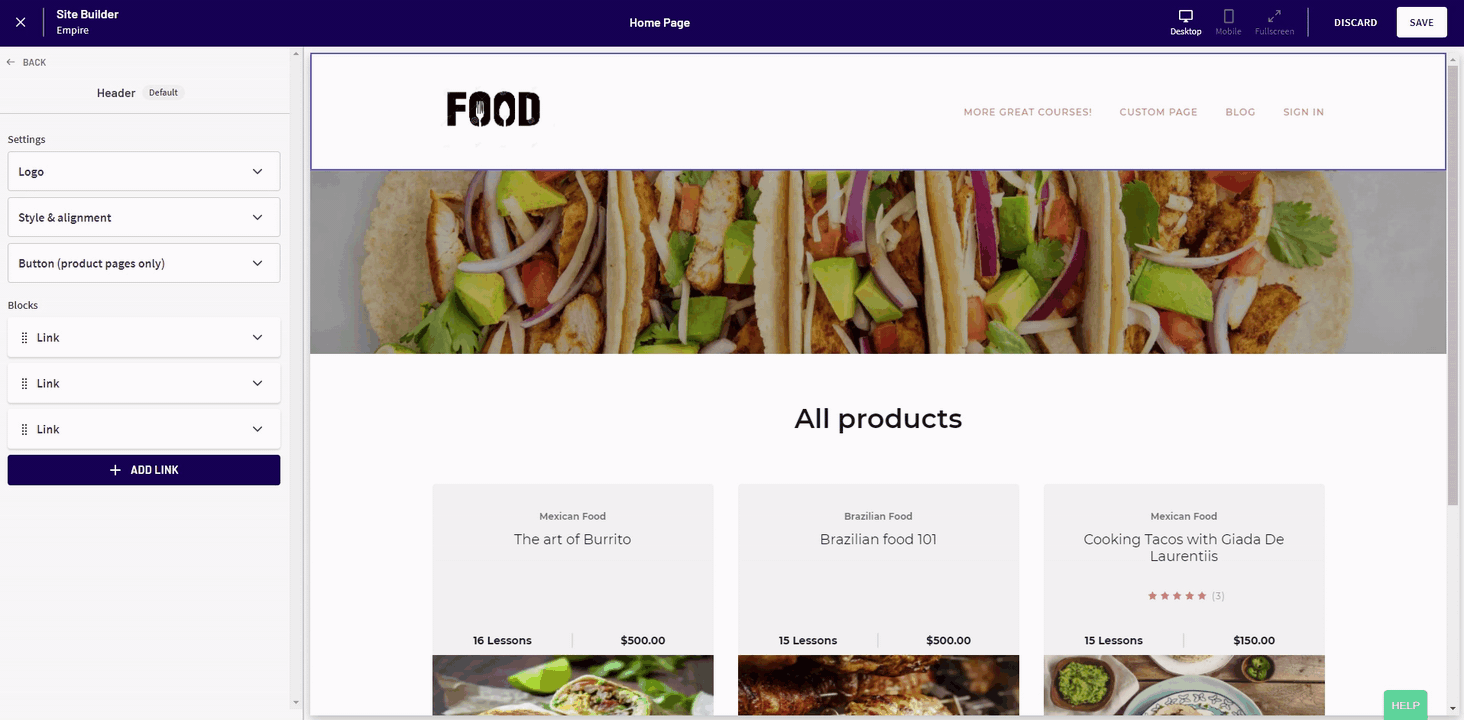 Sticky Navigation
When this is enabled, the header remains visible while scrolling.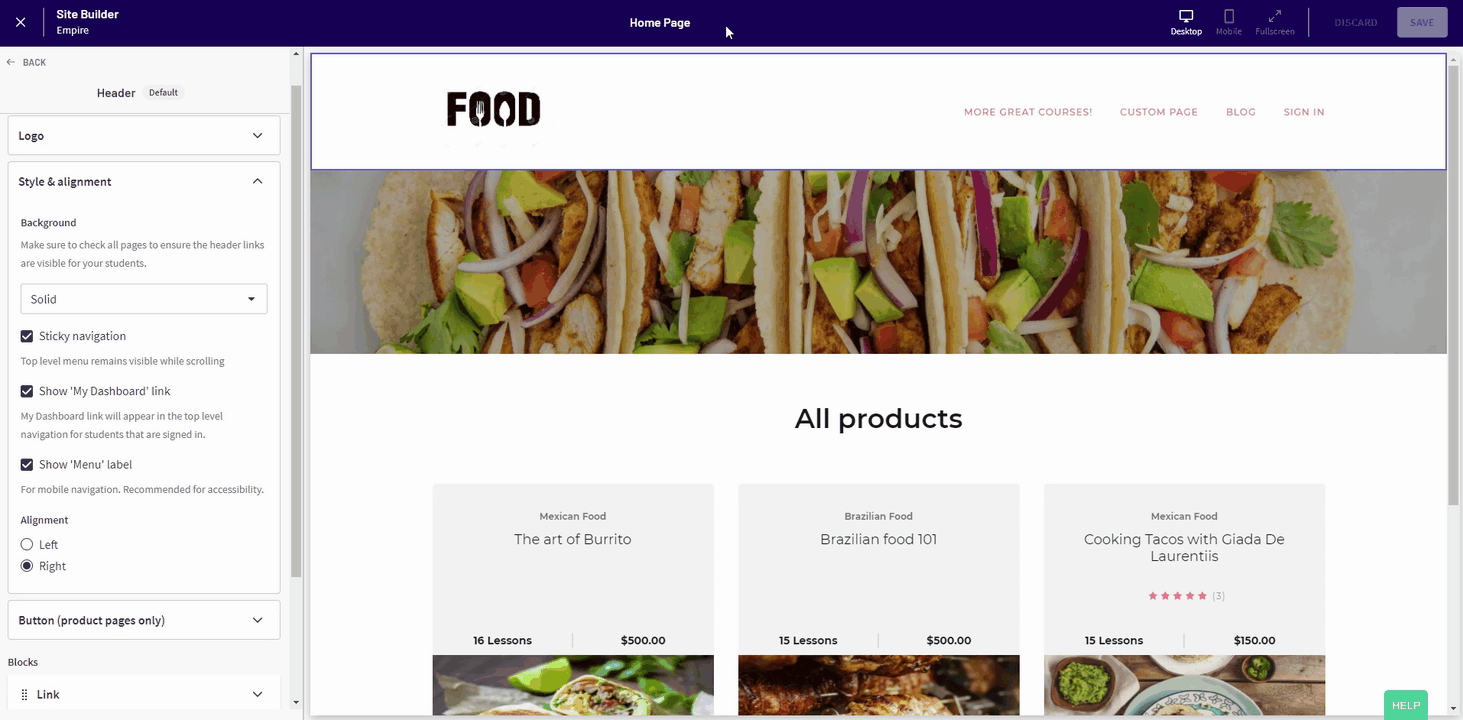 Show 'My Dashboard' link
This applies to logged in users only. If enabled, the My Dashboard link will appear in the header for students to access their Student Dashboard for viewing all courses they are enrolled in:

Show 'Menu' Label
When enabled, this will display the word 'Menu' in the top left of your header when viewing on mobile. This is recommend for accessibility.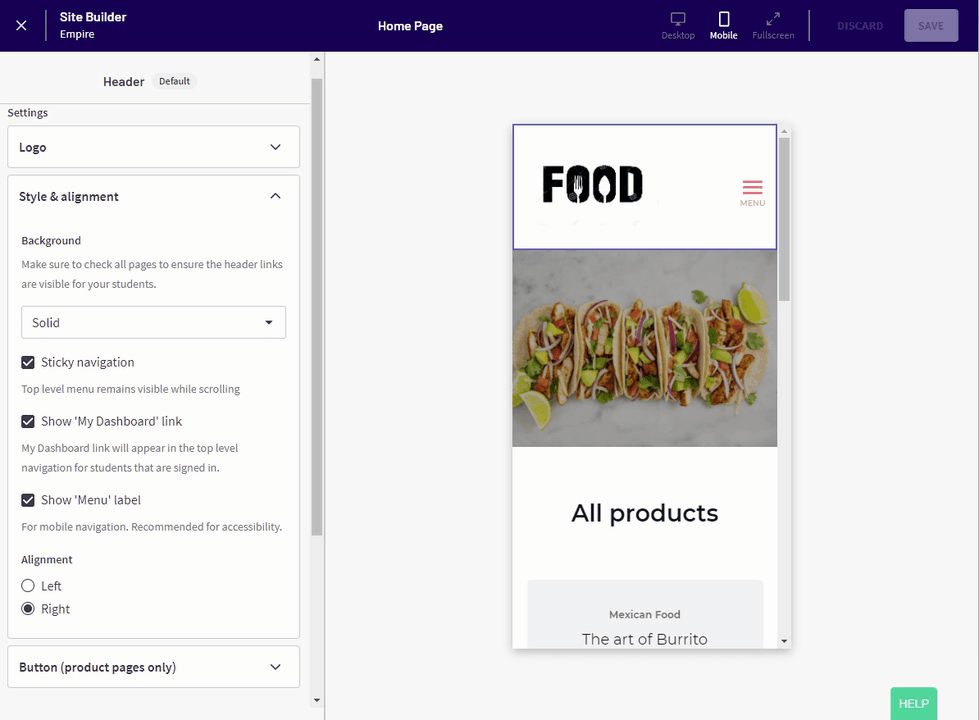 Alignment
You can align your header links to the left or the right side of your site. The only exception is the Sign in link; it will always appear on the right by default.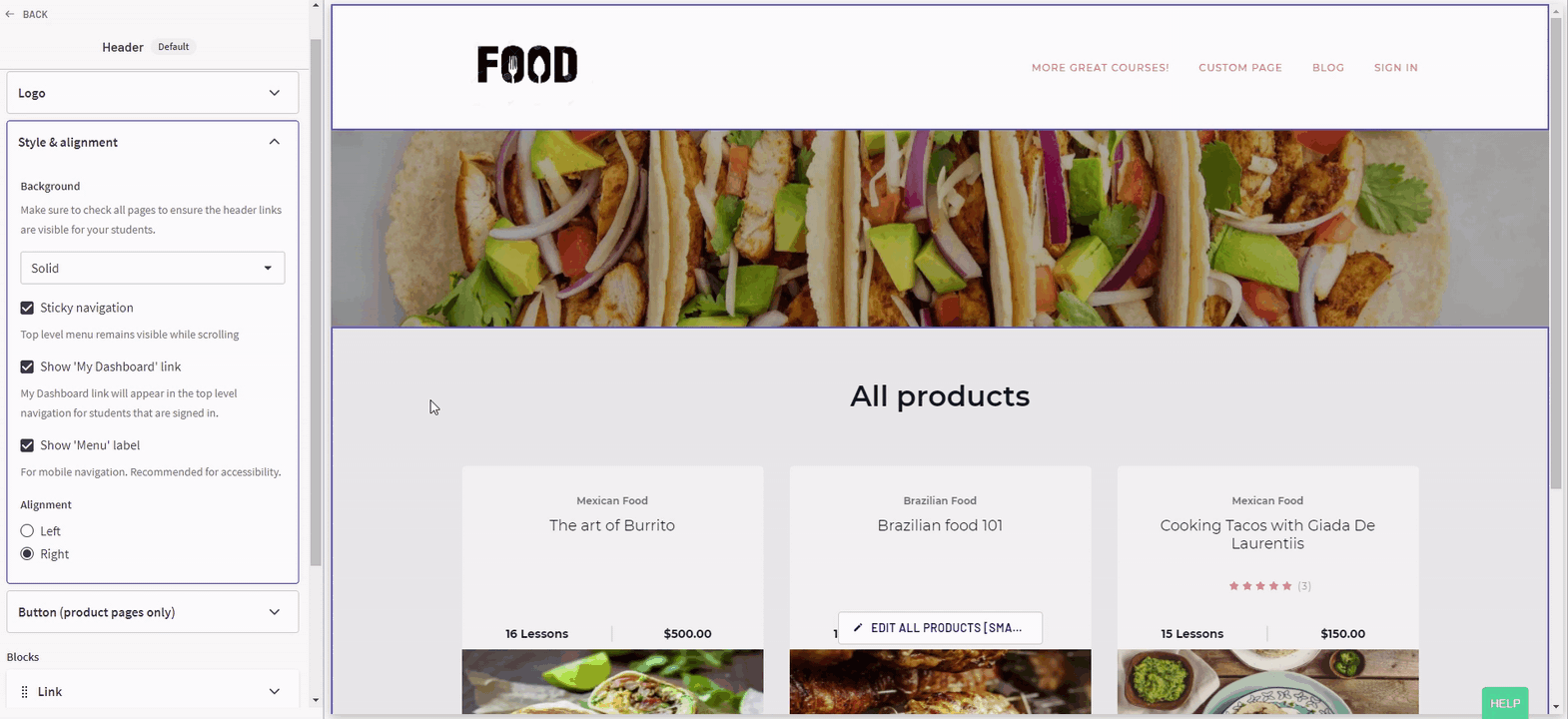 Optional Button (Empire & Vogue themes)
Button (product pages only) is an option available on Empire and Vogue themes. If enabled, a call to action will be included in your header on your course landing pages that will take visitors straight to your course checkout for your primary course price.

This button only appears in your header if the course or bundle is published and has a price set. Free and Private courses will not display a button.
Colors & Fonts
Your header color and font can be customized in your Theme Settings.
Colors
You will be able to adjust your background, link and transparent header menu link colors.
Note that color customizations will apply to both your header and footer.
To change your header colors:
Go to Design Your Site
Select Site Builder
Optional: Open any page
Select Theme Settings
Click Colors
In the Header & footer block, select your desired colors
Click Save

Font
Your header font will be the same as the main body font for your site.
To change your header and body font:
Go to Design Your Site
Select Site Builder
Optional: Open any page
Select Theme Settings
Click Typography
Scroll down to Body font
Select your desired font
Click Save