Call-to-action buttons can be added throughout your landing pages to prompt visitors to buy your product! Buttons are also great to help with navigation, and guide customers through your site.
---
In this article:
Site Builder Sections with Buttons
Site Builder Sections With Buttons
There are several Sections in Site Builder that include buttons. These buttons can be customized with personalized button text, and linked to your desired Thinkific page or external page. The following Site Builder Sections include buttons that can be customized:
Banner
Call to action
Countdown timer
Image & text (with CTA)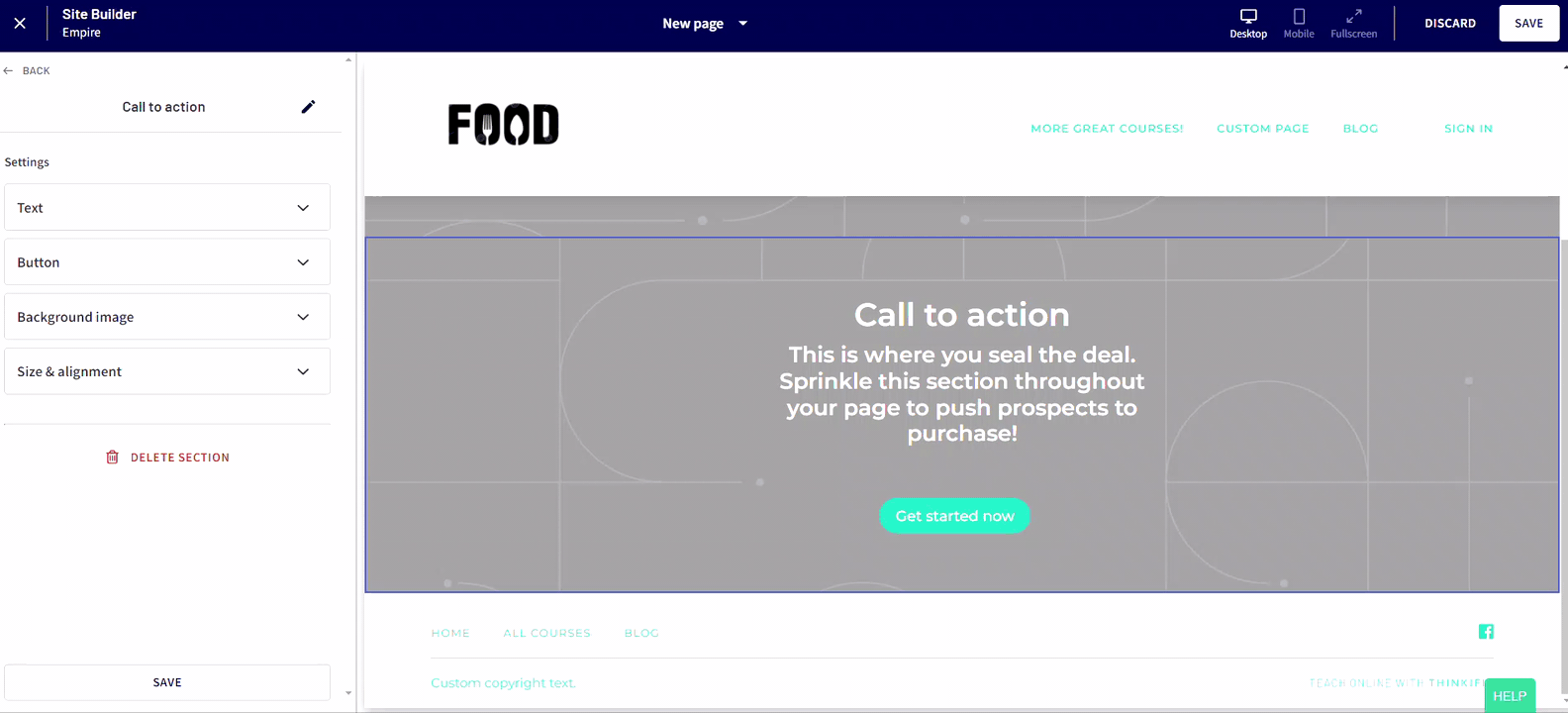 Button Link Options
When customizing your button, you have the option to link your button to one of the following. Click on the links below for instructions on how to set up your button for each option:
You can also link to various default pages:
Additional Customization
Depending on the Section you are editing, you will see some additional customization options.
Type
Under Type, you can select Primary or Secondary. This will change the visual look of your button based on your Theme Settings. This is available in the following Sections:
Banner
Call to action
Countdown timer
Image & text (with CTA)
Want to learn more about how the buttons in Site Builder Banners work and how to customize them? Check out our articles on: How to Edit Your Buy Buttons and How do dynamic buttons work in banners on landing pages?
Hide Button & Make Entire Section Clickable
This setting is available in the Call to action section. It will hide the visible button and make the entire section clickable. Essentially your entire Call to action section will act as a button if this is enabled.
Testing Your Buttons
Once you have customized your buttons, we recommend testing them on your live site, as your buttons will not function within Site Builder. The quickest way to start testing is to visit your site in another browser where you are not currently logged in or in a private window in your browser (e.g. Chrome's Incognito mode, or Firefox's Private Window).
If you are testing out a specific product landing page and want to navigate directly to that page, you can learn how to find the URL in our article What is my Course Landing Page URL?
If your product is not published yet, any buttons that are linked to checkout will go to a 404 page. They will go to the checkout as expected once you publish!
Thinkific App Store