With Thinkific, the student experience is paramount! We'll walk you through everything the student engages with, including enrollment, the course player, and how to troubleshoot student issues.
You want your students to focus on learning, to engage with the material at hand, and to have a smooth, stress-free and fantastic course experience. We provide you with all the tools and resources to help you with this!
In this article:
The Student Learning Experience
Troubleshooting Student Issues
Suggestions for a Great Student Experience
The Student Learning Experience
We've designed our platform based on lots of studies and research while also keeping the student experience at the forefront. For example, we include interstitial and progress pages in between lesson modules - including these pages has been proven to significantly increase student engagement and completion in a course. These pages are intended to allow students to keep track of their progress through the course, an important factor in preventing drop-off, and keeping course completion rates high!
About Student Users
Students on Thinkific are user accounts that can purchase and enroll in courses. Student accounts can also be given access to user-only sections of course sites. A student account can also be used to purchase and enroll in multiple individual courses or packages of courses called Bundles. We'll cover the enrollment process below.
Enrollment Process
In order to access your course content, a student must first enroll in your course and then can access the course from their Student Dashboard. When a student initiates the enrollment process for a paid course on your Thinkific course site, they are guided through a checkout process.
Offering free courses? Learn more about how students enroll in a free course.
Student Account Sign Up and Checkout
Upon checkout, users are prompted to input their email, first and last name, address information, and payment details prior to purchasing your course.
They would then be prompted to create a password to fully setup their student account before gaining access to your course: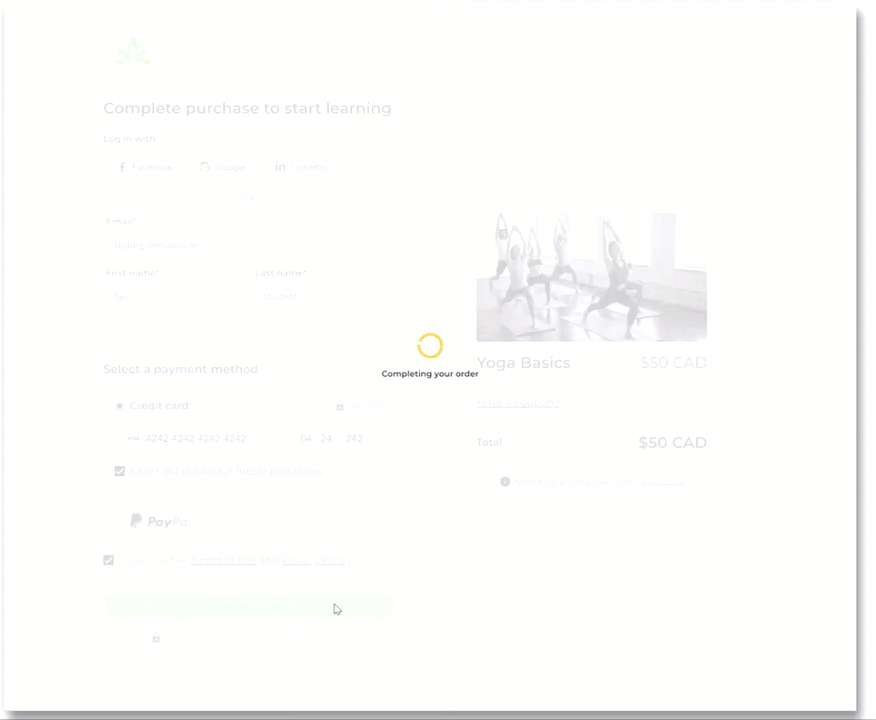 It is possible for a user to create a student account on your Thinkific course site and not enroll in any courses. This can occur when a student creates an account on your course site's general sign up page (e.g. course-site.thinkific.com/users/sign_up). These users can be segmented and followed-up on - see how here.
After Checkout and Enrollment
After students purchase a course or Course Bundle, they are taken to a default Thank You page, or to a custom After Purchase Flow (if you've customized this for your site). They have now successfully enrolled in your course or bundle. Students can click the button from the default Thank You page to start their course in the Thinkific Course Player, or click to start the course from their Student Dashboard.
Students will also receive the following automated email notifications after purchase, as long as you have them enabled on your site:
Site Welcome Email (if a student needed to create an account to enroll in their first course on your site)
Read more about Student users, and other user roles here: About Student Users
The Student Dashboard
Students are immediately taken to their Student Dashboard when they login to your site. The Student Dashboard will display all course enrollments and students can simply click on any of the courses available to continue where they have left off!
Learn more about the Student Dashboard here.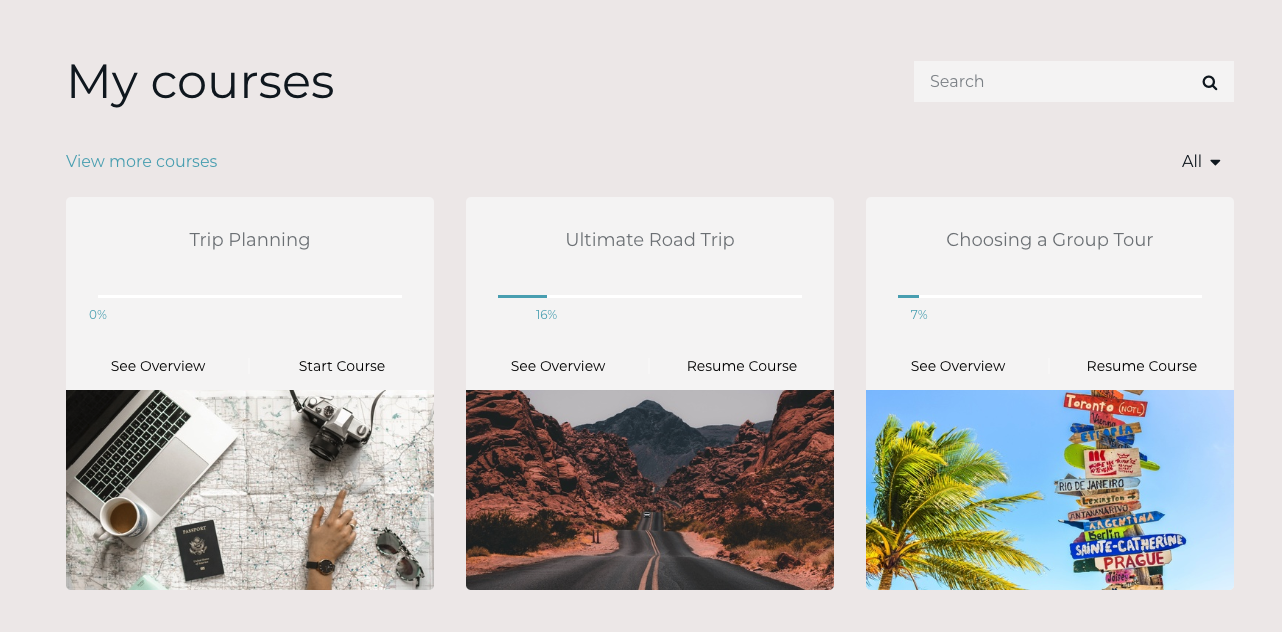 The Course Player
Once your student has enrolled, they'll be given immediate access to the course (unless you're using a drip schedule in your course) via the Course Player. The Course Player is the course-taking environment itself - the part of your site where your students can go to view your curriculum, watch your videos, take your quizzes, and more!
Check out more on the Thinkific Course Player!
Taking a Quiz
Quizzes are not just an evaluation tool; they also can be used to encourage learning. They work great for online courses as they can be designed for any topic, and for any type of training. More importantly, you can use this as a simple tool to effectively engage participants and help create a great overall learning environment online!
Tip: We suggest including a short 1-5 question quiz after a video, presentation, or multimedia lesson to confirm the student's comprehension of the subject material and to have them immediately engage with the content that was just presented. Quizzes can also work to bring your student's attention back to the course in case it's strayed a bit!
More on our Quizzes here: Create a Quiz.
You can access your students' results in the Report section in your Admin Dashboard. Here's instructions on how to do generate this report: Quiz and Survey Export.
Troubleshooting Student Issues
The vast majority of the time when students have questions, they're course-specific. When they aren't, they're almost always a local computer issue. Regardless, you're always the first point of contact for your students. But no worries, we got you!
We ask that you first try to reproduce the issue on your end - if it works for you, it's likely device or browser-related. As a Site Owner or Admin you can first confirm the student's enrollment in the course from the Users page. Check if the student may have just created an account on your site, and not fully enrolled themselves in the course (or just enrolled in a free preview).
Next we ask that you to ask your student what browser they're using and what device. If possible, have them send over a screen shot or two of what they see on their end.
We also ask that you forward these troubleshooting steps to your student - these should help resolve a lot of student issues!
Clear cache and restart the browser
Try a different browser (we like Google Chrome)
Try an Incognito / Private Window (this will rule out an issue with browser extensions)
Restart the device
If possible, try a different device
If possible, try a different internet connection
While it's rare for issues to come up, the reality is might come up for your students so you want to be prepared. If you've tried the above steps and they're not working, read our Troubleshooting Guide for Student Issues here.
Suggestions for a Great Student Experience
What can you do to maintain the same levels of engagement seen and felt in face-to-face classrooms? How can you help your student to stay engaged with the material, complete the course and achieve success? Why should you even care about student success? Well...you should! Think about it: If students are happy after taking your course, the more likely they'll be to take another one of your courses or know someone who may also benefit from taking your course. When your students succeed, you succeed!
We outline some tips and ideas to help you create a great online learning experience for your students.
Be there for your students!
Have regular online "office hours", and stick to your schedule! Online education can already pose a challenge to engaging and interacting with your students, so be available for them. The role of the instructor has been said to be critical in pushing students to excel and engage in the material.
Be as personal as you can
Send a welcome email to your students! You can create and send personalized emails right from your Thinkific Dashboard and help make your students feel special and welcome. If it can work well with the course and the course material, consider hosting a regular live webinar to go over fine points and facilitate discussion. You can also use Zoom, Google Hangouts or Appear.in for one on one time with a student.
Create an online discussion forum
Allow a safe and non-judgmental place for students to interact with one another and the course material. As an instructor, you can set clear goals and outline that the discussion forum is a place for clarification and reflection, or to dig deeper into a particular area. Check out our built-in discussion feature! What has also worked well for other instructors is creating a Facebook Group (which works well for a lot of students as most have a Facebook account already), or using something like Rocket Chat embedded in a multimedia lesson. Use whatever you think will be best for you and your students!
Keep the lessons short and sweet
We suggest lessons that are 5-7 minutes long in duration. The brain learns best when information is given in small, easily to digest chunks rather than a volley of endless information ( a student quoted that they would rather than not read "on and on" in one notable study regarding best practices for online education).
For beginner learners or intro lessons
Divide content into short segments and allow the learner control over the rate at which they access each segment. This is a great advantage to online learning - students can access the course anytime, anywhere, so let them!
For complex lessons
Use sequence supporting concepts prior to the procedures or processes that are the focus of the lesson. Build up to the complex lesson!
Use video in your online courses
Video is king and nothing will capture your student's attention like videos. Keep them short: 5-7 minutes short. And we strongly suggest that you don't include text and video together - the same part of the brain is activated when you read and listen, so you'll overwhelm the brain if you have text running while the video is playing. This means the student is not retaining any information!
Follow up a video lesson with a short quiz
The change of direction will pull the student's attention back to the course (Just in case!). This will also allow students to immediately interact and engage with the content which can help with higher learning and retention.
Use quizzes or assessment tools
Quizzes can instantly engage students by asking them what they know about the material pushing them to think and interact with the content.
Course reviews
If you're confident your students have had a great online learning experience, I suggest you encourage them to leave a review or to share their experiences via social media. If you're using Altitude theme in Thinkific, you can include testimonials right on your course landing page from students who have been positively affected by taking your course. Nothing beat social proof!
There you have it! An overview of the student experience. If you want to fully understand what your students will go through, we encourage you to create a test student account and try the Student Experience for yourself, from enrollment to course completion!