The student profile and account settings is an area of your Thinkific site where students can access their account preferences, certificates, and billing information.
---
In this article:
Student Profile and Account Settings
How it Works
Students can access their profile and account settings by clicking the arrow next to their name and profile picture, in the top right-hand corner of the screen. This menu includes their account settings, an email link to contact you for Support, and the Sign Out button.

By default, this menu is available for students to access on all of your Thinkific site pages, as part of your Site Header.
Student Profile and Account Settings
Students can access their student profile and account settings by clicking on My Account in the account options dropdown menu.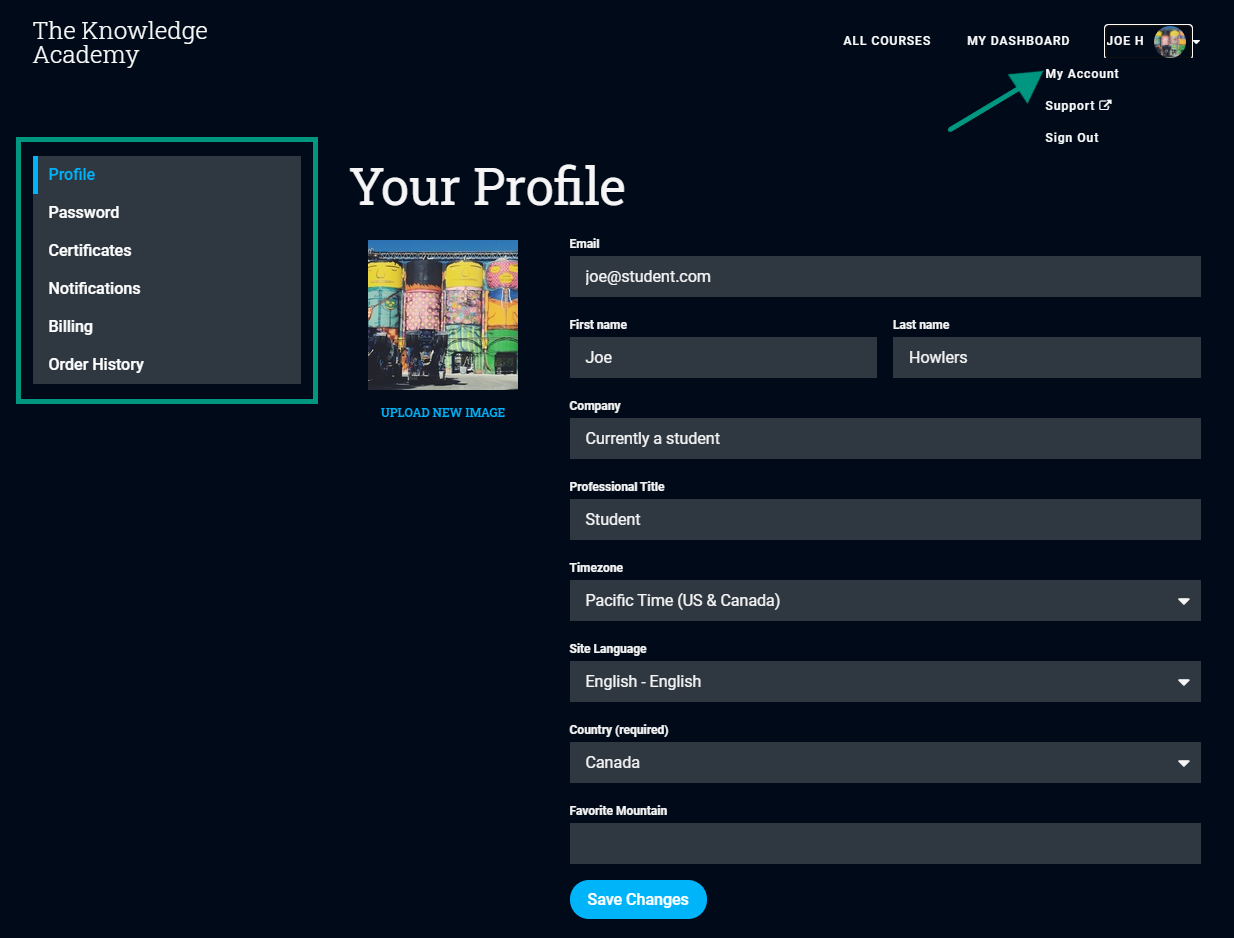 The menu on the left-hand side of this section of this account page allows students to access and update a variety of account settings.
Profile
This section includes the student's basic account information (name and email address), as well as their responses to any Custom Fields you included as part of the sign-up process. They can also edit their Country, Timezone, and Site Language.
Students will need to click Save Changes after editing their student profile.
Password
This section allows students to change their account passwords. For instructions on how to change a student password, please see: How can students change their passwords?
Certificates
In this tab, students can access any Thinkific Certificates they have been issued for completing your courses.
Notifications
This section allows students to adjust their notification settings for On-Lesson Discussions and Community Notifications.
Note: you must be on Site Builder theme version 1.18.0 or higher for students to see the option to disable Community notifications from their account settings. On earlier theme versions, they will still be able to turn off notifications within the Community.
Billing
In the Billing tab, students can view and update their credit card on file for recurring payments, and cancel or view information about recurring payments.
Order History
In this section, a student's order information is displayed. They can see a list of all their orders and can click into each order to see the Order details and Payment details. Students can also print a physical copy of their order information, if they wish to do so.
Student Support Email
Students can click Support, in the dropdown menu with their account options, below My Account, to send an email to the Site Owner's Support Email. This allows your students to quickly get in touch with you.

Unsure what your site Support Email is, or looking to change it? Learn more here: How can I change my site's Support Email?
Frequently Asked Questions
What's the point of my students adjusting their account timezone in their profiles?
Students can set their timezones to help admins better understand the availability of students when scheduling synchronous lessons and webinars. Students who set their account timezone will also see notifications in the Thinkific Course Player, for Drip Lessons scheduled by calendar date, adjusted to their timezone.

Please note that the time you admins for features such as coupon expiry dates, Drip Schedules, and Countdown Timers will always be set in UTC time, regardless of which timezone your students select in their account settings. This means that although students may see some notifications adjusted for the timezone they choose, the actual date/time/deadlines you set in the Admin Dashboard will always be in UTC.
Why don't my students see the option to set their Site Language?
In order for students to be able to set the language in which they see the default text on your site, you need to enable Allow students to override the site language in your Site Settings.
More About the Student Experience
The Thinkific Student Experience