Add custom fields to your sign up page to request additional details from your students when they sign up!
---
Custom Fields are additional fields you can request in your sign up form to collect unique information about your users. Instead of asking for only the standard name and email, you can add fields for anything from phone, company name, city, to Twitter handle!
How to Add Custom Fields
Go to Settings
Select the Orders & accounts tab
Click Custom sign up fields on the left
Click Add field
Under Custom field name, input the name of your custom field
Under Field type, select Text or Country
Click Save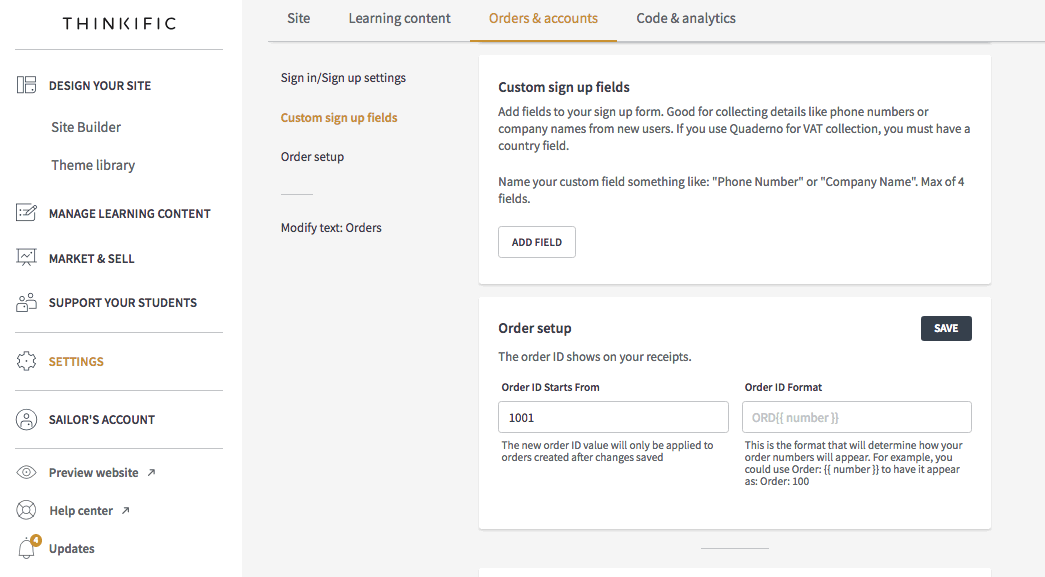 And that's it! You now have custom fields. To view the fields you have created, you can retrieve the data from your user export.
Important Considerations
You can add up to a maximum of 4 custom fields. If you require more fields, please send us an email with your requirements.

We don't recommend adding too many custom fields as it can affect your sign up conversion rates. Generally speaking, you want to limit the amount of time a student spends on sign up and checkout pages.

We don't currently have the option to re-order custom fields. If you would like to add your vote to this feature request, please let us know!
Be careful when deleting custom fields. If they have been used by students, deleting the field, will delete the data. Make sure to export your data before removing any existing fields.