Thinkific Payments payouts are deposited from your Thinkific sales into your bank account. You can view your payout totals, deposit schedules, and status from the Payouts Report tab of your Thinkific dashboard!
---
In this article:
How to Access Your Payouts Dashboard
Understanding Your Payouts Summary
How to Export Your Payouts Report
About This Feature
When students purchase your courses using TCommerce powered by Thinkific Payments, the revenue you earn is tracked directly on your Thinkific dashboard. You can access your Payouts Report to reconcile with your Orders Report for each scheduled payout. Payouts are scheduled daily and deposited directly in to your bank account, so there's no need to integrate with a third-party payment provider.
How to Access Your Payouts Dashboard
To view your Payouts Dashboard and summary:
From your Admin Dashboard, click Market & Sell
Select Payouts 
From this screen, you will be able to view your payouts summary: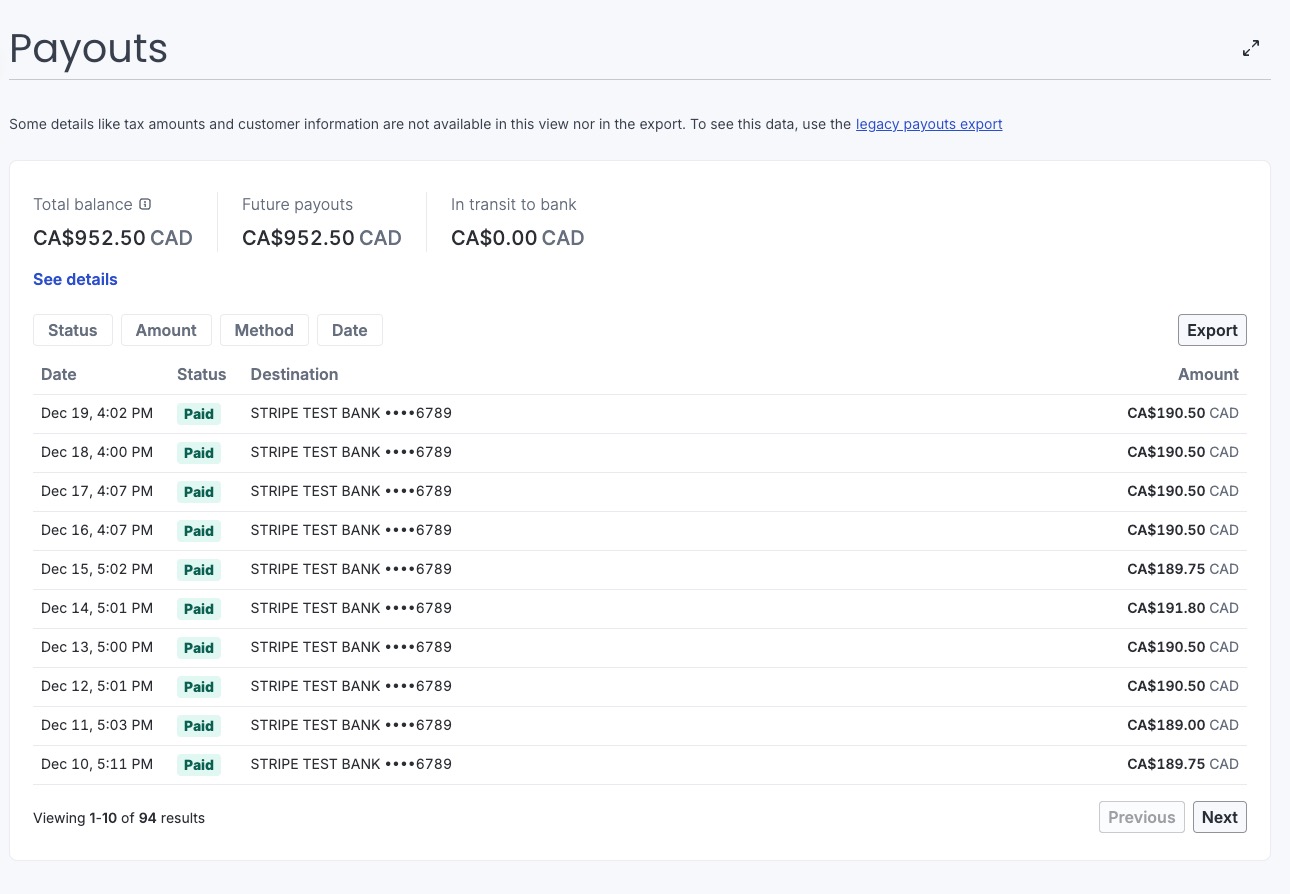 For information about payments made to you, from students, check out the Orders Report.
Understanding Your Payouts Summary
From your Payouts Dashboard, you will be able to view your Payout Summary. This is where you will find the Balance of outstanding payouts, and the history of payment Activity to your bank account.
Only the Site Owner and Site Admin(s) can view the Payouts Report.
In the Balance table, you will see three columns of information:
Future Payouts displays the total payout amount that is waiting to be sent to your bank account
Account Status will display your account's current standing. See the next section for additional details.
Bank Account is where you can view the information for the current bank account that is connected for payouts. This is the account that the payouts will be deposited into.
The Activity table shows a history of all of the payouts made to your bank account. This history includes:
The Date of the payout
The Amount that was paid out
The Status of the funds, and;
The Bank account into which the funds were deposited
Account Status
The Account Status column in the Balance table displays the status of the bank account that has been connected to collect your payouts.
Possible statuses are: 
Verified: the bank account verification has succeeded
Errored: a transfer sent to the bank account fails

Note: If this error occurs, future transfers cannot be sent until the bank details have been updated, to avoid multiple failed payments

Blocked: no bank account has been added for a specific currency
Payout Status
There are six possible statuses you may see in your Activity table: 
Pending: the payout has not yet been submitted to your bank.
In Transit: the payout has been submitted to your bank.

The amount of time a payout remains in transit depends on the bank; it could be a matter of minutes, or several days. We recommend returning to your summary page to see if your status has updated again after 24

–

48 hours for updates.

Paid: your bank has accepted the payout.

At this time, an attempt to deposit the payout in your bank account will be made using the account information you have provided. This status does not necessarily mean the money has been successfully deposited in your account — it is still possible for the payout to fail at this point.

Failed: the payout could not be deposited into your account by your bank.
Canceled: the payout has been canceled.
Withdrawn: indicates funds from your bank account have been withdrawn (this status generally means you have refunded a Thinkific Payment from the Orders page)
In the event that a payout fails, or is canceled, update your banking information. The payout will automatically be retried as part of the next scheduled payout.
The Payouts Report
The Payouts Report resembles a bank statement and keeps a record of all payouts to your bank account that have occurred within a determined date range. Payouts are scheduled daily and are transferred between Thinkific Payments and your bank account(s) on a payout schedule.
The Payouts Report allows you to cross-reference with your student transactions in your Orders Report for each payout.
Exporting Your Payouts Report
From the Payouts Dashboard, you can export a detailed Payouts Report to a CSV file. To better support account reconciliation and other standard accounting practices, information in the exported Payouts CSV includes:
individual transaction details for each payout, including order #, transaction dates, taxes, fees, and refunds
net amounts minus fees for each transaction
Our article on Exporting the Payouts Report covers a detailed breakdown of the Payouts Report data fields on your CSV file.
How to Export the Payouts Report
Under Market & Sell, navigate to the Payouts page 
Click Export, and select Payout Transaction Details
(Note that the Export button will be inactive if you do not yet have any Payouts activity to export)
Select the date range for the Payout information you want to include in your export 

You can use the menu to select a preset date range
(e.g. the last 30 days, the last 3 months)
If no payouts exist on the dates you select, the Export CSV button will not be clickable

Click Export CSV to begin the export — the exported CSV file will be sent to the email you have on file for your account when it is ready
Check your email for the exported CSV
Note: The subject line should be 'Thinkific Export: Payout Transaction Details'
Open the email, and click on the link to download the file:
Payout Schedules
The minimum payout amount varies by country, and payouts are scheduled to occur daily and will include all transactions processed up to that point. Individual transactions will generally take a few days to be processed, after which they will become available for the next payout.
| | |
| --- | --- |
| Country | Payout Schedule |
| Australia | 2 business days |
| EEA Countries | 3 business days |
| Canada | 3 business days |
| Hong Kong | 7 business days |
| New Zealand | 4 business days |
| Singapore | 7 business days |
| Switzerland | 3 business days |
| United States | 2 business days |
| United Kingdom | 3 business days |
Example: If you are in the USA and receive regular payments from your students, you should get a payout every day that includes all of the payments that were made two business days prior.
Please note that your first payout may take longer to process, as Thinkific Payments verifies your account. You should receive your first payout within 7-14 days of receiving your first successful Thinkific Payment. Additionally, while most banks deposit payouts into your bank account as soon as they receive them, depending on who you bank with, it may take a few extra days for funds to become available in your account.
Payouts are set to happen on a daily basis. If you'd like to transition from a daily payout schedule to a different frequency, please reach out to us at payments-support@thinkific.com with your preferred payout schedule and a particular date you would like these changes to begin.
Payout Currency Support
Payouts will be made based on the currency you are selling in, and the currency used by your connected bank account(s). In general, payments made in any currency will be deposited in a matching account, if available.
If payments are made in a different currency, they will be automatically converted to the currency of the account (minus an additional conversion fee.) However, the location of your business also places limits on whether you can connect bank accounts that operate in different currencies.
Thinkific Payments is powered by Stripe and follows the same guidelines for settlement currencies. Check out Stripe's Supported Settlement Currencies article to see what applies to your country.
Frequently Asked Questions
How often is the Payouts Report updated?
Allow 24-48 hours for all transactions to appear in the report.
I signed up for Stripe and/or PayPal originally, what happens to the record of payouts from those accounts?
When you sign up for Thinkific Payments, all recurring payments going forward will be processed through Thinkific Payments. If you previously integrated with Stripe, you can log into your Stripe account for records of any payouts to your bank account that were made prior to signing up for Thinkific Payments.
If you have integrated with PayPal, students will still see the option to pay with PayPal at checkout for courses and bundles with one-time payment pricing. You can log into your PayPal account for records of any payouts to your bank account from these and past transactions processed through PayPal.
For more information, check out our article: Did my student's purchase go through Thinkific Payments, Stripe, or PayPal?
When will I receive my money?
The schedule of payouts from Thinkific Payments depends on which country your business and bank account are registered in, and what kind of business you operate. Typically, payouts to the United States are processed on a schedule of 2 business days, and payouts to Canada are processed on a schedule of seven calendar days unless your business is classified as higher risk. Please note your first payout may take longer - typically within 7-14 days of receiving your first successful Thinkific Payment.
I own a higher-risk business, when should I expect to receive my money?
If you own a higher-risk business, payouts will typically be processed on a schedule of 14 calendar days.
More About Thinkific Payments
Thinkific Payments: Managing Student Payments
Migrating Subscriptions and Payment Plans from Stripe to Thinkific Payments