Get actionable insights to make decisions on sales strategy improvements and content improvements, and to identify growth opportunities with Thinkific Analytics!
---
In this article:
About This Feature
As a Creator Educator, tracking the performance of your business can be time-consuming and complex. However, with Thinkific Analytics, you can harness the power of your data and make informed decisions to scale your business. This feature allows you to view key business metrics such as enrollment numbers, completion rates, and revenue, all presented in easy-to-use charts with clear navigation. You can also drill down and filter your data sets to get more specific answers and even export the data to share with your team or incorporate into business reports. Thinkific Analytics helps you easily understand how your learning content, business, and students are performing while enabling you to utilize this information to improve the effectiveness of your learning programs and grow your business.
Keep your audience engaged with actionable insights
View your business metrics in one place, making it easy for you to gain a holistic view of your business. Easily understand how your business is performing, identify areas for improvement, and make data-driven decisions that help grow your business. Actionable insights enable you to optimize your business processes, marketing strategies, and course content to achieve better results.


Improve the student experience with engagement data
Thinkific Analytics provides engagement data that enables you to identify gaps in your content and improve the student experience. By understanding what students find most engaging, you can optimize your course content to better meet their needs.


Prove that your work is making a difference
Demonstrate the value and impact of your education programs. Thinkific Analytics enables you to show the health of your education programs, allowing you to connect back to retention, adoption, and engagement.


Understand your student behavior and optimize for success
By analyzing your revenue, course, and engagement data, you can identify areas where your program excels and needs improvement. Analytics helps you easily launch and iterate your program based on student data findings, driving new revenue through your education program.
Thinkific Analytics Dashboards
Revenue Dashboards
Revenue Overview
The Revenue Overview Dashboard provides a comprehensive overview of your business's revenue trends over time. With a main line graph and key metrics such as Total Revenue, Average Revenue per User, and Number of Transactions, the dashboard allows you to understand the factors driving your revenue and make informed decisions to plan, optimize, and grow your business.
All revenues reported are presented as gross revenue, meaning that the figures represent the total amount paid by the student, inclusive of taxes and processing fees. The actual revenue earned, which excludes taxes and fees, may differ.
The Revenue Overview Dashboard displays in USD by default. If you have changed your site currency, you will see a dropdown menu available to switch from USD to your local currency:
TCommerce Subscriptions
Adopt Thinkific Payments in order to access and leverage all the integrated business management tools available on TCommerce, including the Subscriptions Dashboard
The TCommerce Subscriptions Dashboard tracks the number of active subscriptions, broken down by payment type and date range, to monitor customer engagement and identify trends. Evaluate the effectiveness of your acquisition efforts by analyzing the number of new and churned subscriptions during specific time periods. Monitor your Monthly Recurring Revenue (MRR) growth and changes over time to help you assess the financial health of your business. Additionally, keep a close eye on churn rates to identify areas for learner retention improvements. Use these insights to make informed decisions, optimize your pricing strategies, and implement targeted retention initiatives to foster sustainable business growth.
Learn more about TCommerce: Subscriptions Dashboard
Orders Dashboard
The Orders Dashboard provides valuable insights into your completed orders over time, enabling you to optimize your sales strategies on Thinkific and effectively target your audience. With a main line graph illustrating order trends and a pie chart differentiating orders from new and returning students, this dashboard offers a comprehensive overview. Key metrics such as Total Orders, Unique Students, and Top Products By Orders provide a snapshot of performance for the selected time period and products. Additionally, the dashboard presents a breakdown of orders based on product type, coupons used, payment type, payment provider, and customer classification as new or returning. These insights equip you with the necessary data to analyze and enhance your selling approach.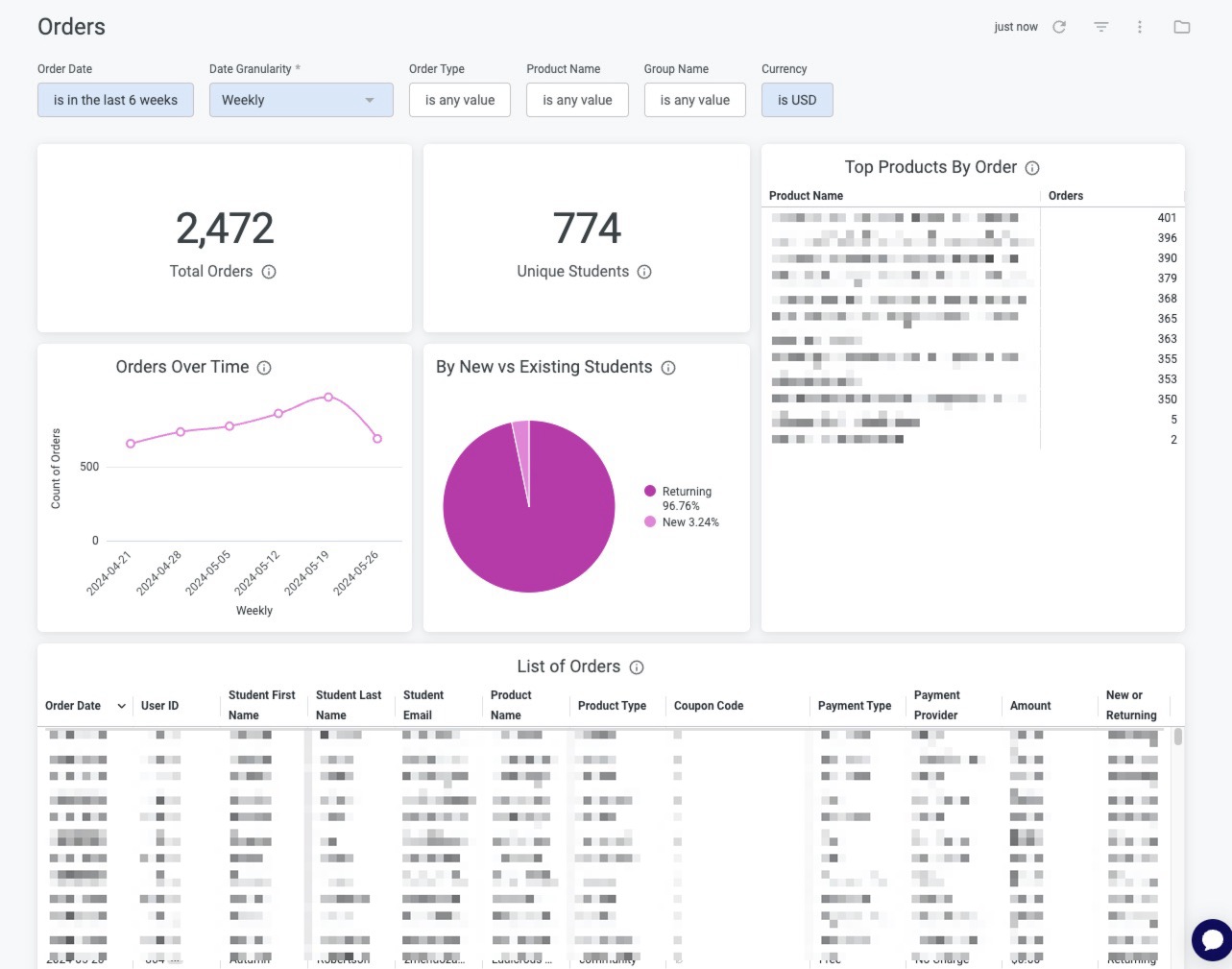 Enrollments Dashboard
The Enrollments dashboard provides valuable insights into the performance of your courses and communities and allows you to understand which learning products your audience values most over time. The dashboard offers a comprehensive view of your enrollments, featuring a main line graph that visualizes enrollments over time.
The data can be further filtered by time period, enrollment type, product name, and group name, allowing you to identify trends and patterns that inform your decision-making. In addition, pie charts are included to show the percentage of enrollments started and completed, providing a clear picture of engagement and retention rates.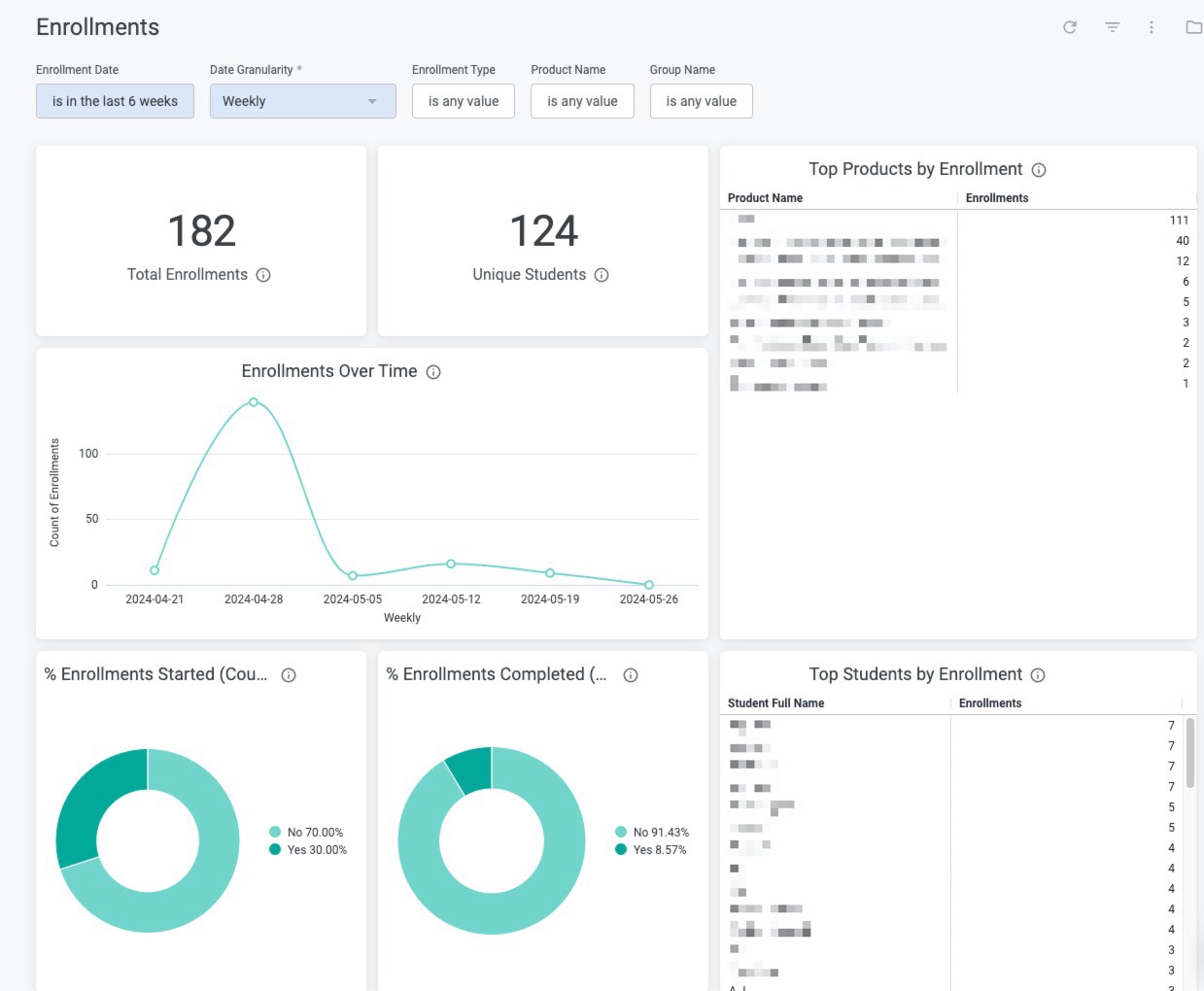 The List of Enrollments table at the bottom of this page features detailed information about your enrollments and student details including if a certificate was issued and the certificate expiry date.
If you would like to generate an enrollment list including the Group each student is in, this is available when exporting a CSV report. See details here: Can I view the Group my student is in from the Enrollments Dashboard in Thinkific Analytics?
Engagement Dashboards
Keep your audience engaged with actionable insights. The Engagement Dashboards provide you with 6 separate dashboards — Overview, Course, Community, Quiz, Student Performance, and Video — to help you grow your business smarter. Get the data and insights you need to measure student engagement, revenue, and overall program performance while empowering your team to make impactful decisions.
Learn more about Thinkific Analytics: Engagement Dashboards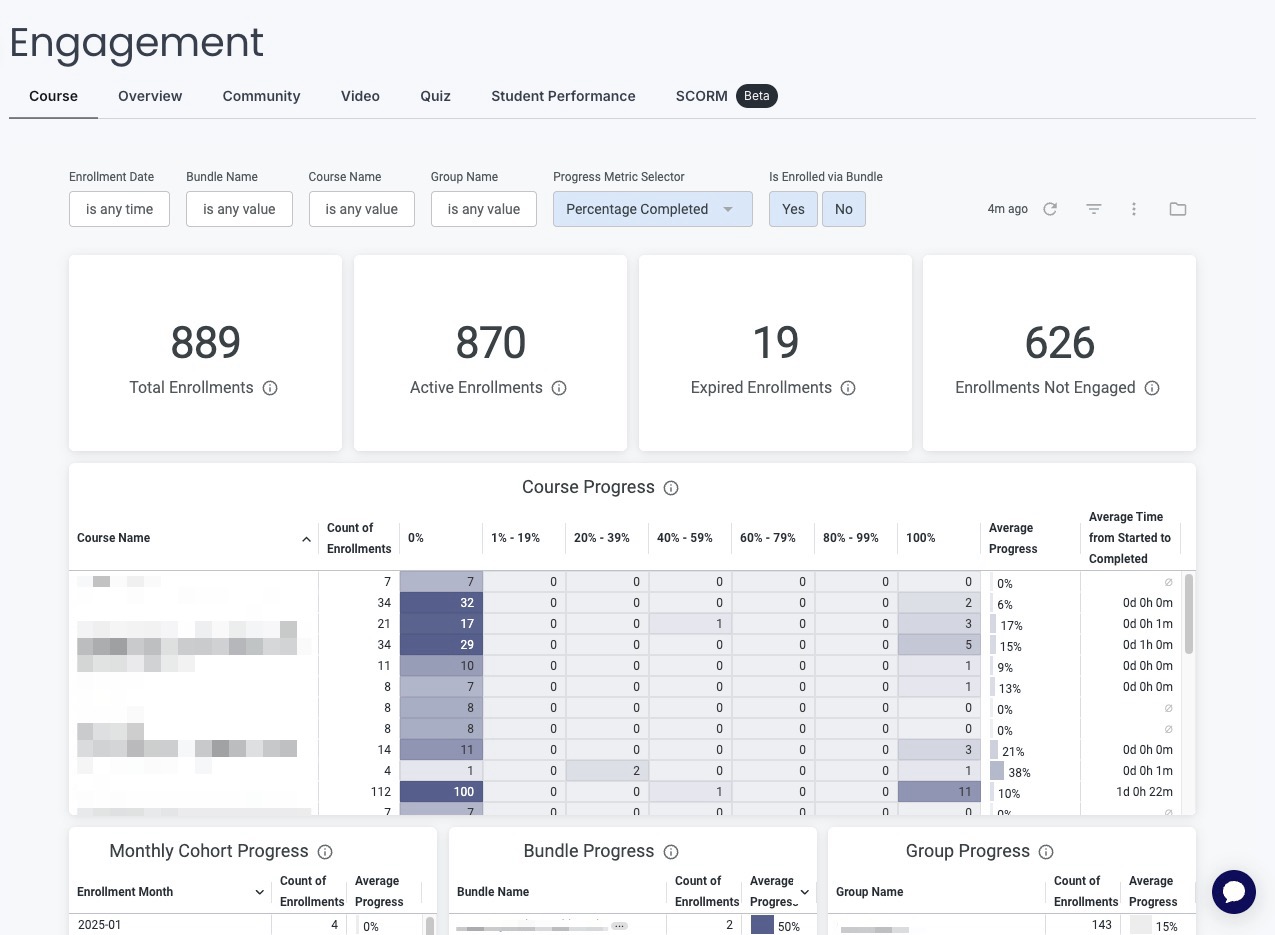 Access Your Dashboards
Thinkific Analytics isn't currently available on Safari. Our team is working hard to make this feature available for Safari users as soon as possible. In the meantime, we recommend using Google Chrome to access the feature. 
To access your dashboards, go to your Admin Dashboard and click on the Analytics section located on the left-hand side. Next, choose Revenue, Orders, Enrollments, or Student Engagement from the dropdown menu.
Giving Users Access to Your Analytic Dashboards
Access this feature with Plus! If you're already a Plus customer, reach out to your dedicated Customer Success Manager to learn more. Curious, but not yet on Plus? Discover how Plus can supercharge your business growth.
As a Site Owner, you have the ability to assign roles to users, granting them access to the Course, Quiz, and Student Performance Engagement Dashboards, as well as the Enrollments Dashboard within Thinkific Analytics. By designating individuals as Site Admins, Course Admins, or Group Analysts, you can provide them with tailored insights and empower them to make data-driven decisions.
Site Admins get comprehensive access to all Thinkific Analytics dashboards, enabling them to gain a holistic view of engagement across the entire platform. Group Analysts and Course Admins have restricted access to Engagement and Enrollment Dashboards, limiting their visibility to data specific to the Course or Group they are associated with.
This feature allows designated users to analyze engagement metrics, identify trends, and optimize their respective courses or groups to foster better student outcomes. By granting selective access to the Engagement Dashboards, you can distribute responsibilities, collaborate effectively, and enhance the overall learning experience for your students.
Filter Your Data
Tailor your data to create meaningful and actionable insights by filtering for specific attributes. Thinkific Analytic filters allow you to focus on what's important by eliminating irrelevant data to help you save time and increase productivity. Filtering is flexible and can be adjusted as new data becomes available or when needs change.
Filters Available
| | | | | | | | | |
| --- | --- | --- | --- | --- | --- | --- | --- | --- |
| Revenue: Overview | Revenue: TCommerce Subscriptions | Orders | Enrollments | Engagement: Overview | Engagement: Course | Engagement: Community | Engagement: Quiz | Engagement: Student Performance |
| Transaction Date | Subscription Date | Order Date | Enrollment Date | Date | Enrollment Date | Date | Quiz Completed Date | Student Name or Email |
| Date Granularity | Date Granularity | Date Granularity | Date Granularity | Date Granularity | Product Name | Date Granularity | Course Name | Course Name |
| Product Name | Product Name | Order Type | Enrollment Type | Product Type | Course Name | User Role | Quiz Name |   |
| Group Name | Payment Type | Product Name | Product Name | Course Name | Group Name | Community Name | Group Name |   |
|   |   | Group Name | Group Name | Community Name |   | Space Name |   |   |
|   |   |   |   | Group Name |   | Group Name |   |   |
How to Filter Your Data
Click on the Analytics section located on the left-hand side of your Admin Dashboard
Choose Revenue, Orders, Enrollments, or Student Engagement from the dropdown menu
Configure your filters with specific attributes found at the top of your dashboard
Optional: Add additional attributes by using the Add (+) button, where applicable
Click on the Update button in the top-right corner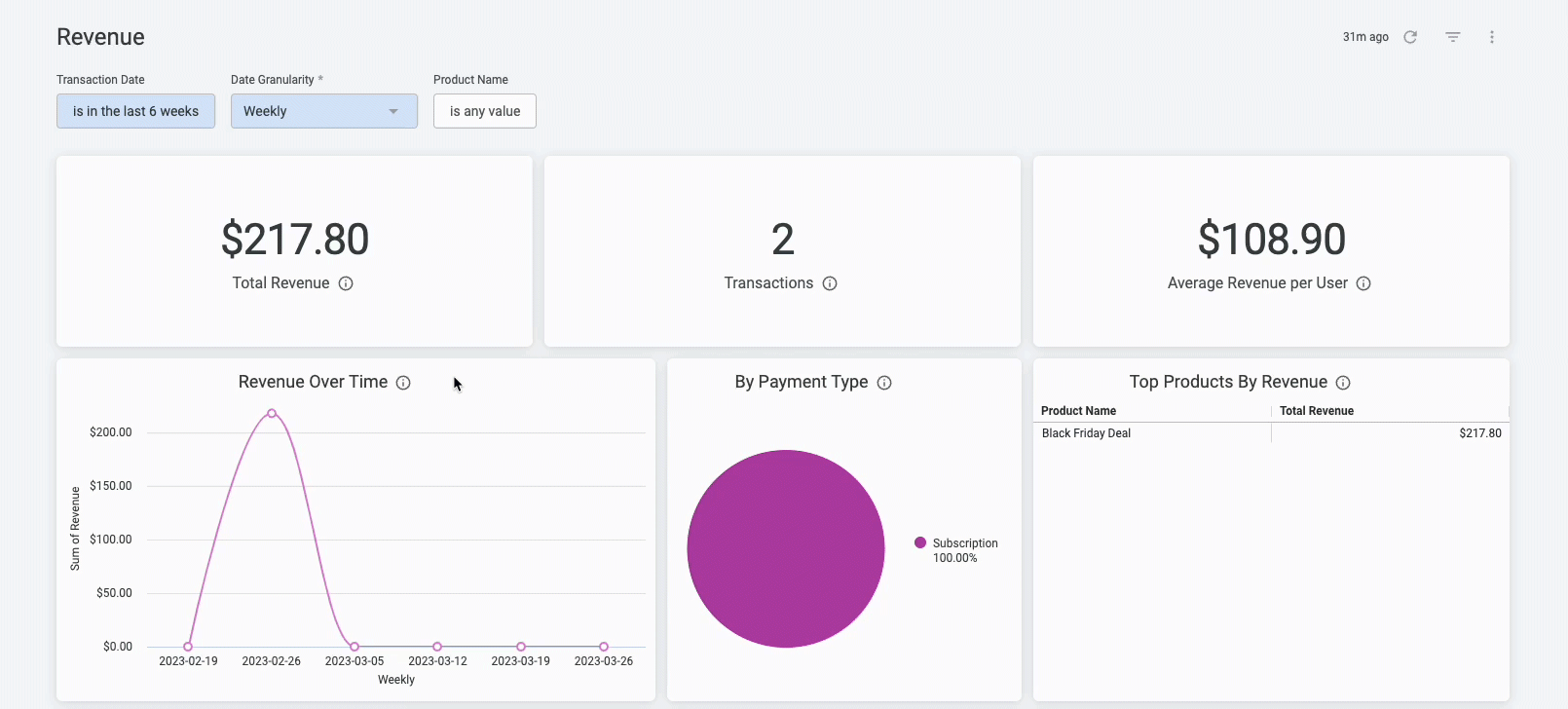 Export Your Data
Exporting your data enables you to use a variety of other tools to conduct a deeper analysis and interpretation of data, revealing trends and patterns that may have gone unnoticed. Exporting your data also allows you to revisit and reanalyze them at your convenience for ongoing learning and knowledge building to give you a greater understanding of your business over time.
How to Export a Full Dataset
You have the option to export full datasets as a CVS or PDF file.
Select a dataset to export
Optional: Filter your dashboard to isolate a subset of data
Click Dashboard actions (ellipses) in the top-right corner then, Download
Select your Format using the dropdown menu and click Download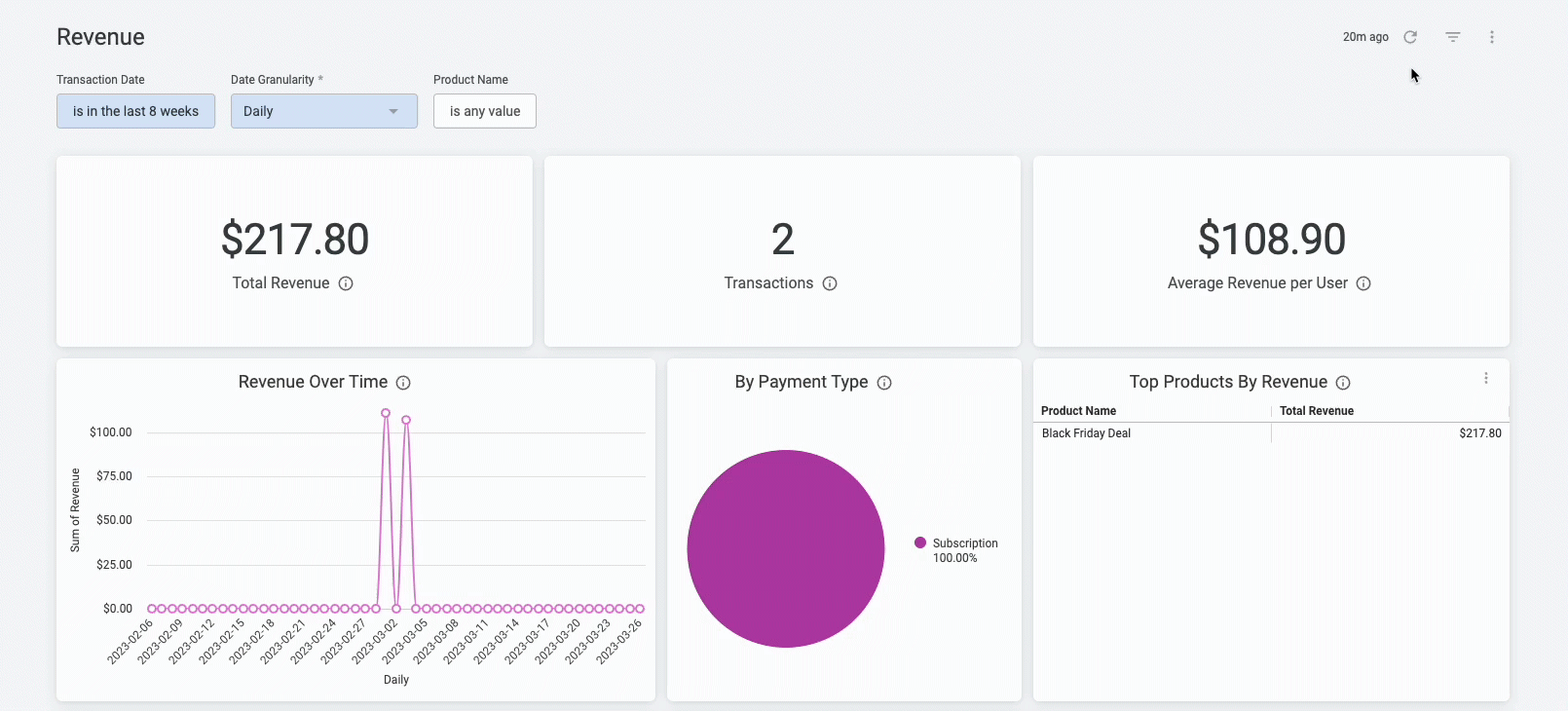 How to Export a Partial Dataset
You have the option to export partial datasets in TXT, Excel, CVS, JSON, HTML, Markdown, and PNG formats.
Select a dataset to export
Optional: Filter your dashboard to isolate a subset of data
Select a tile on your dashboard and click Tile actions (ellipses) then, Download data
Select your Format using the dropdown menu
Optional: Configure your data set further using Advanced data options
Click Download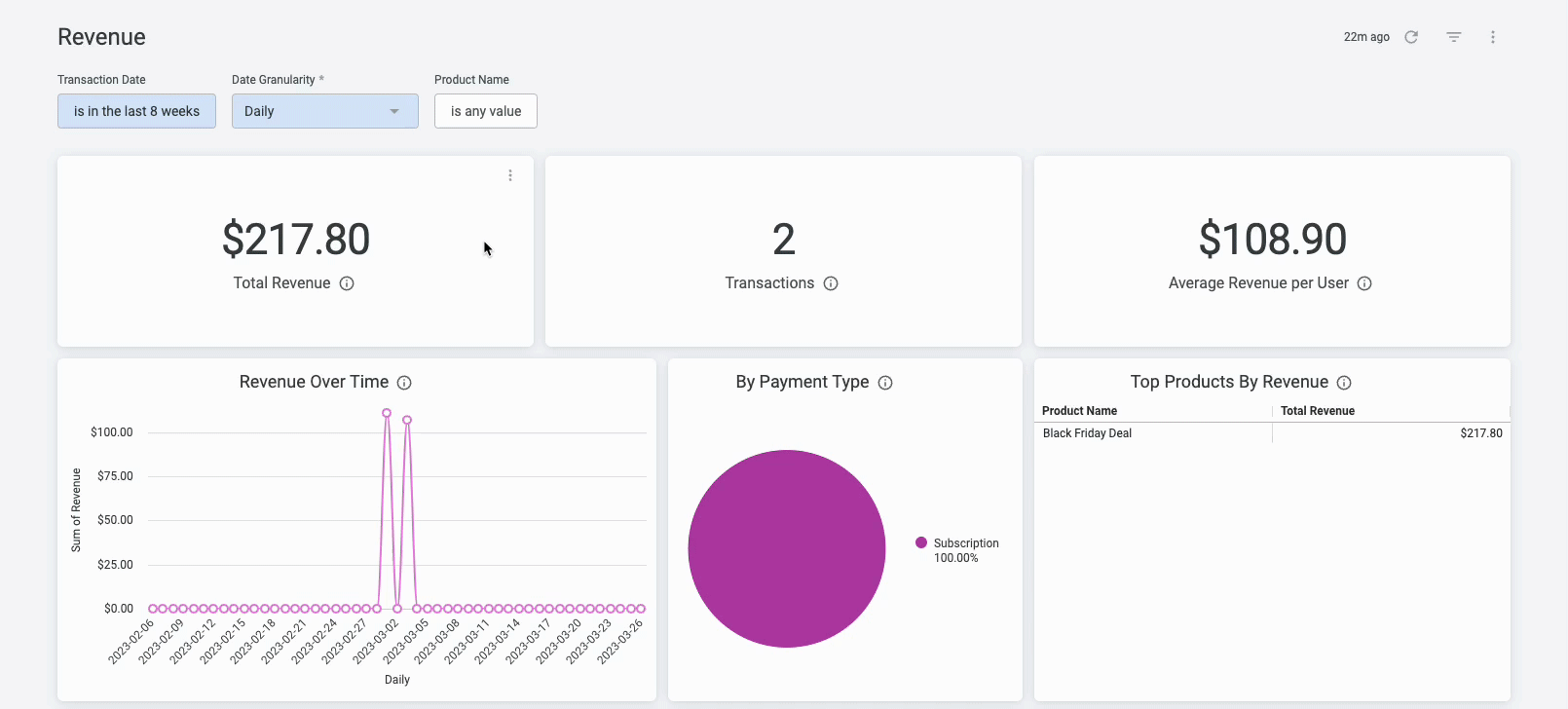 Frequently Asked Questions
Why don't I see any data on my dashboard?
Dashboards that do not have any data will appear blank. For example, if you only have Free courses on your site, you will see a blank dashboard for Revenue. Make sure to check back when you start accepting payment!
Another instance where users may not see any data on their dashboards is when a user is a Course Admin or Group Analyst. If they have not been assigned a course or a group, or if the user is both a Course Admin and Group Analyst but either role is missing an assigned course or group, the user will not see any data in the Analytics reports.
Why isn't all of my student data displaying on the dashboard?
If a student has recently enrolled or progressed through a course chapter or lesson, you may need to wait up to 24 hours to see this activity in your engagement reports. Reporting data is updated daily at 4 a.m. PDT.
Another possible reason student data may be missing is that a student's enrollment did not occur during the date range selected. We suggest adjusting the date range and re-checking the data.
Listed datasets, such as a list of Transactions, Orders, and Enrollments, have a maximum display limit of 5000 rows of data. To access the full data set, we recommend exporting the data. Make sure to select All Results under Advanced data options before exporting the dataset.
I added content to my course and my student completion and progress rates went down. What happened?
If you add lessons to a course with existing enrollments, students working on the course will now have more lessons to complete. As a result, the percentage of your course that they have already completed will decrease.
This is automatically reflected in the Student Engagement Reporting, which will dynamically update student progress and completion percentages when you add or remove course content. The report will automatically refresh to reflect any changes.
If you add or remove lesson content from your courses, you will need to recalculate the progress in the Progress Report to see up-to-date progress and completion percentages in the report.
Please note that it may take up to 24 hours for your reports to update when you add or remove new course content. Reporting data is updated daily at 4 a.m. PDT.
Can I report on purchases made outside of Thinkific?
What is the difference between the Order Details Report and the Revenue Details Report?
The Orders Report will only show the unique order at the time of purchase. It does not include each individual transaction for subsequent subscription and payment plan payments.
The Revenue Report will show the total revenue of each individual transaction to date.
What is the difference between the Thinkific Analytics Orders Dashboard and the Orders Report under Market & Sell?
The Thinkific Analytics Orders Dashboard is meant to help you analyze trends. This means it provides an overview of total orders in a time period and helps answer questions like:
How many unique students are ordering?
Which products a have higher order count?
How many orders are from new versus returning customers?
The Orders Report available in Market & Sell is focused on transaction-based data to help with accounting or reviewing specific order details. This report is available on all Thinkific plans.