You and your students can receive email notifications for any post activity in a Community by following posts!
If you haven't created a Community yet or want to learn more about Thinkific Communities, check out Create a Community

!
How It Works
You and your students can follow posts to receive email notifications for comment activity on posts! When a new post is created, the Site Owner, Site Admins and the creator of the post will automatically be added as followers. You can always unfollow a post if you no longer want to receive email notifications.
Learn how to follow posts here!
Email Notifications
Notifications will be sent from notifications@notify.thinkific.com and will include a direct link to the Community. For example: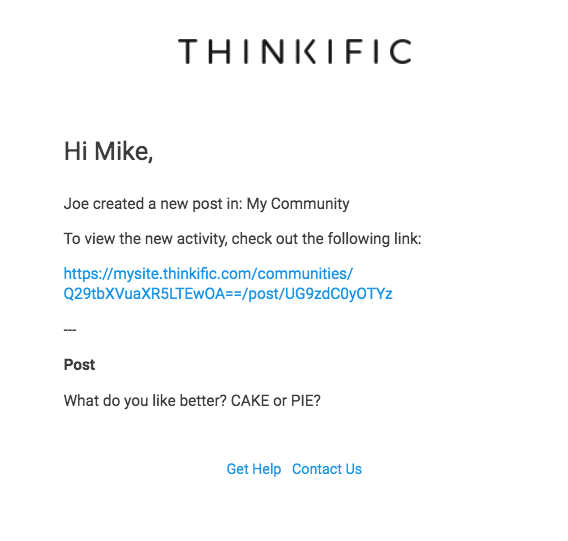 Summary of Notification Rules
You will receive notifications for any activity (comments) on a post if you are currently a follower
Site Owners and Site Admins will receive a notification when a new post is created
Site Owner, Site Admins and the creator of the post will automatically be added as followers to new posts
Course Admins will not automatically be added as followers to new posts, which means they will not get notifications by default. They will need to follow the post to start getting notifications.
If you want to receive notifications for a post that you are not currently following, you can follow the post
If you no longer want to receive notifications for a post, you can unfollow the post
---
More About Communities