Profiles allow community members to communicate who they are, and better understand who they are talking to — they make it easier to find common ground, recognize shared interests, and feel safe interacting with fellow-students and instructors.
---
In this article:
How to Mention a Student or Instructor
About This Feature
Building a Community can be a great way to engage your students. Communities are an opportunity to create a more supportive learning environment, where students and creators alike can build fruitful relationships. Within your Community, the Profiles feature allows the members of your community to create their own profile containing basic information about themselves, including their name, picture, company, professional title, and timezone. 
Students can use profiles to find out who is local to them, discover who may have experience in an area they are working on, or boost their own network for professional connections. The transparency of a profile fosters a safe environment in which relationships can be built with peers that share common interests. 
Profiles also allow creators to learn more about their students, gain insights into their backgrounds and interests, and their potential as audiences for future course content and marketing.
With Mentions, you can tag someone in a post, comment, or a reply to their comment, to notify them that you are reaching out to them specifically.
How It Works
Profiles allow you to view a student or admin's recent activity, such as posts within the community, as well as their role within the community. When a student joins a community on your site, they can edit their profile to add information that will be shown publicly within the community. Admins and course instructors can also fill out their profile information. 
Mentions allow you to mention other members in a post, comment, or reply to a comment by tagging individuals to notify them (by email) of content relevant to them or in response to a thread they are part of. The Mentions feature is triggered when "@"  is typed in the post or comment (or reply) text box, which triggers a dropdown list of community members - showing the name and image associated with the profile.
Important Considerations
Students will have one community profile attached to their account on your Thinkific site. This means that their profile and information will remain the same in different communities across your site.

You will be required to sign in to your account in order to access your available Communities.

A Community can also be accessed through a direct link to the Community page
How to Edit Your Profile
To edit your profile, start by signing in to your Thinkific site and navigating to the Community. For students, this will be available from the Student Dashboard.
Site Owners or Admins can also access the Community by selecting Communities under the Manage Learning Products section of the Admin Dashboard, and then selecting Go To Community from the ellipsis menu next to a particular community.
Once you have signed in to the Community, click on your user icon on the top right of the screen and select My account
This will take you to the Edit Profile view by default
Fill out or update the available fields
(Optional) Click Upload New Image to upload a profile image
When you have finished editing your profile, click Save Changes


You can also access your profile from within the Community by viewing your own profile and clicking the Edit profile link.
Note that while the email associated with your account appears under Edit Profile, this email will not appear when other community members view your profile.
How to View a Profile
Navigate to your community as outlined in the steps above
Click on a community member's profile picture or name
This will bring up a window showing information about the user


How to Mention A Student or Instructor
Navigate to your community as outlined in the steps above
Create a new post, or begin typing a comment
Type "@" and select the profile from the dropdown menu
Finish your comment and hit Post Comment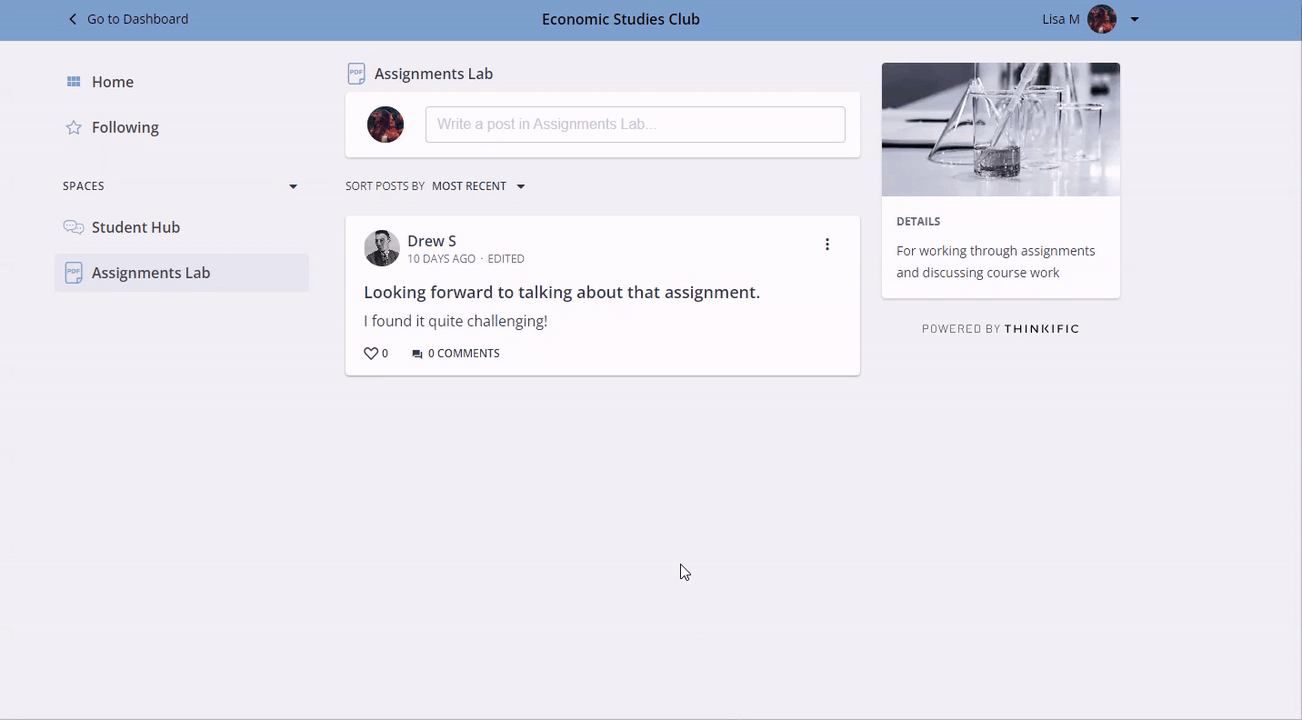 Frequently Asked Questions
Do students have to fill out their profile information? Can I choose what fields are required or optional?
Other than their name, students are not required to fill out their profile information, and can choose how much information to share or withhold; for example, some students may be comfortable adding a personal photograph to their profile, while others may prefer not to upload an image at all.
It is not currently possible to set fields as required, or choose which profile fields a student must fill out. However, we are constantly making improvements to Communities in order to better address the needs of our creators. If you want to submit feedback or request a specific feature, you can send us your thoughts — we're always looking for input from creators, to make sure we're moving in the right direction!
Are profiles and mentions available on the mobile app?
The Thinkific Mobile App allows your students to access their learning content on the go, including their communities, all on their devices using a native app. With access to courses and communities, and features like push notifications, activity feeds, and more directly in your students' pocket - it's easy to drive engagement while keeping your content and learning products top of mind. 
Looking for a mobile app that spotlights your brand with your logo and own App Store listings? Check out our Branded Mobile App solution: Maximize Your Brand Potential With the Branded Mobile App
At the moment, only mentions are available on the mobile app. Profiles and member directory are not available. Learn more about features supported on mobile here: Supported Community Features.
As the Mobile App is regularly being updated, features that are currently unavailable may become available down the line. Keep checking back for the latest updates on what is available!
To learn how you can use mentions in the Mobile App, see: Communities in the Mobile App (Student Resource).
---
More About Learning Communities
Drive Revenue with New Thinkific Communities
The Thinkific Community Builder