Students that have access to your Community will see the Community card directly on their Student Dashboard, as long as you are on our latest theme. You can also share a link to your Community wherever else you'd like to promote it!
---
In this article:
Community Access from the Student Dashboard
Community Landing Page Share Link
Community Access from the Student Dashboard
The Student Dashboard can be accessed from yoursite.thinkific.com/enrollments - this is the area that students will see as soon as they log in to your Thinkific site.
If you would like Communities displayed automatically in the Student Dashboard, this is available with Site Builder theme version 1.12.12 or higher.
If you are on the most recent version of your theme, a Communities section will automatically appear in your student's dashboard, that displays all of the Communities that the student currently has access to. This section will appear below your student's courses: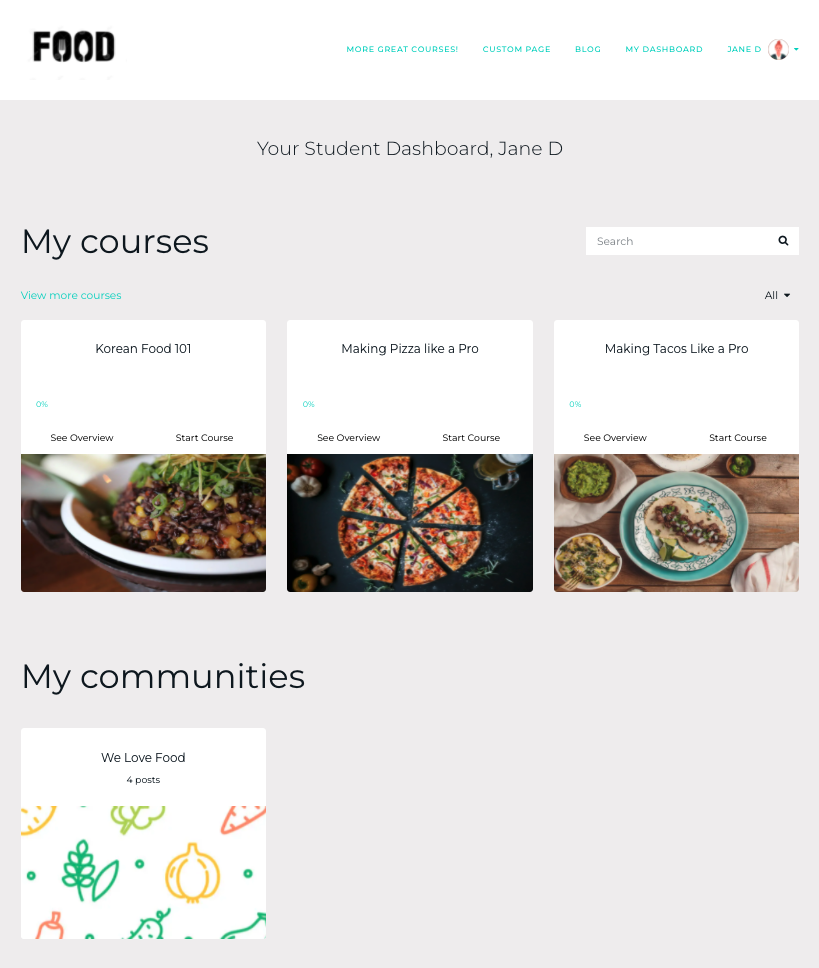 From the student dashboard, your students can also click on Courses in the header to view all Products available to them. Within this section, they will see all courses, bundles, and communities they have access to.

Important Considerations
If you don't see Communities on the Student Dashboard, make sure to update your theme for this to display!
Note that currently a maximum of 21 Communities can be displayed in the. If you have more than 21 Communities, we recommend sharing Community links directly with your students in a text lesson or via email. Including a link in a Course Welcome Email is a great way to notify your students of any Communities they have access to when enrolling in your course!
Your Community Sharing Links
There are two different links you can provide your audience with for your Community:
The direct link to the Community, or
The link to your Community Landing Page
To learn more about how to copy and share each of these links, expand the dropdowns below.
Direct Community Share Link
You can also share a direct link to your Community with your students! Some options to try are:
How to Copy Your Community Share Link:
Go to Manage Learning Products
Select Communities
Locate the Community you want to start posting in
Click the ellipses (3 dot icon) and select Copy Share Link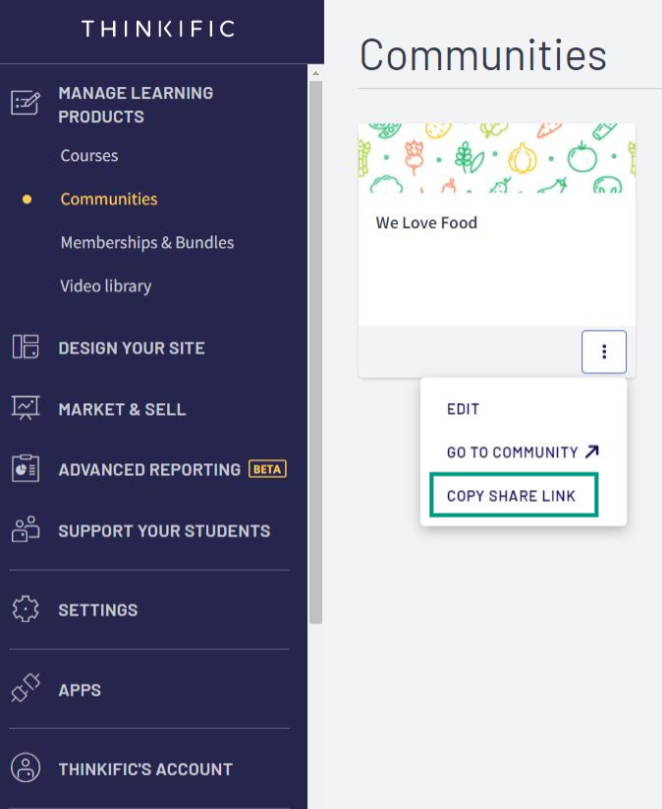 Community Landing Page Share Link
Once you have set up your community landing page, and you are ready to start sharing, you'll want to make sure your community is published and you can send students a link straight to your community landing page to enroll!
When you are viewing your landing page Site Builder, simply click the link icon on the top left to copy your landing page URL for sharing.

You community landing page will have a URL automatically assigned based on your community name.
---
More About Learning Communities
Drive Revenue with New Thinkific Communities
The Thinkific Community Builder