On any Thinkific plan, we'll host your video content for you, allowing you to create awesome video-based lessons for your students!
---
In this article:
About This Feature
Video lessons allow you to easily upload and display your video content in Thinkific. Video lessons are one of the best ways to show off your personal brand and provide engaging content to your students!
Video lessons will display your video front and center in your lesson. They will include a play-bar and video setting options including captions, volume, resolution, speed and full screen mode.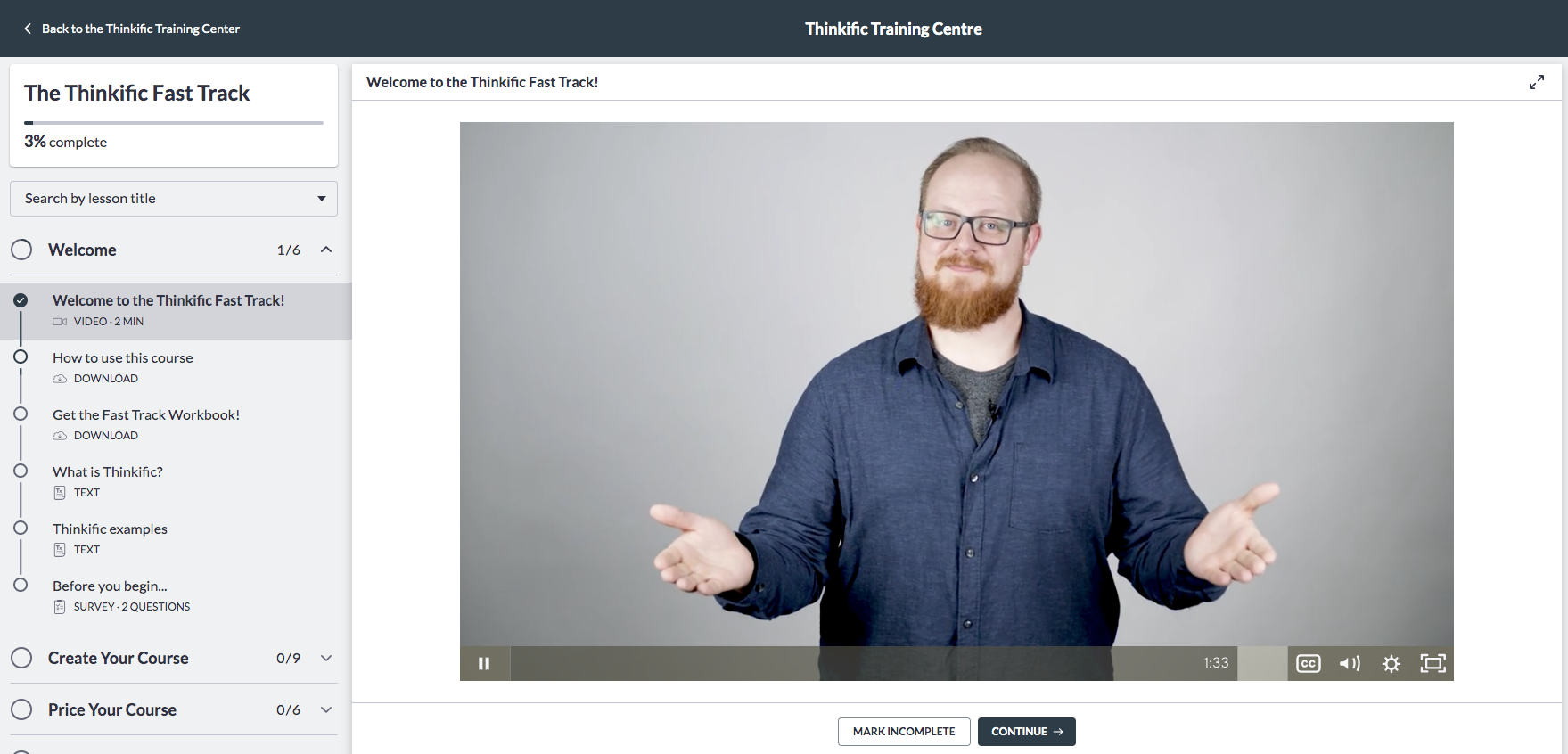 Haven't created video content yet and wondering where to start? Check out our blog for some tips!
How It Works
Videos will need to be created outside of Thinkific and once you have the content ready to go, you can upload your videos to your course!
We have unlimited video hosting on all plans and there is a 2GB file size limit per video. We recommend compressing your videos to reduce the file size. Smaller videos will make the upload and download speed of your video much faster, which really helps your students when they are connected to wifi or slower internet connections!
Learn more here: Recommended Specs for Exporting Videos
Once you have compressed your video using the recommendations linked above, you can add it to your Thinkific course. You can upload videos stored on your computer, or from a number of cloud-based storage services like Dropbox and Google Drive!
There are 3 ways to upload videos:
Upload to your Video Library
Upload at the lesson level
Upload using the Bulk Importer
When creating your video lesson, you will have the option to select an existing video from your Video Library or upload a video directly to your lesson.
All videos will be added to your Video Library regardless of where they were originally uploaded, which makes it easy to re-use videos in various areas of your site or courses.
If you have multiple videos ready to go, we recommend reviewing Video Library and Bulk Importer to see how to upload your videos in bulk!
How to Create a Video Lesson
Now that you know the basics, let's create your video lesson!
Go to

Manage Learning Content
Select Courses
Click on a

specific course

in the

Course Overview
You will now be in the

Course Curriculum

area of the

Course Builder
On the left-hand side, click

Add Lesson
Select

Video
Name the

Lesson Title as desired
Check off any desired Lesson settings
Under Choose a video, select a video from your Video Library, Drag & drop a video file or Select file to choose a file on your computer
Optional: Add text (more details below)
Optional: Add downloads (more details below)
Click Save
When you first upload your video, it will take some time to process. If you see an "Oops" message when Previewing your course, you'll just need to wait until it finishes processing. You can always check your Video Library for the current status!
Optional Content
When creating your video lesson, you will also have the option to include additional text and downloadable files that will appear under your video in the Course Player:
This option is not available with the Legacy Course Player. See how to update your Course Player here!
Learn how to add optional content to your video lessons here:
How to Add Text to Your Video Lesson
How to Add Downloads to Your Video Lesson
Additional Video Features
We have several video-specific features that you can use to expand the functionality in your video lessons! Check them out here:
Change the Color of Your Video Player
Add Closed Caption to Your Videos
Allow Students to Download Videos to Watch Offline
Important Considerations
Frequently Asked Questions
Why does my video take so long to upload?
Why doesn't my video show all resolution options?
What is the file size limit for videos?
How do I reduce the size of my videos?