Having issues with video playback? We've put together this quick guide to troubleshooting your own/your students' video issues. Read more below.
---
Troubleshooting guide for videos
Most issues can be resolved by ensuring your video has been saved according to our recommended video specifications.
Handbrake is a great free tool to help re-encode your videos to match these specifications.
Expand the dropdowns below to explore some common video issues and learn how to troubleshoot them.
If you're still having trouble, or you're experiencing something not listed below, skip to the last section to find the information our Support team will need to help you out, and get in touch with us.
My video isn't loading and shows a blank screen
The large majority of the time video issues are browser-specific; for example, it may be that you have a plugin installed that is blocking the videos or your browser may not support the file type you are using. Try using a different browser or an incognito window instead.
Sometimes your network may be blocking our video host. You may also need to add the following to your safe list:
*.wistia.com (The * indicating that what precedes wistia.com in the URL can vary, depending on the user)
fast.wistia.net
embedwistia-a.akamaihd.net
My video isn't loading and shows an "Oops" message
This error occurs if your video is still in the middle of being processed by our video hosting service, or if there was an error uploading the video. It can also occur if you do not currently have any video uploaded to the lesson.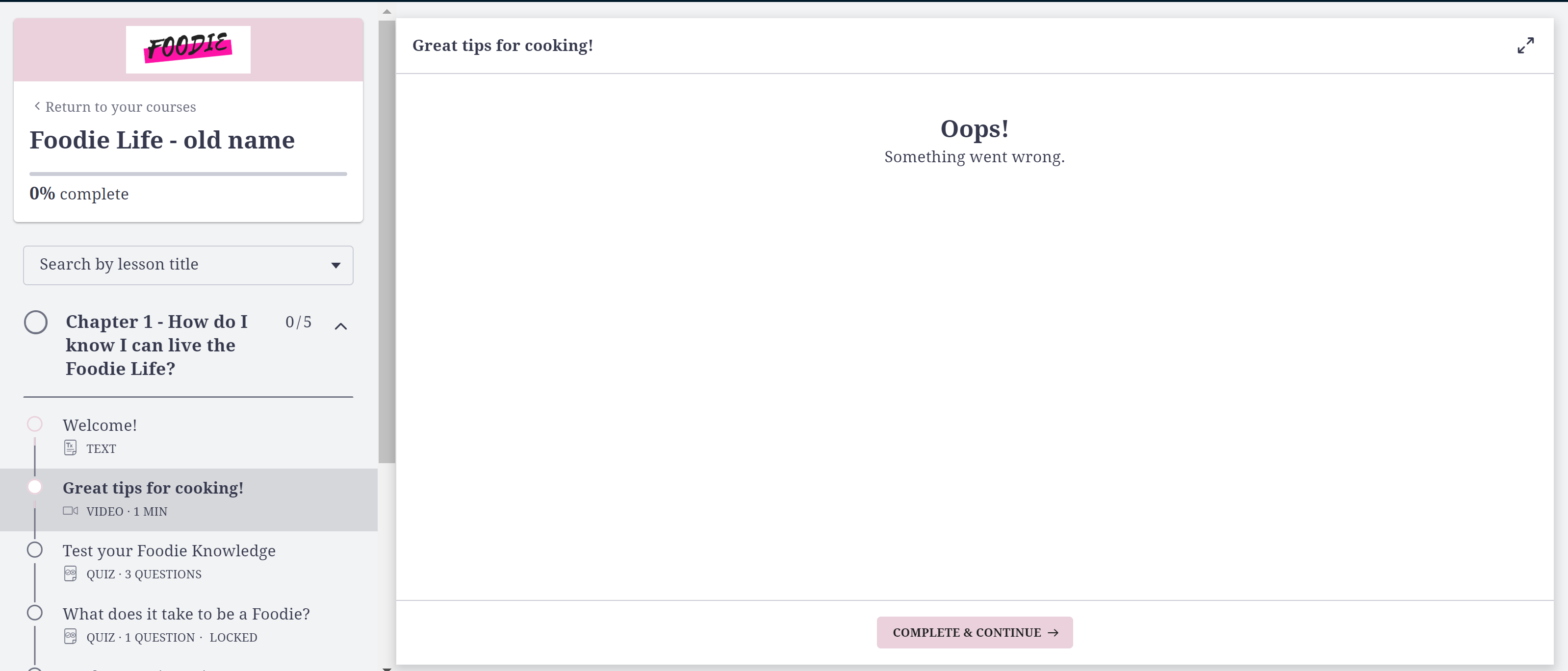 To check if this is the case, you can go to your Video Library and check if the video still shows a "Processing" message beside it. If so, the video will not appear in the course until processing has completed.
If your video shows a "Failed" message, it means there was an issue during the uploading process. You'll want to double check you've exported the video according to our recommended specifications, and try re-uploading the video.
My video is loading slowly
Our video hosting service is very reliable and the large majority of instructors find that they have no issues at all with videos loading slowly.
If your videos are loading slowly, it is most likely related to your internet connection. A quick tip for improving video playback is to click on the gear icon in the video player and choose a lower quality setting, as shown below.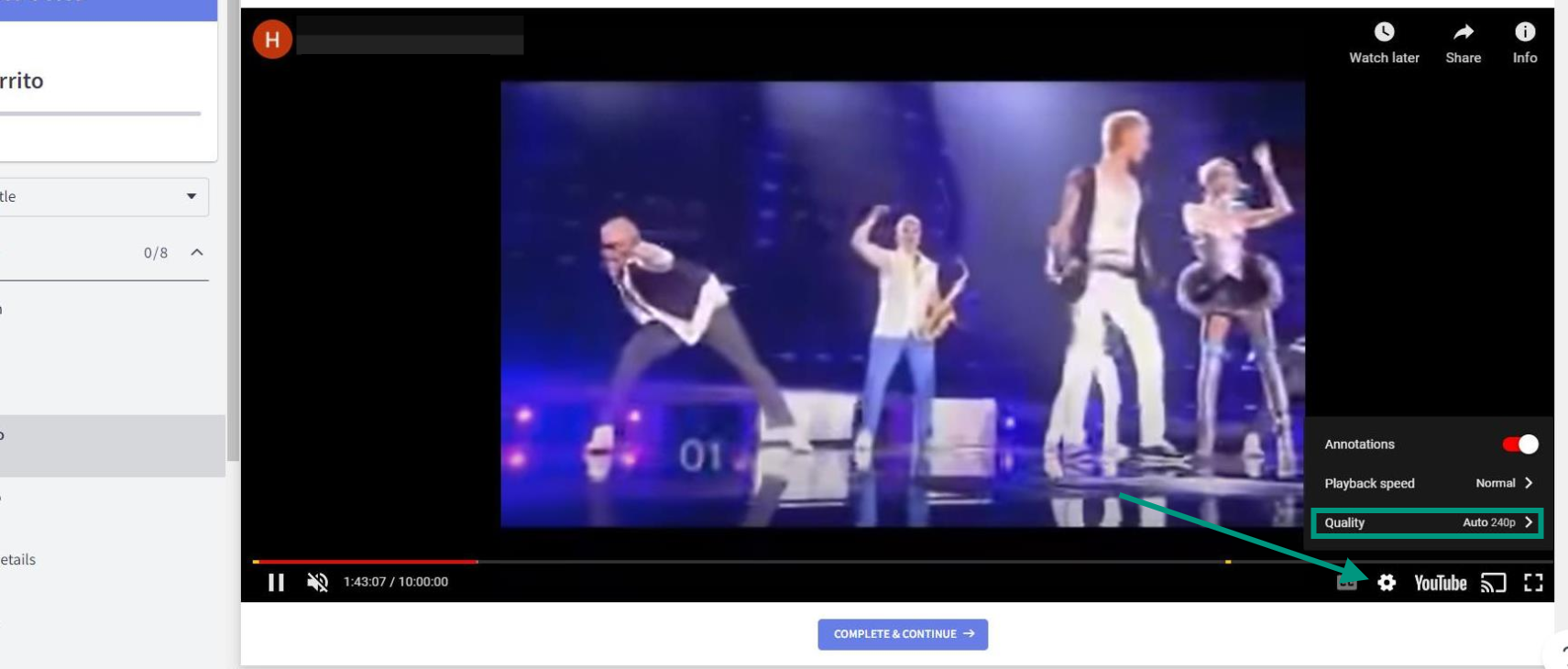 We also recommend you compress your videos, as larger video files can load slowly for any students who are over a slower internet connection. Handbrake is a free tool that you can use to compress your video without reducing the quality of the video.
I can see the video image but nothing happens when I press play
If you can see the video image in the Course Player, but when you press play the video does not load, you'll want to check what format your video is exported in. Some video formats do not play on certain devices.
The most common issue is with MOV files being unable to play on Apple devices. If you are getting reports only from some students that your videos aren't playing, check to see what format your video is saved in.
Our recommended file type for videos is MP4 because this ensures that the video is compatible across all types of devices. You can review our recommended video specifications here.
The video loads or is showing a loading icon but won't play
The video loads successfully but it doesn't start from the beginning
This is likely due to the Course Player saving your progress in a course. Information such as where you left off in a video is saved as a cookie in your web browser.
Videos not starting from the beginning also often occur when you're accessing a course using multiple accounts on the same computer (for example, a test student account).
An easy way to test if this is what's causing your issue is to sign in to your account and view the lesson in an incognito or private window. If this solves the issue, you can try these browser refresh steps to reset where the video begins in your normal browser window.
It says some of my videos have been archived due to inactivity. Does that mean my clients can no longer see them?
Sorry for any confusion - your clients will be able to see your videos! We recently released an update where videos are automatically archived if they have not been played in six months. If an enrolled client or student attempts to play an archived video, a request will be sent to Wistia to unarchive it. This can take 2-5 minutes depending on the size of the video file, and the video will appear broken as it is being uploaded to Wistia.
We recommend that your clients refresh their browser and try to play the video again.
Troubleshooting videos with our Support team
If none of the above troubleshooting tips have helped, please contact our team with the following details:
Which videos you're having a problem with - is it all videos in the course or specific ones?
If it's specific videos, please send over links to some examples.
Which browsers you've tried. Please try at least two browsers before messaging us. If you still can't get the videos to play, then please let us know which two browsers you've tried (name and version).
Not sure which browser you're using? Head to whatismybrowser.org to find out!
What kind of device you're using - Computer, iPhone, iPad, Android phone/tablet?
What internet connections have you tried? If possible, send us a screenshot of your internet speed (you can use http://www.speedtest.net/ for example).