With Thinkific, the student experience is paramount! We'll walk you through everything the student engages with, including enrollment, the course player, communities and how to troubleshoot student issues.
You want your students to focus on learning, to engage with the material at hand, and to have a smooth, stress-free and fantastic learning experience. We provide you with all the tools and resources to help you with this!
In this article:
The Student Learning Experience
Troubleshooting Student Issues
Suggestions for a Great Student Experience
The Student Learning Experience
We've designed our platform based on lots of studies and research while also keeping the student experience at the forefront. For example, we include interstitial and progress pages in between lesson modules - including these pages has been proven to significantly increase student engagement and completion in a course. These pages are intended to allow students to keep track of their progress through the course, an important factor in preventing drop-off, and keeping course completion rates high!
We also know that both courses and communities facilitate the student experience and are continually making improvements to help these products compliment one another in your learning site. Whether you are course focused, community focused, or both, students can easily navigate and participate!
About Student Users
Students on Thinkific are user accounts that can purchase and enroll in learning products. Student accounts can also be given access to user-only pages in your site. A student account can be used to purchase and enroll in multiple individual courses, communities, and product packages called bundles. We'll cover the enrollment process below.
Enrollment Process
In order to access your learning content, a student must first enroll in your product and then they can access it from their Student Dashboard. When a student initiates the enrollment process for a paid product on your Thinkific site, they are guided through a checkout process.
Offering free products? Learn more about how students can enroll in free products
Student Account Sign-Up and Checkout
Upon checkout, users are prompted to input their email, first and last name, address information, and payment details prior to purchasing your learning product. They would then be prompted to create a password to fully set up their student account before gaining access to your product:
It is possible for a user to create a student account on your Thinkific course site and not enroll in any products. This can occur when a student creates an account on your site's general sign-up page (e.g. yoursite.thinkific.com/users/sign_up). These users can be segmented and followed up on by using our Users Report and Filters feature. For further information, check out: What can I do for abandoned checkouts?
After Checkout and Enrollment
After students purchase a learning product, they are taken to a default Thank You page, or to a custom After Purchase Flow (if you've customized this for your site). They have now successfully enrolled in your product. Students can click the button from the default Thank You page to access the product. Alternatively, they can access the product later from their Student Dashboard.
Students will also receive the following automated email notifications after purchase, as long as you have them enabled on your site:
Read more about Student users, and other user roles here: About Student Users
The Student Dashboard
Students are immediately taken to their Student Dashboard when they login to your site. The Student Dashboard will display all product enrollments and students can simply click on any of the product cards available to access them, or continue where they have left off!
Learn more about the Student Dashboard here.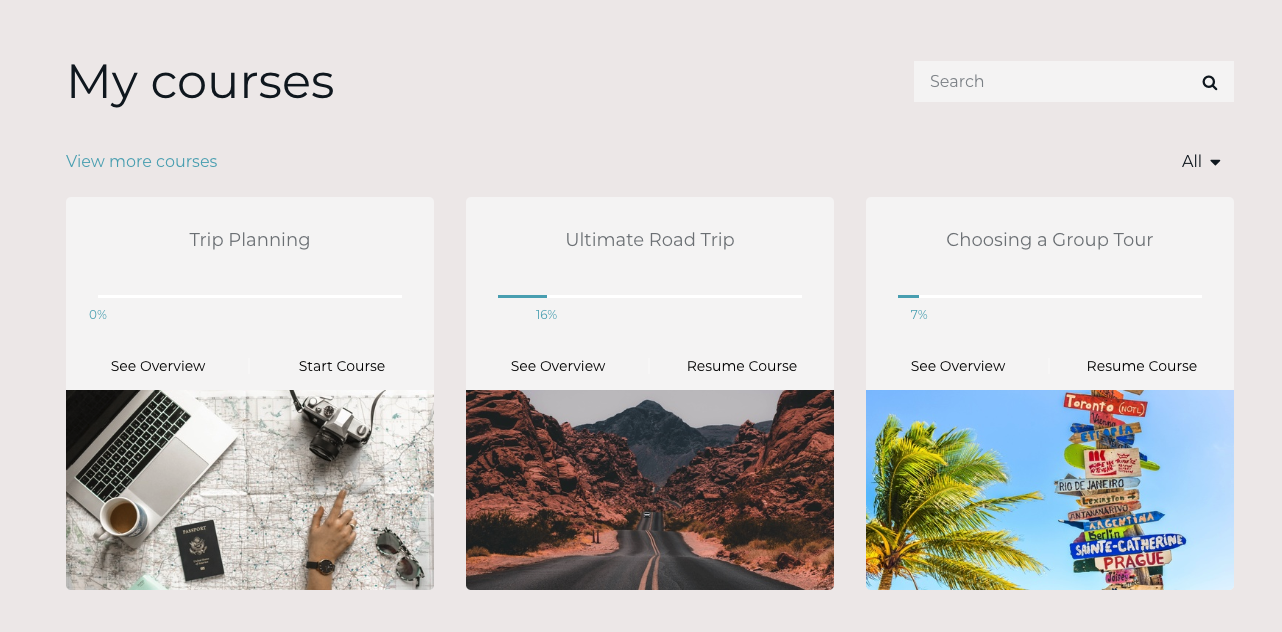 The Course Player
When a student enrolls into a course, they'll be given immediate access to the course (unless you're using a drip schedule in your course) via the Course Player. The Course Player is the course-taking environment itself - the part of your site where your students can go to view your curriculum, watch your videos, take your quizzes, and more!
Check out more on the Thinkific Course Player!
Learning Communities
For students that enroll in a Community, they will be sent directly to the community home page after purchase, where they can start posting and interacting right away! Students will also be able to access their communities through their Student Dashboard.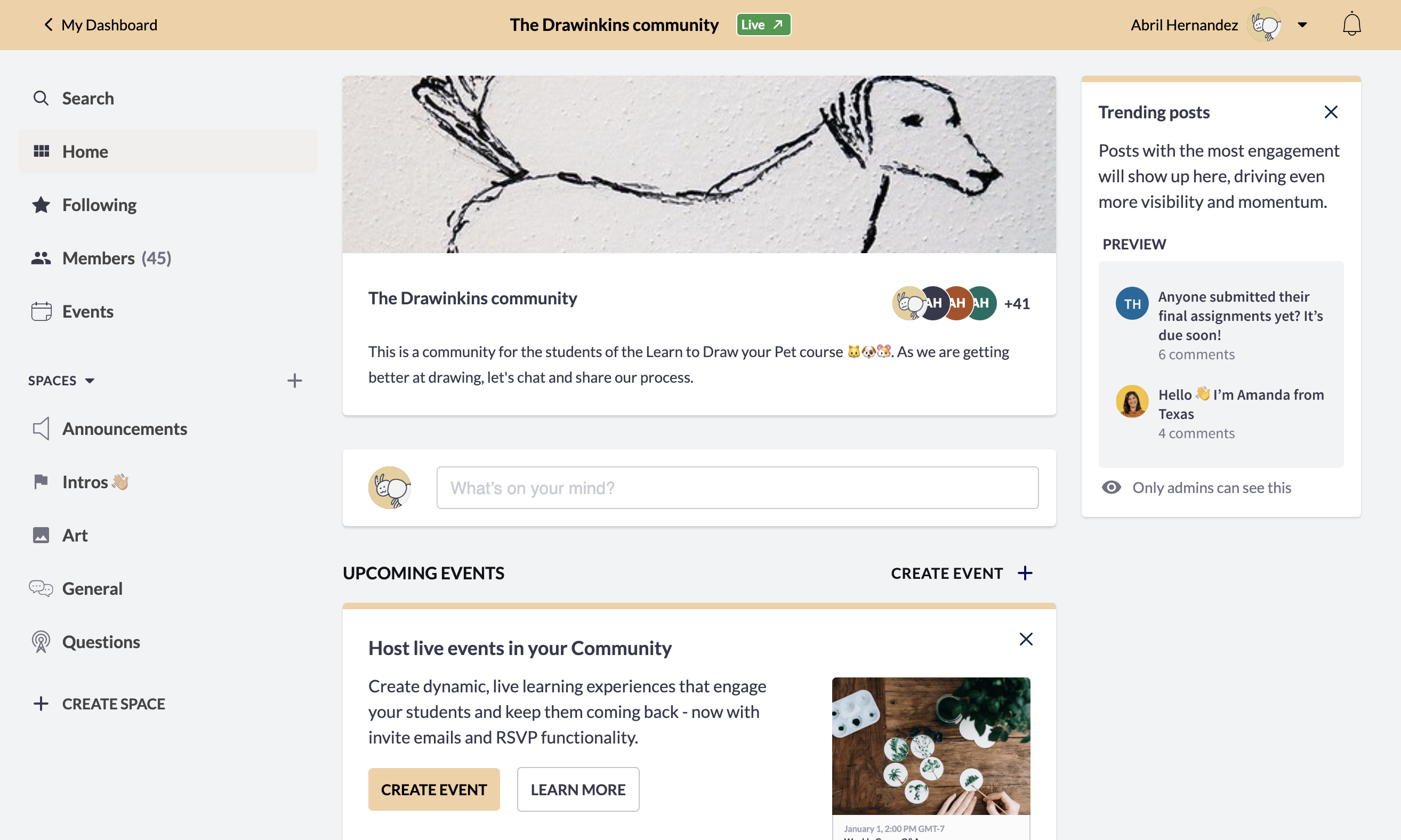 For more information on how students interact with Communities, check: Community Guide for Students.
Troubleshooting Student Issues
The vast majority of the time when students have questions, they're product-specific. When they aren't, they're almost always a local computer issue. Regardless, you're always the first point of contact for your students. But no worries, we got you!
We ask that you first try to reproduce the issue on your end - if it works for you, it's likely device or browser-related. As a Site Owner or Admin you can first confirm the student's enrollment in the course from the Users page. Check if the student may have just created an account on your site, and not fully enrolled themselves in the product (or just enrolled in a free preview).
We ask that you ask your student what browser they're using and what device. If possible, have them send over a screenshot or two of what they see on their end.
We also ask that you forward these troubleshooting steps to your student - these should help resolve a lot of student issues!
Clear the cache and restart the browser
Try a different browser (we like Google Chrome)
Try an Incognito / Private Window (this will rule out an issue with browser extensions)
Restart the device
If possible, try a different device
If possible, try a different internet connection
While it's rare for issues to come up, the reality is that something might come up for your students so you want to be prepared. If you've tried the above steps and they're not working, read our Troubleshooting Guide for Student Issues here.
Suggestions for a Great Student Experience
If students are happy after taking your course or are active and engaged in your learning community - they're more likely to purchase other products or recommend them to someone else. When your students succeed, you succeed!
We outline some tips and ideas to help you create a great online learning experience for your students.
Be there for your students
Have regular online "office hours", and stick to your schedule! Online education can already pose a challenge to engaging and interacting with your students, so be available for them. The role of the instructor has been said to be critical in pushing students to excel and engage in the material.
Be as personal as you can
Send a welcome email to your students! You can create and send personalized emails right from your Thinkific Dashboard and help make your students feel special and welcome. If it can work with your products and material, consider hosting a regular live webinar to go over fine points and facilitate discussion. You can also use Zoom, Google Hangouts, or Appear.in for one on one time with a student.
Create an online discussion forum
Allow a safe and non-judgmental place for students to interact with one another and the course material. Our learning communities and built-in discussion feature are excellent options for instructors looking to create a forum, but you can use whatever you think will be best for you and your students!
If you want some tips on how to create amazing courses, check our blog posts:
And if you want tips on how to build an engaging community, check:
There you have it! An overview of the student experience. If you want to fully understand what your students will go through. We encourage you to create a test student account and try the Student Experience for yourself. Happy learning!