Your community landing page is where potential students can learn about what your community has to offer—students can also purchase access to your community from your landing page. Learn how to customize your community landing page with this article.
---
In this article:
How to Access Your Community Landing Page
Default Community Site Builder Sections
Community Overview [Smart Section]
About Community Landing Pages
Your community landing page is a webpage on your site where you can showcase your community and prompt leads to sign up!
Every product with Thinkific has a landing page created by default. You may have heard different names for these pages before—like sales pages, or lead pages, but within your Thinkific site, we refer to them as your product landing pages.
You can add a variety of content to your product landing page, such as: a description of your product, a curriculum outline for your courses and bundles, an introductory message for your community, but most importantly—a call to action button to allow students to purchase your product!
Getting Started
To guarantee that your community landing page looks complete and students can easily enroll, you'll want to customize the items in the following sections. If you're just getting started, make sure to take care of these things first—you can always add additional customizations later!
How to Access Your Community Landing Page
From your Admin Dashboard, go to Manage Learning Products
Select Communities
Select the ellipses (three dots) on your community card, and hit Edit


Select Build Landing Page on the top right
Now you are in Site Builder!

How to Edit Each Section
You can edit each Site Builder section by simply clicking the section name in the left menu in Site Builder. Each section will include different elements that can also be edited within the menu.
For example, the default sections you'll see on your community landing page include:
Banner (community)
Community overview [smart section]
Call to action (community)

Remember that the right side of Site Builder is for previewing your site and any changes you want to make must be made with the left menu.
Default Site Builder Sections
Your Banner is the most important part of your landing page, as it is what will introduce your community, and include a call to action button for students to enroll.
Simply click on the section called Banner (community) to start customizing!

Headings
By default, your Banner will automatically include your community name. You can choose to customize this with your own text by simply unchecking Automatically add the Community name.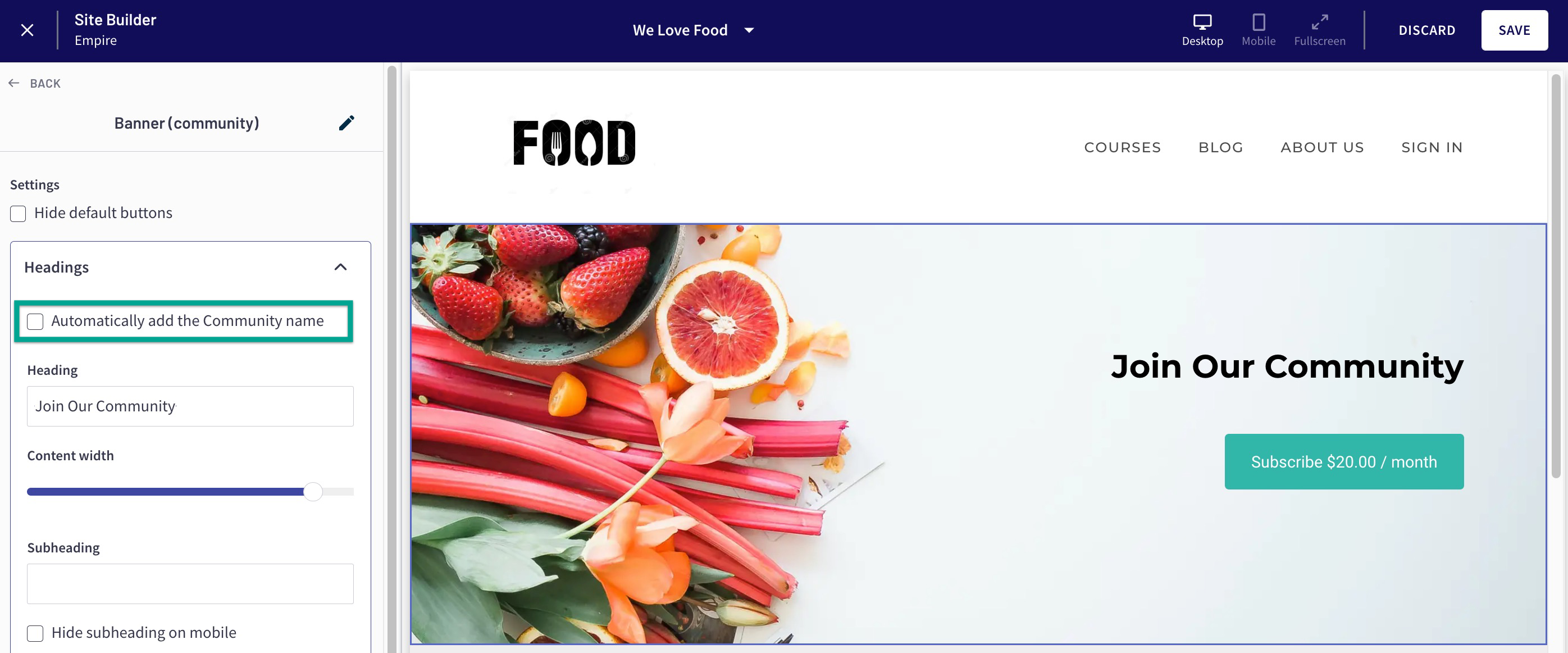 Background
We suggest adding a background image to your banner to help associate some beautiful imagery with your community.
We recommend a 1440px x 720px (1MB) image.
Don't include any words or logos in your banner image, as they may get cropped when viewed on a phone or small device. Learn more here!
You can also choose to set a Color as your background instead of using an image. You can choose between your Primary and Secondary theme colors.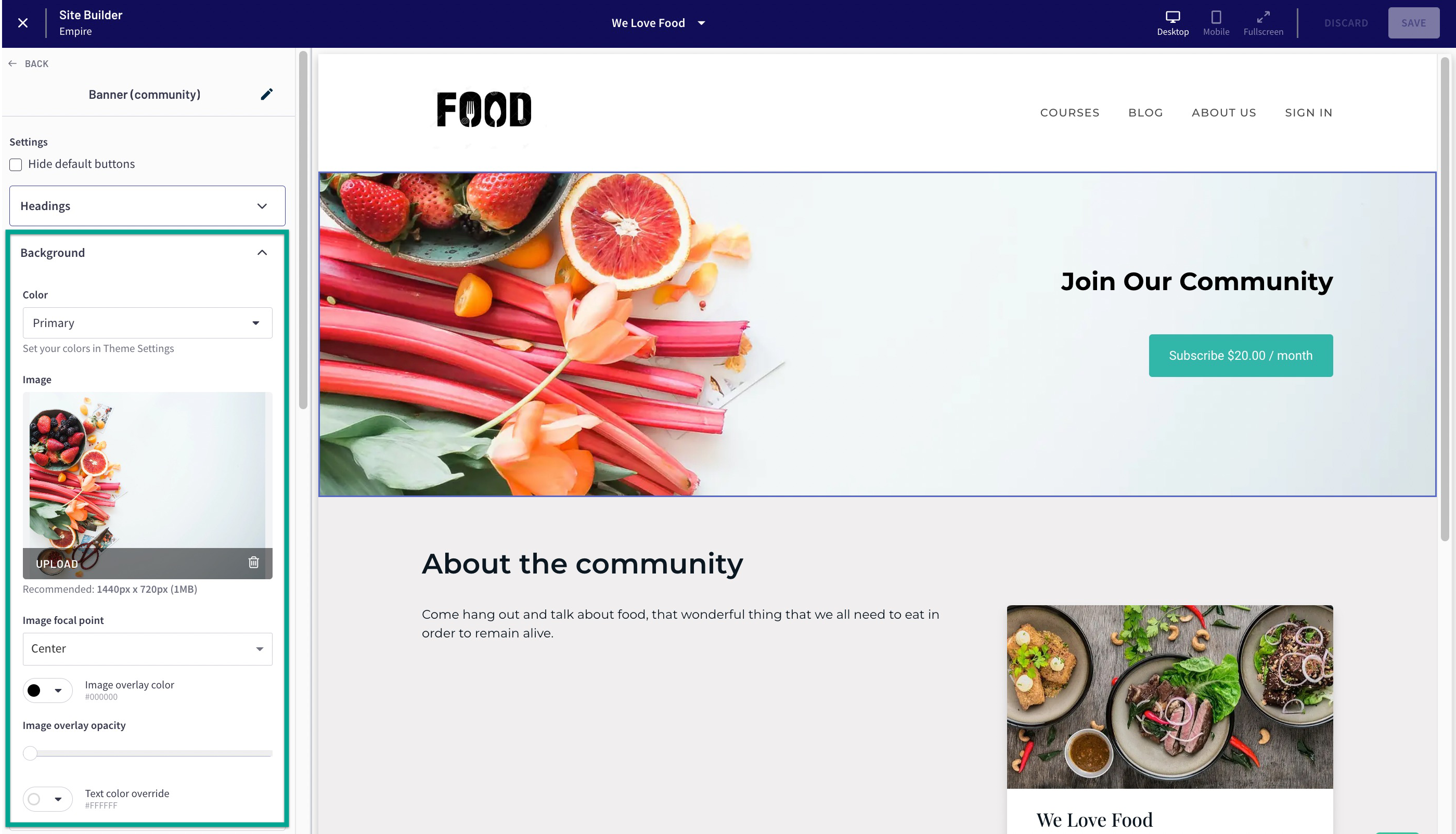 Image or Video
You can optionally include a video and thumbnail image in your community landing page banner. You can select a video to use and also upload a thumbnail image.
If you'd prefer not to use these options, just leave the image empty (or remove the existing image, if one was included by default.)
Button
A buy button linked to your checkout is automatically added to your banner. This default button is dynamic, which means it will:
Automatically link to your community checkout
If you have additional pricing options like a payment plan, it will display a dropdown menu for students to choose their preferred price
If a student is already enrolled in the course, it will say Open Community instead of Buy or Subscribe depending on your pricing option.
Adding a button will override this default dynamic button, so we don't recommend doing this unless you need something custom.
You can choose to hide the default button by unchecking the hide default buttons box at the top left.


Community Overview [Smart Section]
In the community overview section, you will be able to manage the information you want to share about your community. This includes the heading and description of your community, as well as the community card image, background, and layout.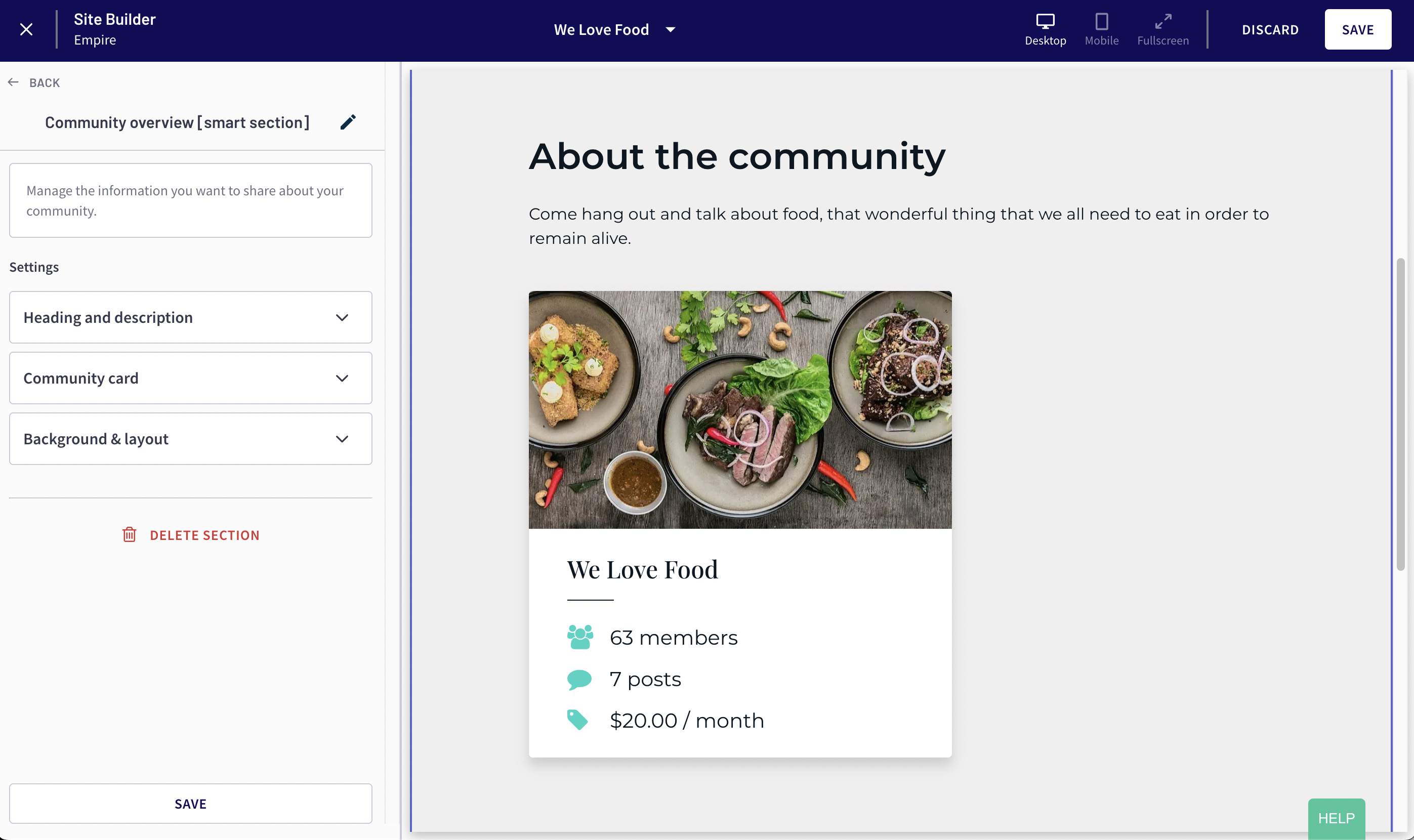 Call to Action (Community)
The call to action section is to help entice visitors to sign up for your community. You can customize the headings, background and button. By default, the button that will appear in this section is linked to your default price checkout.
Learn more about call to action sections.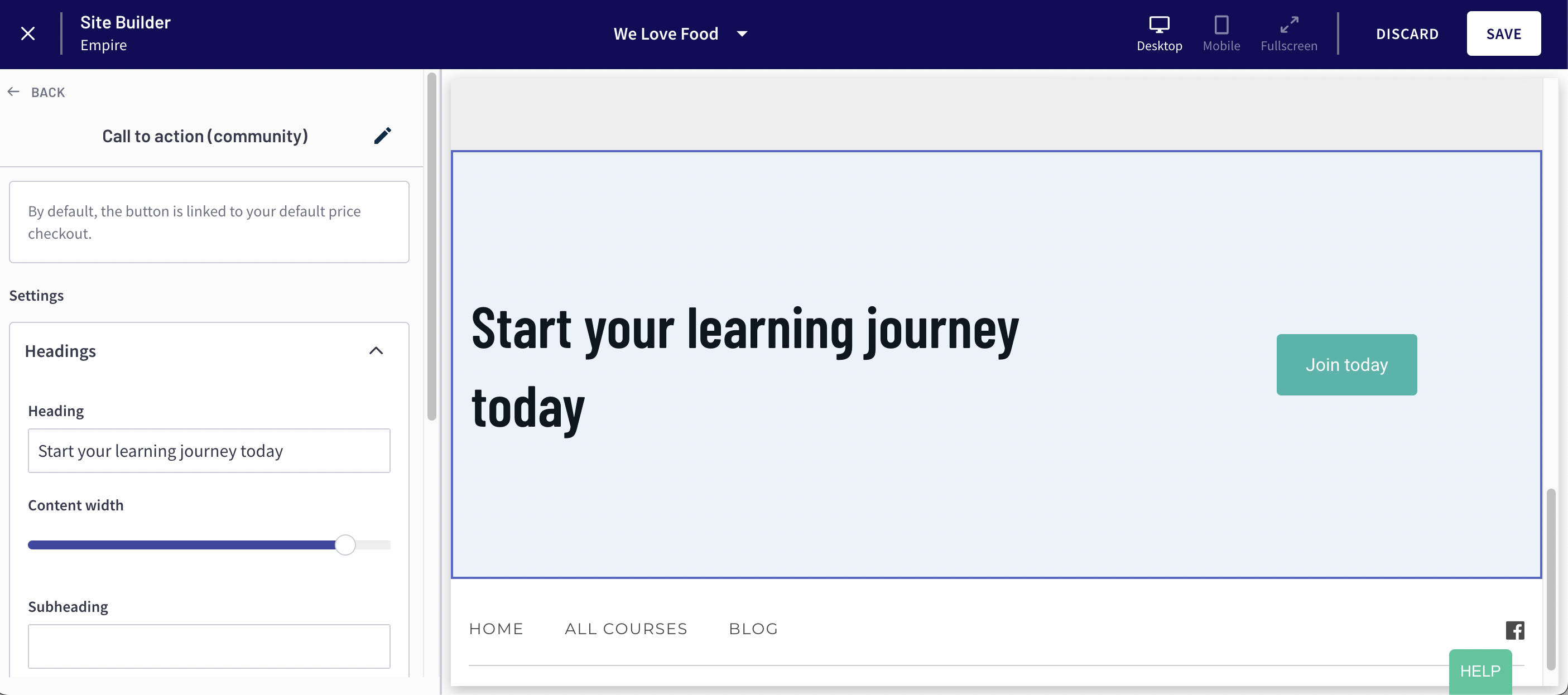 Share Your Community
Once you have set up your community landing page, and you are ready to start sharing, you'll want to make sure your community is published and you can send students a link straight to your community landing page to enroll!
When you are viewing your landing page Site Builder, simply click the link icon on the top left to copy your landing page URL for sharing.

You community landing page will have a URL automatically assigned based on your community name.
Take It a Step Further
Now that you've completed your basic setup, here are some optional steps to consider when building your landing page.
Customize Your Theme Colors and Fonts
Theme colors and fonts are applied site wide. Learn how to customize those in our Theme Settings article.
Edit Your Header and Footer
Your header and footer are displayed across all pages on your site including your community landing pages. If you want to add your logo, remove or add links, check out:
Integrate With Your Existing Site
More About Communities