You can provide your students with live group sessions by scheduling a Live Lesson via Zoom Meetings or Zoom Webinars, directly from within Thinkific.
In this article:
About This Feature
Live Lessons with Zoom allows you to create a more engaging way to educate your audience. You can provide your students with group sessions — plus, you can host live webinars.
You can schedule a Live Lesson via Zoom Meetings or Zoom Webinars, directly from within Thinkific. Set the time, date and duration and students can participate in the Live Lesson right from within your course!
How It Works
Our Live Lesson type integrates directly with Zoom. You can create multiple Live Lessons in your course to schedule as many live sessions as you would like!
As the host, you will require a Zoom account to get started. Then you can create a Live Lesson in Thinkific and simply login to the Zoom account you would like to connect. You can set the date, time and duration for your Zoom Meeting or Webinar directly within your Live Lesson settings.
The schedule will be visible to students directly within the lesson and once the live session starts, students can simply click the join link to participate!
Important Considerations
Feature Availability
Live Lessons are in Beta and currently restricted to a maximum of 100 students.
Zoom does not currently support Safari. If your student is using Safari, they will be prompted to use Chrome, Firefox, or Edge Chromium.
Breakout rooms and polls are not currently available when viewing Zoom within the Thinkific Course Player. Students will need to click the option to Join Meeting in Zoom to use these features.
Due to different security standards, we do not currently support Zoom for Government. If you have a Zoom gov account, we recommend including your Zoom links in a Multimedia Lesson instead.
Zoom Account Requirements
Thinkific Account Requirements
Live Lessons with Zoom is available on the Thinkific Pro plan or higher.
A Zoom account can only be connected to a single Thinkific account. You cannot connect the same Zoom account to multiple Thinkific accounts.
Zoom Password Settings
Zoom will require a password when scheduling new meetings (see details in the FAQ below)
By default, Zoom requires attendees to log in to their personal Zoom account or create a Zoom account when joining a meeting or webinar. This can be disabled if desired (more details here).
How to Connect with Zoom
In your Thinkific

Admin Dashboard, select

Apps

from the navigation menu on the left-hand side of the screen
Click

Visit App Store

to go to the

Thinkific App Store
Locate

Zoom in the App Store
Click to

Install

the

Zoom app
Once the app has successfully been installed, you will be taken to the

Zoom

section in the

Apps

page of your Thinkific dashboard
Click

Configure

to open the app settings
Click Connect Account


If you already have a Zoom account, you can sign in with your existing details
If not, select Sign Up Free

Then Authorize to finish connecting your Thinkific account to Zoom

How to Add a Live Lesson
Go to

Manage Learning Content
Select Courses
Click on the course you want to edit
On the left side, click

Add Lesson
Select Live [BETA]
Now you can start customizing your lesson settings!

Setup Your Live Lesson Settings
Input the name of your lesson in the Title field, this will appear in the Course Player
Under Zoom setup, you can now input all of your live meeting details
Topic is the meeting name in Zoom. It will be visible to students when they join your meeting.
Description will appear in any Zoom reminder emails
Under Type, select Meeting or Webinar. This cannot be changed once you save the lesson. (If you are not sure which type to select, learn more about Meetings and Webinars here)
Under Scheduling, select the date, time, duration and timezone of your live session
Under Meeting security, you will see the password that has been generated by Zoom (more details here)
Optional: Turn on Record the meeting automatically if you would like to record your session
Optional: Enable join before host if you would like participants to join before you start the meeting
Optional: Enable waiting room if you would like to control when participants join your meeting
Optional: Set additional Lesson Settings (more details here)

Meeting Security
Meeting Passwords
When setting up your meeting, you will see your Zoom meeting password. This is required for all Basic Zoom accounts from May 9th 2020 and all Paid Zoom Accounts from May 30th 2020, (see details in the FAQ below) and is intended to prevent unwanted participants from joining your meeting.
Students won't need to enter a password when they are accessing your meeting from within the Course Player as it will be applied automatically when they're logged into your course.
Zoom Login Required
By default, attendees will now need to sign in to their Zoom account or create a Zoom account when joining a meeting or webinar. This can be disabled in your Zoom account settings if desired. Learn more about that here: How to Disable Zoom Authentication
Meeting Options
You'll also have 3 meeting options when setting up your Live Lesson:
Record the meeting automatically - This will record meetings automatically as they start. You can access your recordings from your Zoom account.
Enable join before host - This will allow students to join the meeting before the host joins or without the host. If you do not select this option, students will see "The meeting is waiting for the host to join."
Enable waiting room - This allows you to control when attendees can join the meeting. You can admit them one by one or all at once when you are ready to start. Your Waiting Room can also be customized with a logo, title. and description. Learn more about Zoom Waiting Rooms here.
Student Experience
Students will be able to join the meeting directly within the Live Lesson. They can select Join Meeting in Zoom to join the meeting from the Zoom app, which is supported on many devices, and can be accessed from Zoom's Download Center.
Alternatively, to join a Live Lesson within the Course Player, your student can select the Open in browser link. This will display the meeting in the browser. It will not open the Zoom app separately.
If you email the meeting link to your students, they can also log in through that link as well. If they attend through the link, it just means that they won't be viewing the meeting in the Zoom lesson within your Thinkific course.
Most course creators prefer that students Join Meeting in Zoom to use more advanced Zoom features like Breakout rooms and polls.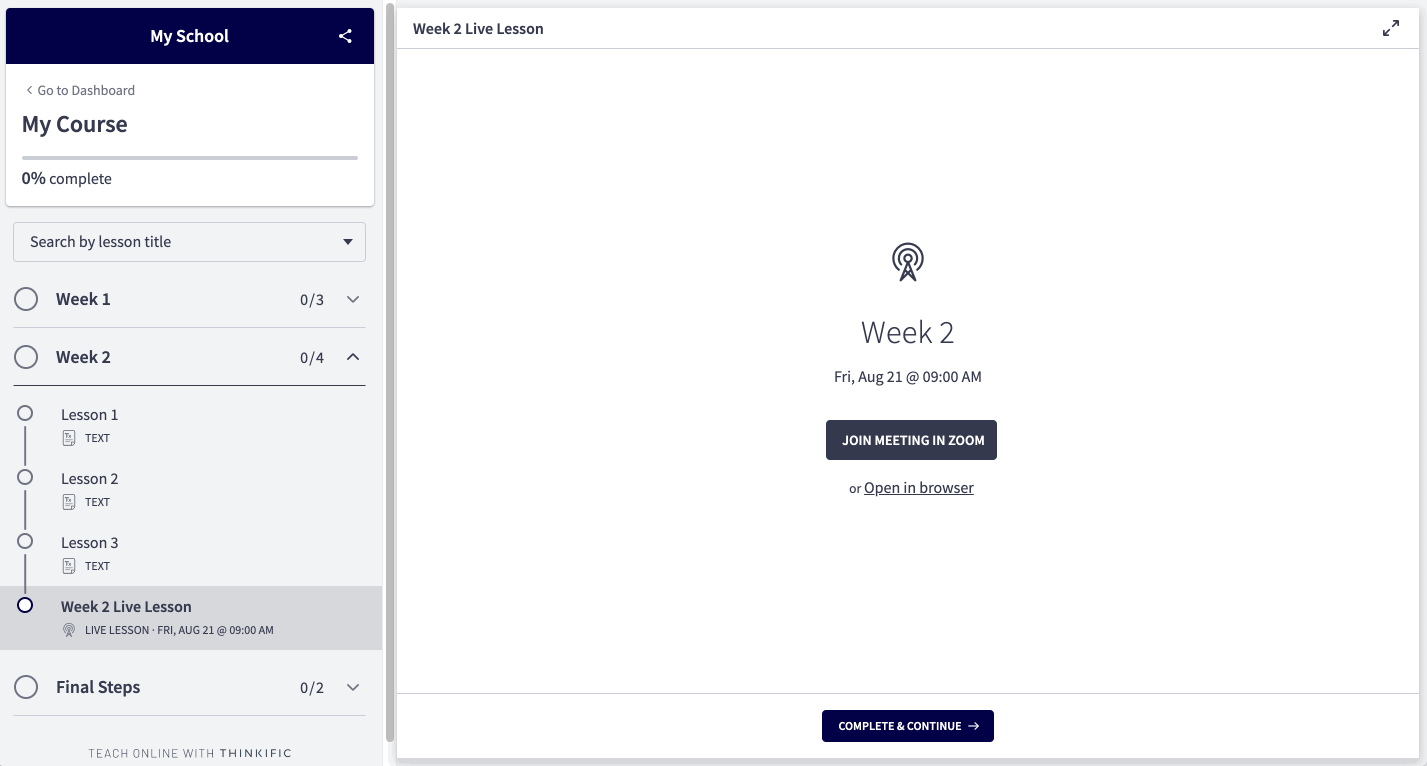 If the meeting has not yet started, the student will still have the option to join it, but will be brought to a page indicating the meeting has not started yet. They can click Retry to try joining again or OK to return to the Course Player.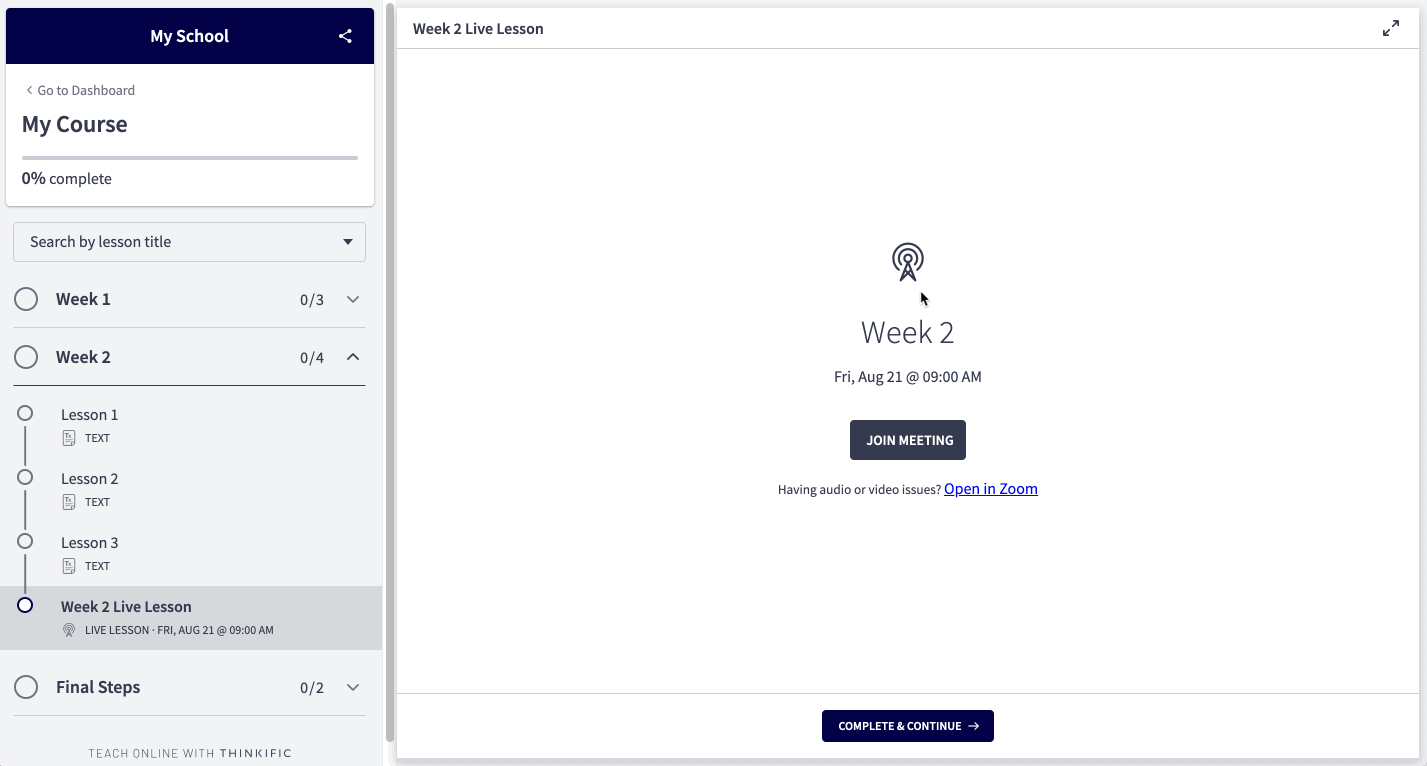 If you would like to provide early meeting access, or facilitate a more customized experience, you can make these changes within your Meeting Options. For example, this is what a student will see if you allow them to join before host: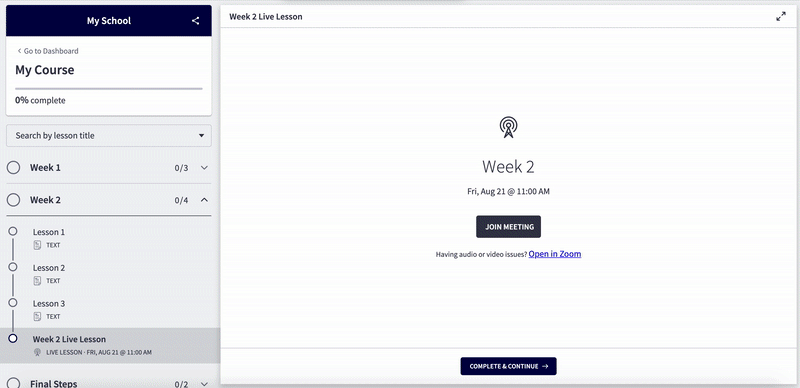 We recommend creating a test student account if you would like to preview the lesson from the student perspective. If you preview your course as a student while logged in as an admin, the system will recognize that you are an admin and simply prompt your Zoom app to open.
Starting Your Meeting
There are two places within Thinkific where you will be able to start the Live Lesson. When you select either of the options below, you will be navigated to a new tab within your browser that contains the Zoom meeting.
One option is to select the Start Meeting button at the top of the Live Lesson within the Course Builder:

The other option is to select the Start Meeting in Zoom option, displayed within your Course Player Preview:

If you are logged in as the Site Owner or Site Admin, the Zoom app will open to manage the meeting. However, the meeting will be viewable in the browser for your students to access.
Recording Your Live Lesson
You can choose to automatically record your Zoom meeting within your lesson settings, or you can manually start recording once your meeting is live. This can be done within the Zoom meeting by hitting the record button in the admin controls. You can learn more about Zoom's record function in their guide on recording.

If you would like students to have access to previously recorded sessions, you can upload your Zoom video to a Video Lesson or include your Zoom replay link in a Multimedia Lesson.
How to Cancel a Zoom Meeting
If you need to cancel a Zoom Meeting or Webinar, you must cancel this within your Zoom account. Deleting your Live Lesson in Thinkific will not automatically cancel your Zoom session. You can see how to make edits to your meeting in Zoom here: How do I update a scheduled meeting?
Once you have made changes in Zoom, you can delete your Live Lesson or set it to Draft to make sure your students don't see it.
How to Disconnect Your Zoom Account From Thinkific
You can disconnect your Zoom account from Thinkific directly within Zoom:
Login to your Zoom Account and navigate to the Zoom App Marketplace
Click Manage > Installed Apps or search for the Thinkific app
Click the Thinkific app
Click Uninstall
When disconnecting Zoom, previously published Live Lessons will automatically be set to Draft and you will need to connect to Zoom again if you want to create new Live Lessons in the future.
How to Reconnect Zoom
If you have previously published Live Lessons in your course and then disconnected Zoom, you will see a notification within the Live Lesson in the Course Builder that Zoom has been disconnected.

You can click Reconnect Zoom to reinstall the Zoom app. You can also do this by navigating directly to Zoom within the Thinkific App store.
From there, you can follow the steps above to Connect with Zoom and re-publish any draft Live Lessons if needed.
Frequently Asked Questions
What are Zoom's password requirements?
All Zoom Basic and Paid accounts require a meeting password when scheduling new meetings (which also applies to webinars). These settings are designed to prevent unwanted participants from joining your meeting or webinar. These settings cannot be turned off. Students accessing your Zoom Meeting or Webinar through the Course Player will not need to enter this password, it will be auto-applied for them.
Can I duplicate a Live Lesson? What happens when I duplicate a course?
We don't currently have the ability to duplicate Live Lessons. If you would like a Live Lesson in another course, you'll just need to create a new lesson in that course!
Can I report on Live Lessons?
Yes! Live Lessons will appear as a lesson type in Advanced Reporting. You'll see the progress and completion rates in your Student Engagement Report.
Are email reminders sent to students before a webinar starts?
Email reminders are not automatically sent to students before a webinar starts. You will need to add your enrolled students to a separate calendar invite outside of Thinkific in order for them to be alerted to upcoming and newly scheduled Live Lessons.
Since this integration does not require students to register to join a Zoom meeting, you cannot use Zoom's built in meeting reminders.
Can I run more than one Live Lesson or use multiple Zoom accounts at the same time?
For now, only one Zoom account can be integrated with your Thinkific site. This means any teachers (course admins or site admins/owners) must all use the same Zoom account to create their Live Lessons, so you cannot run more than one Live Lesson simultaneously.
Please let us know if this is a feature that you need and we will let our Product team know!
In the meantime, if this is a requirement for your business, you can try adding Zoom links to our Multimedia Lessons instead. Students will be prompted to open the Zoom app if you go with this option.
Can I host a larger virtual event using live lessons?
If you're interested in hosting a larger event using the Thinkific platform, please book a call with our solutions team to discuss your event needs!
Looking for some other helpful tricks when using Zoom? Check out 10 Tips and Tricks from Zapier here!