You can provide your students with live group sessions by scheduling a Live Lesson via Zoom Meetings or Zoom Webinars, directly from within Thinkific.
---
In this article:
How to Add a Live Lesson
Live Lessons are a type of lesson that can be added to your courses, once you have installed the Zoom app and connected your Zoom account.
To add a Live Lesson to your Thinkific Course:
Go to

Manage Learning Content
Select Courses
Click on the course you want to edit
On the left side, click

Add Lesson
Select Live
Now you can start customizing your lesson settings!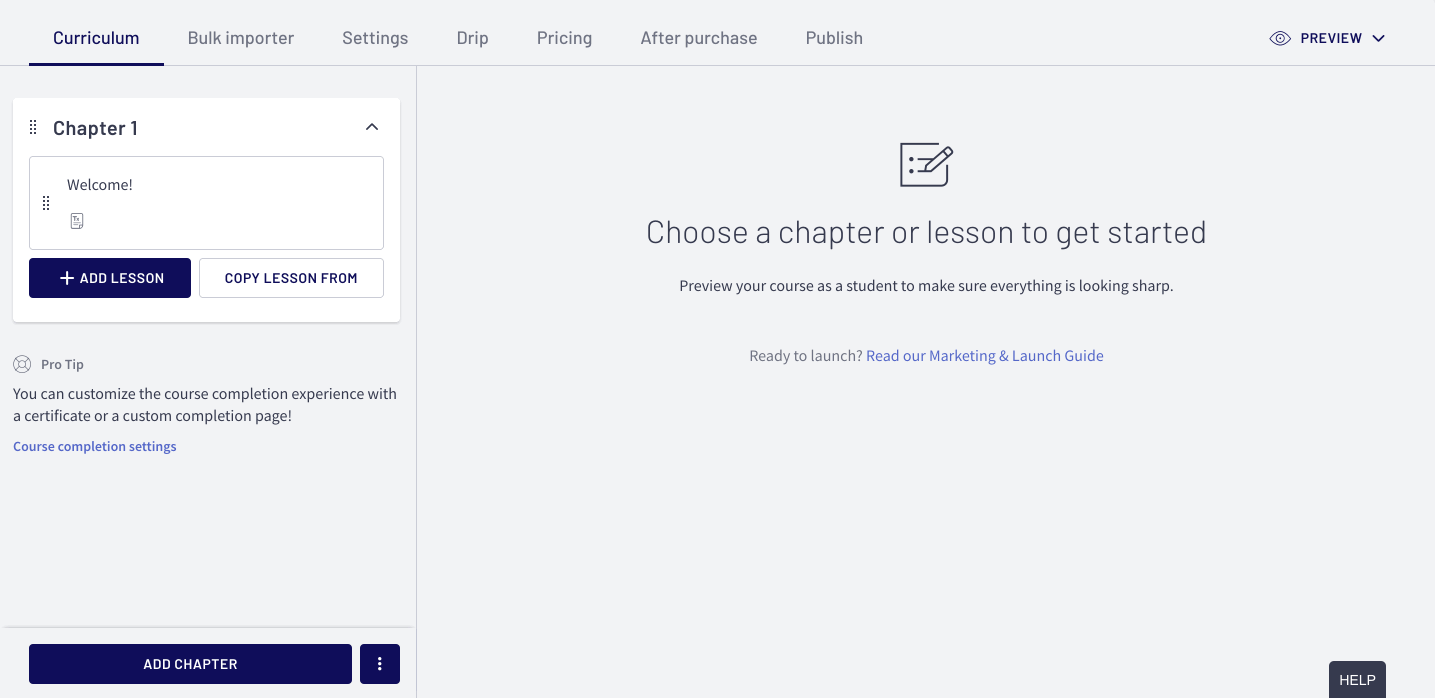 Lesson Settings
You'll have 3 meeting options available when setting up your Live Lesson:
Record the meeting automatically - This will record your meetings automatically as they start. You can access your recordings from your Zoom account.
Enable join before host - This will allow students to join the meeting before the host joins or without the host. If you do not select this option, students will see "The meeting is waiting for the host to join."
Enable waiting room - This allows you to control when attendees can join the meeting. You can admit them one by one or all at once when you are ready to start. Your Waiting Room can also be customized with a logo, title. and description. Learn more about Zoom Waiting Rooms here.
Lesson Security
In order to keep your Live Lessons secure, and ensure that only students registered in your course have access, we make use of a number of Zoom's recommended security features.
Meeting Passwords
When setting up your meeting, you will see your Zoom meeting password. This is required for all Basic Zoom accounts (from May 9th 2020 onward), and all Paid Zoom Accounts (from May 30th 2020 onward). These settings are designed to prevent unwanted participants from joining your meeting or webinar. These settings cannot be turned off. You can learn more about this here.
Students won't need to enter a password when they are accessing your meeting from within the Course Player, as it will be applied automatically when they're logged into your course.
Zoom Login Required
By default, attendees will need to sign in to their Zoom account or create a Zoom account when joining a meeting or webinar. This can be disabled in your Zoom account settings if desired. Learn more about that here: How to Disable Zoom Authentication
Recurring Lessons
Recurring meetings are a series of pre-scheduled meetings that are created at one time. Setting up a recurring meeting is useful for cases where you need to schedule multiple meetings at the same time on multiple days. For example, you host a class or webinar on the same day at the same time every week.
In Zoom, you can only create a maximum of 50 live lesson occurrences. This means that for each recurring lesson you create, you will only be able to schedule up to 50 occurrences within that live lesson.
To create a Recurring Meeting:
Go to

Manage Learning Content
Select Courses
Find the Live Lesson that you would like to set as recurring
Check the box where it says Recurring Live Lesson.

This will reveal the settings for recurring meetings:

Frequency - Use the Repeat every dropdowns to select how often you would like your recurring Live Lesson scheduled for
End Date - Select either an end date on which your recurring Live Lesson will stop recurring, or, a set amount of Live Lessons


Once you have verified your settings, hit Save.
Once you hit Save, all occurrences of the meeting series will be created. For example, if you set the frequency to every Monday for five weeks, there will be five lessons created in the same chapter that the meeting is created in. The same five meetings will be created in Zoom as well.
Note: In order to update the meetings, you will have to edit each one independently, or delete all of them at once and reschedule them.
Deleting a Lesson
To Delete a Live Lesson:
Go to

Manage Learning Content
Select Courses
Click on the Live Lesson you want to delete
Scroll to the bottom of the page, click

Delete Lesson
If you have set up recurring lessons, you will also see the option to Delete All Live Lessons in Series. Once you select this, all scheduled occurrences of that Live Lesson will be removed.

Deleting Recurring Lessons Within Zoom
When you hit Delete all Live Lessons in Series, the recurring Live Lessons will only be removed from within Thinkific: they will no longer appear in your courses, but the meetings will still exist in your Zoom account, and the meeting link will still be active.
To fully remove the meetings, you will still need to log in to Zoom.
To Delete a Recurring Live Lesson Within Zoom:
Log in

to your Zoom account
Select

Meetings

from your left hand dash.
Select one of the recurring Live Lessons that you would like to remove, and select Delete.
To delete all recurring Live Lessons in that range, select Delete All Occurrences.