Pre-selling is a great way to validate the demand for your online course before investing time and money into creating it. This article covers the basics of how to pre-sell a course in Thinkific!
---
In this article:
How to Pre-Sell with Thinkific
Set your course to pre-order status
What is pre-selling?
Inspiration strikes. You have an idea for an online course. You think your course idea is amazing, so you commit to creating it. But despite all of your efforts, no one buys your course.
Been here before? Don't ever want to get there in the first place?
We've got good news for you: there is a way to avoid creating a course that no one buys and it's called pre-selling. Pre-selling involves selling your online course before you create it and Thinkific's pre-order feature can help you do that.
Here are some of the main benefits of selling your course before you create it:
Validates market demand for your course - find evidence that people are willing to pay for it.
Builds confidence in your decision to invest your time and money into producing it.
Generates startup funding that you can use to reduce startup costs.
Keeps you accountable to your customers and to launch.
Get crucial initial feedback from eager early-adopters.
So, are you ready to get started pre-selling with Thinkific?
How to Pre-Sell with Thinkific
In order to pre-sell with Thinkific, you can use our pre-order feature! This allows you to sell your course without giving students access to the content until you are ready.
How Your Customers Experience a Pre-Sale Course
Normally, after purchasing a course, your students can instantly access your course content. The pre-order feature skips giving access to course content after your customers purchase it.
Instead, they will land in their Student Dashboard to see the course they've pre-ordered is coming soon: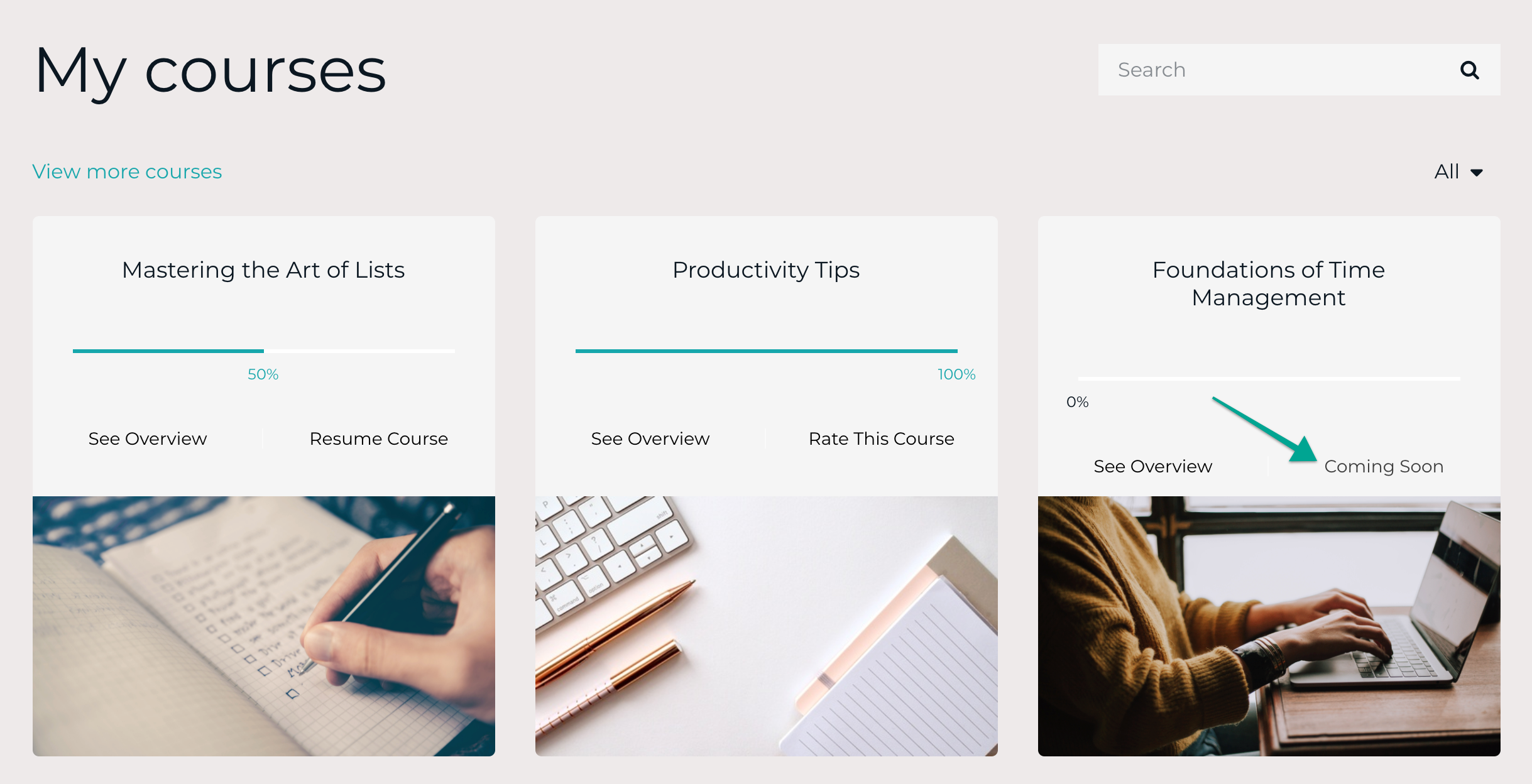 Later, you can switch the course from pre-order to Publish to give students access to the course content:
How to Pre-Sell Your Course
To use Thinkific to pre-sell your online course using the pre-order feature, you should:
And from here, the only step left is to promote your pre-order course to your audience!
Create a New Online Course
In order to pre-sell an online course, you need to create one in your Thinkific account:
Go to Manage Learning Content
Select Courses
Select + New Course and name your course
And presto! You've got yourself a brand new course to pre-sell. For more in-depth instructions on creating your course, check out this article.
After creating a course, you'll arrive in the Course Builder on the Curriculum tab and can add lessons here or in the Bulk Importer, but keep in mind that your pre-order customers won't see any lessons after purchasing the course.
Customize Your Course Card
Your course card plays an important role in pre-selling your online course. Visitors may see the card on your Thinkific website's pages and it features a pre-order label to distinguish it from published courses: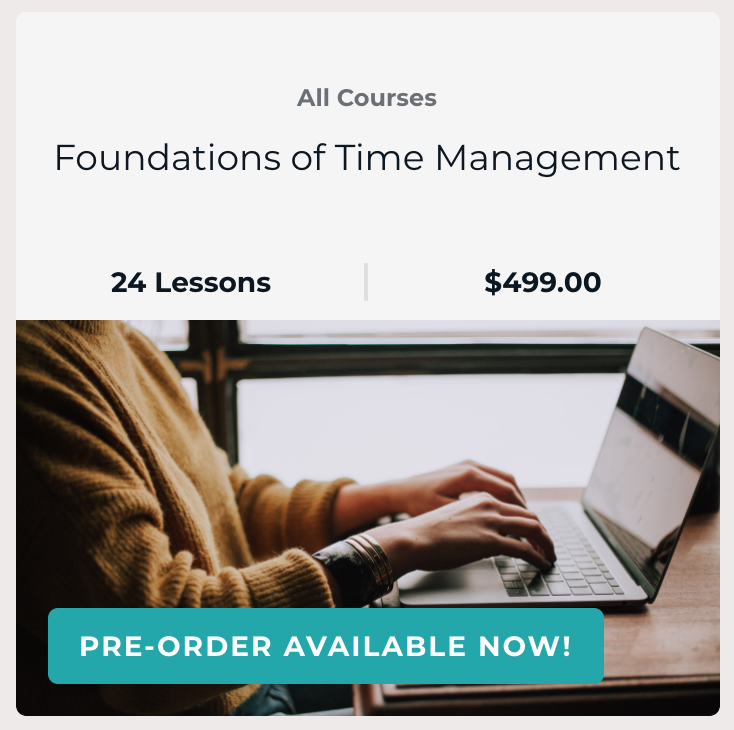 Customers will see this card on their Student Dashboard telling them it's coming soon: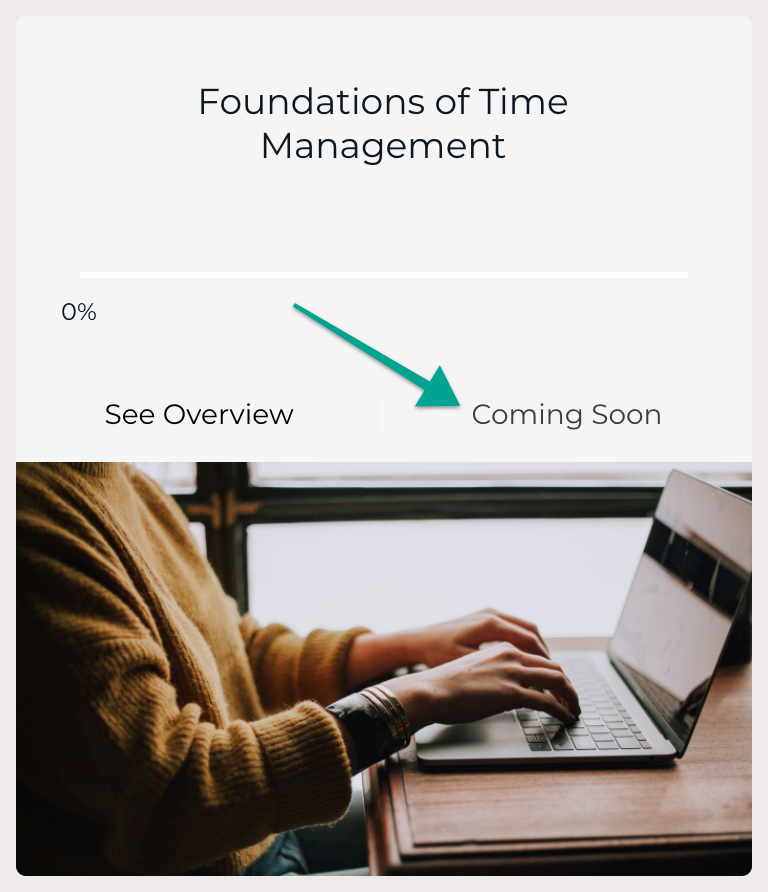 Learn how to customize your course card here and if you want to edit what the label will say on your course card, see this article for instructions.
Course card creation resources:
Give Your Course a Price
You can't pre-sell your course without giving it a price first.
The process of setting a price for your course will allow students to complete their purchase through the Thinkific checkout.
You must integrate with one of these payment processors to set a price:
If you cannot integrate with any of the above, explore other options for accepting payment on Thinkific here: External Payment Solutions - What to Consider
Once this integration is set up you're ready to set a price:
Edit the course you want to pre-sell
Select the Pricing

tab
Select a price type¹ and enter your desired pre-sell price
Save the price
For more in-depth instructions, see Set Your Course Pricing.
¹ If you set a subscription or payment plan price point, your student will be charged immediately. Learn how to delay payment here.

Additionally, any enrollment duration set will begin on the day the payment is processed for the course. Do not set an enrollment duration amount that expires before your course will go live.
Set Your Course to Pre-Order Status
It is time for the easy part: flipping the switch to set your course to pre-order!
To set your course to pre-order status:
Edit the course you wish to pre-sell
Go to the Publish tab in the Course Builder
Select Pre-order
Click Save
For more in-depth instructions, see How to Publish Your Course for Pre-Order.
When you set your course to pre-order, it becomes visible on your Thinkific website, so do this step last if you are already getting traffic to your site.
Customize Your Sales Page
When you create a course, you get a basic landing page created automatically for it. After setting the course to pre-order, a button appears in the default banner that is connected to your course's checkout:

From here, visitors can now purchase the course. However, you may want to customize this page to make a bigger splash with your pre-sale launch.
To start customizing your landing page:
Edit the course you wish to pre-sell
Select Build Landing Page on the top right of the Course Builder
From here, you can add, remove, and reorder page sections as well as edit your Theme Settings to add brand colors, change fonts, etc.
Explore this article for a full guide on building your sales page.
Sales page creation resources:
Share Your Pre-Order Course
Now that you have a course set to pre-order, a great looking course card, the perfect pre-sell price, and a snazzy sales page, it's time to launch!
You'll need to copy your sales page URL and start sharing it in emails, ads, blog posts, and more to start driving traffic to your pre-sell!
First, you need the right link to share. You can see how to customize and copy your URL here:
How to Edit Your Course Landing Page URL
What is my Course Landing Page URL?
Pre-sale launch and marketing resources:
Frequently Asked Questions
I'm nervous about launching this to my whole list, what should I do?
We recommend launching only to warm leads in your audience. These are people who have purchased from you before or engage a lot with your content.
Second, we recommend launching to a small segment of your audience first as a test of your marketing material. If things aren't working, launch to another small segment after iterating on the first launch.
If you don't get traction, this might be evidence that your course isn't attractive to your customers. Congrats! You've saved yourself a lot of time and money and now you can pivot your next big course idea with confidence.
Should I tell my presale customers when I plan on launching the course?
Yes. Always set a hard date for launch and communicate this from the get-go. Put your launch date on your landing page (use the course landing page's banner section or build a section that explains when the course will launch instead).
What if I can't create the course on time or don't create it at all?
If you sell your online course before you create it, be prepared to actually create it in the time frame that you promised your customers. If you don't give them what was promised, it won't take long for the complaints and refund requests to start pouring in.
Overall, this is not a great situation to be in. A couple of negative reviews about you online can really damage your reputation and make people less likely to buy anything from you in the future.
To avoid this, do the following:
Set a 'green light goal' - Give yourself a dollar amount, or amount of students, you need to earn before you give yourself permission to create the course.
Set a hard launch date for your course to launch and keep yourself accountable to that date by sharing it with your customers. If you move the date, tell your customers.
Update customers about your progress frequently (on a weekly basis is suggested) to build confidence that you're actually going to deliver.
Ultimately, if you can't deliver, you must refund customers who pre-ordered the course.
What if no one signs up or only a couple of people sign up?
Take this as an opportunity to either create a course and practice with real customers or give the money back to your pre-order customers and pivot to another online course topic/idea to pre-sell.
Make sure to communicate with your customers about this i.e. tell them what happened. It isn't embarrassing to take a shot at something and fail - this is how we learn and find success eventually.
What if I don't have a list or audience that I can launch a pre-sale to?
If you're not sure how you're going to market this pre-sale, you're focusing on the wrong part of the journey to running a successful online course business.
You may not have spent enough time list-building or building a following to get started here. You need an audience or a list to sell a product or service to.
We have a great guide on our blog to get you started: 7 Steps to Building a Business Selling Online Courses
Can I use pre-order with a subscription or payment plan price point?
You can set a subscription price for a course that has been set to pre-order vs. publish, however, this will begin charging a student the day they purchase vs. later when you actually launch.
It's not currently possible to change this with Thinkific Payments.
There is a workaround that can be applied if taking payments with Stripe. If you want to start their subscription at a later date, you'll need to:
Set your subscription price to have a 7-day free trial to give you a window to make manual changes in Stripe.
Log into your Stripe account after the purchase has been made.
Find the subscription and change the free trial date to expire on your launch date.
For more information about this please visit Stripe's support website here.
What if I don't want to sell the course and just want to collect emails?
You can create a free pre-order course using the above method and promote that, or use one of the many options for collecting emails on Thinkific here instead.