Looking to pre-sell a course? Make your course available for pre-order to allow students to buy your course without accessing any content just yet!
New to pre-selling? Make sure to check out our Guide to Pre-Selling
In this article:
How to Publish Your Course for Pre-Order
About This Feature
Thinkific has a unique publish state called pre-order that gives you the option to sell your course without allowing students to access your course lessons. Then when you are ready to launch your course, you can simply publish the full version to give students access to your content!
This is a great way to validate the demand for your online course before investing resources into creating all of the content. It also works well for courses that you are currently working on and want display as coming soon!
Here are a few ways you can use this feature!
You can use it when pre-selling your course

You could use it as a lead capture. This works great for both paid and free courses as students can enroll without accessing any content yet!

You can display content that is coming soon. For example, you might have a

Course Bundle

where you add new content every month and want your subscribers to see which courses are coming up.

and much more!
How It Works
Pre-order is a publish state available your course settings. Once a course has been published as a pre-order, the following will apply:
Students can purchase your course
Students cannot access any of your course content
On landing pages that include your course card, a fully customizable Pre-order label will display
On the Student Dashboard, students will see Coming soon instead of Start course
The Publish state can be changed at anytime. You can publish the full version of your course to give students access to your lessons or unpublish if you no longer want to sell the course.
How to Publish Your Course for Pre-Order
Make sure to price your course before continuing if you want students to pay for your pre-order! Note that if you set an enrollment duration, it will start from the moment the course is purchased even if it is in a pre-order state.
Go to Manage Learning Content
Select

Courses
Click on the desired

Draft course
In the

Course Builder,

select the

Publish tab
Select Pre-order
Click Save

Student Perspective
When your course is in the pre-order publish state, students will see several indicators on your landing pages and within their Student Dashboard letting them know.
Landing Pages
On your site landing pages, a pre-order label will automatically be displayed in the following areas:
Course card in the All products [smart section] of your Home page
Course card in the All Courses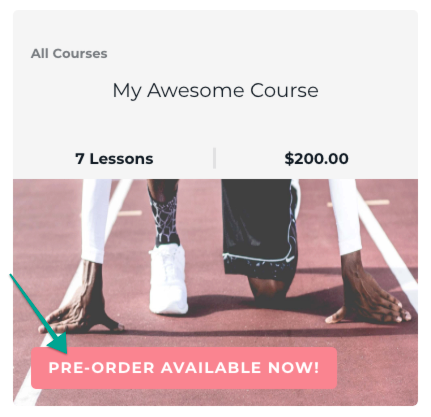 You have the option to fully customize your pre-order text! Learn how here: How to Customize Your Pre-Order Label
Student Dashboard
On the Student Dashboard, which a student will see as soon as they login to your site, the pre-order course will display Coming soon instead of Start course or Resume course: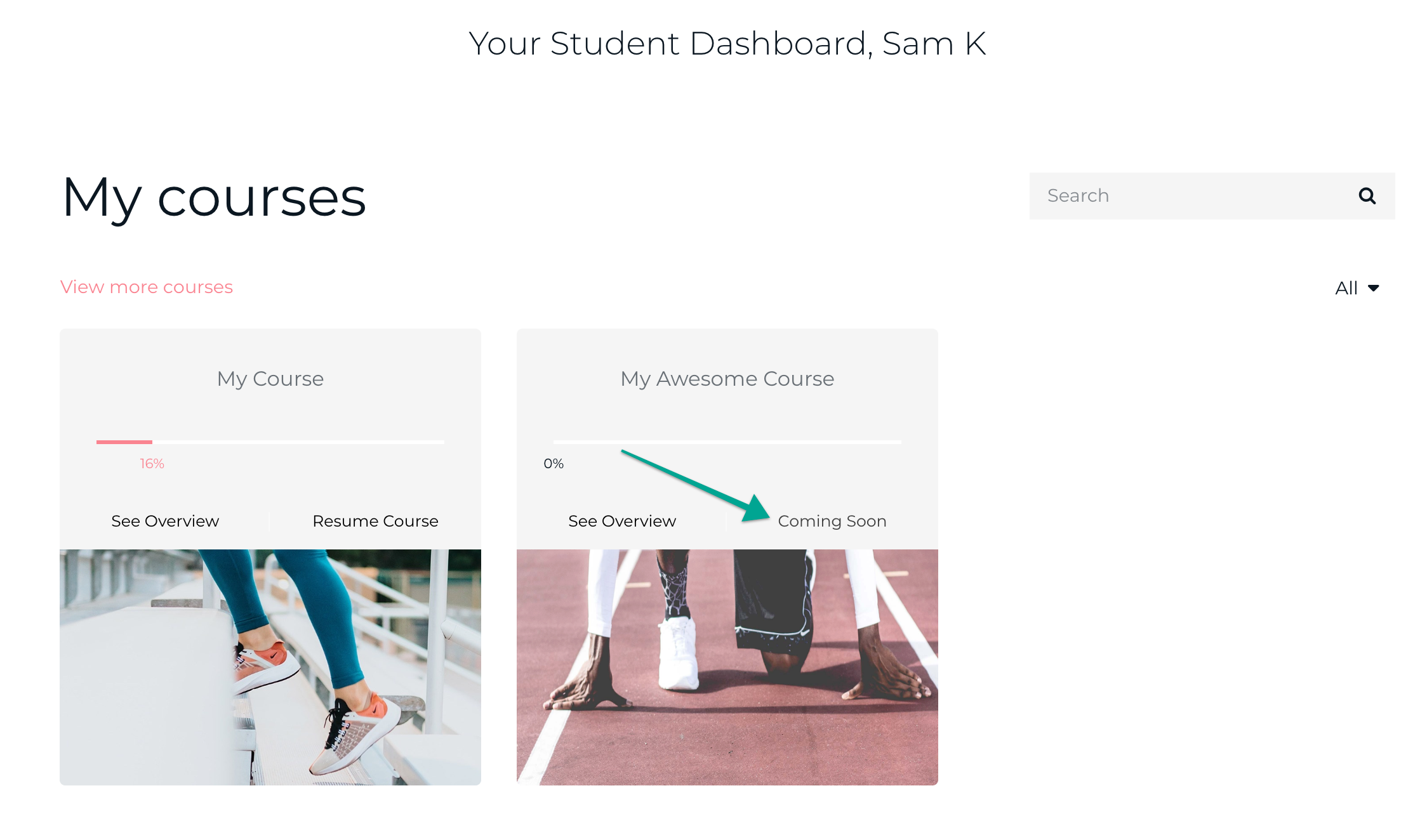 Unlike a fully published course, students will not be able to click on the course card to enter the Course Player and view lessons.
Important Considerations
Next Steps
Once you are ready to release all of your course content, check out: