Learn how to customize your membership sales page. This is where your users will learn about what you offer in your membership package, and where they can sign up!
Want some more background information on memberships? Learn more in How to Create a Membership Site (Guide).
In this article:
What is a membership landing page?
What is a membership landing page?
Your membership landing page is a webpage on your site where you can showcase what your membership offers, and prompt leads to hit that sign-up button!
Every membership that you sell through Thinkific has a landing page created by default - default pages can be found in your Site Pages.
Your landing page can include a variety of content, including a description of what is contained in your membership package, product cards that link to individual course or community landing pages, and most importantly - a call to action button to allow users to purchase your membership!
Essential Steps
To make sure that your landing page looks complete, and users can easily sign-up, you'll want to customize the sections listed below. You can always come back and add more customizations and fine-tune later!
How to Access Your Membership Landing Page
From your Admin Dashboard:
Go to Manage Learning Products
Click Memberships
Click on the membership you want to edit
Click Build Landing Page on the top right
Now you are in Site Builder!
How to Edit Each Section
Note: The landing page sections for memberships may refer to "bundles".
You can edit each Site Builder section by simply clicking the section name in the left menu in Site Builder. Each section will include different elements that can also be edited within the menu. Remember that the right side of Site Builder is for display purposes only. Any changes you want to make must be made with the left menu!
Customize Your Banner
This is the most important part of your landing page as it is what will describe your membership and include a call to action button for users to sign-up. Simply click on the section called Banner (bundle) to start customizing!
Headings
By default, your Banner will automatically include your membership name and description. You can choose to customize this with your own text by simply unchecking Automatically add bundle name and description.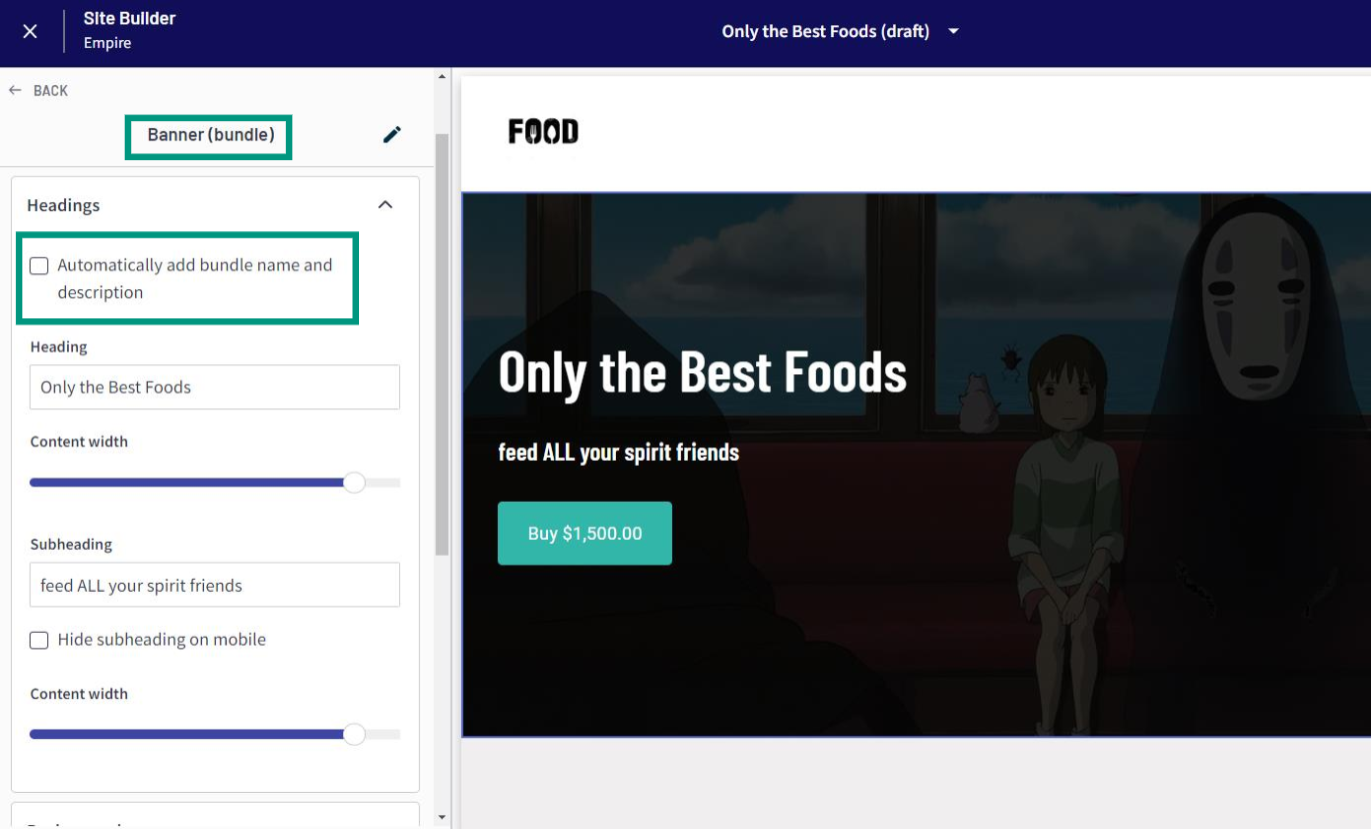 Hero Image
Make sure to add a background image to your banner! We recommend a 1440px x 720px (1MB) image. Don't include any words or logos in your banner image as they may get cropped when viewed on a phone or small device. Learn more here!
Button
A buy button linked to your checkout is automatically added to your banner. This default button is dynamic, which means it will:
Automatically link to your product checkout
If you have additional pricing options like a payment plan, it will display a dropdown menu for users to choose their preferred price
If a user is already enrolled in the membership, it will say Resume Bundle instead of Buy
Adding a button will override this default dynamic button, so we don't recommend doing this unless you need something custom.
Bundle Includes
A Bundle includes [smart section] will also automatically be included on your membership landing page. It will populate with product cards for all products in the membership that are not currently set to draft.
Users can click on a product card from this section to be taken to that product's landing page.
Note: the default text for this heading will say "Bundle includes", however, you can customize this by clicking on Headings within this section, and modifying the text to read "Membership includes" instead.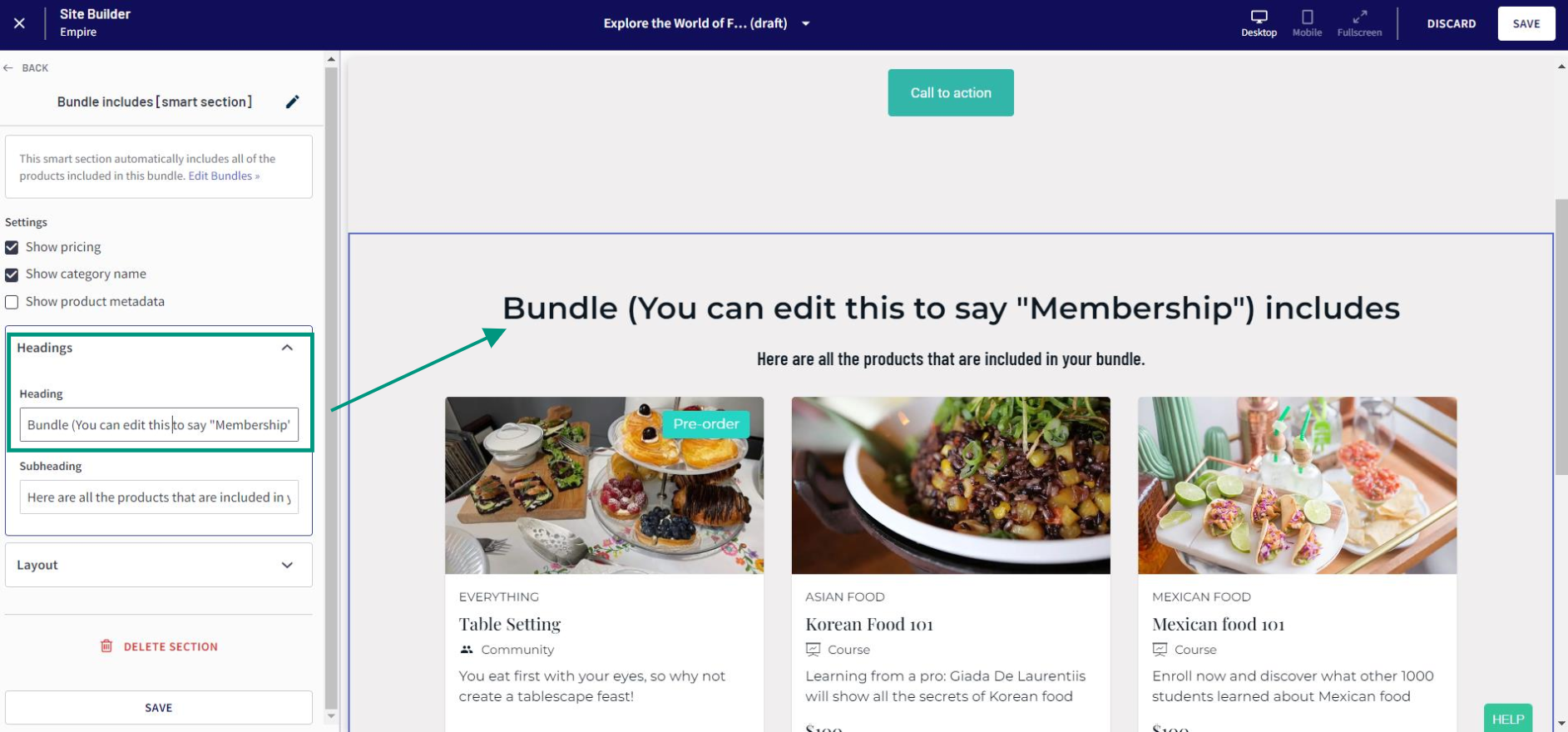 Share Your Membership
With these two essential sections on your membership landing page, you are ready to start sharing! Just make sure your membership is published and you can send users a link straight to your landing page to enroll.
If you are still setting up your site and not quite ready to share, make sure to continue working through Getting Started with Thinkific or check out some additional options below if you want to customize further!
We're busy making updates to Memberships behind the scenes, but if you have feedback about what you'd like to see with your Memberships, we want to know! Please send us a quick email to let us know what functionality would be most valuable to you!
Take It a Step Further
Now that you have your essentials done, here are some optional steps to consider when building your landing page!
Add Additional Sections
You can consider including additional Site Builder Sections on your product landing page. Here are a few popular sections to start adding:
Learn how to Add a Site Builder Section here!
Customize Your Theme Colors and Fonts
Theme colors and fonts are applied site wide and you can see how to customize those here: Theme Settings
Edit Your Header and Footer
Your header and footer are displayed across all pages on your site including your landing pages. If you want to add your logo, remove or add links, check out:
Integrate With Your Existing Site
If you have an existing site outside of Thinkific, you can link your Thinkific site to your external site and vice versa. We have tips on that here: How to Link Thinkific With Your Existing Site
Fine-Tune Your Messaging
Your landing page is used to build trust with your potential users. There are a ton of things you can do to help show them that you are an expert, safe to do business with, and highlight the value you're offering.
We recommend checking out these blog posts to help fine-tune your landing page and help boost conversions:
Building Trust with Your Landing Page
How to Create a Compelling Sales Page for Your Online Course
Next Steps
Congrats on customizing your membership landing page! Not sure where to go next? Check out Getting Started with Thinkific!