---
Questions
Where will I be notified if my subscription payment fails?
Why did I get a failed payment email about my subscription?
How to troubleshoot failed payments for your Thinkific subscription
What causes a Thinkific billing payment to fail?
How can I renew my Thinkific subscription?
How do I pay an outstanding subscription invoice?
Solution
As of October 2021, The Reserve Bank of India has mandated new rules for how recurring transactions are handled for Indian credit and debit cardholders. If you are located in India, this could affect how your subscription payments are processed. Learn more about Changes to Recurring Subscription Payments Mandated by the Reserve Bank of India.
You may see a payment error notification when you log in to your Thinkific account if the payment for your subscription failed to go through.
This notification will appear on both your Admin Dashboard and in the billing details section of your account.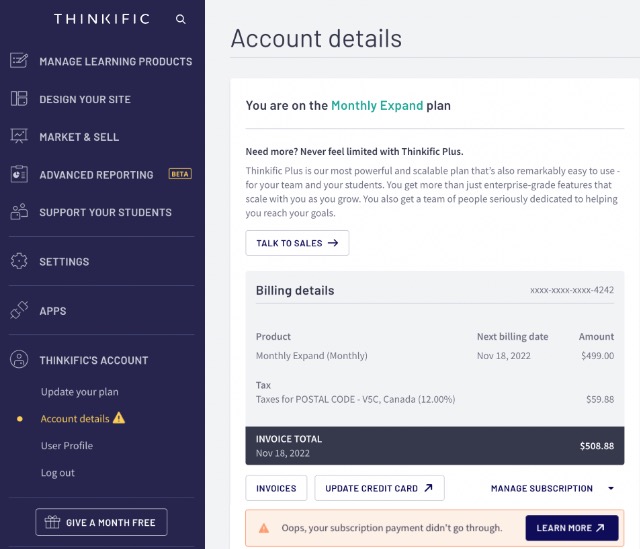 If this is the case, you will also receive an email informing you of the failed payment. This email will contain a button link to take you to the billing page of your account, where you can update your billing details.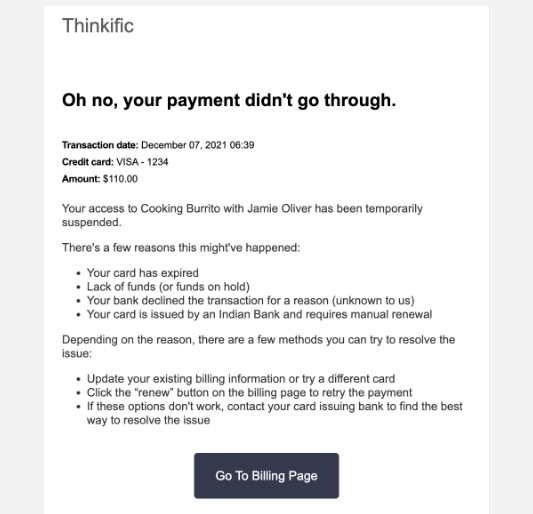 Reasons a payment might fail
After 8 unsuccessful payment attempts over the course of 3 weeks, your subscription will be automatically canceled and your site will be moved to the Free plan.
Insufficient funds
Card declined
Thinkific processes creator subscription payments with Stripe. Cards can be declined for a number of reasons - which you can learn about in Stripe's guide on declined payments. You can also see a list of declined payment codes here. Unfortunately, as mentioned in Stripe's article, most declines are categorized by the card issuer as "generic", so it's not always possible to know exactly why a payment was declined. If all of the card information seems correct, it is best to contact your card issuer and ask for more information. Your payment should show up on your statement as Thinkific Labs.
Card expired / incorrect CVC
Payments will fail if the expiry date on a card has passed, or if any of the information was entered incorrectly (such as the CVC number on the back).
Make sure to confirm that your card details were entered correctly, and use another account/update your credit card if your card has expired.
Lost / stolen
If your bank card was lost or stolen, your card issuer may have deactivated the card. This can cause failed payments for any subscriptions tied to the card. In this case, we recommend updating your billing details with a new card or account.
How to Pay an Outstanding Subscription Invoice
Open your subscription invoice and select Pay online
Pay for your outstanding invoice by card
Learn More About
Update Your Thinkific Subscription Plan
How can I update my billing information for Thinkific?