If you're subscribed to one of our paid plans, you're free to change or cancel your subscription at any time.
---
In this article:
How to Update Your Subscription
Switch Between Monthly and Annual Plans
How to Update Your Subscription
To update your subscription:
Select Your Name's Account
Click Update Plan
You will then be taken to the Subscriptions Page

Upgrade Your Plan
If you're already on a paid plan and you would like to switch to another plan, any extra charges due will be made on a prorated basis to the credit card that you currently have on file with us.
From the Subscription Plans page, select your new plan to be taken to a confirmation screen where you'll see an overview of your new plan and billing information. You can change your saved card from this page if you need to.
When you're ready, hit Purchase. You'll be charged and will have instant access to all the features of your new plan!
Downgrade your plan
Click Update Plan found under Your Name's Account. Select the plan of your choice, and follow the prompts on the screen. To complete the downgrade, click Update Plan: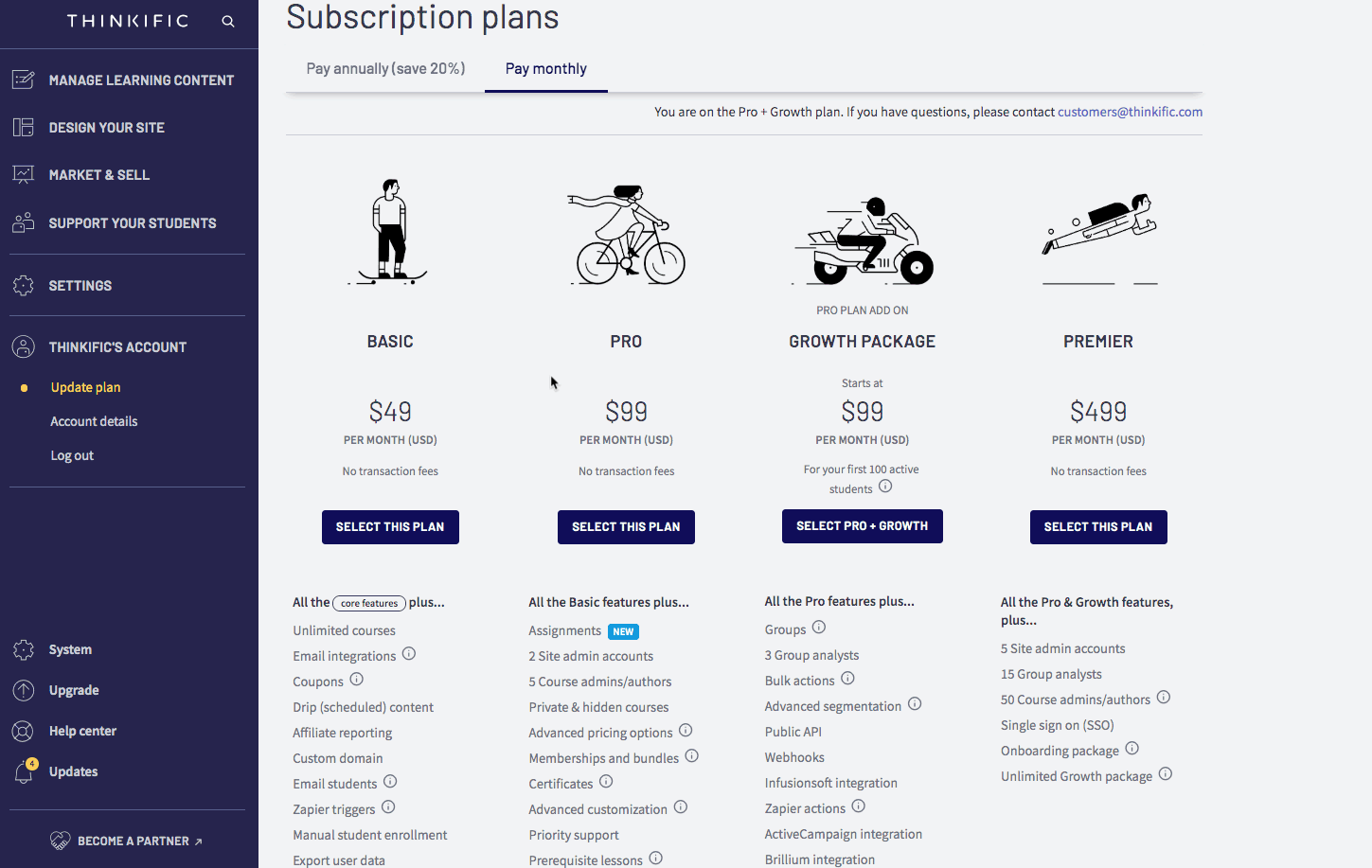 If you are downgrading to our Free plan, learn more here: What happens when I cancel my Thinkific subscription?
Switch Between Monthly and Annual Plans
When updating your subscription plan, you also have the option to choose between the Monthly and Annual Plan options. Monthly plans are billed on a per month basis, and Annual plans are billed as a single, annual payment. You save 20% when purchasing Annual Basic, Annual Pro, or Annual Premier.
To select a Monthly or Annual Plan simply click Update Plan found under Your Name's Account. Use the toggle to switch between the Monthly and Annual plans.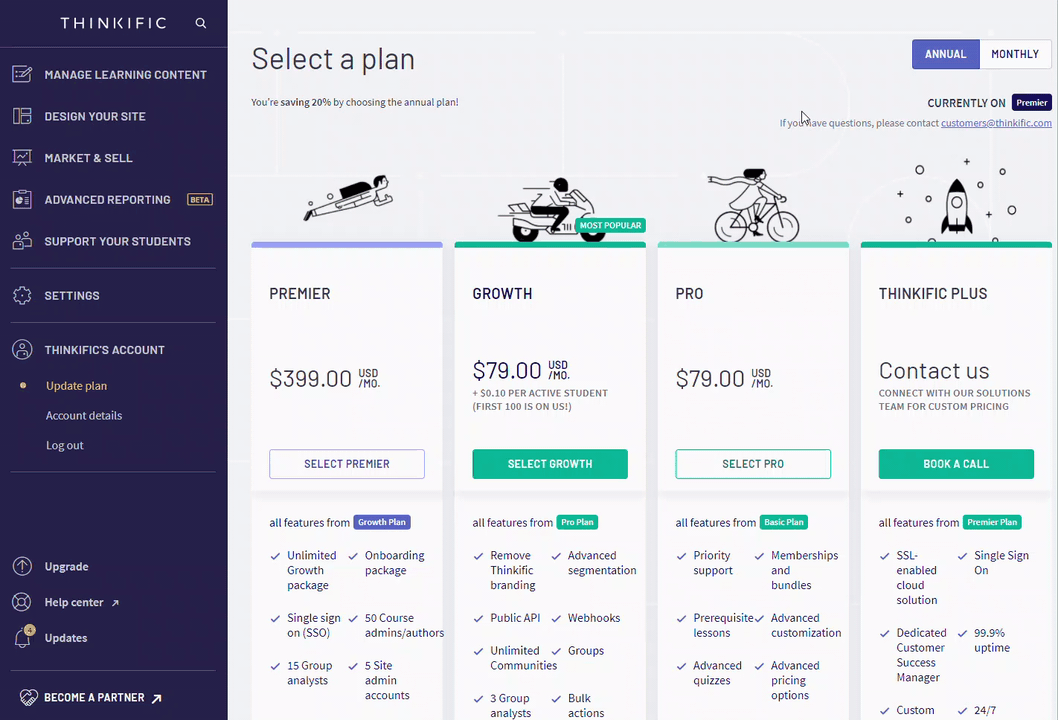 For the Pro + Growth plan, Growth charges are billed monthly, however you can choose between the Annual and Monthly Pro plan when selecting this package.
Frequently Asked Questions
How can I pay for my subscription?
At this time, billing for Thinkific subscriptions is only available via credit card. The reason for this, is that we have an automated system set up to process subscription payments that is tied to access of your paid subscription features.
Why is my credit card not being accepted?
We currently accept payment for plans from major credit cards such as VISA, MasterCard, and American Express.
If your card is being declined we suggest checking your bank isn't blocking a charge from Thinkific Labs.
Why is my browser not loading the payment page?
If the payment page isn't loading as expected in your browser, try browser troubleshooting and checking the system requirements and supported browsers.
If you are having any issues signing up for a paid account, please don't hesitate to reach out and we will be happy to help!