Need to cancel your payments for a little while? We're sorry to see you go! This article will cover how to cancel your subscription and move to our Free plan.
---
You can cancel your subscription or change your plan at any time.
Cancelling your subscription will prevent any future subscription payments and you will be moved to our Free plan immediately. Your site will still be available with the core Free plan features.
When you cancel your subscription and move to our Free plan, you will only have access to your top course. If you have created more than one course, make sure to Re-Order Your Courses before cancelling so that you have access to your preferred course.
For details on all paid features that you will lose access to, check out: What happens when I cancel my Thinkific subscription?
How to Cancel Your Subscription
Select Your Name's Account (this will display your First Name)
Click Account Details
Click Manage Subscription
Select Cancel Plan
Fill out confirmation popups to complete the cancellation
Your account will now be on our Free plan with core Free plan features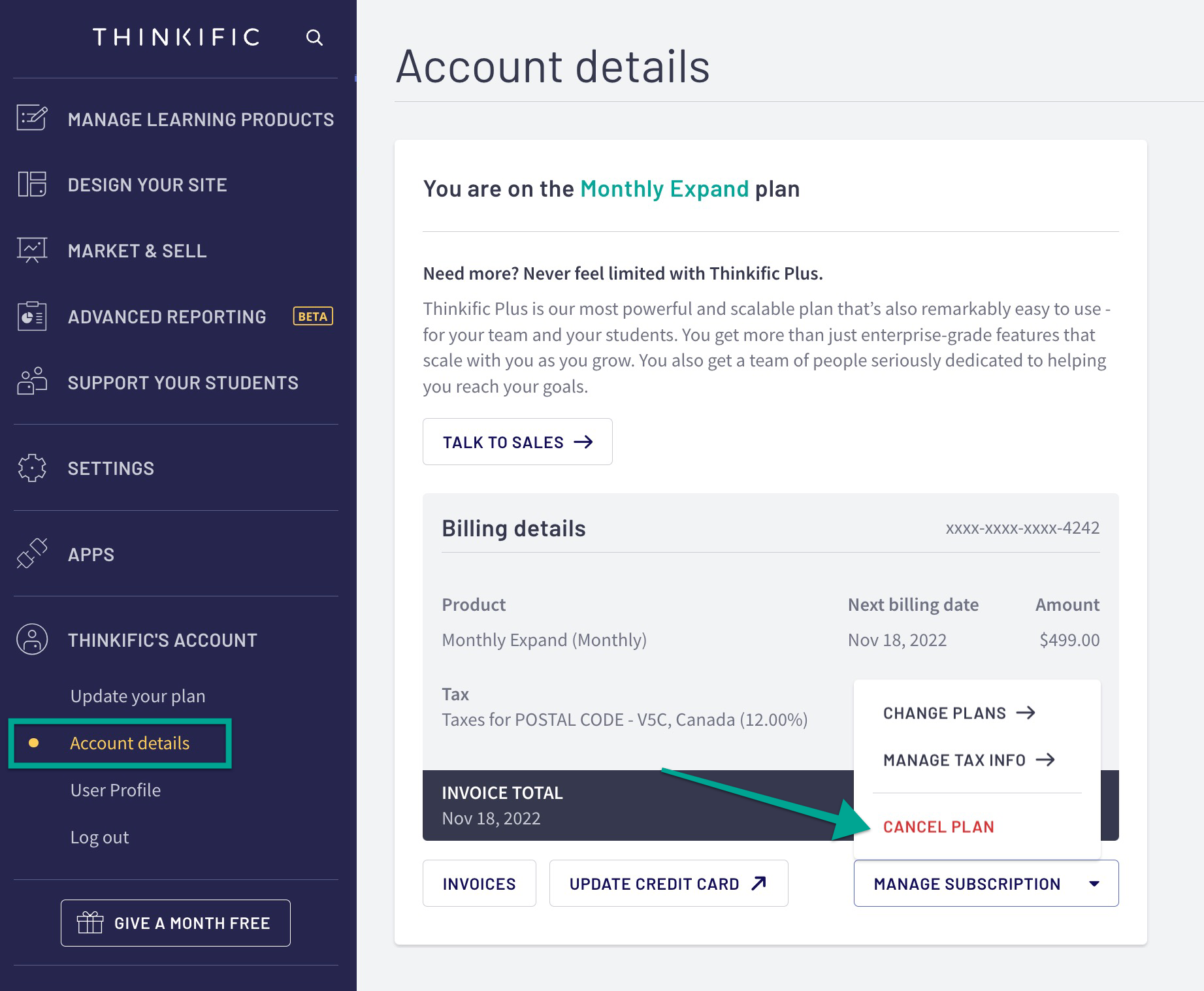 How to Permanently Delete Your Account
We don't usually delete accounts as if you ever change your mind, you can come back at any time and work from where you left off!
You can always refer to the instructions above to move to our Free plan where there are no monthly fees associated with your site. You also have the option to site Change Your Site Name and URL to something different if you have given out the URL previously and don't want anyone to come across your site!
Any new accounts created in Canada or the USA will have Thinkific Payments set as their default payment processor, without the option to use Stripe. If you are thinking of coming back after a break and want to keep your current third party payment processor, you will need to downgrade to the Free plan.
If you would still like us to go ahead and delete your account permanently, just make sure to send us an email with the following:
Make sure the email is sent from the email address associated with your account

Your Thinkific URL

Confirmation that you would like the account deleted and you understand this action is permanent and irreversible