If you are looking for an overview of the types of products you can create and sell in Thinkific, you are in the right place! This article will walk through how courses, communities, and memberships build the foundation for your online education business.
---
In this article:
Build Your Foundation with Thinkific Learning Products
How do I sell learning products on Thinkific?
Selling Strategies and Communicating Your Offering
Build Your Foundation with Thinkific Learning Products
With Thinkific, you can create and sell 3 different types of learning products. In this article, we are specifically focusing on the foundational products that you can use to deliver content to your audience while growing your business. There are a ton of supporting features that will complement and amplify your learning products, like your website and landing pages, affiliate management, live sessions, and more, but at the core of your online education business with Thinkific, you'll need to create one or more of these learning products in order to start selling to your audience.
Thinkific's learning products include:
Drag-and-drop builder
Templates
Bulk content import
Live Lessons
Live Events
Spaces
Posts, Threads, Comments & Reactions
Profiles & Mentions
Peer-to-peer learning & networking
Thinkific learning products and content within courses and communities
Any other content, access, or perks that you as the creator want to include. For example, access to a weekly Q&A, access to your content library, invites to local events, 1:1 coaching sessions... and anything in between!
Courses and communities are learning products through which users actively engage with your content, and with each other, while memberships are a way to package exclusive access to ongoing course and community content, as well as any other membership perks you want to include. Memberships allow you to get creative with how you want to engage and retain your audience on an ongoing basis.
How do I sell learning products on Thinkific?
In order to start selling on Thinkific, you need to create a course or community. Courses and communities can be sold in bundles, as standalone products, or as order bumps.
Memberships, on the other hand, must include at least one course or community. Typically, memberships use a subscription pricing model, include multiple courses and/or communities, and have the promise of evolving content. For example, additional courses are added over time, and users have access to long-term support from yourself as the creator, and/or access to support from fellow members within your community. You can get very creative with what to offer in membership, but for now, we'll just focus on how these products work together in Thinkific so you can start building your foundational product offering!
Let's start with a straightforward example. If your expertise is personal budgeting for beginners, you might have a course called How to Create a Monthly Budget as well as a Budgeting for Beginners Community for all of your users to share stories, ask questions, and discuss progress.
In this example, you have 2 Thinkific learning products—a course and a community. These can exist as standalone products, which means you can sell the course and you can sell the community. Users can choose to buy one or both in separate transactions. We'll cover this more in-depth in the next section.
After seeing your users interact with your content and each other over a few months, you notice those who have purchased both products (the course and community) are getting more value than those who only purchased one. This is because they're more engaged in your community, they ask more questions, and they share more insights on your course. In order to engage your users further, you plan on running monthly live Q&A sessions. This is where membership comes in! You can create a subscription-based membership that includes both products, and you can use your community to facilitate regular Q&A sessions.
Packaging Options
There are 3 options for packaging your products:
Standalone - Each learning product can be individually priced and sold as a standalone product
Bundle - A curated collection of courses and/or communities can be packaged into a single offering at a set price
Membership - A learning product providing ongoing access and value, often with a subscription pricing model. Memberships include courses and/or communities that are updated frequently and provide ongoing value through additional features such as live events.
It is also very common to have products that are sold standalone, as well as within a bundle, in order to provide your audience with multiple options to choose from. To continue our example from above, maybe you create an additional course called Managing Your Debt and want to offer the 2 courses for a reduced price. This could be set up as a bundle that includes both courses. This gives users the option to buy each course individually OR the Budget Bundle.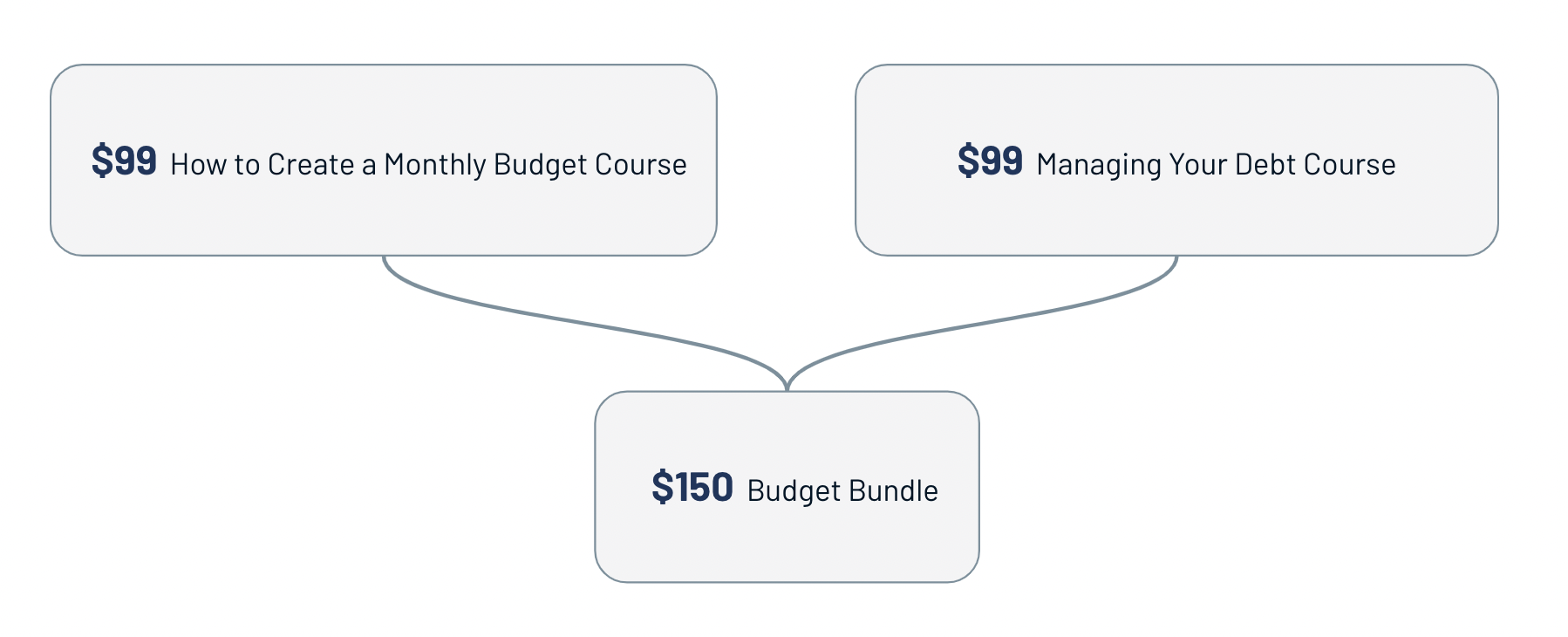 The more products you create, the more possibilities you have to package and sell them in unique ways that work for your business, and that appeal to your audience. With a strong foundation of course and community products, features, and content, you can start to get creative in how you package, upsell, and price according to the value you are delivering.
What's the difference between a bundle and a membership?
Both bundles and memberships include one or more courses and/or communities. However, even though they require a similar setup within the Thinkific platform, they involve different strategies.
A bundle is a sales tactic you can use to increase revenue earned in a single transaction by packaging a curated collection of products, often with a price incentive. Much like the Budget Bundle example above, users have the option to buy 2 courses individually for $99 each, OR they can buy a bundle that includes both courses for $150.
A membership is not a sales tactic, but a dynamic learning offering. Far more than transactional, a membership is a relational concept rooted in belonging to a group or community with shared interests. At Thinkific, a membership is a learning product that provides ongoing value to its members through content, access, perks, and support. Memberships often use a subscription pricing model in order for the creator to maintain this promised value, and provide ongoing support for members.
Creating Your Products
Now that you have a general understanding of what products are and how they can be packaged in Thinkific, we have some recommendations to get up and running! Check out the questions and answers below to get started:
Do you want to create a course, community, or both?
In order to sell with Thinkific, you'll need to create at least one course or community. These are essential in building your online education business. Learn how to create these products here:
If you're not sure what your community strategy should look like, or whether to create a course or community first, here are some helpful resources on our blog:
Do you want to create a membership? If yes, what do you want to include?
Do you want to sell your products standalone, bundled, or both?
If you are looking to sell standalone learning products, jump ahead to the next question for instructions on pricing your products.
Remember, you don't have to choose just one option–you have the flexibility to sell your products stand-alone AND in a bundle. If you are looking to create bundles, see Create a Product Bundle.
How do you want to price your products?
Once you have determined if you'd like to sell your products standalone, in bundles, or in various combinations, you'll need to set up your payment processor and product pricing.
There are 4 main pricing options that can be applied to learning products and bundles in Thinkific.
Free
One-time payment
Payment plan
Subscription
There are also a ton of additional customization features within these pricing options. We won't get into all the specifics here, however when you're ready for this setup, check out: Set Your Product Pricing (Guide).
Thinkific is designed to support your entire online education business. This means that you not only create learning products on Thinkific, but you also build your website, manage your users, and more!
If you are new to Thinkific and not fully set up, we recommend reviewing our Getting Starting Guide as you'll still need to customize your website and publish your products.
If you are expanding your existing offering and looking for more strategies on how to market and sell your products, continue reading!
Selling Strategies and Communicating Your Offering
So far we've covered the foundations of available products in Thinkific and how to prepare them to start selling. If you're looking for more guidance on how to communicate the value of your products, what combinations of products to include in a bundle, options for upselling and more, check out: