Use Thinkific Communities to engage your students in meaningful conversations — both with yourself, the course creator, and with each other. Use Communities to help drive engagement and keep your students around longer!
In this article:
App Store Solution: Circle SSO
About Communities
What is a Thinkific Community?
A Thinkific Community is a place, outside of your course content, where you can foster conversations with your students. Each Community has a dedicated page (on your Thinkific site) where students and instructors can interact through written posts and comments. Communities access can be granted at either a site level, or associated with individual courses or bundles.
Why create a Community?
Communities allow users to connect with you and your audience: build trust and loyalty, collaborate socially and connect globally. You can build a Community around your content to add even more value to your online courses or create a Community as a higher tiered offering!
What are the benefits of a Thinkific Community?
Create your own branded Community
Just like everything you build with Thinkific, your brand is the star, with no outside distractions. Choose colors and key imagery, plus host your Communities on your own custom domain, without the noise and distractions of social platforms.


Assign Community memberships
Assign Community access by a specific course, bundle or memberships, or create a site-wide Community to allow any of your students access!


Fully integrated with your Thinkific site
Community members are automatically added (or removed) based on enrollments in your Thinkific content — no more manually adding and removing people.


Built on a platform you can trust
Thinkific is trusted by over 40,000 course creators, and unlike social media platforms, you control all the content that appears in your Community. No ads, no tracking, no spam.
How It Works
Each Community has a dedicated page where your students can create new posts as well as view and comment on existing posts. Communities are individually named and branded with your desired Community image, as well as color and font. Posts can include an image, video, or file link if desired!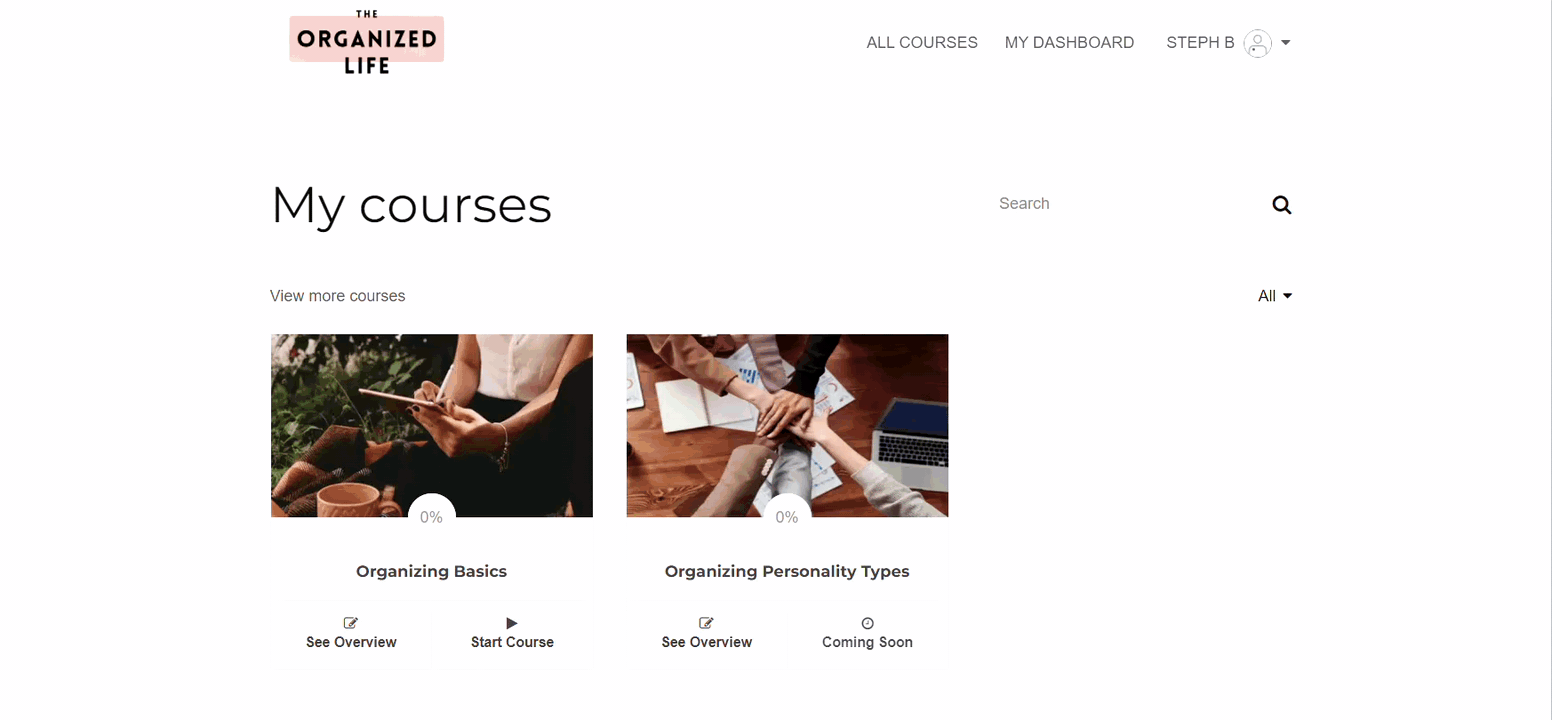 Important Considerations
Communities that are available to students will be automatically displayed in their Student Dashboard

A Community can also be accessed through a direct link to the Community page
Our Pro plan offers the ability to create one Community; unlimited Communities are available on Pro + Growth plan and higher
Currently, a maximum of 21 Communities can be displayed in the Student Dashboard.

Although Communities cannot currently be deleted or archived, if you are no longer using a Community, you can set it to private (only accessible to you as the Site Owner).
How to Create a Community
Go to Manage Learning Products
Select Communities
Click + New Community
Input Community Settings (see full details in the next module below)
Click Save

Looking for tips on how to grow and nurture your community? Check out our free Thriving Communities course!
[back to top]
Community Settings
When you are creating your Community, you will have the following settings and customization options:
Basic Settings
Here, you can input the Name of your community and a short Description to let you students know what your community is all about! The name will appear in the header of your community page, as well as underneath with your description:

Access
You can customize who will have access to your Community with the following options:
Logged in students
Students who are logged into your site can access your Community regardless of their enrollment status.
Enrolled students 
Limit access to one or more specific courses or bundles on your site. With this option, Community members are automatically added (or removed) based on their current enrollments. To specify enrollment for a specific course or bundle:
Select Enrolled students
Click Select a Course/Bundle
Check off the box to the left of all Courses and Bundles you want included
Click Apply

Students in groups 
Limit access to students in one or more Groups. To select desired Groups:
Select Students in Groups
Click Select a Group
Check off the box to the left of one or more Groups you want included
Click Apply


Groups must be created before they will be available in the dropdown menu. Learn more here: Create a Group
Only me
Great for preparing a Community that is not ready for launch yet!
When you first create your Community, we recommend setting your Access to Only me as you get started. This way you can make sure that you are happy with how your Community looks and even create your first post before students jump in. You can always return to this page to update your Access once you are ready! Check out Community Best Practices here.
Note that your Community will automatically appear on the Student Dashboard in Site Pages Theme versions for all students that have access.
Appearance
Adjust your Primary color and font to match your branding! The color will be applied to the header and buttons of your Community and the font will be used as the main font throughout.
Image
This will appear in the top right side of your Community above your description.
View Your Community
Once you Save your Community, you can access it from your Community details by clicking the ellipses (three dots) on the Community card, and selecting Go to Community.

You can also select Copy Share Link and paste the link that is generated into your browser to access your Community.
Learn more here: Manage Your Community 
App Store Solution: Circle SSO
If you're looking for additional features beyond Thinkific's built-in Communities option, check out the third-party Circle SSO app, available in the Thinkific App Store.
This app allows Thinkific customers to seamlessly create Circle communities using their Thinkific credentials and/or connect their existing Circle account to work with their Thinkific site.
Are you interested in learning more about what Communities has to offer? Thinkific is currently working on some updates to this feature, as part of our ongoing effort to make Communities a more integrative and immersive experience for you and your audience! To learn more about what we have in the works, check out our Communities Updates article!
---
More About Communities