In this quick reference article, you will get a short overview of some of the common call-to-action buy buttons that you are able to edit.
---
In this article:
Custom Buttons in Product Landing Page Banners
Custom Buttons in Site Builder Banners
Custom Buttons in Call to Action Site Builder Section
Objective
How to edit buy buttons on your product landing page
Customize buy buttons
Custom text on buy button
Solution
This article will cover some of the common call-to-action buy buttons that you can edit. Use the menu at the top of the page to jump to a specific button, or continue scrolling to view each section.
Adding Custom Buttons in:
Product Landing Page Banners
Product Landing Page Banners automatically display buy buttons. These buttons are dynamic, which means they will display the price of your course to visitors who haven't purchased yet, and display Resume if a student already has access to the product.
Learn more about dynamic buttons here.
If you would like to display custom text on your buy button instead of the default, you can customize the default site text on your buttons or add your own button to your banner.
Adding a button will override the default dynamic button, which means your new button will be static. It will display the same text for new site visitors and existing students. 
Add a Custom Button to Your Product Landing Page Banner
Go to Manage Learning Products
Select the Product Type you want to add a button for (Courses, Communities, Bundles, or Memberships)
Click on the ellipses (three dots) on the product card of the specific product you want to edit
Select Edit
Click Build Landing Page on the top right to open the Site Builder
Click on the Banner section
Click Add button to add a new button block. This will automatically override your default button.
Click Button to open the button menu
In the Link to dropdown menu, choose which site page your button will link to. Learn more about button link options here.
When linking to a Checkout Page, also select the Product and Checkout Price 
Customize the button message text in the Button text field
Click Save
To remove a custom button and revert to the dynamic default buttons, simply click Delete block at the bottom of the button menu.
If you would like to add or edit custom buttons in other Site Page Banners, follow these steps:
Go to Design Your Site
Select Site Pages
Locate the site page you want to edit, and click the pencil icon to the right to open Site Builder
Click on the Banner section
Click Button to open the button menu for an existing button, or click Add button to add a new button block
In the Link to dropdown menu, choose which site page your button will link to
When linking to a Checkout Page, also select the Product and Checkout Price
Edit the Button text field to customize button text 
Click Save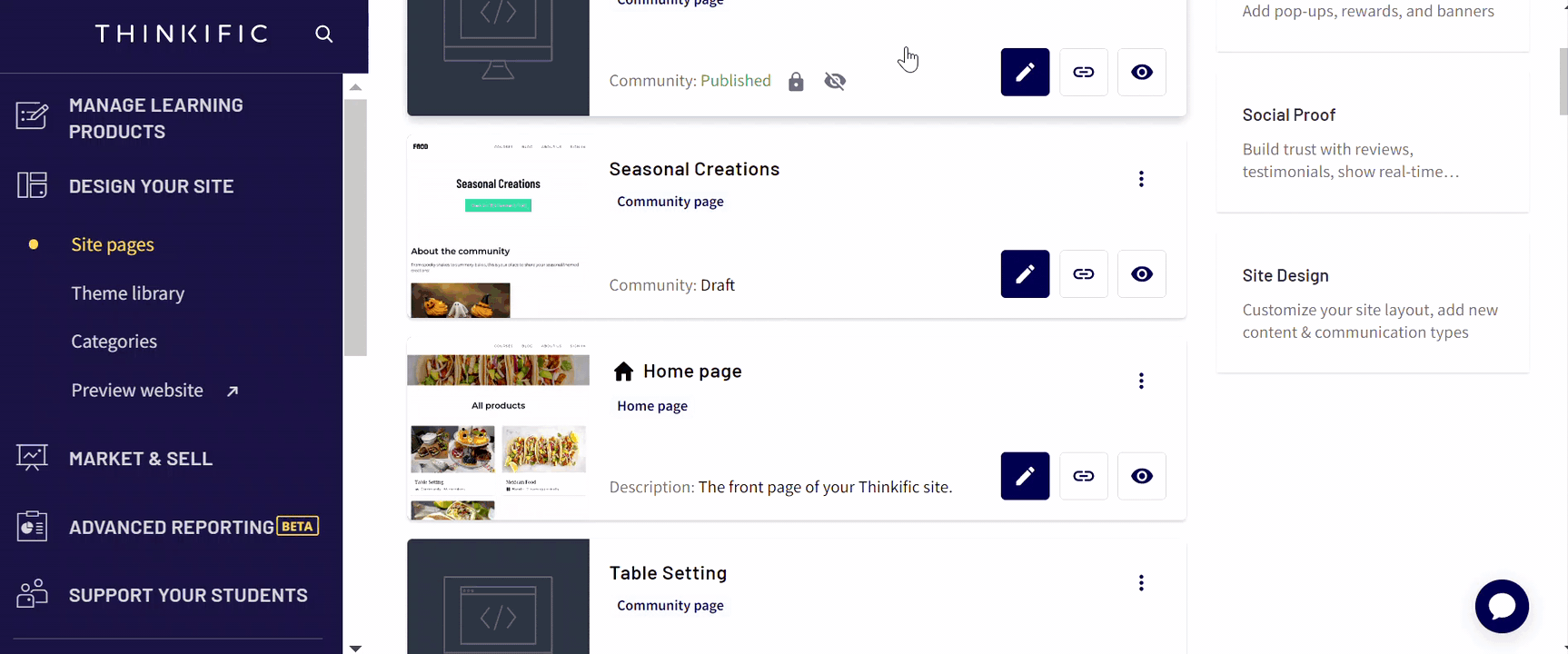 Call to Action Site Builder Section
If you would like to add or edit custom buttons in Call to Action Site Builder Sections, follow these steps:
Go to Design Your Site
Select Site Pages
Locate the site page you want to edit, and click the pencil icon to the right to open Site Builder
Click + Add Section
Select the Call to action section to add to your page
In the Call to action section, click the Button section to edit the button options
In the Link to dropdown menu, choose which site page your button will link to
When linking to a Checkout Page, also select the Product and Checkout Price 
Customize the button message text in the 

Button text 

field

Optional: click Hide button & make entire section clickable 
Click Save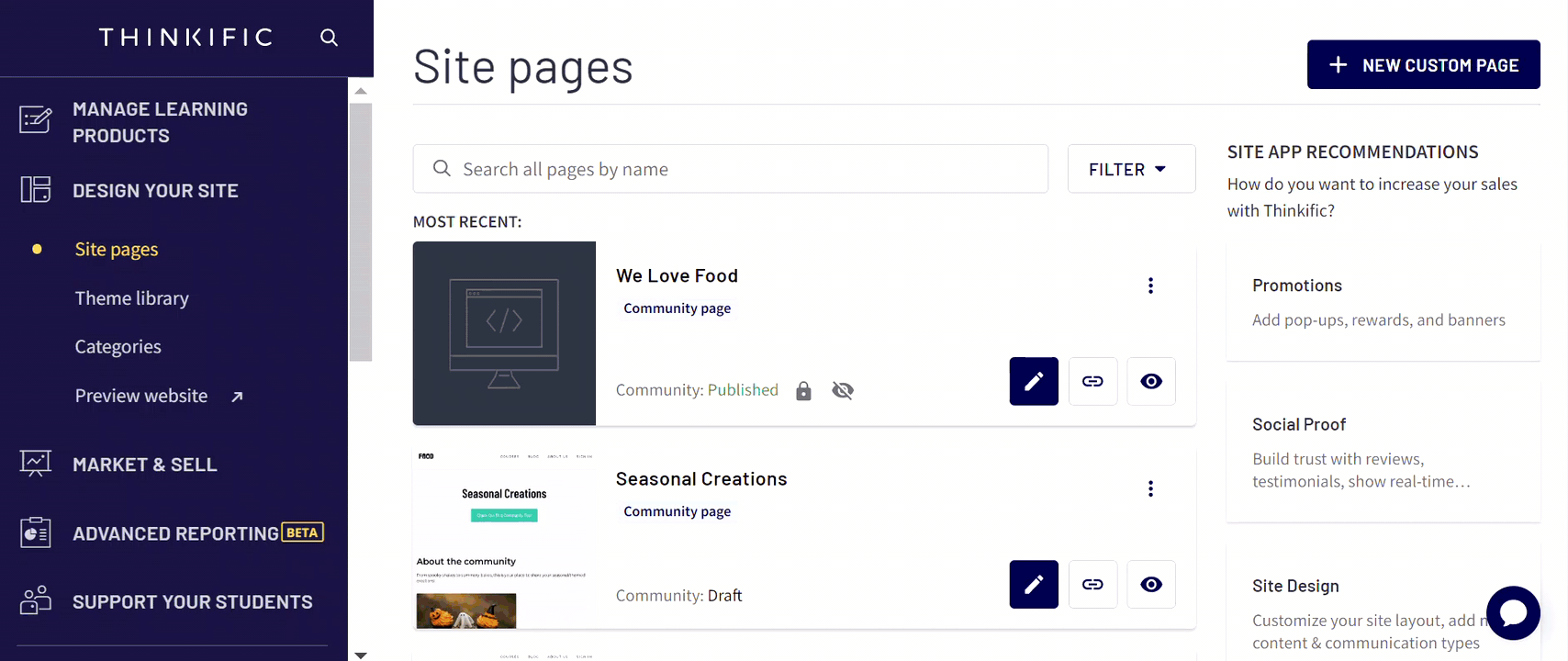 Important Considerations
Learn More About
Migrating to Site Builder from a Legacy Theme
Course and Bundle Landing Page Banners
Call to Action Site Builder Sections