Gain insight into how your student is performing in all of your courses by reviewing their Quiz & Survey results directly within their profile!
---
In this article:
How to Access Your Student's Quiz & Survey Results
Exporting Your Student's Quiz & Survey Results
About This Feature
Quizzes are a great way to measure your student's understanding of your course content and Surveys can help you collect additional information or feedback! The Quiz & Survey tab within an individual student's profile allows you to gain a deeper understanding of a particular student's overall performance across all courses they are enrolled in.
It includes an overview of Quizzes they have completed as well as submitted Surveys. For a in-depth view of question responses, you also have the option of exporting the results as a CSV!
How It Works
The Quiz & Survey tab is available when viewing a student's profile. Within the table, you can see the following details:
Course name - the name of the course that the Quiz or Survey is included in
Type - indicates if it is a Quiz or Survey
Quiz/Survey name - the lesson name
Completion date - the date and time (in UTC) when it was completed/submitted by the student
Passing grade - for Quizzes only, this is the required passing grade if one has been set
Student grade - the grade the student received when they completed the Quiz
Total number of questions - the number of questions asked within the Quiz or Survey
Total correct - for Quizzes only, the number of questions that were answered correctly
How to Access Your Student's Quiz & Survey Results
Go to Support Your Students
Select Users
Scroll or search for your student and click on the student's name
Select the Quiz & Survey tab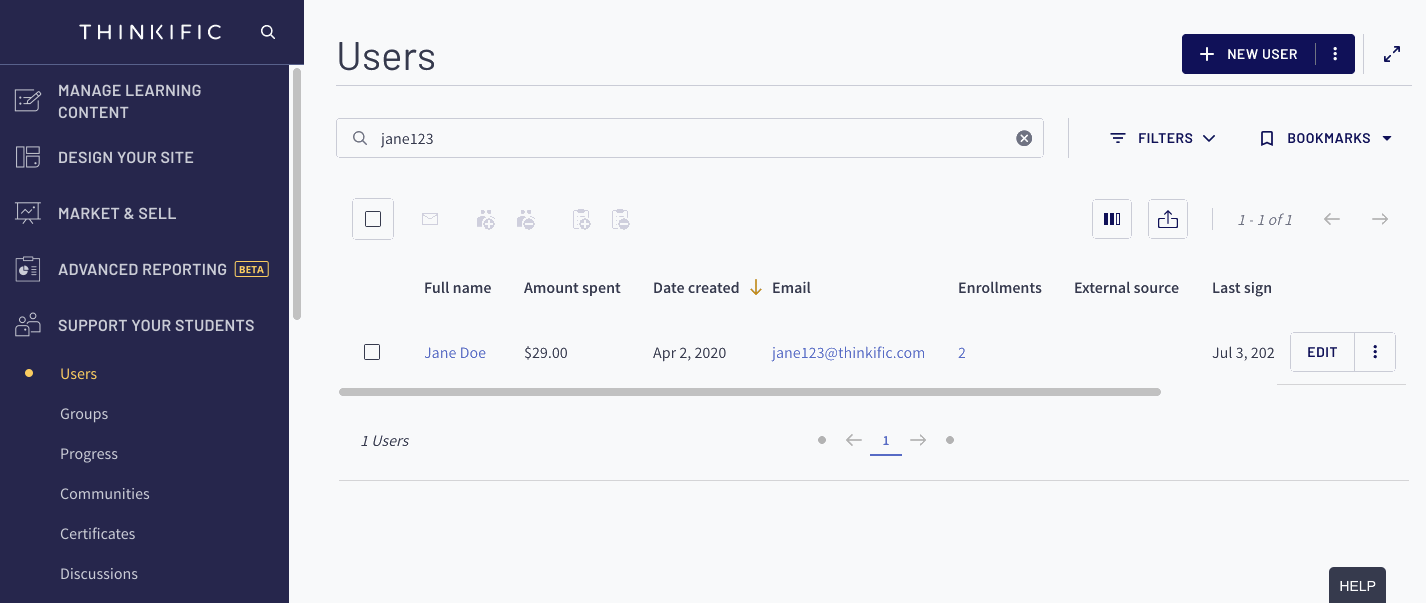 Exporting Your Student's Quiz & Survey Results
You can also export your student's Quiz & Survey results. This provides you with a CSV report that includes all details listed in the Thinkific table along with:
Every individual Quiz and Survey question
Your student's response to each question
Which quiz answers are correct (true) or incorrect (false)
You can export the results by selecting the Export icon on the top right of the Quiz & Survey tab:

---
More About Quizzes and Surveys
Requiring a Passing Grade Within a Quiz