Do you want to sell courses in bulk to large companies or organizations? Depending on your use-case, your Customer Success Manager can help map out a plan so you can sell courses in bulk! 
You have two options when selling in bulk with Thinkific Plus: use your primary Thinkific Plus site to sell or use one of the extra URLs you have access to with Thinkific Plus! 
One is not necessarily better than the other, but it's worth noting the differences between these two options and considering what this means for your business. 
Not a Thinkific Plus member? Check out our general B2B Selling page. 
In this Article:
Bulk Selling with your Primary Thinkific Site
Bulk Selling with a Unique Thinkific Plus site 
Should I create a new Thinkific Plus site or use my existing site? 
Bulk Selling with your Primary Thinkific Site
Business to Business (B2B) selling is very common on Thinkific Plus and there are a few ways to optimize this for your Thinkific Plus site.
Often, your primary Thinkific Plus site is used to sell directly to consumers (B2C), but in some cases, customers want to sell in bulk to organizations while keeping most of their existing website intact. If this is the case, below are some best practices to follow so you can sell in bulk: 
Create your B2B sales page 
Whether you sell through email or online sales pages, in most cases you will need to create a Custom Page in Thinkific Plus and display your pricing model for potential customers. A common best practice for this would be to create a pricing table that displays how many seats/licenses a company can purchase and for what dollar value.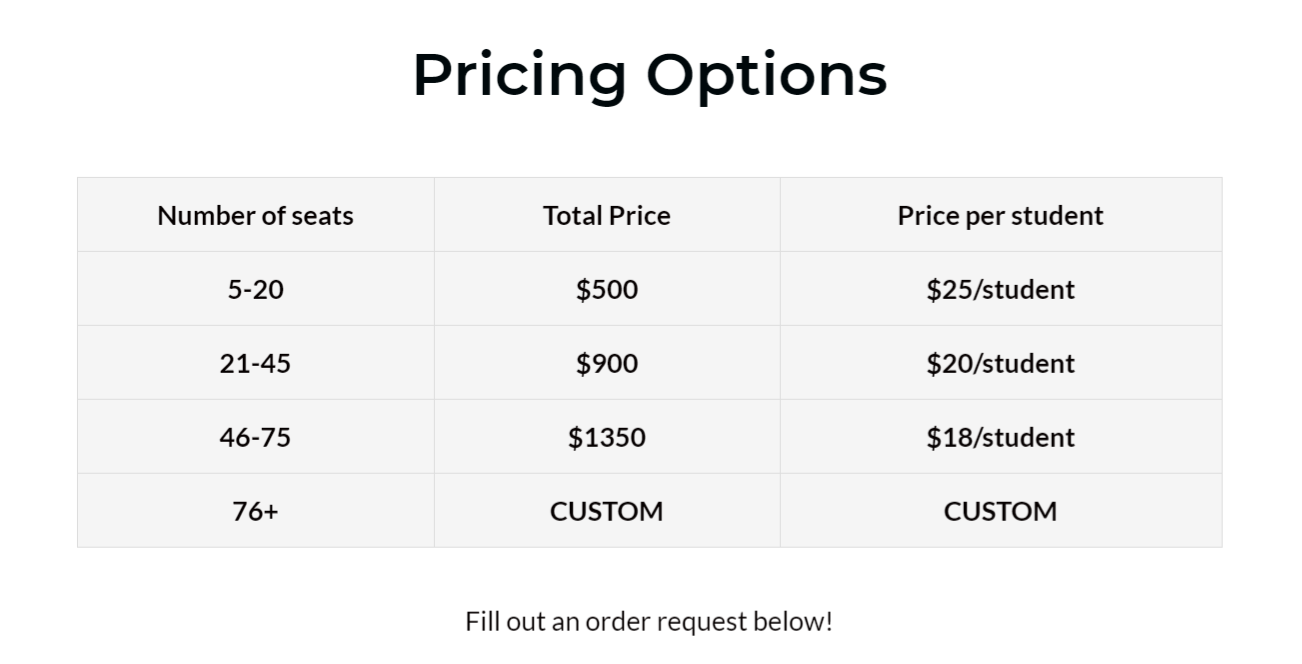 If you're using Site Builder, a Custom Page is a great place for this sales page! Depending on your use-case, you may opt to display the information on your home page instead.
Provide order information and next steps 
When you're selling B2B each customer could have their own custom pricing. In this case, the best practice is to provide a form for potential customers to fill out to start the sales process. The form could be hosted using your existing CRM or by using a common form tool like Typeform, Hubspot, Jotforms, FormStack, etc. You're able to embed most form types in a Text & Media Section in Site Builder as a pop-up or as static content on your page. 
A common automated workflow is to embed a form that is connected to an invoicing software via Zapier. That invoicing tool can then send the customer an invoice along with enrollment instructions for students (this is useful when payments are taken outside of Thinkific)
As for the next steps, it's best to provide information to the company that their employees will not be automatically enrolled after purchase. Depending on how you plan to enroll the students will affect your post-purchase messaging. 
How do you want customers to pay?
Option 1: Take payments outside of Thinkific Plus (recommended) and use an invoicing tool, cheque, e-transfer, etc. to accept B2B payments. This is recommended due to the custom nature of B2B sales online.
Option 2: Take payments within Thinkific Plus by creating a Hidden Course with each price point you offer. You can then send the hidden Course Checkout URL to the business owner so they can purchase the license. Please note that this will not enroll any employees or users into the course and it's strictly used as a payment gateway.
How would you like to enroll students in bulk?
Option 1: Create a Group for the company and generate a group sign up link with a Coupon code for 100% off. You will want to set the Coupon quantity to the number of seats the company has purchased. After generating the unique link you will need to send the URL to the company owner who will then forward it to each employee so they can create their own accounts and enroll in the course/membership for free. More information on this process here. 
Option 2: Bulk CSV file. After a form is submitted, you will need to send the company owner a CSV file so they can add all their employee information (first name, last name, and email address). Once you receive the CSV file, you can then upload it into Thinkific Plus and bulk enroll all the users into the course(s). 
Option 3: Build a custom solution leveraging our Public API or Zapier to handle enrollments. 
In all scenarios, it's also very common to add all company users to their own Group in Thinkific Plus. There are a few benefits of this, mainly being that you are able to review course progress on a company by company basis and you can add the company owner as a Group Analyst so they can review their employee progress. 
Course player branding and company content
If the company you are selling to would like a branded solution you're able to customize the Course Player branding per organization! Start by Duplicating your courses and brand the learning experience per course using our Individual Course Player Appearance Customization feature. Duplicating your course is also great if you have an On-Lesson Discussion component that you would like private per organization.
Another benefit of this route is that you can also provide tailored content just for that company. For example, the company owner could film an intro video that will be exclusive for the employees. 
Note: For this set up you will want to set the course to Hidden, so other companies/students do not see it.
Important Considerations: 
How will you handle situations when employees leave the company? For example, if the company has an employee that resigns and they would like a new user added to that seat, they will need to contact you to do so. It's important to outline this process at the point of sale. 


Is the company paying a one-time fee for lifetime access or an annual subscription? If it's an annual subscription, you will likely want to set up reminders in your calendar or CRM to request payment for the following year if payments are taken outside of Thinkific. 


Course visibility: If you're duplicating courses to offer a branded solution, you will want to set the course to Hidden so no other organizations can see the course listed for sale. 


Does the company require reports on the progress of their employees? If so, the Group Analyst role would be a good fit! You can also export CSV reports for each company group and send it manually if you do not want to provide analyst level access to the company. 
Bulk Selling with a Unique Thinkific Plus site 
It's common for Plus customers to use their extra Thinkific Plus sites to create a completely branded B2B offering. This would include, but is not limited to
A unique site URL for the company
A unique logo, colors, links, etc., across the entire site for the company 
Providing some form of admin-level access to the back end for company owners 
Setting up integrations, data automation, etc., for that company to track student progress. 
And more! 
What can I copy from one site to another? 
Since you're creating a completely new Thinkific Plus site, we cannot duplicate everything from one site to another. However, here is what we can copy over:
Courses: Your Customer Success Manager is able to copy courses for you from your main site to your new site upon request. 
Theme Code Customizations: You are able to export your theme code customization from one site to another, but not the site content (landing page images, text, CTAs, etc.) 
Everything else in terms of site set up will need to be built out from scratch, including integrations, custom domains, landing page content, etc. 
How to set up a unique site for B2B selling
Create a new Thinkific Plus site on a free plan and ask your CSM to upgrade the feature set to Plus

Ask your CSM to remove Thinkific Plus branding from the Admin dashboard for a white label experience (if relevant) 
Ask your CSM to copy over any courses that you would like to sell on this new site. 
Begin populating your sales pages, customize the course content, set up a custom domain, etc.
Important considerations
Will you be providing admin-level access for the company owners? If so, you will need to consider what level of access to provide. The most common for this use-case is to provide Site Admin level access. Which, of course, provides a lot of permissions for the company. For a review of the permissions levels and what type of access they would have, check out our article on Site Owner and User roles. 
Since the entire site is dedicated to a single company, you will likely not need to make any courses hidden - unless they want to avoid high SEO rankings! However, it's common in this situation to set each course to Private so non-employees cannot enroll in any courses. This works best if the company owner is committed to enrolling employees themselves. 
Should I create a new Thinkific Plus site or use my existing site? 
Depending on the specifics of your MSA contract, one option may make more sense than the other. It also depends on how often you plan to sell B2B. If it's a regular occurrence, you may want to create a more neutral-branded site so multiple companies can be added to the same site. However, each company is unique and therefore has slightly different needs. 
Your Customer Success Manager is always available to walk through your options to help you build a game plan to sell bulk at scale! 
Book a call to chat with our team more about our Plus plan features!