About this Feature
With Thinkific Plus, you will start with one unique Thinkific site, where you can create your courses, build and brand your site, and begin to build or import your students onto. This site is unique and specific to you and your business and not connected to any other Thinkific sites. We often call this an "instance", since it is your special Thinkific Instance!
On your Plus Plan, you are able to create multiple Thinkific sites as you need, depending on your current Master Services Agreement (MSA) pricing tier. Instances may be referred to as "URLs" on our older MSA's. These additional sites are completely separate from your original site, for example, if your main Thinkific site is "sportstraining.thinkific.com" but you had a client named ACME and Hooli, you could create:
sportstraining.thinkific.com
sportstraining-acme.thinkific.com
sportstraining-hooli.thinkific.com
Each of these sites would be completely independent of each other, which allows your main site to remain unchanged, and your client's ACME and Hooli to access/brand as they see fit.
Why would I need Multiple Instances?
You may choose to create an Additional Thinkific site for many different reasons, and it is often dependent on your use case! We've listed a few common examples below of why you may need additional sites.
Business 2 Business Selling:
You can have multiple organizations on one Thinkific site and still provide a unique experience for their students, from having organization-specific groups to duplicating courses. However, your client's needs may require the full Thinkific Experience to be branded for them, this feature becomes very powerful.
By having a Client unique Thinkific Instance, you can:
Looking to learn more about B2B selling on Thinkific? Read our Business to Business (B2B) Selling Guide
Different Use Cases
Are you trying to find the best user experience for different types of students on one site? Are you wanting to make sure your internal employee onboarding is smooth, while ensuring you can still properly sell to your customers?
You don't need to sacrifice the experience of either type of user! Creating an additional Thinkific site for your different use cases can help take away the challenges of accommodating all of your students.
For example, you could have two different sites for:
Multiple Languages
In some cases, you may be wanting to offer your courses to students in a specific country and would need to offer your full Student Experience in a different language. You can then have an additional Thinkific site created!
For example, your different sites could be named:
sportstraining.thinkific.com (English)
sportstraining-fr.thinkific.com (French)
sportstraining-spa.thinkific.com (Spanish)
Want to know more about setting a Thinkific site in a different language? Read our How do I change the language of my site? Guide here.
Important Considerations
Having multiple Thinkific sites can be very beneficial to your business, but before investing time and resources, keep the following in mind:
Do I really need a separate site for what I'm trying to do? Ensuring a full separate site is right for you is important, as it does add to your Thinkific ecosystem. For example, an extra Thinkific site may add to your overhead process, student support, and course creation process!
Knowing how many URLs you have in your MSA Tier, depending on your current tier, you likely have access to a certain number of URLs, before committing to a new instance make sure you're ready for a potential upgrade.
Consider what access is needed from stakeholders like partners/clients: perhaps Groups Analyst would be more appropriate
User's logins are site-specific (ie a student on the main site will not have one on the Spanish or French site).
Consider how you will manage version control and centralization of course material and student data (ie if you have 5 versions of course A, updating it in one site does not update across all)
Not sure what tiers you have? Reach out to your Customer Success Manager
How It Works
Setting up additional Thinkific sites is very easy! Follow the steps below to have your new site set up properly:
Consult with your Customer Success Manager, they will discuss options in more detail and be able to help with resources and strategizing early on.
Go to Thinkific.com
Create a new Free Thinkific Account
Use either a new or the same email address for the Site Owner account
Send the new Thinkific URL to your Customer Success Manager, along with the email used on the account
The Customer Success Manager will then go and upgrade the account to Plus for you, and inform you when it is done.
Congratulations, you have a new Thinkific Instance!
Frequently Asked Questions
How do I log in to multiple sites?
You can log into each site by navigating to the unique site URL. If you're the site Owner and your email is consistent across multiple sites, you can log into Thinkific.com to choose which site you would like to access.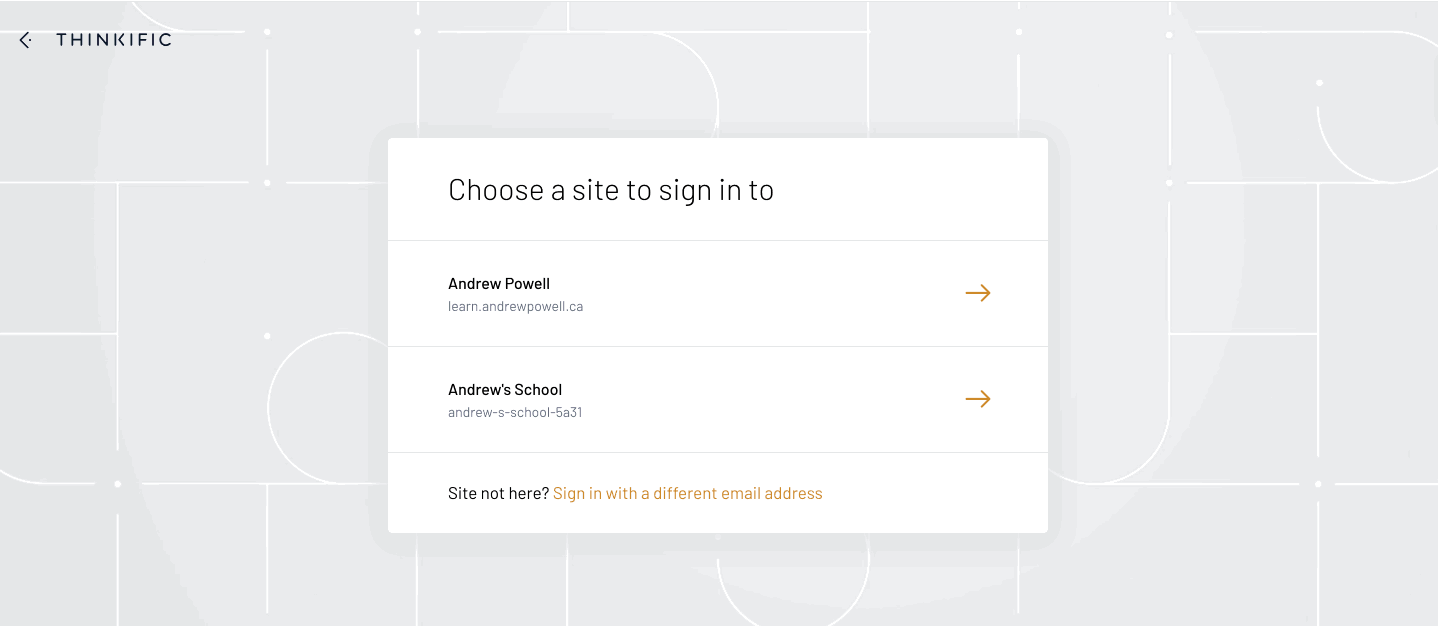 How do I track all my students across multiple sites?
Since each site is not connected, you will need to manually add your active student numbers together, to see your total active student count. Not sure how to find the active student number for a specific site? Read the guide on how to do this here