White label emails sent from Thinkific to a custom domain that matches your personal brand!
---
What is email white labelling?
There are a range of different emails that can be sent out to students from Thinkific. These include notification emails like the site welcome email, course welcome, course completion emails, weekly-reminders and any other manually created emails sent through the Users page.
Emails from Thinkific are sent from noreply@notify.thinkific.com or notifications@notify.thinkific.com. If you are using Email White Labelling, students will receive emails from the custom email domain you have set up with Thinkific.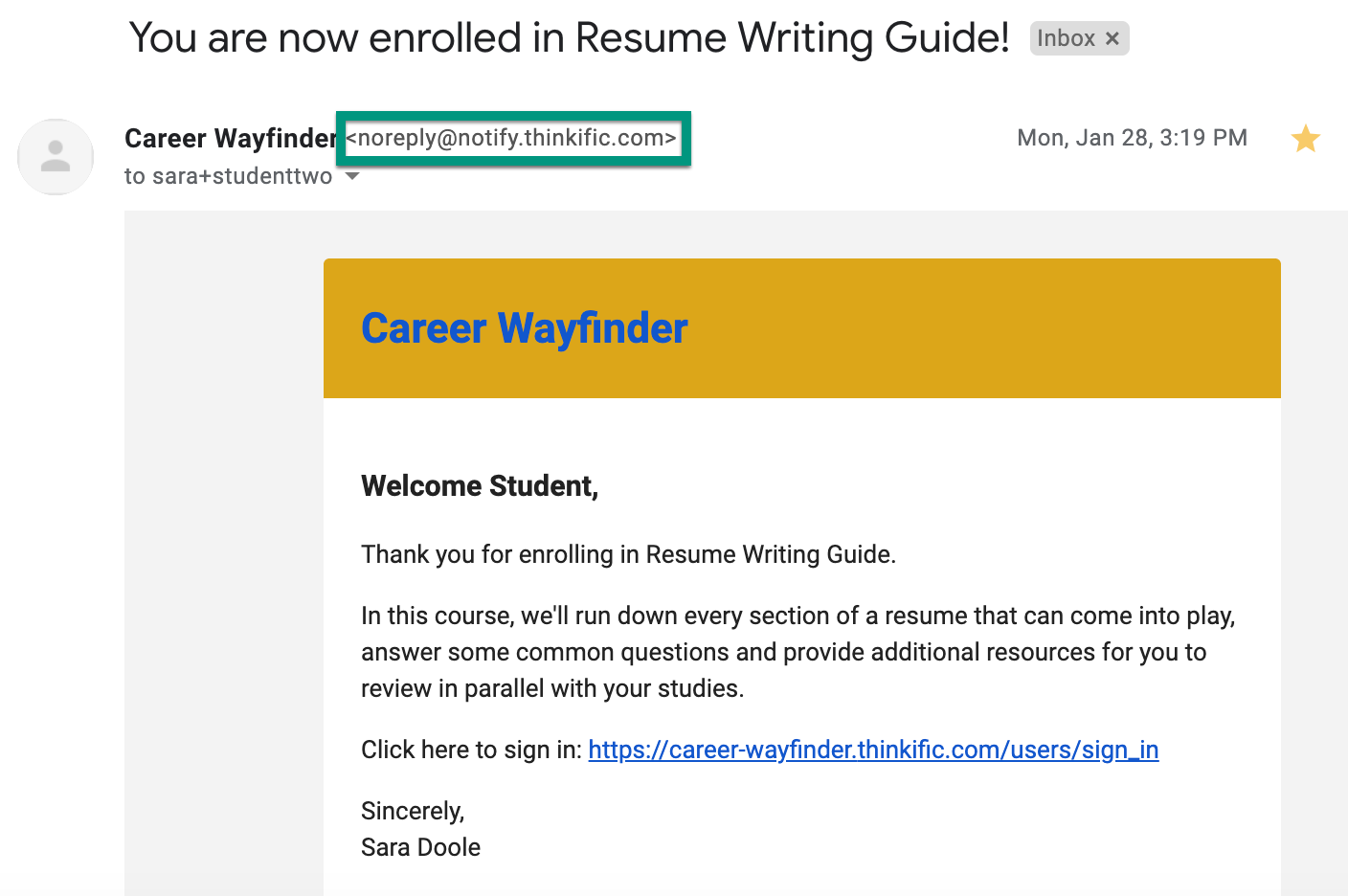 Why is this only available on Expand and Plus?
By default, emails sent from your Thinkific account come from noreply@notify.thinkific.com as it's coming from our mail server. 
If we changed this from email to display your domain but continued to send it from our server, Google and other mailing systems would notice this and flag your emails as spam, which we don't want! We want to make sure that your emails are arriving in your students' inboxes. 
If it's important for you to have a white labelled email when sending email notifications through Thinkific, we are able to set up a customized email server. Because this set-up requires a custom email server, this is a feature that comes at a higher price point, which is only available on Expand and Plus accounts.
For all plan levels, if a student replies to a Thinkific email, it will send to the 'Reply To' email that you have defined in your Site Settings. 
How to Set Up Email White Labelling
Requirements:
You will need to own the desired domain
The domain needs to include a subdomain to work with Thinkific. For example: notify.yoursite.com
It needs to be on a subdomain different from your Thinkific account's custom domain
For example, you might own the Thinkific site learn.evelyneats.com. You can then set up all emails to come from noreply@notify.evelyneats.com. In this example, you can customize the 'no reply' portion of the email, and the 'notify' portion (the subdomain).
Getting Set Up 
Reach out to Support with the custom email you would like your emails to come from. The email must have a subdomain that is unique from your Thinkific subdomain. For example, if your Thinkific site is accessible at learn.yoursite.com, you cannot set up notifications to come from

noreply@learn.yoursite.com

. It will need to be set up under something like

noreply@notify.yoursite.com

(a different subdomain).

Then we'll begin the email white label process. We will provide you with TXT, MX, and CNAME records to add on your domain provider.
Once you have set up the required DNS records with your domain provider, allow 1-2 days and reach out to Support once more and confirm if those details have been correctly propagated. If not, then we will let you know what records don't match and you'll need to go into your domain provider and adjust the records.
We will then do some additional set-up and confirm that the email white label works. After that time, all emails sent from your Thinkific site will be from your own domain rather than Thinkific's!
Please note:
You are not able to track open/bounced emails from your email domain
The MX records should always be added unless you already have another email client set up on the same subdomain (e.g. Gmail)
Allow up to 5 business days to set up the email white labelling as there will be multiple interactions involved between you and the Support team
The reply-to email of your Thinkific site notifications will still go directly to the email you specify in your site settings

.