Our Private and Hidden course settings allow you to control who can access your course and how visible your courses are on your site.
---
In this article:
Private Courses
Private Courses are ideal for cases where you want your course landing page to be public for marketing or informational purposes but don't want students to be able to enroll in the course directly. When a course is set to Private, the Thinkific checkout is completely blocked, which means that you have full control over enrollments.
This could be useful when:
The course isn't ready for enrollment yet - you may still be working on the course content, but that's no reason not to have your course landing page out there and ready to share for a spot of pre-launch marketing!

Your course is currently unavailable - perhaps you run your course during a specific time period, or for a maximum number of students? You can simply change whether or not the course is private depending on whether it's currently available for enrolment. During the in-between times, you can even be pre-filling spots for the next group of students from people who have emailed you from the course landing page.

You only accept students who meet specific criteria - you may need to speak to a person before they enrol on the course to make sure it's suitable for them; e.g. imagine selling a programming course to somebody who's never used a computer.
Courses set as "Private" will still have a course card on your site, so any visitors will be able to access them from the site landing page. However, the course won't have the usual "Buy" or "Enroll" button. Instead the visitor will see a message encouraging them to email you and request access.
By default, this message will display Interested in this course? Email us at example@thinkific.com. The email displayed is your support email, which can be set in your site settings and if you would like to customize this message, see Customize Default Site Text on Your Landing Pages.
How to Set a Course to Private
To make a course private, simply navigate to the Settings tab of the Course Builder. Under Basic Settings you'll see the option there for Private Course. Select the checkbox, save your changes, and that's it!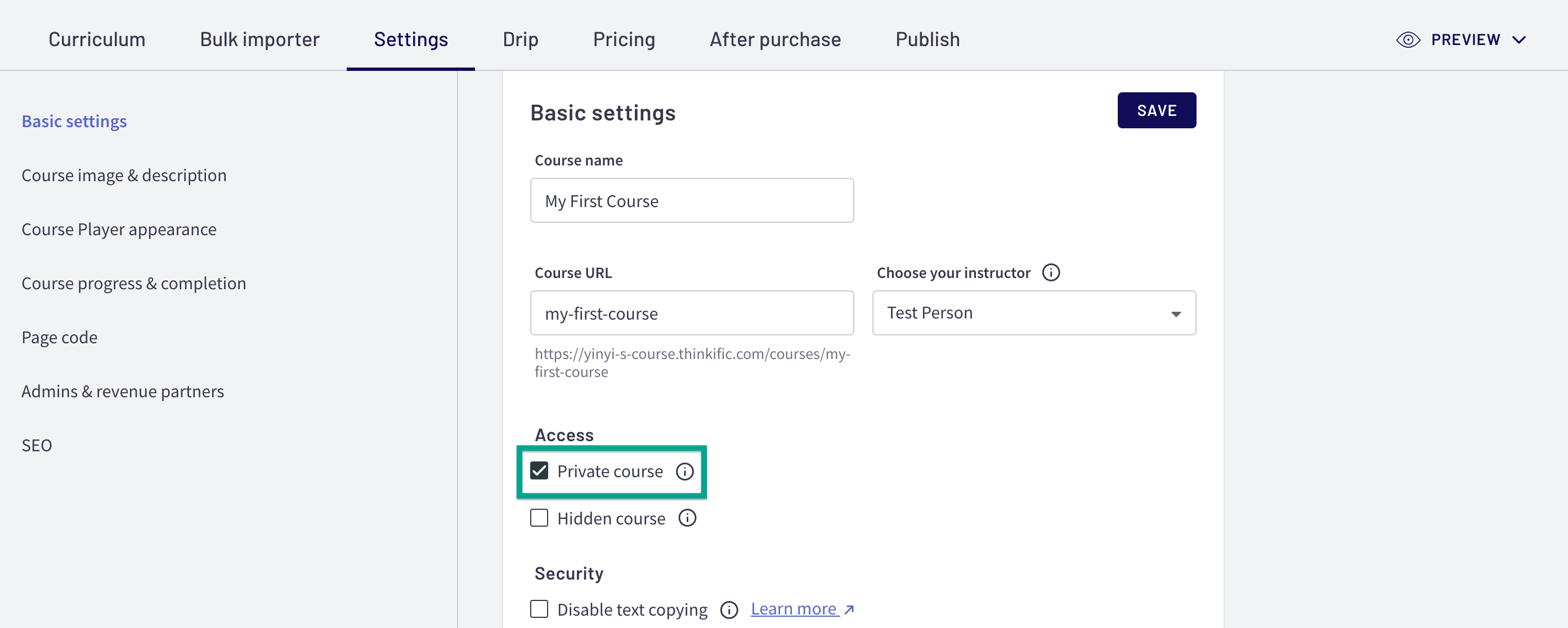 How to Give Your Student Access to a Private Course
To give a student access to a course that is set as Private, you can manually enroll them from your Admin Dashboard. Here's how to do that.
Important Considerations for Private Courses
Hidden Courses
Hidden Courses are the best way to control who is able to access course information and content. Courses set as Hidden will not appear as a course card on your site landing page and are only accessible with a direct link to the course landing page. From the landing page, they will be able to buy or enroll on the course as usual.
You can use this feature when:
Your course is for a specific group of people - your course may only be intended for certain people; for example, the employees of a company for whom you've specifically tailored the content. Simply hide the course so that only they have access.

You want to offer some bonus content - looking to offer some complimentary extras as a bonus to people who've bought another of your products? Put it into a hidden course! You can then make sure that only those people receive the direct link.

The course has a prerequisite - sometimes, students need to have completed another of your courses before starting the next. Make the course that has a prerequisite hidden - you can even customize the course completion email for the prerequisite course to include the direct link to the next one! Here's how.
How to Make a Course Hidden
To make a course hidden, go to Settings, then Basic Settings in the Course Builder for that course. Then select the checkbox for Hidden Course and Save your changes.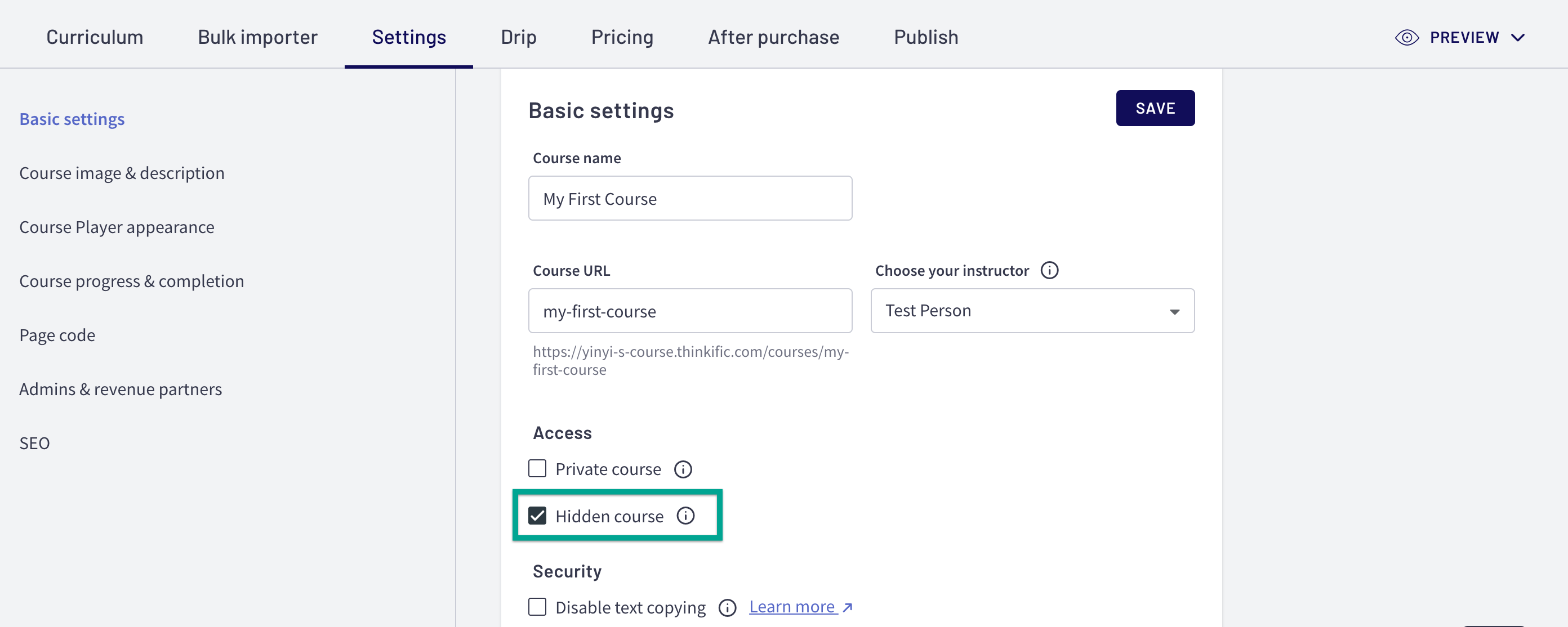 The Course URL shown above is what you can use to send to people who you'd like to be able to enroll in the course. It will take them directly to the course landing page, from which they can click on the usual "Buy" or "Enroll" buttons.
Important Considerations for Hidden Courses
A Hidden course is not indexed by Google and won't show up in search engines. However, if the course was previously published before it was set to Hidden, it may show up in search engine results as it takes time for search engines to recrawl your site for any updates.
You can learn more about that here: How do I stop Google from indexing my site?
Summary of Features
If you aren't sure whether you want to set your course to Private or Hidden or both, check out our summary of features below!
| | |
| --- | --- |
| Private Courses | Hidden Courses |
| Your course landing page is public for visitors to find | Your course landing page is only accessible with a direct link |
| Your checkout is completely blocked and you will need to manually manage enrollments | Your checkout is available for students to enroll on their own |
| Your course landing page is indexed by search engines | Your course landing page is not indexed by search engines |
If you are downgrading your account to the Free plan, you will no longer have access to the Private and Hidden settings for your courses. Any courses you have set Private or Hidden will remain Private or Hidden, and you will not be able to set them back to Public. We recommend setting any Private or Hidden courses back to Public before downgrading.