Looking to capture email addresses or create an email opt-in to grow your mailing list? You're in the right place!
---
There are a few ways you can collect email addresses on your Thinkific site:
Using a Lead Capture Section Type
We have recently introduced a new Site Builder section type called Lead Capture that can be added to any of the following pages in Site Builder:
See HERE for how to create a Coming Soon page with a Leads Capture section and more on Managing Leads HERE. If you prefer to add this to section to a different page on your site, see Add a Site Builder Section.
Course Sign Ups
When a student signs up on your Thinkific site, their email address is added to your list of Users and easily accessible in your Admin Dashboard. If you have integrated with an Email Marketing platform, these new students will also be added to your desired mailing list! See our Email Marketing Integrations HERE.
You can consider creating a lead magnet that is included in a free mini-course or in a Free Preview lesson of your paid course!
3rd Party Apps
Sumo
Sumo makes a lot of free apps to help you with marketing your online content! For email capture, check out:
To set this up on your Thinkific site, see Integrate with Sumo (formerly SumoMe).
Hello Bar
Hello Bar is a user friendly tool for adding bars, modals and more to your website to help you achieve a variety of marketing goals, including growing your mailing list! To install on your Thinkific site, you can included code provided in your Thinkific Site Footer Code.
Create Embed Forms With Your Email Marketing Platform
If you're using an Email Marketing solution like MailChimp, you can easily create and embed an opt-in form for your mailing list on a Thinkific page.
To Embed a Form on Your Site:
Create your form and generate your embed code (here's a MailChimp example).
Copy the embed code
Navigate to the desired page in Site Builder
Add a Text & Media section
Open the Text & Media section to view details
Delete any unwanted default text
Click the code () view in the Text Editor
Paste your embed code
Click the code () view button
Click Save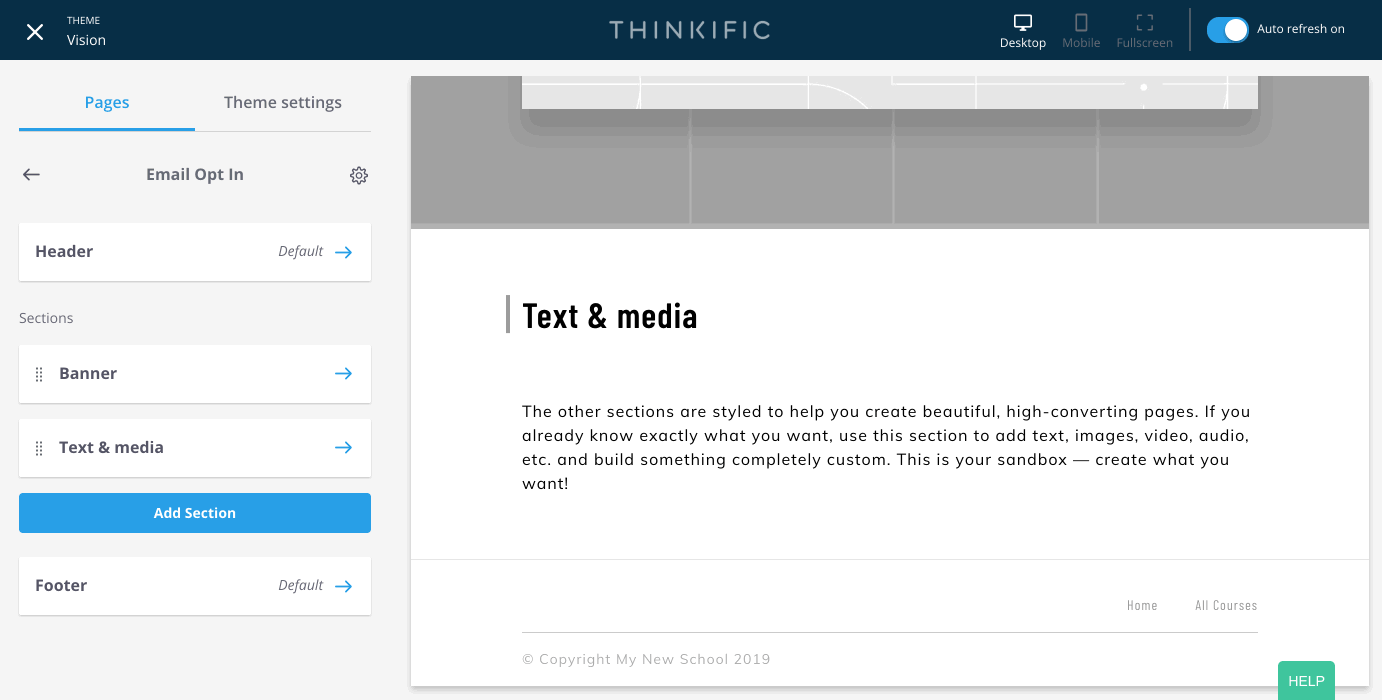 And that's it! You are ready to start collecting emails!
Add a Pop-Up Form With Your Email Marketing Platform
If you'd prefer to use a 'pop-up' form to collect emails, the set up will be slightly different. T
To Embed a Pop-Up Form on Your Course or Bundle Landing Page:
Create your form and generate your embed code (here's a MailChimp example).
Copy the embed code
Navigate to the Courses area (via Manage Learning Content) and select the Course title or Bundle title
Find the Settings tab
Click Page Code
Paste your embed code
Click Save