For schools with more than a few courses, categories allow you to create subsections on your school's All courses page for your classes to make it easier to find similar classes.
---
In this article:
Removing a Course From a Category
About This Feature
You can create categories which allow you to group several courses together when they have a common theme. Categories can help students easily access and purchase one-off courses or bundles relating to that category.
This is a category section in Site Builder, for example:

Then each category page maps to the category section, like this: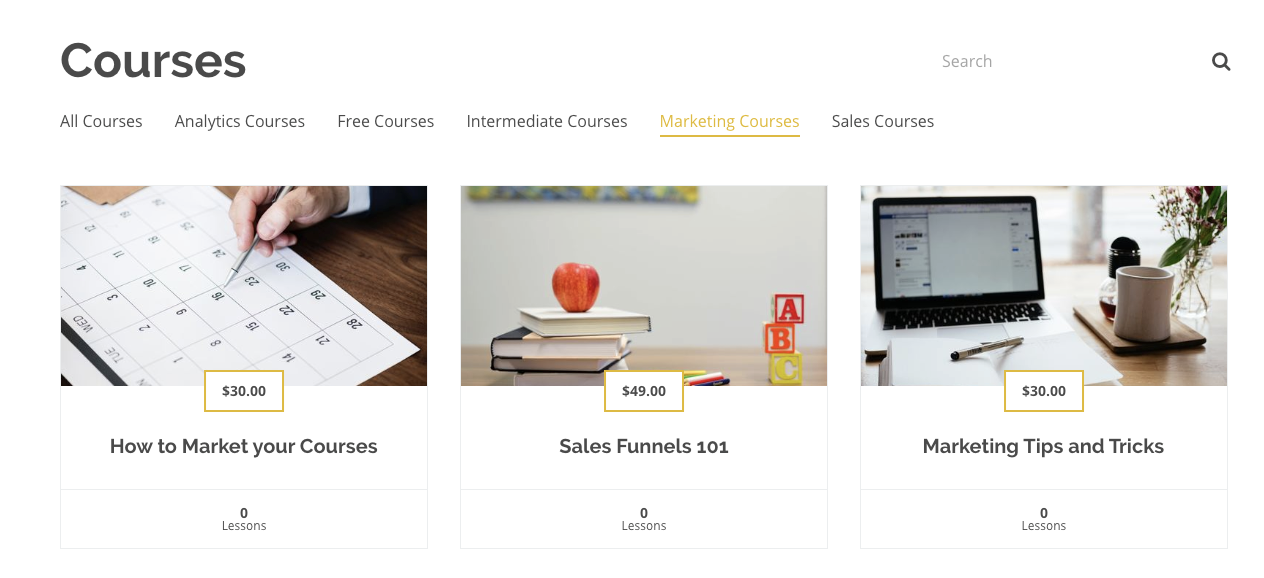 Categories are only offered to visitors to your course site if you have at least two published courses. You can still set up categories in advance of having two published courses.
Adding Categories
In your Admin Dashboard, select Categories under the Manage Learning Content menu. To add a new category, type in a name for the category and then press the Add Category button. Selecting the URL field to edit it will add a default URL to that field automatically. You can change this URL by removing it and entering your own before you hit the Add Category button.
Adding a Category Image
To add a category image, click on the Edit button next to the category name. In the next window, click on Upload on the category image and select the image you'd like to upload. In order for the image to display without any distortion, it will need to be a 16:9 ratio; our recommended specs for this image is 355px wide by 200px high.
Removing a Category
To delete a category that you don't use anymore, click on the ellipses icon beside the category name which will open the option to delete the category. Deleting a category does not delete the courses or bundles that have been included in the category.

Adding Courses to a Category
You can add multiple courses to categories, which will make them easier to find for users looking for specific kind of course on your site. Courses can appear in multiple categories too!
Use the Edit button beside a category name to add courses or bundles to that category.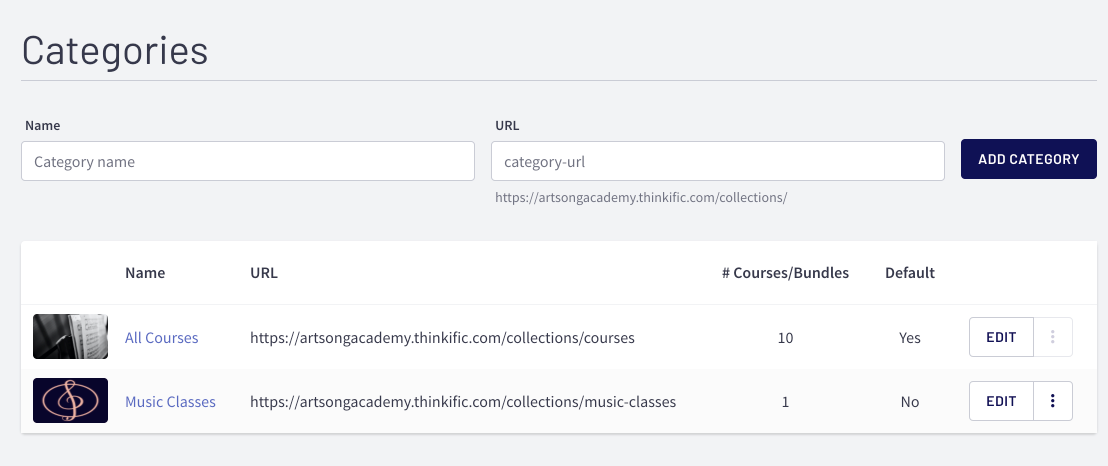 Under 'Manage courses or bundles in this category' use the drop down menu to select a course to add to this category, then select Add.
Removing a Course From a Category
You can remove a course from a category by selecting the trash can icon.
That's it, you're done! You can view your categories on your school by visiting: YourSite.thinkific.com/collections
In order to access your categories page you will need to have 2 or more courses published. With only one class published, visitors to your school will be taken straight to your course.