There are many different ways to check in on how students are engaging with your content. Find which method for tracking engagement works best for you!
---
In this article:
Progress
As students complete lessons and chapters inside courses, we track their Progress as a percentage. Let's say the student completes one out of ten lessons; the student's Progress will be marked as 10% complete. A lesson is marked as complete specifically when the student clicks the "Complete & Continue" button on a lesson. Once doing so, the student will see a checkmark in the Course Player sidebar beside the lesson name. Students can see their progress within the course, and Site Admins can run Progress reports to see this data. To see how to run these reports, check out Progress Reports.
Activity Feed
We provide you with an Activity feed for each individual student. When you're logged in as the Site Owner or Site Admin, you can view a student's Activity feed to see what lessons they have viewed and completed.
To view an Activity feed for a student:
Go to Support Your Students
Select Users
Click on the desired Student name
Select the Activity Feed tab
You will see a screen like this:

Sign-in Information
We provide you with both the last sign-in date and sign-in count (total number of times a student has signed in) for each student within a Users Report. To run a Users report, check out Users Report and Filters.
Quiz & Survey Results
If you have quizzes or surveys inside your courses you can find out which students have completed them and view their answers. See here for how to export your Quiz & Survey data. Many course creators also use surveys to ask students to provide feedback on the course. This is a great way to continually listen to your customers and improve on your learning offering!
Video Analytics
For videos hosted in Thinkific, we provide video metrics at a per video level that will provide an overview of how students are interacting with your video content. You will see the following video analytics:
Average Engagement - the percentage of the video that is watched on average
Total Plays - the total number of times a video has been played
Play Rate - percentage calculated by total people who played the video divided by the total number of people who loaded this video on a webpage
Last Watched - the last date the video was watched
Learn more here: View Video Analytics
Discussions
Discussions are a great way to see how students are interacting with each other and your content. Discussions within your course can be moderated. Find out more here: On-Lesson Discussions
Additional Tracking Options
If you are looking for more detailed analytics for student activity, we recommend integrating with Mixpanel as this will give you a detailed breakdown of lesson activity per student. Here is an example of the breakdown you can see in Mixpanel: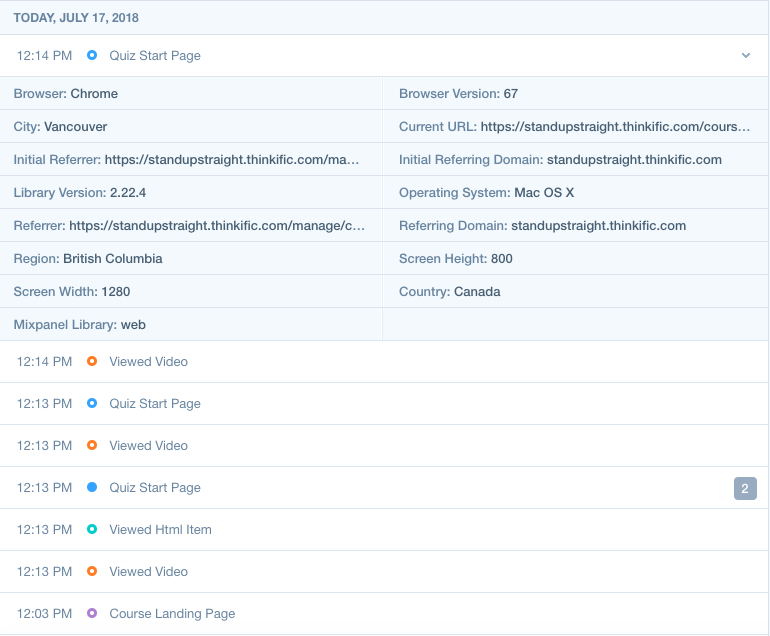 Learn how to set this up here: Integrate with Mixpanel