When creating a Drip Schedule for your course, you have the option to set it by course start date. This gives every student a unique schedule based on when they first access your course lessons!
---
About This Feature
When Drip is based on course start date, the schedule will come into affect when your student accesses your course content for the first time. This means they need to go to the Course Player for this particular course and view lessons.
This feature works great if you are using course Bundles, our pre-order feature, or manually enrolling students. Although your student is enrolled into your course, they might not access the content right away. The Drip Schedule will only start when the student specifically accesses lessons in the Course Player.
For example, a student buys your Bundle on Jan 15th. Your bundle includes 5 courses. The student doesn't start one of the courses, we'll call it Course B, until Feb 1st. No problem! The Drip Schedule for Course B will start on Feb 1st as soon as they access the course.
This also works great if you manually enroll a student into your course. Say you enroll a student on Jan 1st and they don't have a chance to start working on your course until Jan 5th. The Drip Schedule will start on Jan 5th when they access the course for the first time!
How It Works
This Drip option is customized in days. The day that your student first accesses the Course Player for this particular course is day 0.
For example, as soon as a student visits the Course Player for your course, they could have access to Chapter 1 lessons immediately (day 0), have access to Chapter 2 lessons 7 days after, and Chapter 3 lessons 14 days after, etc.
How to Set a Drip Schedule by Course Start Date
Go to Manage Learning Products
Select Courses
Click on the image of the course

you want to edit
Select the Drip tab
Click Create a Drip Schedule OR If you have an existing Drip Schedule, go to step 6
In the Drip settings, select Student course start date
Click OK in the warning prompt: Are you sure? This will clear your course's schedule
Click on the chapter titles you see on the left side of the screen to start customizing the Drip Schedule for each lesson
For any lessons that require a unique release schedule, input your desired number of days after start date

for each lesson

. If a lesson is left at 0 days, students will have access as soon as they go to the Course Player for this course.
Click Save on the top right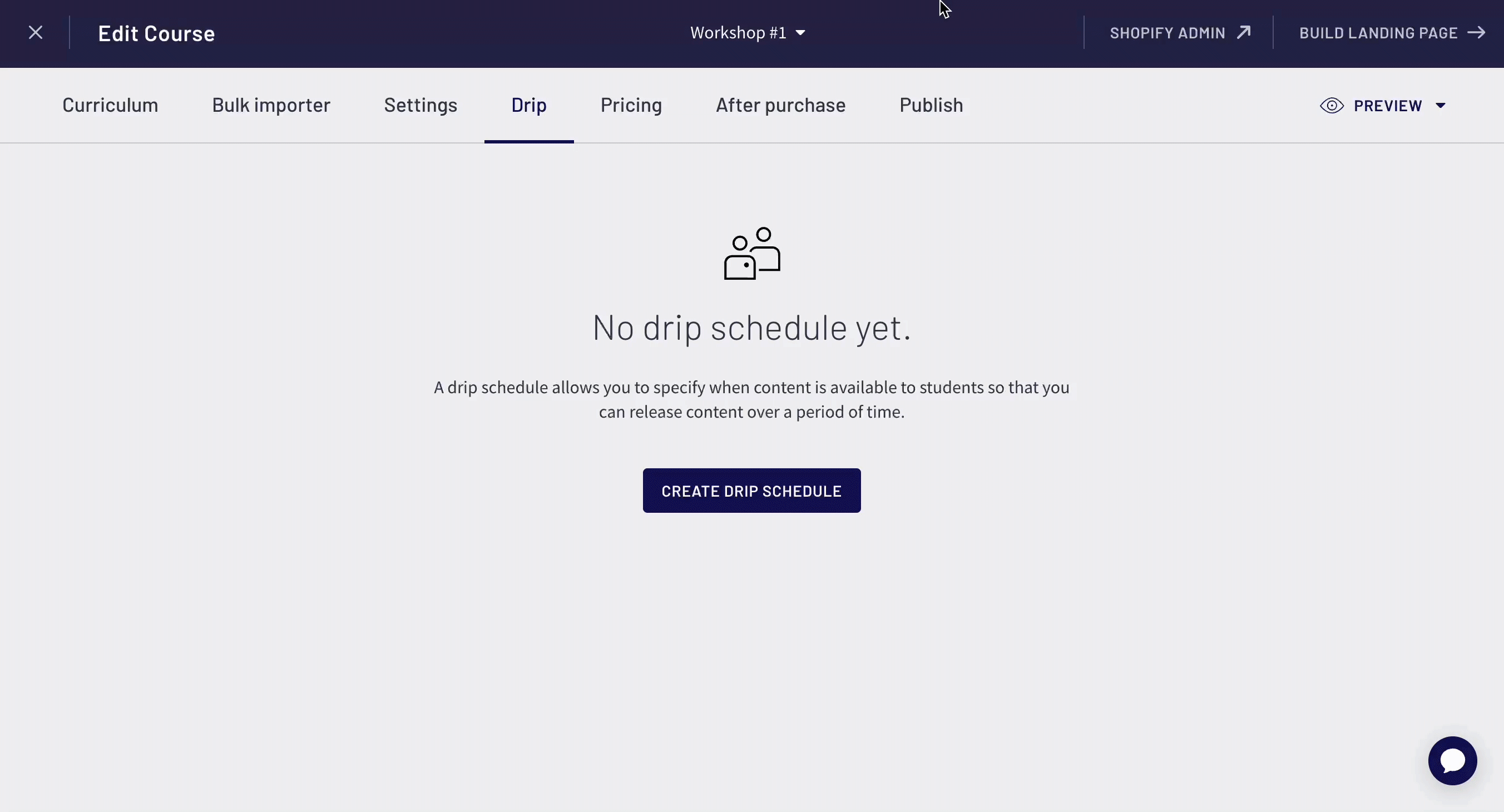 Important Considerations
Course start date is the first date that a student access your course content, which means they must access the Course Player for this course and view lessons
If a student ever loses access to your course and later re-enrolls, their original course start date will still apply
The specific time of day that a student first accesses your course will determine the time that they will continue to receive content. For example, if a lesson is set to release 1 day after start date, the student will have access to the content 24 hours after they first access the Course Player for this course. If they first access your course at 5pm their local time, they will get access to the Drip content at 5pm their local time the following day.
To learn more about how Drip works and what your students will experience, check out: Drip Schedule