By promoting your products to their network, affiliates can hugely help with expanding your marketing reach. In return, they can earn a commission for each new sale that they send your way.
In this article:
How can my affiliates access their affiliate links?
Exclude a product from an affiliate
How It Works
An affiliate role can be assigned to any user within your Thinkific account. Each affiliate will have their own set of unique affiliate links that they can use to direct traffic to your Thinkific site.
If the first time a prospect visits your Thinkific site is through an affiliate link, a cookie will be dropped that last 30 days. If the prospect sign up within 30 days, they will be associated with your affiliate!
Your affiliate will be credited for any purchases that are made by a user they are associated with. You have the option to exclude products within your affiliate settings if you want your affiliate to only receive credit for specific Courses or Bundles.
Affiliate commission is calculated based on any purchases the user makes on an ongoing basis. This includes each installment of a subscription or payment plan.
Our affiliate feature is designed for tracking purposes only. You can view the amount owed to each affiliate and have full control over approved payments, payout policies and schedules. The payouts themselves must be performed outside of Thinkific.
Our affiliate feature will only apply to purchases made through our built in e-commerce integrations.
Setting up a new affiliate
1. The first step is to set the affiliate up with a user account for your site - to do that head to the Users page of your admin dashboard and hit 'Create New User'. Or, if they already have a user account, you can find them in your Users list and hit 'Edit' instead.
2. Whilst creating/editing the user, select the checkbox for 'Affiliate' to reveal two new fields:
Commission - this is the percentage (or dollar value) of each sale that will be tracked as the commission for the affiliate.

PayPal Email (for payout) - PayPal is our recommended method for paying your affiliates, but you're free to choose whichever option works best for you and your business!
3. Once you've filled out the affiliate fields, hit 'Save Changes' and that's it!
The affiliates feature won't work if the course is not yet published. Be sure to publish your course to ensure the link is available for your Affiliates.
How can my affiliates access their affiliate links?
When a user is assigned the role of 'Affiliate', signing into your Thinkific site will automatically take them to their affiliate menu. They can also hit 'Affiliate' in the navigation bar at the top of your site to find this page.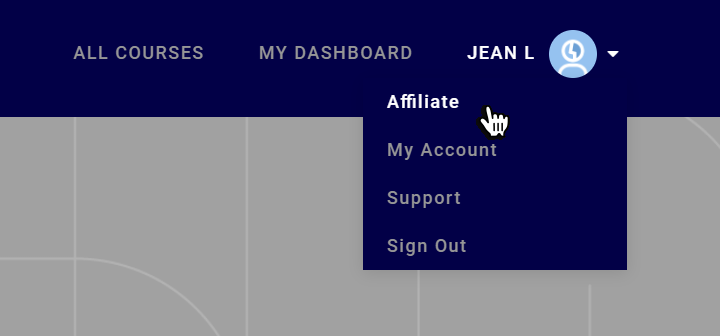 All you need to do to give any new affiliates access to their links is send them an email confirming:
The URL for your Thinkific site
The email address associated with their user account
The password you created for them
They'll then be able to log in and get started with promoting your courses!
Exclude a product from an affiliate
Once a student has signed up using an affiliate link, any future purchases they make on your Thinkific site will be counted towards that affiliate's commission. If there are certain products you don't want included in the affiliates commission, you can exclude this from their profile.
Go to your affiliates under the Market & Sell menu, and then click on the Edit button beside the affiliate. From there, it'll open up their affiliate section of their user profile, and you can select from the dropdown the product(s) you would like to exclude from their affiliate commissions:

What do affiliates see in the affiliate menu?
To preview what affiliates see, check out this article.
Technical details
When a user first visits your Thinkific site, we drop a cookie on to their browser. If they reached the Thinkific site via an affiliate link, the cookie that's dropped will remember this information.
When the student creates an account for your Thinkific site they will have the referrer code attached to their user profile if the cookie is present. Any future purchases for all time by this student will be credited to the affiliate.
If by chance the user visits your Thinkific site but doesn't sign up right away, the cookie will last for 30 days. If the user clears their cookies or uses a different browser the cookie will be lost.
The cookie from the first visit must be present when the student signs up or purchases a product in order for the affiliate to receive credit. Once the student signs up and the association is established on the user's profile, the cookie is redundant and the affiliate will receive credit for any future purchases. If a student that comes through an affiliate link does not sign up or purchase within 30 days, but comes back after 30 days to sign up or purchase the affiliate is not credited any commission.
If a student coming to your site via an affiliate link had previously created an account or made a purchase, before clicking on the affiliate link, any new purchases made will not be associated with the affiliate. This is true regardless of whether or not the student was previously associated to any affiliate or not. If they had previously made an account they cannot be counted toward a new affiliate.
Summary of key requirements for a new user to be associated with an affiliate:
The first time a visitor accesses your site must be through an affiliate link.
If it is the first time a visitor has accessed your site and it is through an affiliate link, a cookie will be dropped that will last for 30 days.
The visitor must sign up for an account within 30 days in the same browser that the cookie originally dropped to be associated with the affiliate.
The visitor does not need to make a purchase right away. If they simply sign up for an account or for a free course, they will still be associated with that affiliate for future purchases.
The affiliate cookie lasts for 30 days and is not overwritten or renewed if the visitor accesses your site through another affiliate link within that 30 days. The cookie expiration date will remain the same.
If the cookie has expired and the visitor returns to the site using an affiliate link, a new cookie will be dropped. For example, if a student visits a site through an affiliate link and never signs up, then 31 days later, visits through the same affiliate link, a new cookie is dropped.