Affiliates help expand the reach of creators, promoting products to new audiences in exchange for a commission on the resulting sales. This article provides an overview of how Thinkific handles Affiliates, including how to log in to your account and access your personal affiliate links.
This is an article for Thinkific creators to share with their Affiliates, to help them navigate the Affiliate menu and understand how Thinkific's affiliate links work. If you are an Affiliate, you're in the right place!
How It Works
As an Affiliate, you have the ability to earn commissions by promoting products and bringing in new students to the creator's site. Understanding exactly how Thinkific tracks affiliate associations and commissions can help you get the most of that relationship, and ensure that you get appropriate credit for the extra business you are generating.
Like most sites, Thinkific uses Affiliate Links to track who has sent a new student to a site; these links are specific URLs that include your unique Affiliate Code, and you will have access to URLs for individual courses, communities and bundles as well as a general homepage link. Whenever a new visitor arrives at the site through one of these links, their browser saves a cookie with a record of your code, which lasts for 30 days — if that student signs up at any time during that next month, they will be counted as one of your referrals. From that point on, products they buy will earn you a commission, based on the terms of your affiliate agreement.
The specifics of your agreement with the site creator, as well as the actual payments, will all happen outside of Thinkific, and so are not covered in this article. If you have questions about those details, talk to the creator directly!
Getting Set Up as an Affiliate
Affiliates are set up as regular users of the site, and so have their own login and password. If you were already a student before signing up as an Affiliate, you will continue using your existing account as usual. If you are new to the site, the creator will create an account for you and should provide you with your login details.
Your account is mostly the same as a student account, but it does include an additional menu with specific information related to your role as an Affiliate.
How to Access Your Affiliate Menu
Log in with the email and password provided to you by the instructor
Open your Profile menu by clicking on your name or profile image at the top right of the page
Click on Affiliate to bring up your affiliate menu

Use the options on the left side of the screen to navigate through the different sections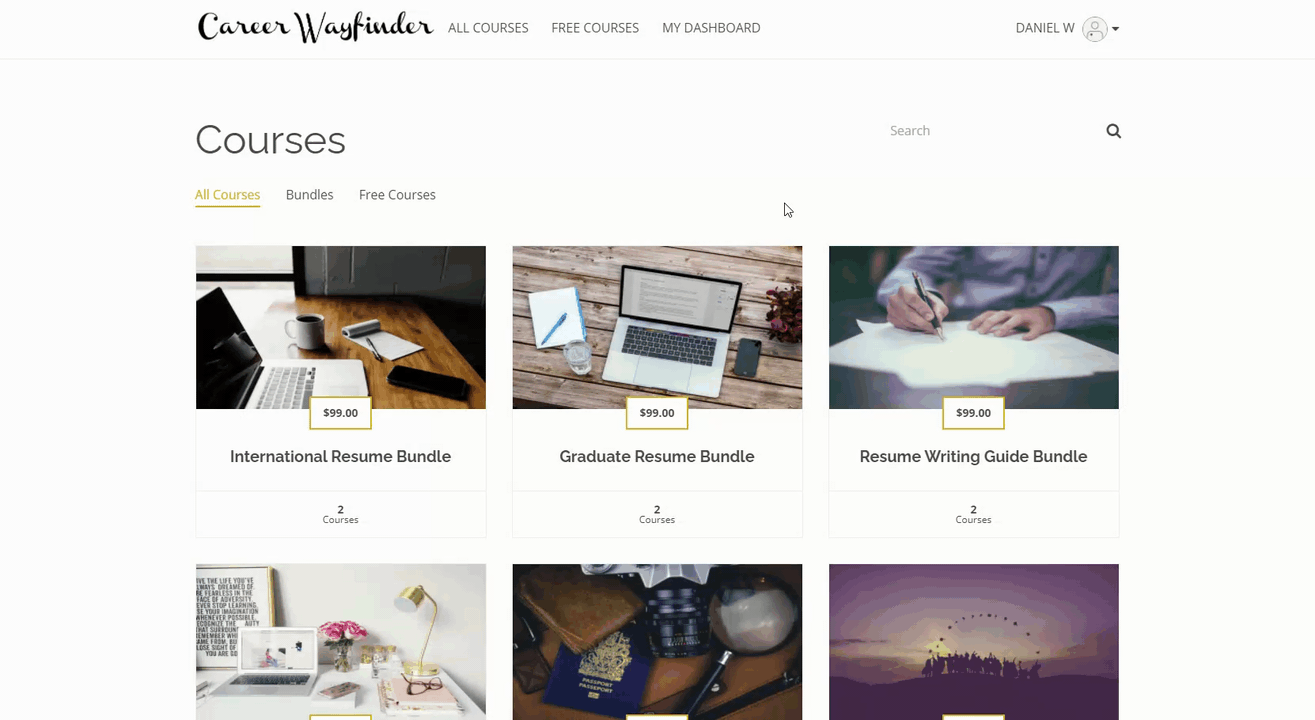 Affiliate Menu Sections
Each section in your affiliate menu contains different information related to your role as an affiliate.
General Affiliate Information

Details of your commission rate can be found here.
Your Affiliate Links
This is where you can find the unique product URLs that you will share with your audience. There is also a general Homepage Link, in case you want to direct potential students to the homepage rather than a specific course.
Financial Reports
Here you can see your commission totals, a breakdown of your individual commissions, your payouts and tracking on the number of visitors through your affiliate links.
Settings
This section displays your Affiliate Code and Commission rate, as well as your PayPal-linked email. The first two fields are for information only, but you can update and save your email address here.
Thank you for helping our instructors expand their reach!