As part of any of our paid plans, you can set up a custom domain for your Thinkific site. This removes thinkific.com from your site URL and replaces it with your branded domain!
---
What is required to set up a custom domain for my Thinkific site?
To set up a Custom Domain for your Thinkific site, you require the following:
Can I purchase a domain through Thinkific?
How do I set up a custom domain?
Can I access my custom domain without the www? e.g. example.com instead of www.example.com?
To do this you need to first follow these steps to create a CNAME record using www. Then on your domain host, create a forwarding/redirecting rule from example.com to www.example.com. You can create a 301 redirect in your domain host that points example.com to www.example.com. This way, when a student just types example.com, they are automatically taken to www.example.com.
I created a CNAME record but my custom domain is not working. What should I do?
Changes to your CNAME record can take 24 hours to propagate. Make sure to test your CNAME record for any errors. If you're still having issues, you can contact your domain host.
I have set up everything correctly but I still see .thinkific in the URL.
I already set up a custom domain but I want to replace it with a different one. How do I do this?
Follow these steps to create a new CNAME record for your new domain. Remove your existing custom domain within Thinkific:
In your Admin Dashboard, navigate to Settings
In the Site tab, select Site URL
Select the 3 dot menu to the right of your custom URL
Select Remove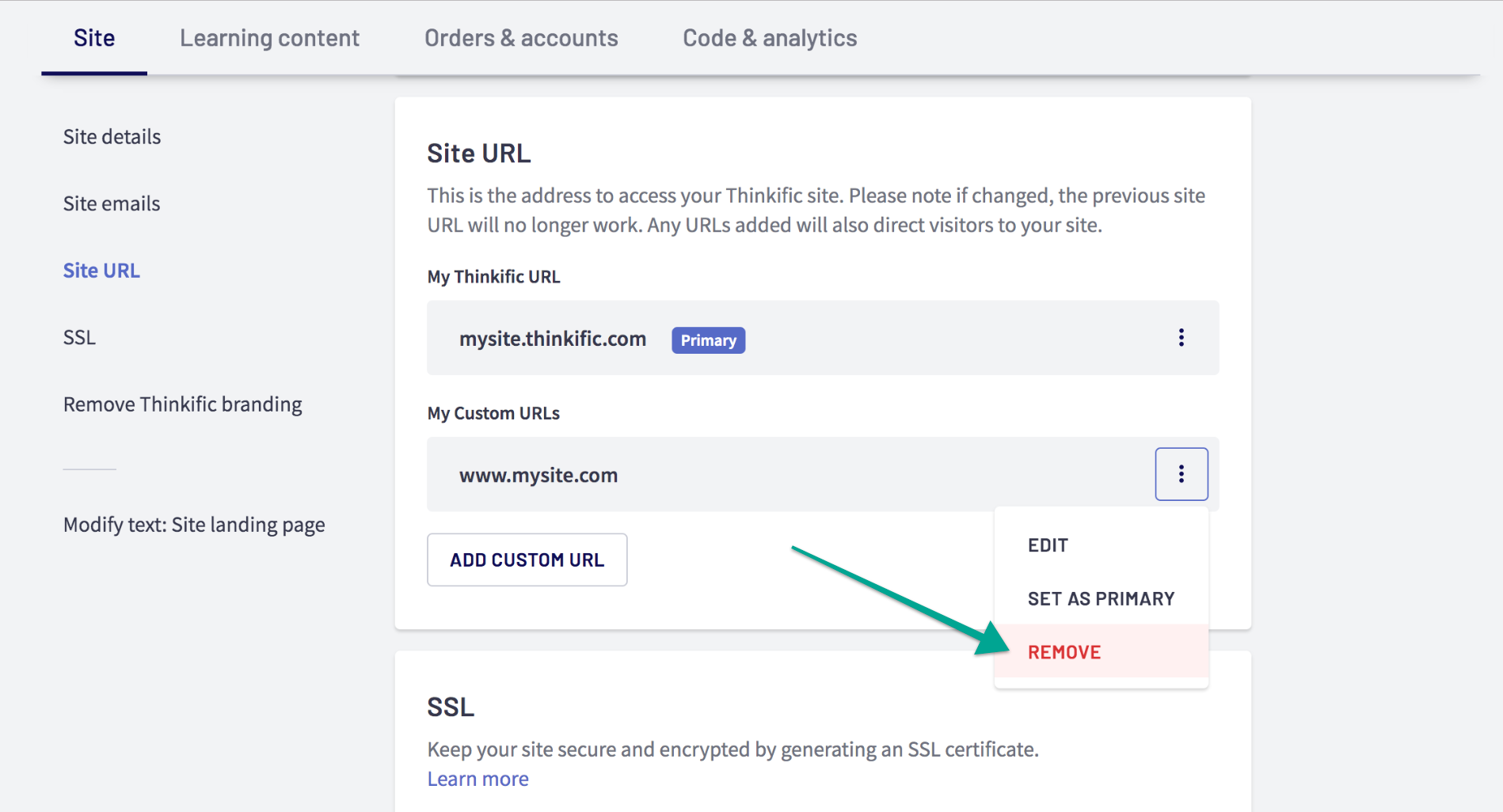 Once you have removed your previous domain, you can add your new one following these instructions.
It's also possible to add a new custom domain without removing previously added custom domain(s). However, with multiple custom domains, only one can be set as Primary. For more information about this option, check out our article: Can I have multiple domains on one Thinkific site?
I'm stuck, I don't know what I did wrong/where do I go to get help?
Send us a quick message and we can point you in the right direction! You can also reach out to your domain host directly. Let them know you were following our instructions and got stuck. Since they have access to your account, they can make the changes for you.
My domain host says I need an IP address to set up my custom domain, can you provide one?
Your domain host may ask for an IP address to create an A record. Since we use cloud-based servers, our IP addresses may change periodically, so we are unable to provide an IP address. This is why a CNAME record is required (rather than an A record, MX record, etc.)
I already have an existing website that is using my domain, can I still connect my Thinkific site?
Yes, you can. If your site is on your main domain, you can set your Thinkific site to be on a subdomain like learn, courses, or academy (eg. academy.example.com)
I can't find instructions for my domain host, what should I do?
Can I set up a redirect/forward instead of using the CNAME record method?
Yes, you can set this up. However, your Thinkific URL will still be visible and you will not be able to set your custom domain as the primary domain.
My website is www.example.com. Can I have my Thinkific site set as www.example.com/courses?
With the way Thinkific sites are set up, we're not able to place this on a subfolder on your domain. You would need to create a subdomain to host your Thinkific site.
I have a custom domain on my Thinkific site. What if I downgrade to the Free plan?
Your custom domain will no longer work and it will display an error message if your learners try to access your site through the custom domain. To make sure that your students still have access to your site, you can set up a forwarding/redirecting rule on your domain host.
Can you set up the custom domain for me?
What if I change my Thinkific URL after setting up a custom domain?
If you try to update your Thinkific URL when a custom domain is set as primary, you will be blocked from doing so as this will break your site. Since the CNAME record is pointing to your existing Thinkific URL, editing it will prevent access to your site. If your custom domain is not set as primary, you can adjust this however, make sure that you are updating your CNAME record in your domain host accordingly.
Can I have a unique domain per course?
We don't currently have an option that would allow you to have unique domains per course. It is possible to add an additional domain to your site on our end if you would like the entire site accessible by more than one domain.
For example, if you owned www.mysite1.com and www.mysite2.com, both of these could direct visitors to your Thinkific site. One thing to note in this case is that only 1 domain can be set to primary. Your primary URL is the only URL that will be visible within the browser bar when someone navigates to your site.
If your custom domain is set as primary, this means if someone typed in either your Thinkific URL (ex. mysite.thinkific.com) or your custom domain (ex. www.mysite.com), they will see your custom domain in the browser bar (ex. www.mysite.com). If you had multiple custom domains, then you would need to choose which one to set as your primary domain.
Will setting up a custom domain break my original Thinkific links?
Configuring a custom domain for your site will not break any existing links, provided they are pointing at your Thinkific URL. Your Thinkific URL continues to work even once you have a custom domain set up; it is basically operating underneath the custom domain registration, and can still be linked to directly.
Will changing from one custom domain to another break my old course links/coupons?
If you move from using one custom domain to a different custom domain, links that use the previous custom domain will break, once the registration for that domain lapses (or if you change its CNAME record, e.g. to use it for a different site.)
---
More About Custom Domains
How Do I Access My Site Without WWW?
I Can't Access My Thinkific Site after Adding My Custom Domain